This Salted Caramel Banana Bread Pudding is as close to heaven on a fork as you can get! Bananas and bread drenched in salted caramel, all toasty warm straight out of the oven.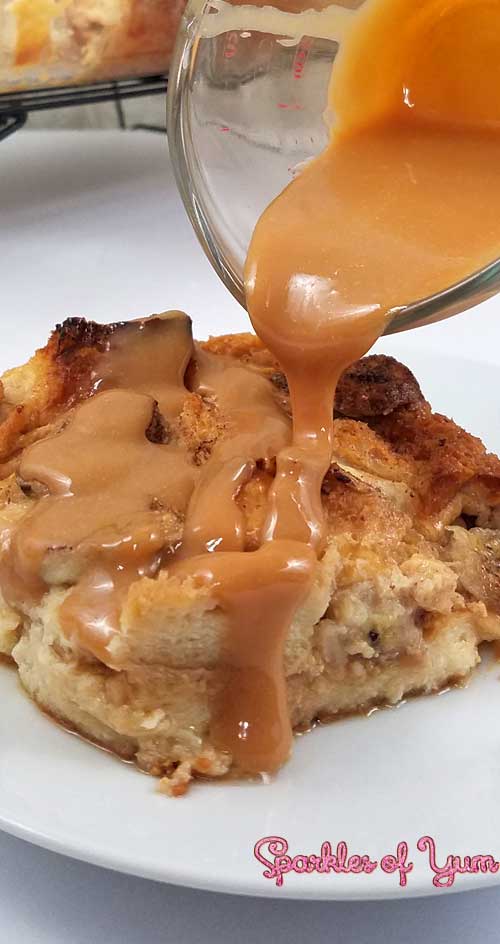 If you've never baked anything in your life you can make this! It's so easy and you really don't have to worry about it. Besides that it's a good way to use up some extra bread and bananas.
If there's a way to use something so it doesn't have to be thrown out I'd much rather find a way to use it as I was always taught waste not, want not.
We don't have a house full of kids anymore, but it's hard breaking the habit of buying too much at the store. And just because they all moved out, it doesn't mean that they won't just drop by.
So I'm always buying too many bananas and if you just want one loaf of french bread, the store your at only has them in packs of two.
Well what's better than turning that into a delectable dessert?
You know bananas and bread are way better drenched in salted caramel, all toasty warm straight out of the oven.
It is as close to heaven on a fork as you can get! You don't even have to make the caramel, I mean it's not hard to make, but if you wanted to buy it, they sell caramel ice cream topping.
The evenings are finally getting cool enough to turn the oven on around here, and the days are getting shorter.
There's still so much to do outside to get ready for winter, we deserve a treat once in while.. and look you still get the benefits of all that potassium from the bananas!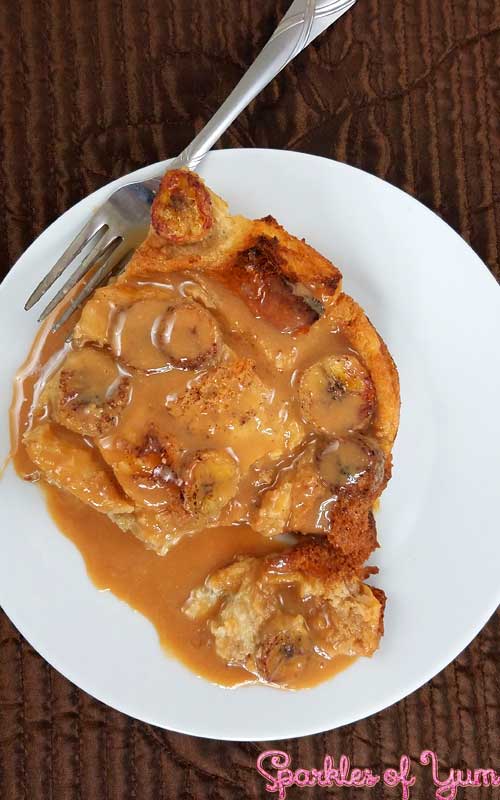 Don't forget to follow along, so you don't miss out! Did you know you can get a notification on your phone now as soon something is published? People are loving this so much, more than the emails clogging up your inbox. If you happened to not accept the notification box earlier…now is a good time to click the small bell in the corner and get signed up!
FOLLOW Sparkles of Yum ON FACEBOOK | PINTEREST | INSTAGRAM | TWITTER FOR ALL OF THE LATEST CONTENT, RECIPES AND UPDATES.
Feel free to join the Sparkles of Yum Recipe Swap Facebook group! A fun place to find and share all of your favorite recipes.
Salted Caramel Banana Bread Pudding
Cook Time:
2 hours
30 minutes
Additional Time:
15 minutes
Total Time:
3 hours
15 minutes
This Salted Caramel Banana Bread Pudding is as close to heaven on a fork as you can get! Bananas and bread drenched in salted caramel, all toasty warm straight out of the oven.
Ingredients
For the caramel:
1 cup sugar
2 tablespoons salted butter, cut into pieces and at room temperature
1/2 cup heavy cream, warmed
1 tablespoon bourbon (or Bailey's, Kahlua or Rum Chata)
1 teaspoon fresh lemon juice
3/4 teaspoon kosher salt
For the bread pudding:
Salted butter, for the baking dish
1 loaf French Bread (1 pound - about 13 cups)
5 large eggs
3/4 cup sugar
1/2 teaspoon kosher salt
4 cups whole milk
1 cup heavy cream
1 tablespoon vanilla extract
3 bananas, sliced 1/2 inch thick
1 Tablespoon ground cinnamon
1 Teaspoon Pumpkin Pie Spice
1/2 Teaspoon nutmeg (I grated fresh nutmeg, but you can use ground nutmeg)
Sea salt, for sprinkling
Instructions
Make the caramel:
Combine the sugar and 1/4 cup water in a medium saucepan over medium heat, stirring just until the sugar dissolves. Cook, gently swirling the pan but not stirring, until amber, about 10 minutes. Brush any sugar crystals off the side of the pan with a wet pastry brush. Remove from the heat and carefully whisk in the butter, heavy cream, bourbon (or your choice), lemon juice and kosher salt (the mixture will bubble). Pour into a bowl and set aside.
Make the bread pudding:
Preheat the oven to 350 degrees F and butter a 9-by-13-inch baking dish.
I sliced the french bread in half and left on the counter to dry out or you can spread the bread cubes on a rimmed baking sheet and bake until dry and golden, about 20 minutes. Let cool completely.
Whisk the eggs, sugar and kosher salt in a large bowl, then whisk in the milk, heavy cream and vanilla until smooth.
Butter up your baking dish, put all the bread in and pour mixture over the bread to let it soak for at least 45 minutes or cover and put in fridge overnight.
When your ready to bake put bananas on top and sprinkle cinnamon and spices pour half the caramel over and sprinkle the bread pudding with sea salt and bake until golden brown and set, about 1 hour, 15 minutes. Let rest about 15 minutes then drizzle the remaining caramel over the top.
Nutrition Information
Yield

12
Serving Size

1
Amount Per Serving
Calories

460
Total Fat

19g
Saturated Fat

11g
Trans Fat

0g
Unsaturated Fat

7g
Cholesterol

127mg
Sodium

601mg
Carbohydrates

62g
Fiber

2g
Sugar

40g
Protein

11g
© 2023 Sparkles of Yum. All rights reserved. All images & content are copyright protected. Please do not use my images without prior permission. If you want to share this recipe, please provide a link back to this post for the original recipe.
Sparkles of Yum is a participant in the Amazon Services LLC Associates Program, an affiliate advertising program designed to provide a means for sites to earn advertising fees by advertising and linking to Amazon.com.