Meaty, Mac n Cheesy, tater tot goodness topped with even more cheese. What is not to love about this Mac n Cheesy Cowboy Casserole?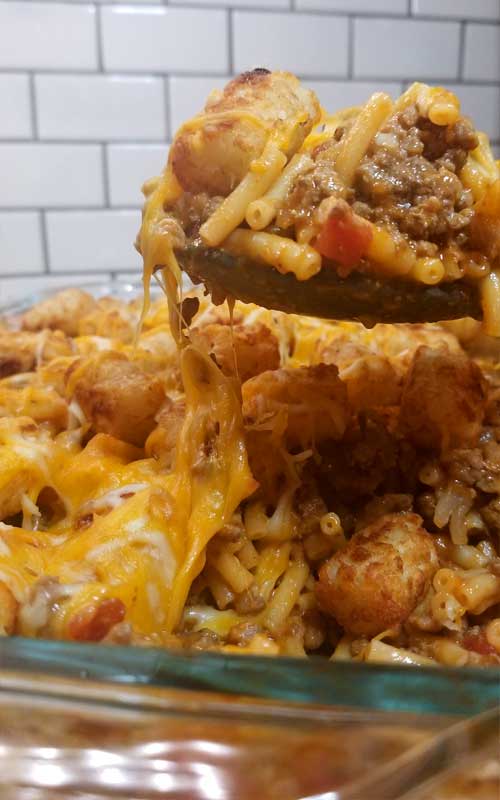 Did you ever have one of those days? You're not really in the mood for anything particular.
A day where you just say "I'm going to take some hamburger out to thaw and figure it out later"? Well, then later happens, and you are going through your cabinets to figure out what's going in this hamburger.
It has been pouring rain all day, and going to the store is not an option; not in the mood for that either.
Whatever is going in this dish is already in the house. Oh, and it's not going to be hamburgers, because there's no buns.
Sometimes those are the most fun and you can get your creative juices flowing!
Well that's what happened this past Saturday, and if I say so myself, it's some Meaty Mac n Cheesy tater tot goodness topped with more cheese.
Not that I have a bunch of cowboys to feed, but if I did they would probably call it Cowboy Crack! I bet Blake Shelton probably grew up on something like this, just guessing.
But if you've got growing boys, that eat you out of house and home, this is the perfect easy dinner that'll get you a big fat kiss on the cheek!!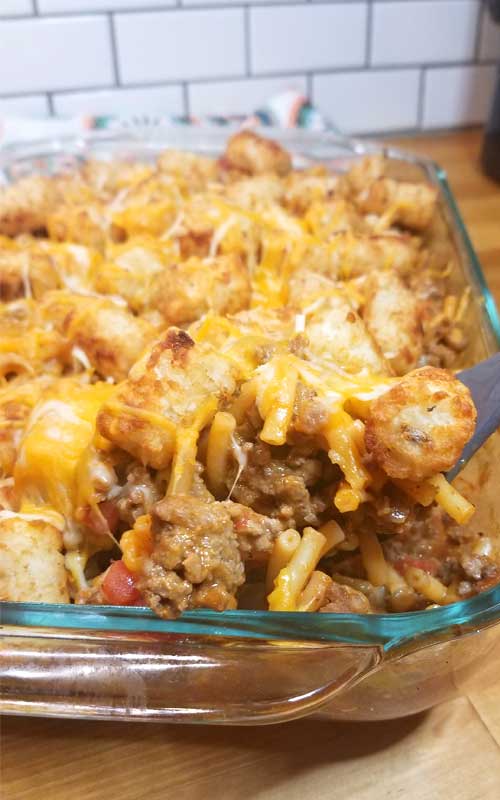 Don't forget to follow along, so you don't miss out! Did you know you can get a notification on your phone now as soon something is published? People are loving this so much, more than the emails clogging up your inbox. If you happened to not accept the notification box earlier…now is a good time to click the small bell in the corner and get signed up!
FOLLOW Sparkles of Yum ON FACEBOOK | PINTEREST | INSTAGRAM | TWITTER FOR ALL OF THE LATEST CONTENT, RECIPES AND UPDATES.
Feel free to join the Sparkles of Yum Recipe Swap Facebook group! A fun place to find and share all of your favorite recipes.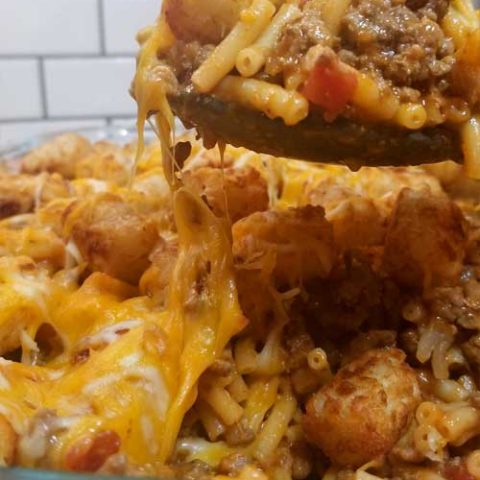 Mac n Cheesy Cowboy Casserole
Yield: 12 servings

Prep Time: 10 minutes

Cook Time: 45 minutes

Total Time: 55 minutes

Meaty, Mac n Cheesy, tater tot goodness topped with even more cheese. What is not to love about this?
Ingredients
2 1/2 lbs hamburger
2 tablespoons granulated garlic
1 tablespoon onion powder
salt and pepper to taste
1 bell pepper (diced)
1 onion (diced)
1 can tomato soup
1 can Rotel diced tomatoes
2 cups prepared mac n cheese
1 1/2 cups shredded Mexican blend cheese
1-2 lbs bag tater tots, cooked (I used half of a 2 lb bag)
Instructions
Preheat oven according to package instructions for tater tots, I baked them separate and added to the top so they would stay crispy.

Crumble and brown hamburger in a large skillet on medium high. Season well with salt, pepper, garlic, and onion powder.

While that's browning dice up onion and bell pepper toss that in with the hamburger to get tender.

Start your water for mac and cheese, just make however you like your mac and cheese.

Add tomato soup, using about 1/4 can of water to the bottom of a 9x13 casserole dish along with can of drained rotel. Drain the hamburger and add to the casserole dish. Stir to combine.

Top with cooked tater tots and more cheese.

Turn oven to 400 and bake 10-15 minutes or just until cheese it melted.
Nutrition Information
Yield 12 servings Serving Size 1
Amount Per Serving Calories 519Total Fat 25gSaturated Fat 9gTrans Fat 0gUnsaturated Fat 14gCholesterol 65mgSodium 1097mgCarbohydrates 54gFiber 3gSugar 5gProtein 22g


© 2023 Sparkles of Yum. All rights reserved. All images & content are copyright protected. Please do not use my images without prior permission. If you want to share this recipe, please provide a link back to this post for the original recipe.
Sparkles of Yum is a participant in the Amazon Services LLC Associates Program, an affiliate advertising program designed to provide a means for sites to earn advertising fees by advertising and linking to Amazon.com.