The perfect recipe for French Green Beans that are buttery and nutty, with a hint of lemon and garlic for some extra tasty goodness!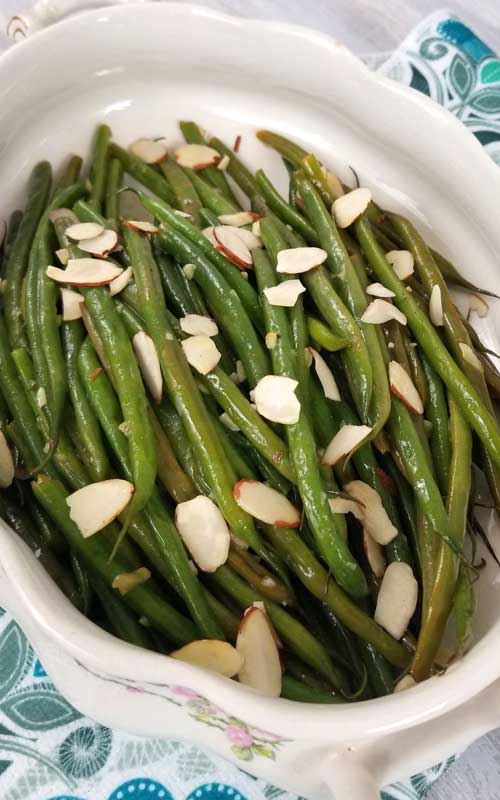 Haricots Verts Amandine (French-Style Green Beans With Almonds) – Green Beans Amandine or Green Beans Almondine or string beans, snap beans – who knew green beans could be so confusing. If you buy canned green beans you get French or cut green beans.
Well that's if your a fan of canned green beans. They do come in handy if you need a quick side for a meal, but not something you probably want to serve your guests at a holiday dinner. I think you probably lose a lot of nutritional value in canned as well, and there's a lot of good nutrition in fresh green beans. Did you know they're packed full of fiber and considered some of the best high-antioxidant foods?
In my opinion there's nothing that can compare to fresh green beans, even the frozen ones aren't as good as fresh. The texture is just not as good, they either get rubbery or mushy. Anyway I'm all about bringing out the flavor, so no matter what you want to call them I call these yummy French Green Beans buttery, nutty with a hint of lemon and garlic for some extra tasty goodness!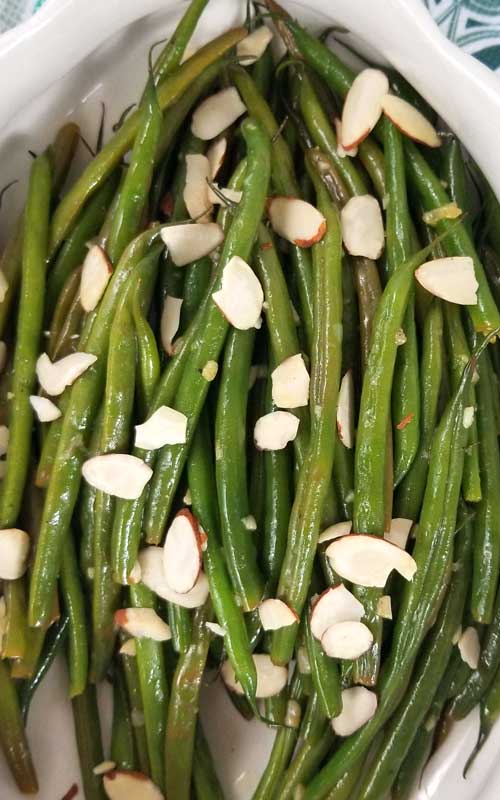 Don't forget to follow along, so you don't miss out! Did you know you can get a notification on your phone now as soon something is published? People are loving this so much, more than the emails clogging up your inbox. If you happened to not accept the notification box earlier…now is a good time to click the small bell in the corner and get signed up!
FOLLOW Sparkles of Yum ON FACEBOOK | PINTEREST | INSTAGRAM | TWITTER FOR ALL OF THE LATEST CONTENT, RECIPES AND UPDATES.
Feel free to join the Sparkles of Yum Recipe Swap Facebook group! A fun place to find and share all of your favorite recipes.
French Green Beans with Almonds
Yield: About 6 servings

Prep Time: 10 minutes

Cook Time: 10 minutes

Total Time: 20 minutes

The perfect recipe for French Green Beans that are buttery and nutty, with a hint of lemon and garlic for some extra tasty goodness!
Ingredients
1 pound fresh green beans washed and trimmed
3 Tablespoons unsalted butter (or olive oil)
1/2 cup sliced almonds (toasted option)
2 cloves garlic minced
2 teaspoons lemon juice
salt and fresh cracked pepper to taste
1/2 cup water
Instructions
Melt butter in 12 inch skillet over medium to medium high heat, add the garlic to skillet and cook until slightly softened. Add green beans, lemon and water. Cover and cook, tossing occasionally until green beans are crisp-tender (about 5-7 minutes). Season with salt and pepper and top with almonds.
For toasted almonds
add a little butter in the skillet over medium-high heat, add almonds and cook about 5 minutes, stirring often, until lightly browned. Remove almonds to paper towel.
Nutrition Information
Yield 6 Serving Size 1
Amount Per Serving Calories 130Total Fat 11gSaturated Fat 4gTrans Fat 0gUnsaturated Fat 6gCholesterol 15mgSodium 104mgCarbohydrates 8gFiber 3gSugar 3gProtein 3g

Nutrition data was provided and calculated by Nutritionix, and should only be used as a general guideline. This information is provided as a courtesy and there is no guarantee that the information will be completely accurate.

© 2023 Sparkles of Yum. All rights reserved. All images & content are copyright protected. Please do not use my images without prior permission. If you want to share this recipe, please provide a link back to this post for the original recipe.
Sparkles of Yum is a participant in the Amazon Services LLC Associates Program, an affiliate advertising program designed to provide a means for sites to earn advertising fees by advertising and linking to Amazon.com.