This Lemon Pound Cake is a Lemon lover's delight! It is the most lemony, deliciousness, moist cake I've ever had.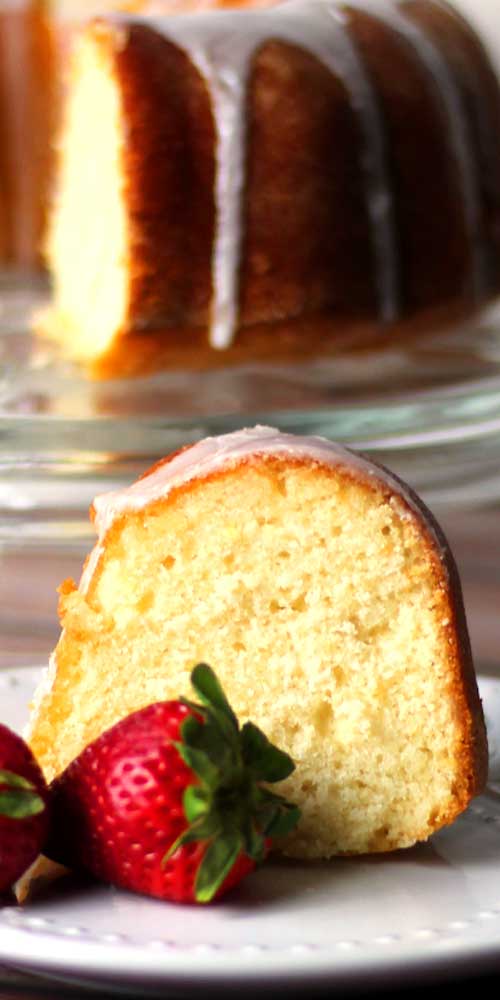 No box mix, my mom used to make these all the time and I could never find her exact recipe. But, I'm finally happy to say "this has to be it".
This Lemon Pound Cake hits every note from mom's version of the same cake. It is mostly because it gets brushed with a lemon syrup to seal the deal. Adding to all the moisture of the cake itself.
It has got this perfect texture and flavor, and then it gets topped with a drizzle of sweet and tangy lemon glaze. This Lemon Pound Cake is so perfect that you may need to make a few extra. Just so that you can share some with everyone you love, because it's so darn good. You will want everyone to know how much you love it.
You will seriously want to lick up every crumb of the first piece, so you might need a private moment for all that. I wouldn't recommend licking the plate in front of just anyone all willy nilly like.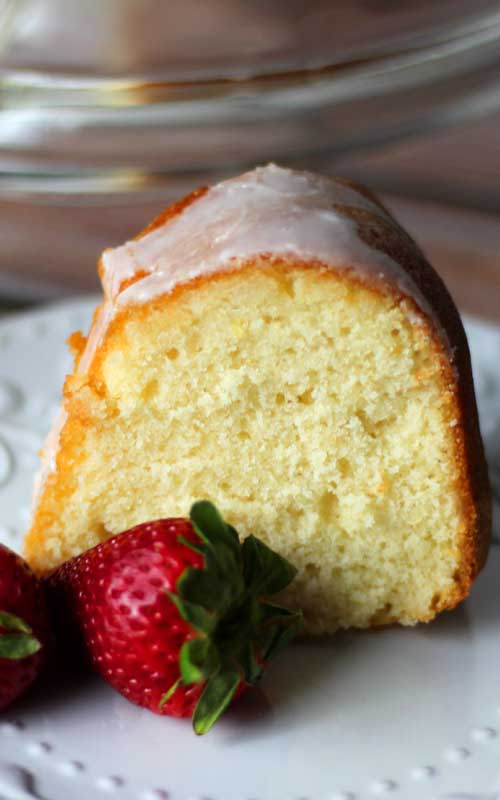 Now I want everyone to achieve Lemon Pound Cake perfection, so I'm including a list of baking tips from the pros. That way, anyone who has never made a cake from scratch can feel confident to try this one. It's really not hard at all, just a matter of having the right tools to do the job.
Such as anything in life, if you have the right tools you can accomplish anything, whether your tools be the right pan that won't stick or following the right information like using room temperature ingredients.
Did you know there was Pure Lemon Extract? You know like vanilla, only lemon?! OMG people! I am in love with this stuff, it smells so good. But no worries if you don't have it or can't find it. You can use one teaspoon of freshly grated lemon peel per teaspoon of lemon extract. Or you can make you own Homemade Lemon Extract.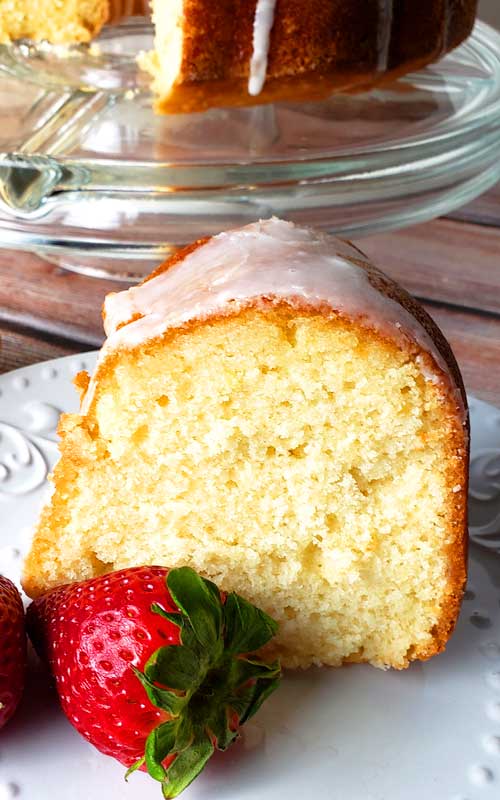 Some tips:
Measure the flour by gently spooning it into a cup, then sweeping off any excess.
Why is it important to use ingredients at room temperature? "The key in achieving a nice, velvety batter." says Shauna Sever author of Midwest Made: Big, Bold Baking from the Heartland
If you don't have buttermilk – use milk and add a tablespoon of lemon juice (or you can use white vinegar), it does the job quite nicely. This mixture won't get as thick and creamy as buttermilk, but it will perform its role in the batter just as well. Leaving our baked goods airy, tender, and tasty. Let the mixture stand at room temperature for 5 to 10 minutes.
How to prevent Bundt cakes from sticking.
If you didn't read the prevention method and your afraid your stuck, here's Stuck Bundt solution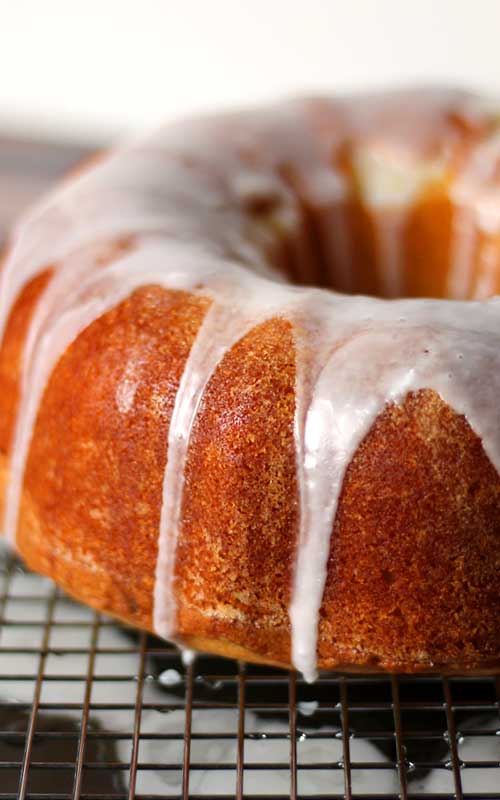 For the best cakes, make sure your oven is cooking at the correct temperature. Test Your Oven's Accuracy
If your bundt pan is not in good shape it's better to replace it. The bundt pan I use is like this nice heavy Nordic Ware Bundt Pan, it's never failed me.
Can You Bake a Bundt Pan Recipe in a Regular Pan? The short answer is yes, but Bundt batter baked in 13×9-inch pans may require more time, so stay in the kitchen while the cake bakes and give it plenty of attention to ensure proper doneness.
This little chart is handy to have if you need to convert Pan Dimensions and Volumes from The Joy of Baking.
According to Alton Brown "Creaming Method for butter and sugar – It's considered light and fluffy when your no longer able to see sugar granules, but you can still feel them"
If you don't have a Zester or Micro Plane use the smallest side of a box grater for zesting lemons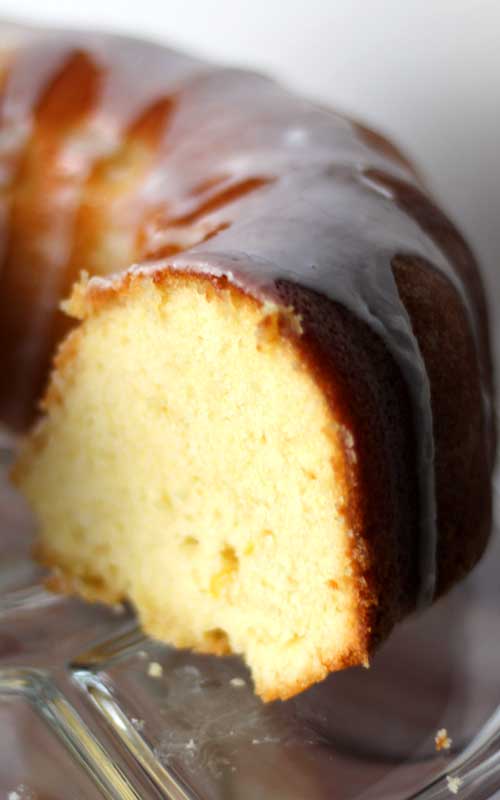 If you LOVE this Lemon Pound Cake recipe, try this New York Cheesecake – Junior's Original OR this Chocolate Covered Cherry Bundt Cake!
Don't forget to follow along, so you don't miss out! Did you know you can get a notification on your phone now as soon something is published? People are loving this so much, more than the emails clogging up your inbox. If you happened to not accept the notification box earlier…now is a good time to click the small bell in the corner and get signed up!
FOLLOW Sparkles of Yum ON FACEBOOK | PINTEREST | INSTAGRAM | TWITTER FOR ALL OF THE LATEST CONTENT, RECIPES AND UPDATES.
Feel free to join the Sparkles of Yum Recipe Swap Facebook group! A fun place to find and share all of your favorite recipes.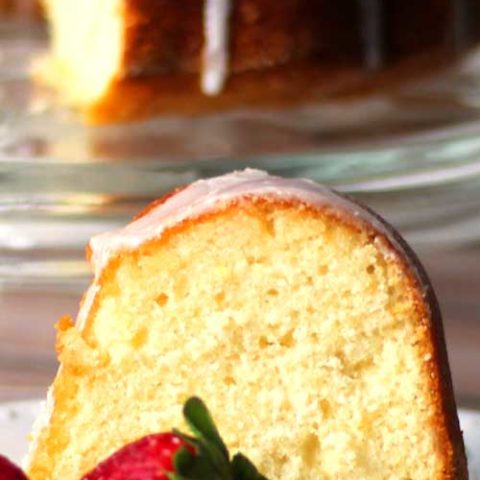 Lemon Pound Cake
Cook Time:
1 hour
5 minutes
Total Time:
2 hours
30 minutes
This Lemon Pound Cake is a Lemon lover's delight! It is the most lemony, deliciousness, moist cake I've ever had.
Ingredients
2 sticks (1 cup) unsalted butter, softened to room temperature
3 cups all purpose flour, sifted, spooned and leveled
1/2 teaspoon baking soda
1/2 teaspoon salt
1 cup buttermilk
2 tablespoons grated lemon zest
3/4 teaspoon pure lemon extract
2 tablespoons lemon juice
2-1/4 cups granulated sugar, plus more for the pan
3 large eggs
For the Syrup
1/4 cup water
1/4 cup granulated sugar
1-1/2 tablespoons lemon juice
For the Glaze
1 cup powdered sugar
2-3 tablespoons lemon juice
pinch of salt
Instructions
Preheat oven to 325°F and set oven rack to the middle position.
In a medium bowl, whisk together the flour, baking soda and salt. Set aside.
In seperate bowl, whisk together the buttermilk, lemon zest and lemon juice. Set aside.
In the bowl of an electric mixer fitted with either the paddle attachment or beaters; cream the butter and sugar on medium speed until light and fluffy and lightened in color (about 3 to 4 minutes).
Scrape down the sides of the bowl. Then beat in the eggs, one at a time. Allowing them to combine well before adding in the next egg.
Scrape down the sides of the bowl again. Briefly mix to re-combine anything that stuck to the sides.
Set mixer to low speed, Add the flour mixture to the batter in three parts alternately with the buttermilk (divided into two parts); starting and ending with the flour.
After everything has been added, scrape down the sides of the bowl, and give a everything a quick mix to make sure all of the ingredients are well combined.
Thoroughly grease a 10 cup Bundt pan with nonstick cooking spray or vegetable shortening. Make sure to get into any and all the crevices. Coat the greased pan generously with granulated sugar, making sure the entire surface of the pan is evenly coated.
Spoon the batter into the prepared Bundt pan and smooth the surface with a rubber spatula.
Bake for 65 to 75 minutes, or until the cake is golden and a toothpick comes out clean.
Once cake is done, remove from oven and place on a cooling rack. Carefully run an offset spatula or butter knife between the pan and the edges of cake (including the center tube), to loosen the cake from the pan. Set a timer and cool the cake in the pan for ten minutes. (anything longer than this and your cake may stick.)
While the cake is cooling, make the syrup. Combine the water and sugar in a saucepan and bring to a boil. Remove from the heat and stir in the lemon juice.
Invert the warm cake onto a rack (Place a large piece of parchment paper, aluminum foil, or paper towels under the rack for easy clean-up). Remove cake from pan and gently brush the warm syrup over the cake, letting it soak in. A small amount syrup will drip off, but if you take your time most of it will be absorbed.
Allow the cake to cool completely (about one hour).
When the cake is cool, carefully transfer it to a serving platter. To make the glaze: in a medium bowl, whisk together the confectioners' sugar and lemon juice. Add more confectioners' sugar or lemon juice as necessary to make a thick but pourable glaze (about the consistency honey). Pour the glaze slowly over the top of the cake, letting it drip down the sides.
If Desired: garnish with additional lemon zest before the glaze sets.
Nutrition Information
Yield

12
Serving Size

1
Amount Per Serving
Calories

469
Total Fat

4g
Saturated Fat

2g
Trans Fat

0g
Unsaturated Fat

1g
Cholesterol

52mg
Sodium

227mg
Carbohydrates

106g
Fiber

1g
Sugar

81g
Protein

6g
Nutrition data was provided and calculated by Nutritionix, and should only be used as a general guideline. This information is provided as a courtesy and there is no guarantee that the information will be completely accurate.
Recipe adapted from: Once Upon a Chef
© 2023 Sparkles of Yum. All rights reserved. All images & content are copyright protected. Please do not use my images without prior permission. If you want to share this recipe, please provide a link back to this post for the original recipe.
Sparkles of Yum is a participant in the Amazon Services LLC Associates Program, an affiliate advertising program designed to provide a means for sites to earn advertising fees by advertising and linking to Amazon.com.