These Korean BBQ Pork Chops are packed with with a little sweet, a little heat, and a lot of juicy. A ton of smoky flavor and super tender. These are among some of the best pork chops we have ever ate, and they are so easy.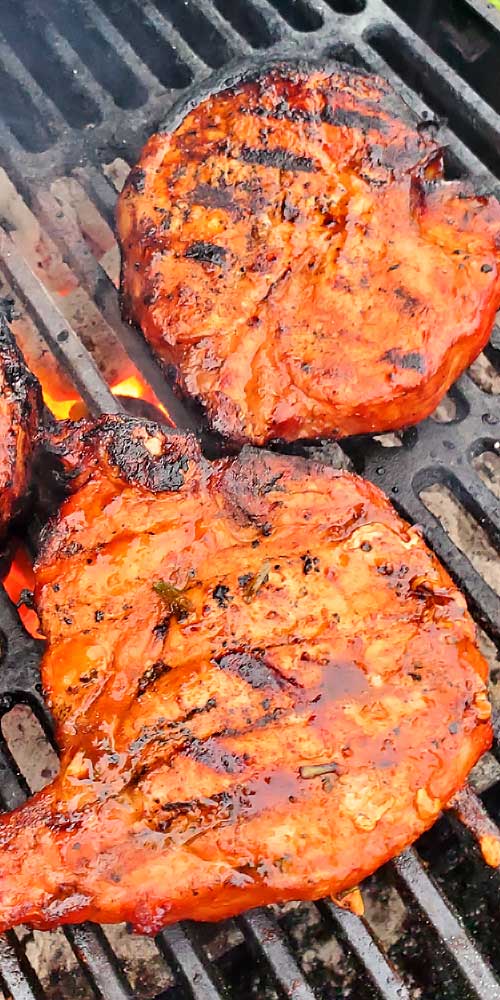 Now this is a Korean BBQ Pork Chops dinner to get excited about! These are not your mama's pork chops, unless your mama is Korean. There is no reason to ever be bored with your dinners when you have the whole world at your fingertips; to look for something outside the box for a special dinner.
These Korean BBQ Pork Chops are packed with with a little sweet, a little heat, and a lot of juicy. A ton of smoky flavor and super tender. These are among some of the best pork chops we have ever ate, and they are so easy. The marinade does all the hard work, all you have to do is toss the ingredients in a baggie and wait for the magic to happen.
Then grill em up, in the back yard or at your tailgate party. But be warned, your neighbors noses will be in the air asking what's smelling so good over there. It's human nature they really can't help it. Just tell them it's an amazing ancient recipe, which it almost is.
A mid-9th century Chinese document, recorded the Korean pepper paste. The second-oldest documentation of pepper paste is found in the 1433 Korean book Collected Prescriptions of Native Korean Medicines. Gochujang can be found in various degrees of spiciness, from mild to extra hot.
I remember the first time we bought gochujang, in a little Korean store across town. As we were standing in line the Korean ladies were actually pointing and giggling at us, like we didn't have a clue what we were buying.
We first heard about gochujang from Anthony Bourdain, probably on his show "No Reservations". Still miss him, but he brought the whole world together through a love of food and that will always live on. In fact an auction will be happening next month of his belongings.
I do believe I owe thanks to him for encouraging me to explore the food world more. I don't think I would have given a second thought about food blogging if it wasn't for him taking us on a tour of the world with him.
Now back to these amazing Korean BBQ Pork Chops! Will your kids eat them? Do they love the band BTS. the famous K-Pop group? Well they are from South Korea, and so is Gochujang, so that's a selling point.
If not you can leave an extra pork chop out of the marinade, but if you encourage your kids to keep trying new things they will eventually develop a palette to try new things.
It just takes time, let them know there's so many things you can't wait for them to try when they're ready. Or just make it for a special date night, there's plenty of nice days left before the winter sets in.
We'll be grilling as long as long as we can, if there's a decent day in December, guaranteed we'll find something to toss on the grill.
Mr. Yum is the master of the grill around here, and I'll let him explain all his tips and tricks to BBQ perfection. And that's not an exaggeration. We've gone to the rib festivals where all the winners show up in town with their huge trophy's and fancy smokers.
You can achieve the same greatness in your own back yard with a little practice and the right equipment. But even if you can't light a live fire where you live. If you have a grill pan, or even in the oven, this is still worthy of cooking inside.
Like I said, the marinade is magic and will transform an average pork chop into top restaurant quality dinner that I'm pretty sure doesn't exist in any restaurant, even Korean restaurants.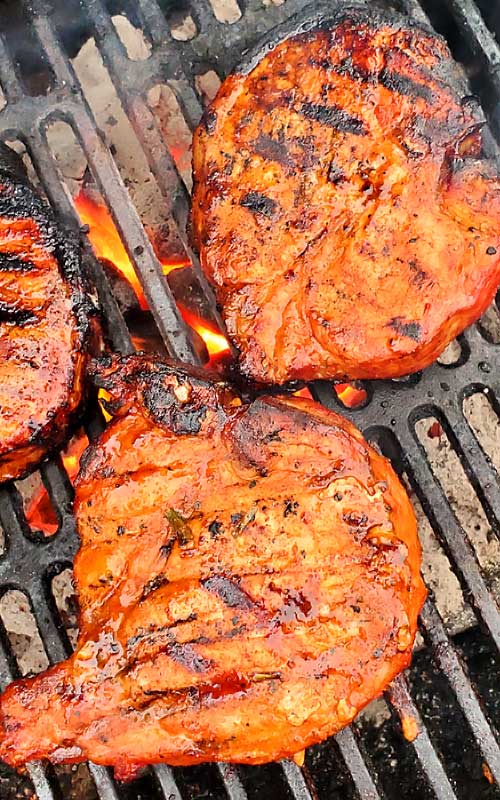 Now for Mr. Yum's tips and tricks on how to perfectly grill these Korean BBQ Pork Chops (or almost anything else for that matter).
The key with this recipe, and anything else that you grill, is timing and temperature control. How do we accomplish this? Two zone cooking.
This method will not work with those cute, little table-top grills. They are simply not large enough to have the zones. You can do it with a kettle grill, however, depending on the size, your spacing may end up a bit tight making it hard to manage two separate zones.
What you need is a larger gas, pellet, or (my preferred tool) charcoal grill. The key is to keep all of your heat coming from one end. If you watch Food Network, I am sure you have heard them talk about, "Direct heat, and indirect heat".
If using gas, turn on the burners all the way up on one side, and leave the other side all the way off. Pellets and charcoal, pile all the coals at one end. If your charcoal pan is adjustable, bring it up as high as it can get. This will give you the two zones that are needed.
Once you have the zones set up, and your hot side is blazing hot, it is time to let the magic happen! This is where learning the timing aspect comes in.
Place the chops over the direct heat side (this is the side that has all of the fire). For pork chops the size we cooked (or cuts that are somehow even thicker), you will want to work in 2 minute increments for the next steps. Thinner cuts will use less time.
At the 2 minute mark rotate your chops 90 degrees, but do NOT flip them. 2 minutes later flip, then 2 minutes later rotate, but do not flip. If during this part you happen to ever get a flare-up, simply close the lid, the smoke will build up and put the flames out, but keep the clock ticking.
After the last rotation, move all of the chops to the indirect side (the side with no fire), and close the lid. Now we wait. This step will have us working in 10 minute blocks or, again, less time if your chops are on the smaller side. Once every 10 minutes, rotate your chops 90 degrees and close the lid, but do not flip them. Flipping them will drop all of the juices that puddle up on the top down the drain, and lead to your meat drying out.
After a few rotations use an instant-read thermometer to see how close to done you are. We are looking for an internal temperature of around 140 degrees. We do not want to be all the way done just yet, because we will be moving back to the direct heat side. If you are at 140, proceed to the next part, if not keep your rotations going, and check the temp again after a rotation or two (depending on how close you are to 140).
Now we move all of the chops back to the direct heat side. Hopefully you saved the marinade, because we are going to use it to baste our chops (you don't want to let all of that flavor to go to waste). Using a brush or mop, slather the marinade all over the top of every chop, and flip them. Go ahead and slather the other side now, and wait 2 minutes. Flip. If you have more marinade left, keep repeating until you use it all up. Be sure that the last side to get the marinade brushed on faces the heat (it needs to cook since raw meat sat in it earlier). It will look like they are getting burn marks…but it is the sugar caramelizing, and that is where the real flavor lives.
You can use that same method with virtually any sauce, even bottled BBQ sauce.
And the last step before you go digging in…let the meat rest for at least 5 minutes before you go cutting into it! This is very important as well. Resting will let the juices work their way all back through the meat. If you cut into it without letting it rest, all the juice runs out…and dry meat.
One last note. The cola used in the marinade. It serves two purposes. The first is the sugar. The cola infuses some via the marinade into the meat. This gives us the caramelization that we are going for. The second, and least known reason, is to help tenderize the meat. Cola happens to be very high in acid, which breaks down the connective tissues in the meat, which in turn gives you that wonderful and literally melt in your mouth meat we all love.
Now all of these steps may seem overly complicated, but after you do it enough times, you will find a groove and realize how simple it really is.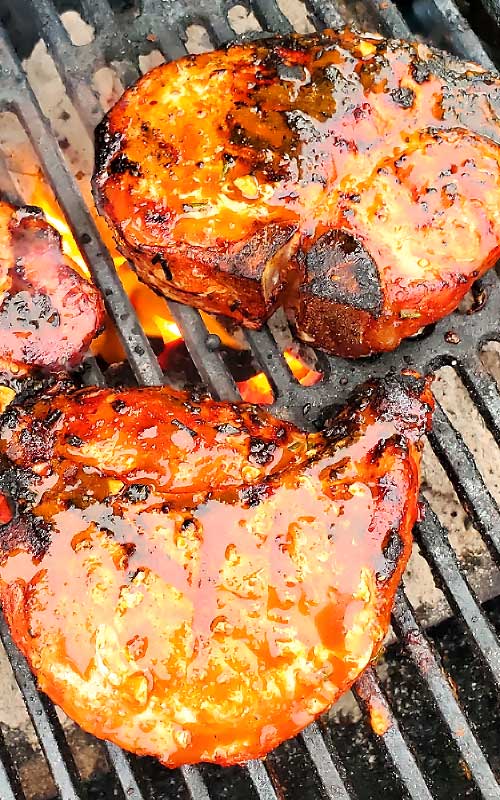 What can you serve with this Korean BBQ Pork Chops?
Rice, Coconut Rice, Sticky Rice or Lo Mien Noodles
Some tips:
If you LOVE this Korean BBQ Pork Chops recipe, try this Thai Drunken Noodles OR these Pork Chops in Creamy Wine Sauce!
Don't forget to follow along, so you don't miss out! Did you know you can get a notification on your phone now as soon something is published? People are loving this so much, more than the emails clogging up your inbox. If you happened to not accept the notification box earlier…now is a good time to click the small bell in the corner and get signed up!
FOLLOW Sparkles of Yum ON FACEBOOK | PINTEREST | INSTAGRAM | TWITTER FOR ALL OF THE LATEST CONTENT, RECIPES AND UPDATES.
Feel free to join the Sparkles of Yum Recipe Swap Facebook group! A fun place to find and share all of your favorite recipes.
Korean BBQ Pork Chops
Yield: 3-4 servings

Prep Time: 5 minutes

Cook Time: 30 minutes

Additional Time: 2 hours

Total Time: 2 hours 35 minutes

These Korean BBQ Pork Chops are packed with with a little sweet, a little heat, and a lot of juicy. A ton of smoky flavor and super tender. These are among some of the best pork chops we have ever ate!
Ingredients
3-4 Porterhouse or Center cut pork chops, 1 inch thick
For the marinade:
1 scallion, finely chopped
2 garlic cloves (minced)
3 tablespoons Gochujang (Korean chili paste)
3 tablespoons soy sauce (I used low sodium)
2 tablespoons Asian sesame oil
1 tablespoons rice wine vinegar
2 tablespoons Sake or Cherry
1 tablespoon brown sugar
1/2 teaspoon ground ginger
1 cup Cola Soda (I used Coke)
2 teaspoons Sesame Seeds for garnish (Optional, I forgot to add)
Instructions
Mix all marinade ingredients in a large zip lock bag, add pork chops massage around to cover the pork chops, seal bag and refrigerate for at least 2 and up to 6 hours, turning bag occasionally.
To make pork:
Prepare grill pan or outdoor grill for direct cooking over high heat, about 450 degrees F. Brush grill grates clean.
Remove pork from marinade - do not shake off excess marinade, and do not discard excess marinade.
Grill chops over direct heat for 4 minutes per side, rotating 90 degrees at 2 minutes.
Move chops to indirect heat and cook with lid closed for at least 10 minutes. Once every 10 minutes, rotate chops 90 degrees (not flipping). Continue doing this until an internal temperature of 140F is reached.
Return to direct heat and baste each side with reserved marinade. All basted side to cook facing heat for at least 2 minutes.
Remove from heat and allow meat to rest for at least 5 minutes before serving.
Nutrition Information
Yield 4 Serving Size 1
Amount Per Serving Calories 1409Total Fat 90gSaturated Fat 34gTrans Fat 5gUnsaturated Fat 47gCholesterol 382mgSodium 955mgCarbohydrates 21gFiber 0gSugar 18gProtein 118g

Nutrition data was provided and calculated by Nutritionix, and should only be used as a general guideline. This information is provided as a courtesy and there is no guarantee that the information will be completely accurate.

© 2023 Sparkles of Yum. All rights reserved. All images & content are copyright protected. Please do not use my images without prior permission. If you want to share this recipe, please provide a link back to this post for the original recipe.
Sparkles of Yum is a participant in the Amazon Services LLC Associates Program, an affiliate advertising program designed to provide a means for sites to earn advertising fees by advertising and linking to Amazon.com.