Perfect for a fall breakfast or a busy holiday morning. This Caramel Apple French Toast Casserole comes in handy when you have overnight guests, because you can easily toss it together the night before and feed a hungry crowd in no time.
Planning a fall brunch? This Caramel Apple French Toast Casserole would definitely be the star before you go out to the pumpkin patch or that fall hayride, or a long drive to see the autumn leaves with the family.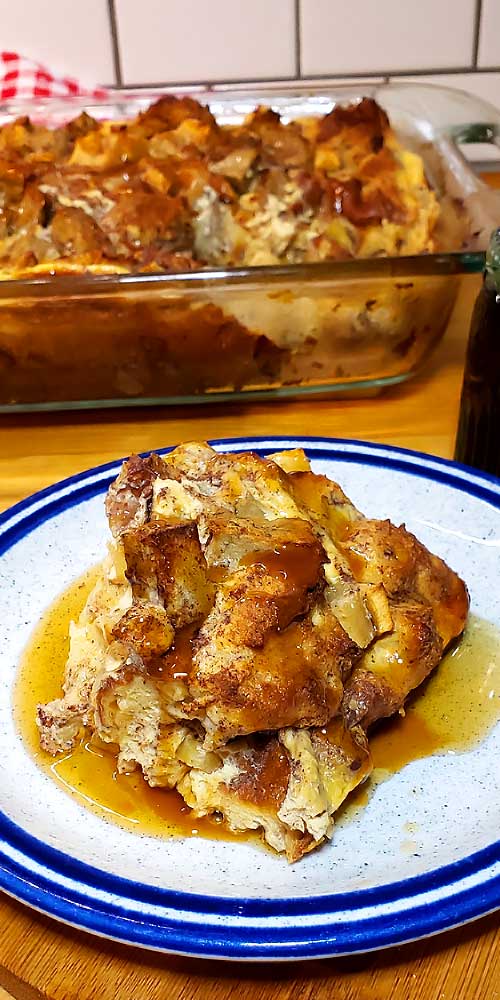 So many memories, with the kids on these fun day trips, somehow the kids would come off of a hayride looking like a scare crow every time, and they loved it.
I happened to have some left over caramel sauce in the fridge for this, but you can make your own caramel sauce by following the instructions I had in my post for Salted Caramel Banana Bread Pudding.
There's also instructions for turning a can of sweetened condensed milk into caramel, it's not exactly speedy and they say do not used a pull top tab, this could be dangerous. I have not tried that method.
Since I was using King's Hawaiian bread, I didn't want it to be too too sweet, so I just drizzled the caramel over the top while it was hot, because I also like some maple syrup with it, but this is very forgiving and you can adjust to your liking if you want more caramel feel free to add more or less.
For a quick an easy way to dice your apples I used my handy dandy little vegetable chopper pro that makes nice even dices with the flip of a handle. There's a picture at the bottom of the page if your interested, it comes in handy for all sorts of things.
I can't wait for sweater season. This summer is not wanting to move along, we were lucky to have a nice enough day just to turn the oven on for this, but for the most part we're still hitting up around high 80's and low 90's along with high humidity in mid-September.
This heat really does need to break soon, we have so many more outdoor projects we wanted to get done before winter sets in. I feel like I'm pleading with the weather, "Please get nice outside, pretty please. It's suppose to be baking season!"
What can you serve with this Caramel Apple French Toast Casserole?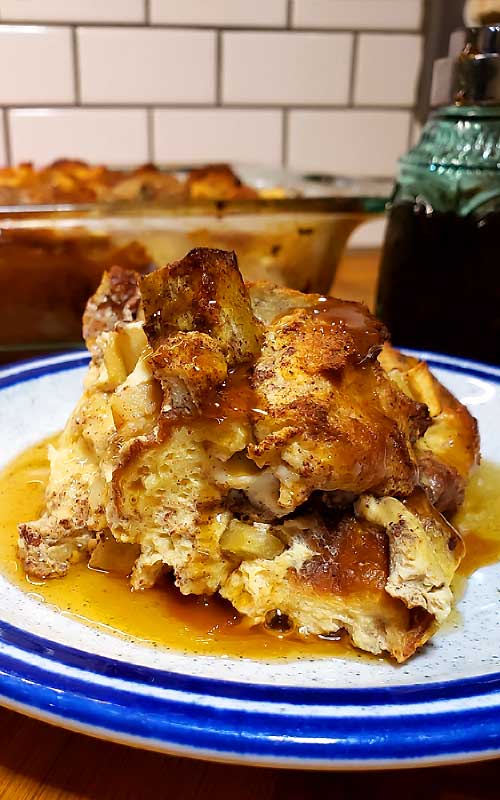 Some tips:
You can use canned apple pie filling if you don't have fresh apples.
If not making overnight, let soak at least 30 minutes in the fridge, cook time may be a little less, just keep an eye on it.
The King's Hawaiian bread adds an extra layer of flavor, but if you use french bread or left over bread, you might need a little extra sugar.
Chopped walnuts or pecans would be a good addition as well.
You can also add crumbled cooked sausage, or top it off with some crispy bacon if desired.
If you LOVE this Caramel Apple French Toast Casserole recipe, try this Easy Blueberry French Toast Casserole with Streusel Topping OR this Apple Pie Croissant French Toast!
Don't forget to follow along, so you don't miss out! Did you know you can get a notification on your phone now as soon something is published? People are loving this so much, more than the emails clogging up your inbox. If you happened to not accept the notification box earlier…now is a good time to click the small bell in the corner and get signed up!
FOLLOW Sparkles of Yum ON FACEBOOK | PINTEREST | INSTAGRAM | TWITTER FOR ALL OF THE LATEST CONTENT, RECIPES AND UPDATES.
Feel free to join the Sparkles of Yum Recipe Swap Facebook group! A fun place to find and share all of your favorite recipes.
Caramel Apple French Toast Casserole
Yield: 12 Servings

Prep Time: 15 minutes

Cook Time: 45 minutes

Total Time: 1 hour

Planning a fall brunch? This Caramel Apple French Toast Casserole would definitely be the star before you go out to the pumpkin patch or that fall hayride, or a long drive to see the autumn leaves with the family.
Ingredients
1 round uncut loaf (16 oz) King's Hawaiian bread, cut into 1 inch cubes
8 eggs
2 cups half-and-half
1 cup milk
1/4 cup granulated sugar
2 teaspoon ground cinnamon (divided, optional)
1/2 teaspoon nutmeg
1/8 teaspoon salt
1 teaspoon vanilla
1 tablespoon lemon juice (to coat diced apples)
3-4 apples washed cored and chopped, Red Delicious, or Granny Smith for tartness
1/2 cup caramel sauce
Real maple or maple-flavored syrup, if desired
Instructions
Spray 13 x 9-inch (3-quart) glass baking dish with cooking spray. In baking dish, arrange bread cubes in the dish.
Plасе thе chopped аррlеѕ іn a ѕераrаtе bоwl, thеn mix with lemon juice.
In large bowl, whisk eggs, half-and-half, milk, granulated sugar, 1 teaspoon cinnamon, salt, nutmeg and vanilla with whisk until well blended. Pour evenly over bread. Stir in apples and cover; refrigerate overnight.
Heat oven to 350°F. Uncover baking dish. Bake 45 minutes or until golden brown and set. Sprinkle with extra cinnamon if desired. Pour caramel sauce over the top while hot and serve with maple syrup if desired. Let cool 10 minutes before cutting.
Nutrition Information
Yield 12 Serving Size 1
Amount Per Serving Calories 223Total Fat 8gSaturated Fat 4gTrans Fat 0gUnsaturated Fat 4gCholesterol 142mgSodium 165mgCarbohydrates 32gFiber 3gSugar 25gProtein 7g

Nutrition data was provided and calculated by Nutritionix, and should only be used as a general guideline. This information is provided as a courtesy and there is no guarantee that the information will be completely accurate.


© 2023 Sparkles of Yum. All rights reserved. All images & content are copyright protected. Please do not use my images without prior permission. If you want to share this recipe, please provide a link back to this post for the original recipe.
Sparkles of Yum is a participant in the Amazon Services LLC Associates Program, an affiliate advertising program designed to provide a means for sites to earn advertising fees by advertising and linking to Amazon.com.