These Italian Stuffed Peppers are a regular in our household. Just simple ingredients coming together so easily, and it turns out so good every time. It's no wonder that they are still a staple in many households.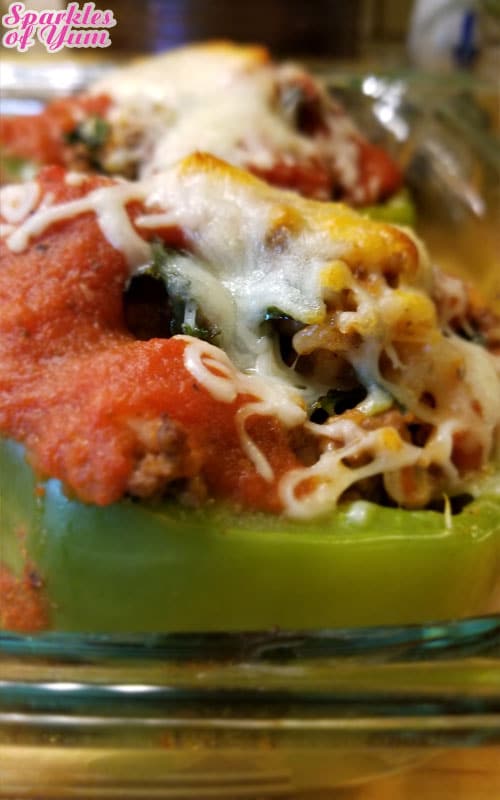 Well, I guess it's becoming obvious what my favorite foods are to cook. A lot of Italian speaks to my soul thanks to my Dad's family coming over from Italy, Sicily to be exact.
My Mom wasn't Italian, but she learned from the best of them. Care of them, I've never met an Italian dish I haven't loved. It's no wonder why Italian is seriously up there with some of the most loved food in the world, and it all starts with humble beginnings; just good fresh ingredients with some of the most loved herbs and spices.
I love listening to Iron Chef Mario Batali talk about how Italians took what they had on hand because of necessity and discovered some of our favorite dishes today, like pizza just for starters, and it goes on and on for generations.
Popularity exploded with all the large family's in the 50's and 60's. I know every wedding reception I ever went to growing up served Mostaccioli!
Just look how much space your basic Spaghetti sauce and pasta takes up on the shelves at your local grocery store my friends! There's so many budget friendly meals you can make that it's practically a whole isle at every American food store!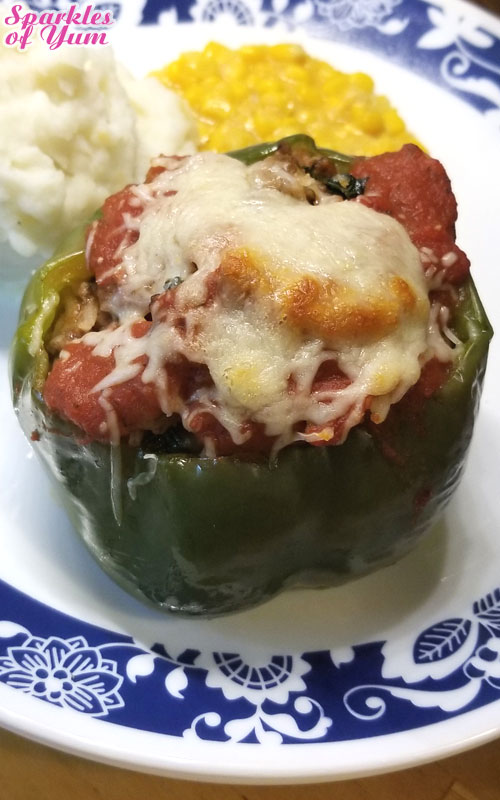 Don't forget to follow along, so you don't miss out! Did you know you can get a notification on your phone now as soon something is published? People are loving this so much, more than the emails clogging up your inbox. If you happened to not accept the notification box earlier…now is a good time to click the small bell in the corner and get signed up!
FOLLOW Sparkles of Yum ON FACEBOOK | PINTEREST | INSTAGRAM | TWITTER FOR ALL OF THE LATEST CONTENT, RECIPES AND UPDATES.
Feel free to join the Sparkles of Yum Recipe Swap Facebook group! A fun place to find and share all of your favorite recipes.
Italian Stuffed Peppers
Italian Stuffed Peppers are a regular in our household. Just simple ingredients coming together so easily, and it turns out so good every time.
Ingredients
4 medium to large green or red bell peppers
1 1/2 pounds lean ground beef
1 cup chopped onion
1 cup cooked rice
1/2 cup chopped parsley or kale
2 teaspoons Italian Seasoning
1/2 teaspoon Garlic Powder
1/2 teaspoon salt
1/4 teaspoon Black Pepper, Ground
1 23 oz jar Marinara sauce (halved)
1/2 cup shredded mozzarella cheese
Instructions
Preheat oven to 400°F. Cut off tops of bell peppers. Remove seeds and membranes. Rinse bell peppers. In 4-quart pot, add enough water to cover peppers. Heat to boiling; add peppers. Cook about 2 minutes; drain and set aside.
Brown ground beef when about half done add onion and parsley or kale (happened to have kale, normally would use parsley) in large skillet on medium-high heat. Drain fat. Add cooked rice, Italian seasoning, garlic powder, salt and pepper and 1/2 of the Marinara sauce in and mix until well blended.
Stuff peppers with beef mixture. Place stuffed peppers upright in baking dish. Pour remaining Marinara sauce over stuffed peppers. Cover tightly with foil.
Bake 30 to 35 minutes or until peppers are tender. Remove foil. Sprinkle stuffed peppers with cheese. Bake 5 minutes longer or until cheese is melted.
Nutrition Information
Yield

4
Serving Size

1 Stuffed Pepper
Amount Per Serving
Calories

618
Total Fat

26g
Saturated Fat

10g
Trans Fat

1g
Unsaturated Fat

12g
Cholesterol

162mg
Sodium

1330mg
Carbohydrates

37g
Fiber

6g
Sugar

14g
Protein

57g
© 2023 Sparkles of Yum. All rights reserved. All images & content are copyright protected. Please do not use my images without prior permission. If you want to share this recipe, please provide a link back to this post for the original recipe.
Sparkles of Yum is a participant in the Amazon Services LLC Associates Program, an affiliate advertising program designed to provide a means for sites to earn advertising fees by advertising and linking to Amazon.com.