This homemade Italian Pasta and Marinara Meat Sauce will make you feel like you're pulling up a chair with generations of the great little old Italian ladies.
Just the aroma of this Italian Pasta and Marinara Meat Sauce cooking on the stove can take you right back to when you were little and your Grandma or your Mom let you help her in the kitchen.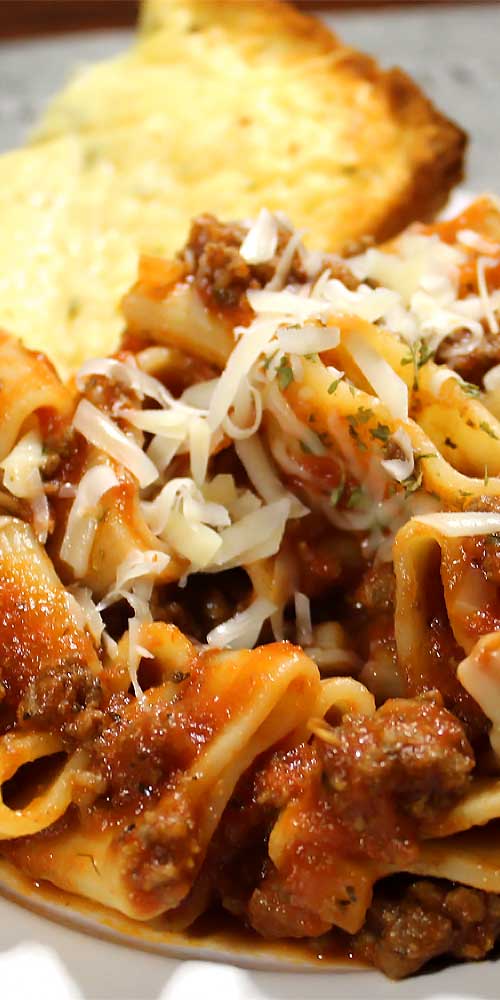 It's amazing how one of the cheapest dinners you can feed your family come from some of the most simple ingredients. It's what you do with those simple ingredients that turns it into a memorable experience. It brings back memories and emotions you haven't thought about in years, like when you were little and your Grandma or your Mom let you help her in the kitchen.
Just the aroma of the marina sauce on the stove can take you right back there. You want to taste that love on your plate and you want to give your family those memories to take with them.
The tricky part is most Mom's and Grandma's recipes lived in their mind, they didn't write everything down, and now for some of us we're always trying to remake that fabulous sauce or whatever it is.
Sometimes they wrote down the ingredients, but not the proper amount, a pinch of this, a palm full of that. You think you're missing something that used to be perfect every time. These days we're always in a hurry, they weren't so much in a hurry, sometimes what we're missing is the time they took to just let things simmer. Let it go and meld and marry in the pot. Taste it, and stir it, and just pour their heart and soul into that one pot of sauce on the stove until perfection happened.
Italian family's commonly call it Sunday Gravy, because it cooks all day on the stove and can easily feed a large family, but fun fact; it's history didn't actually originate in Italy. It was first written about in Spain around the mid 1500's, first known use of tomato sauce with pasta appears in the Italian cookbook L'Apicio moderno, by Roman chef Francesco Leonardi, edited in 1790.
Whether you call it Sunday Gravy, Marinara, Ragu, or just Pasta sauce, you want it to hit the spot and this this thick style sauce is meant to be served with a nice thick pasta like this Mezzi Paccheri, Rigatoni, or Penne cooked al dente in well salted water. Salted like the ocean is what a professional chef would say. The only way to tell if your pasta is Al Dente is to take a piece out of the water and blow on it to cool and bite it, you should not feel a crunch, but a slight resistance in the center layer of the noodle.
Now to rinse or not to rinse. No need to rinse, you want the starch to stay on the pasta it will help the sauce to adhere to it. The only time I rinse pasta is if I'm making a cold pasta salad that will stop the cooking process. That's why we take the pasta out of the water al dente, it will continue to finish cooking while it's hot so you can either lift it right out of the water using a mesh spider or drain in a colander, then put it back in the pot with the lid on it for a moment to keep it from drying out, leave a little pasta water in the bottom and serve.
Italian Pasta and Marinara Meat Sauce, this homemade meaty marinara sauce will make you feel like you're pulling up a chair with generations of the great little old Italian ladies, that came before us and passed down love on a plate. So enjoy the aroma, and stirring, and tasting. But most of all, treasure the love that gets passed around the table while your together with family.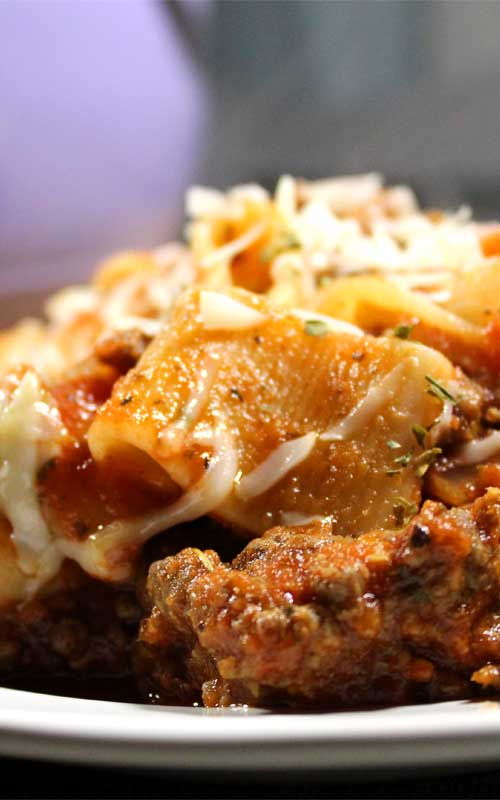 What can you serve with this [page_title]?
Wondering what wine to serve? According to Cellar Masters Pinot Grigio, or Sauvignon Blanc are a couple good ones.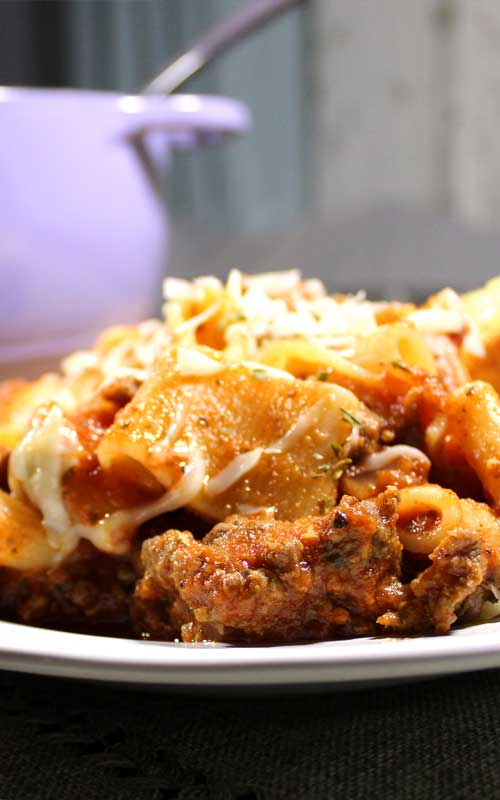 Some tips:
For the best sauce, make sure your dried herbs aren't too old
Not all tomatoes are created equal, a good crushed tomato makes for the best sauce. Good bets are ones using san marzano, or any type that your mother and grandmother used.
If you LOVE this [page_title] recipe, try this Italian Meatloaf, Italian Stuffed Peppers, OR for something different; Taco Spaghetti!
Don't forget to follow along, so you don't miss out! Did you know you can get a notification on your phone now as soon something is published? People are loving this so much, more than the emails clogging up your inbox. If you happened to not accept the notification box earlier…now is a good time to click the small bell in the corner and get signed up!
FOLLOW Sparkles of Yum ON FACEBOOK | PINTEREST | INSTAGRAM | TWITTER FOR ALL OF THE LATEST CONTENT, RECIPES AND UPDATES.Feel free to join the Sparkles of Yum Recipe Swap Facebook group! A fun place to find and share all of your favorite recipes.
Italian Pasta and Marinara Meat Sauce
Yield: 6-8 Servings

Prep Time: 10 minutes

Cook Time: 55 minutes

Total Time: 1 hour 5 minutes

This homemade Italian Pasta and Marinara Meat Sauce will make you feel like you're pulling up a chair with generations of the great little old Italian ladies.
Ingredients
For the sauce:
2 Tbsp olive oil
1 large white onion, finely diced
4 garlic cloves, finely minced
1 1/2 pounds lean ground beef
2 28 oz. cans crushed or pureed tomatoes
3 tablespoons tomato paste (I use Cento or Continda)
2 Tbsp sugar
Kosher salt, to taste
Fresh cracked pepper
1 1/2 tablespoon Italian Seasoning
Parsley for garnish
1/4 cup fresh grated parmigiano reggiano
Pasta:
1 pound tubular dried pasta such as Mezzi Paccheri, Rigatoni, or Penne; cooked al dente
Instructions
In a large dutch oven, heat the olive oil over medium heat. add the diced onion when onions are almost translucent and minced garlic. Toss around with a wooden spoon and cook until onions are softened and slightly browned, about 3-5 minutes.
Once the onions are cooked, add ground beef. Season with salt and pepper, stir to crumble in larger chunks and cook until it's no longer pink.
Once meat is browned, drain any juices in the pot. Return to heat and pour in the crushed tomatoes and tomato paste.
Add sugar, salt, pepper, Italian Seasoning. Stir to make sure everything is combined. Turn the heat to low and simmer for at least 45 minutes to 1 hour, (or more if you have time) stirring occasionally, tasting the sauce and adjusting the seasonings to your preference.
Nutrition Information
Yield 8 Serving Size 1
Amount Per Serving Calories 442Total Fat 16gSaturated Fat 5gTrans Fat 0gUnsaturated Fat 8gCholesterol 78mgSodium 219mgCarbohydrates 42gFiber 5gSugar 10gProtein 33g

Nutrition data was provided and calculated by Nutritionix, and should only be used as a general guideline. This information is provided as a courtesy and there is no guarantee that the information will be completely accurate.

© 2022 Sparkles of Yum. All rights reserved. All images & content are copyright protected. Please do not use my images without prior permission. If you want to share this recipe, please provide a link back to this post for the original recipe.
Sparkles of Yum is a participant in the Amazon Services LLC Associates Program, an affiliate advertising program designed to provide a means for sites to earn advertising fees by advertising and linking to Amazon.com.