Serious comfort food from your own kitchen. This Copycat Outback Alice Springs Chicken is juicy and mouth watering-ly delicious!
You don't have to leave the house to get the food you want. Save your money and fill your tummy with this Copycat Outback Alice Springs Chicken.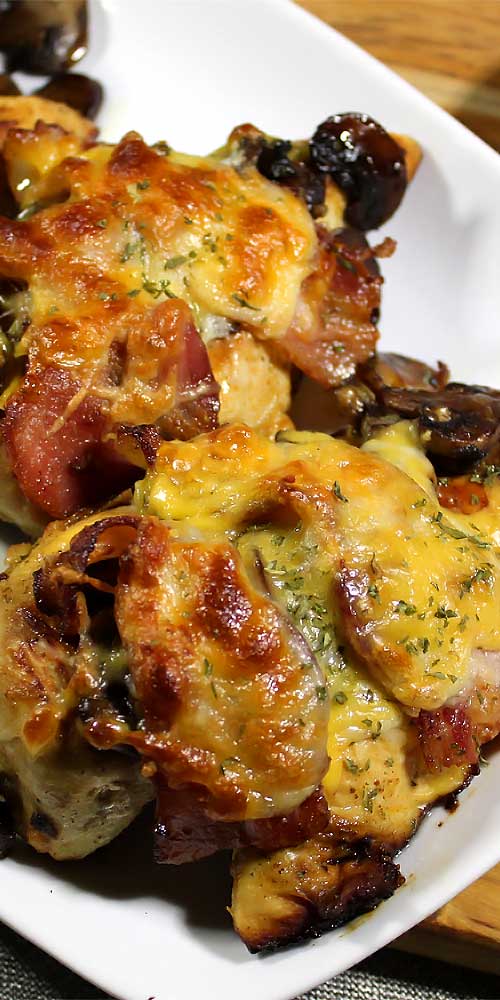 If you're craving restaurant food, but you need to save some money, we've got you covered with this Copycat Outback Alice Springs Chicken recipe. A quick pan-seared chicken, finished in the oven makes for a super easy dinner recipe, perfect for any night of the week!
Impress your guests and your family, no one will walk away hungry, and you'll get all the compliments, it's winner winner chicken dinner!
I love making this, it is just so tasty and easy to make at home. When I go to Outback Steakhouse, I'd rather order the steak than the chicken. Just because I've almost always got some chicken in the freezer. We normally have something chicken at least once a week. Like this Chicken Cacciatore or Chicken Margherita. Plus, chicken is almost always on sale somewhere and there's so many different ways to make it, your family doesn't ever have to get bored of having the same dinners over and over.
I remember when hearing from a certain someone before they didn't want any chicken dinners because when their mom made chicken it was always dry. Well, that's unfortunate because your cutting out a lot of variety from your dinners if you eliminate chicken and hopefully you never have to have dry chicken again, no one wants that, and there's an easy to solution.
If you use an internal thermometer, you'll never ever have dry chicken again. That's the secret don't let it overcook, but chicken has to be done so it's a pretty inexpensive solution to never having to complain about dry chicken. Plus if your smothering it in mushrooms, bacon, and cheese and have a yummy Honey Mustard dipping sauce, well friends that's this amazing Copycat Outback Alice Springs Chicken.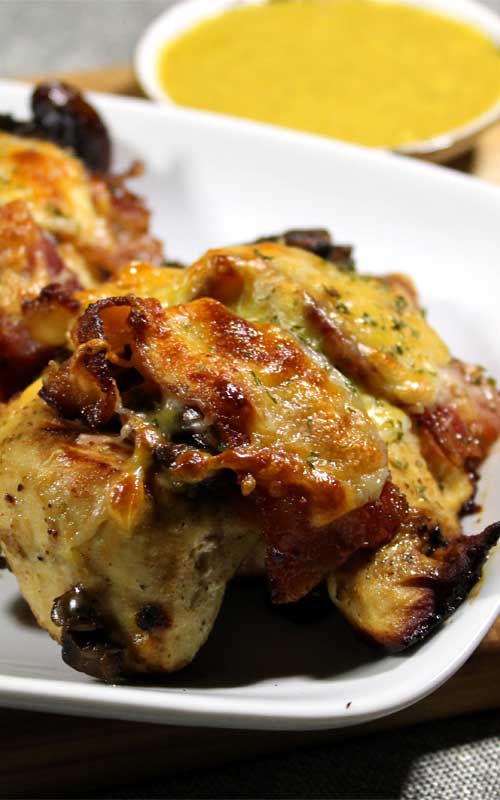 What can you serve with this Copycat Outback Alice Springs Chicken?
Keep it simple with some steamed vegetables, your choice of potato, and bread…just like Outback does.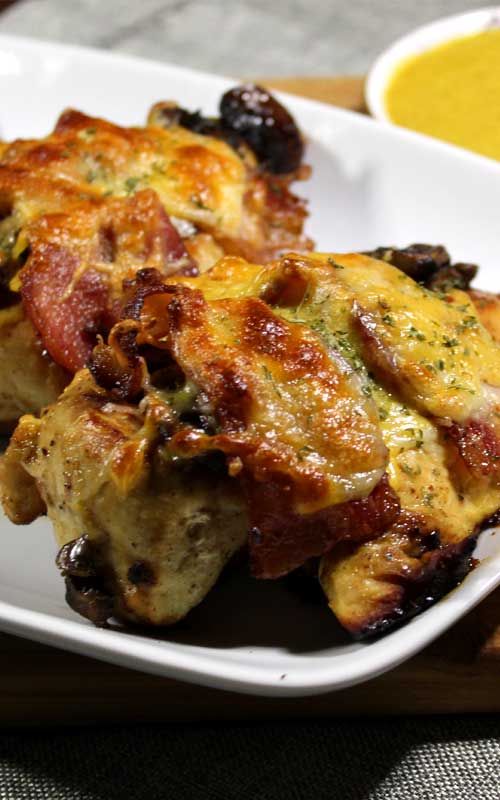 Some tips:
If you LOVE this Copycat Outback Alice Springs Chicken recipe, try this Chicken Cacciatore OR this Chicken Margherita!
Don't forget to follow along, so you don't miss out! Did you know you can get a notification on your phone now as soon something is published? People are loving this so much, more than the emails clogging up your inbox. If you happened to not accept the notification box earlier…now is a good time to click the small bell in the corner and get signed up!
FOLLOW Sparkles of Yum ON FACEBOOK | PINTEREST | INSTAGRAM | TWITTER FOR ALL OF THE LATEST CONTENT, RECIPES AND UPDATES.
Feel free to join the Sparkles of Yum Recipe Swap Facebook group! A fun place to find and share all of your favorite recipes.
Copycat Outback Alice Springs Chicken
Yield: 4 servings

Prep Time: 10 minutes

Cook Time: 30 minutes

Additional Time: 30 minutes

Total Time: 1 hour 10 minutes

Serious comfort food from your own kitchen. This Copycat Outback Alice Springs Chicken is juicy and mouth watering-ly delicious!
Ingredients
Marinade (Reserve some for Honey Mustard dipping sauce):
1/2 cup honey
1/2 cup Dijon mustard
3 tablespoons mayo
1 tablespoon lemon juice
For Chicken:
salt and pepper
4 boneless skinless chicken breast
2 tablespoons olive oil
4 slices bacon, cooked until crispy and cut in half
1 tablespoon butter or bacon drippings
8 oz. Bella mushrooms
1 cup Colby-Jack Cheese, grated
2 Tablespoons Parsley, chopped
Instructions
Whisk together mustard, honey, mayonnaise, and lemon juice in a small bowl. Reserve 1/2 cup sauce for dipping and refrigerate until serving time.
Meanwhile, place the chicken breast in a large plastic zip-lock bag. Pour in remaining sauce and turn in bag until evenly coated. Refrigerate at least 30 minutes or overnight.
Preheat oven to 400 degrees F. Heat butter or bacon drippings in a nonstick skillet over medium-high heat. Add mushrooms and saute until the mushrooms have started to turn brown, about 5 to 7 minutes. Set aside.
With a paper towel wipe out any mushroom bits and add olive oil in the same oven-proof skillet or Dutch oven over medium-high heat until shimmering. And chicken breast (seasoned with salt and pepper), shaking off excess marinade and discard the rest. Sear the chicken on one side until a golden-brown crust forms, about 5 minutes. Flip each piece and continue to cook until the second side is browned.
Divide the mushrooms evenly over the chicken. Top each with 2 half pieces of cooked bacon and then cheese. Place the oven safe skillet in the oven (or transfer to non-stick or sprayed baking dish). Bake until the thickest part of the chicken reaches 165 degrees F, about 10 to 15 minutes.
Remove from oven and garnish with parsley if desired. Serve with reserved honey mustard sauce on the side for dipping.
Nutrition Information
Yield 4 Serving Size 1
Amount Per Serving Calories 736Total Fat 40gSaturated Fat 13gTrans Fat 0gUnsaturated Fat 24gCholesterol 164mgSodium 1605mgCarbohydrates 41gFiber 3gSugar 37gProtein 54g

Nutrition data was provided and calculated by Nutritionix, and should only be used as a general guideline. This information is provided as a courtesy and there is no guarantee that the information will be completely accurate.

© 2023 Sparkles of Yum. All rights reserved. All images & content are copyright protected. Please do not use my images without prior permission. If you want to share this recipe, please provide a link back to this post for the original recipe.
Sparkles of Yum is a participant in the Amazon Services LLC Associates Program, an affiliate advertising program designed to provide a means for sites to earn advertising fees by advertising and linking to Amazon.com.