These White Chocolate Cherry Cheesecake Truffles are delicious. Little bites of no-bake cherry cheesecake, dipped in vanilla almond bark, and sprinkled with sparkles of pretty blue sugary sanding sugar, snowflakes, jimmies and silver balls.
If you are wanting to wow your guests, these White Chocolate Cherry Cheesecake Truffles are a Christmas staple that would make your table stand out! Perfect for sharing and giving your taste buds the gift of yummy goodness.
They could also be perfect for Frozen birthday party or Easter time, I just wanted blue because I went with silver and blue theme tree this year. The first time I decided to do a total theme tree. I had boxes and boxes of Christmas ornaments and things on display I used every year, but my kids are grown so I decided to pass them down and start fresh. We recently remodeled our living and dinning rooms so everything is much more open to fit all the growing family.
If you think your house is full when your kids are little, wait until they grow up, marry, and bring more and more kids, then those kids bring girlfriends and boyfriends. All of the sudden, everyone can't fit at that big dinning room table anymore.
So I decided to scale down the huge tree to a skinny tree; it's so cute, I love it. I thought I might miss the little hand made things the kids made when they were little that hung on tree, because I saved everything! At least now we have room for a second folding table to bring out so we can all have dinner together.
Ok, back to these no-bake White Chocolate Cherry Cheesecake Truffles. This recipe is so easy to make, they just need to chill so you can roll them into balls and dipping in the vanilla almond bark goes quick. if you have a helper to do the sprinkles before the white chocolate sets up they stick better. I found myself having to add a little more white chocolate on some of them because it sets up quicker than I thought, so it might be better to dip and sprinkle right away than to dip all of them first. I should have remembered that because I made these Chocolate Peanut Butter Crispy Balls last year with sprinkles, but we did them together so plan your strategy ahead, or add an extra drizzle either way works.
So I hope everyone has a Merry Christmas and Happy New Years and everyone's holiday be blessed!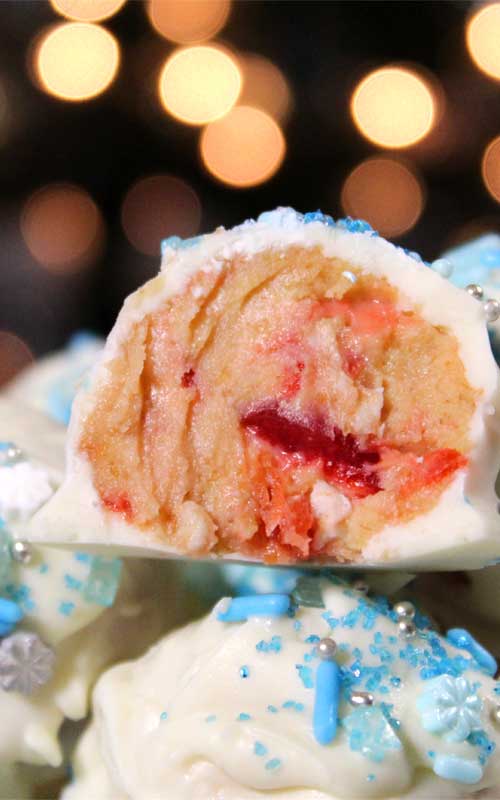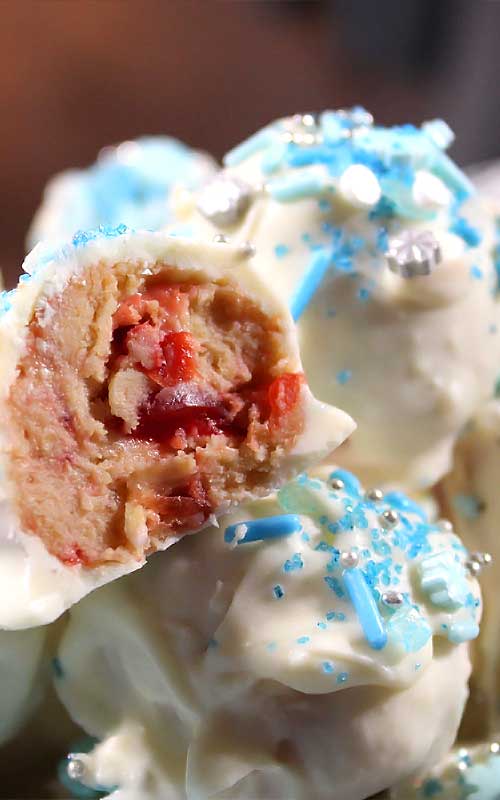 Some tips:
Turn these into White Chocolate Cherry Cheesecake Champagne Truffles by soaking the cherries in a cup of champagne for a special occasion like New Years Eve!
Swap out the cherries for strawberries or raspberries using the same method.
I found the blue sprinkles at Joann, but Wilton has similar ones on Amazon.
If you LOVE this White Chocolate Cherry Cheesecake Truffles recipe, try this Chocolate Peanut Butter Crispy Balls or this Chocolate Covered Cherry Bundt Cake!
Don't forget to follow along, so you don't miss out! Did you know you can get a notification on your phone now as soon something is published? People are loving this so much, more than the emails clogging up your inbox. If you happened to not accept the notification box earlier…now is a good time to click the small bell in the corner and get signed up!
FOLLOW Sparkles of Yum ON FACEBOOK | PINTEREST | INSTAGRAM | TWITTER FOR ALL OF THE LATEST CONTENT, RECIPES AND UPDATES.
Feel free to join the Sparkles of Yum Recipe Swap Facebook group! A fun place to find and share all of your favorite recipes.
White Chocolate Cherry Cheesecake Truffles
Yield: 24 Balls

Prep Time: 30 minutes

Cook Time: 5 minutes

Additional Time: 1 hour

Total Time: 1 hour 35 minutes

If you are wanting to wow your guests, these White Chocolate Cherry Cheesecake Truffles are a Christmas staple that would make your table stand out! Perfect for sharing and giving your taste buds the gift of yummy goodness.
Ingredients
8 ounces cream cheese (set out an hour ahead to get soft)
1 1/4 cup graham cracker crumbs (about 9 sheets)
1/2 cup powdered sugar
1 teaspoon vanilla extract
6 tablespoons cherries (I used maraschino, chopped/diced & pat with paper towel)
10 ounces vanilla almond bark or white chocolate chips
sprinkles, sanding sugar & silver dragées (optional)
Instructions
Using a hand mixer, in a medium bowl mix cream cheese until smooth, adding powdered sugar, vanilla extract, and graham cracker crumbs until combined. Fold in cherries and chill a couple hours to overnight.
When ready to roll line a sheet pan or cookie sheet with parchment paper and lightly spray with nonstick spray or a silicone mat and use either a cookie scoop or teaspoon to make even 1 1/2" balls (makes 2 dozen). Place back in fridge until chilled and firm, about 30 minutes.
Melt bark or white chocolate in a double boiler or microwave safe dish, stirring every 15-30 seconds until melted and smooth, about 3 minutes. Dip each truffle using a spiral dipping tool or fork and tap a little for excess to run back into the bowl. Place back on sheet pan, adding sprinkles before it sets up or drizzle a little melted white chocolate over the top again if you don't have a helper, it sets up pretty quick. Refrigerate truffles to harden.
Nutrition Information
Yield 24 balls Serving Size 1 ball
Amount Per Serving Calories 108Total Fat 4gSaturated Fat 2gTrans Fat 0gUnsaturated Fat 2gCholesterol 10mgSodium 53mgCarbohydrates 9gFiber 0gSugar 7gProtein 1g

Nutrition data was provided and calculated by Nutritionix, and should only be used as a general guideline. This information is provided as a courtesy and there is no guarantee that the information will be completely accurate.

© 2023 Sparkles of Yum. All rights reserved. All images & content are copyright protected. Please do not use my images without prior permission. If you want to share this recipe, please provide a link back to this post for the original recipe.
Sparkles of Yum is a participant in the Amazon Services LLC Associates Program, an affiliate advertising program designed to provide a means for sites to earn advertising fees by advertising and linking to Amazon.com.