This super easy Irish Beer Braised Pork Loin recipe makes for one of the most tender and delicious roasts you will ever have.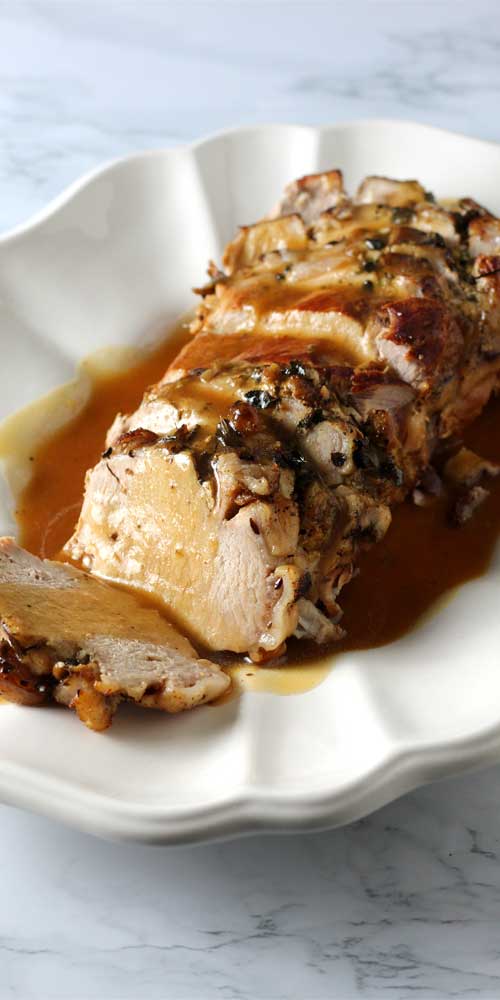 What a tremendous depth of flavor you get from beer braising. The pan sauce is so rich and incredible. We were really quiet for a moment at first tasting of this Irish Beer Braised Pork Loin. Like taken aback not expecting so much flavor. It's tasting so good, your just looking at each other, but not wanting to talk with your mouth full, so your eyes get really big and you let out a big mmm, this is really really good.
So, I bet you're wondering what kind of beer makes for such an awesome sauce.
Well it's not just one, and it's not the normal Guinness you'd expect. Even though we both have a lot of Irish blood, we're not especially fond of a dark Guinness stout, but the blonde is quite an unsung hero and now we're wondering why it's not as popular or more so even than the dark…even though this probably has something to do with the fact that Guinness stout has been made for over 250 years, and the blonde is made for Americans and has only existed since 2014.
As for the other beer, we went with Smithwick's Irish Red Ale. Now, many of you reading this have never heard of Smithwick's, but have heard of Guinness. I have a feeling this is all in how both of these beers are marketed here in America. However, in Ireland, Smithwick's is actually consumed more than Guinness, and has been brewed for about 50 years longer!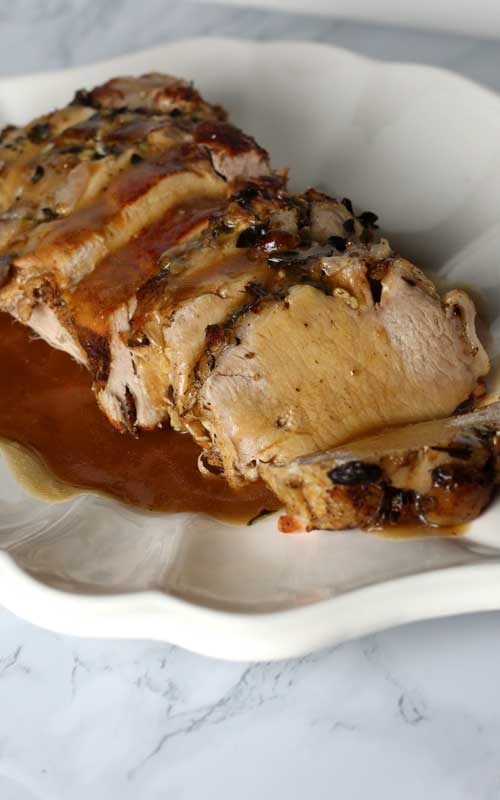 Seems like we have the Food Network on a lot around the house. It just kinda goes on in the background and we're not really watching. But occasionally, something catches your attention and I think this was one of those days.
Probably Guy Fieri on an episode of Triple D where someone scored the top of a roast, and then rubs the garlic and herbs into the slits making it look so pretty and taste so good. You make those cuts right through the top of that fat cap and all that flavor garlic and herbs can ooze into the meat.
So when you take the Irish Beer Braised Pork Loin out of the Dutch oven, set it on your cutting board and loosely cover with foil, so it can rest. You don't want to cut it too soon or you'll lose a lot of the juices, making it dry. We let it rest at least 10 minutes.
While that's resting I strain the the pan sauce through a mesh strainer and then just let it reduce a few minutes to thicken. The color and the flavor is amazing! It just takes a simple pork loin over the top and turns it into an excellent eating experience!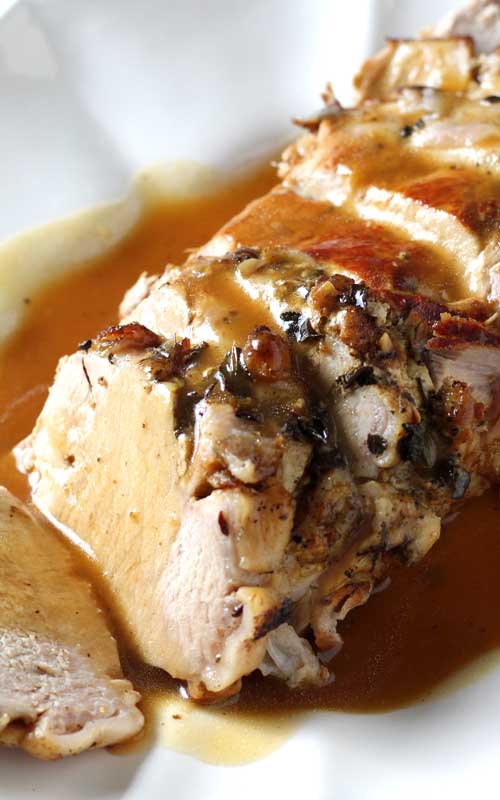 What can you serve with this Irish Beer Braised Pork Loin?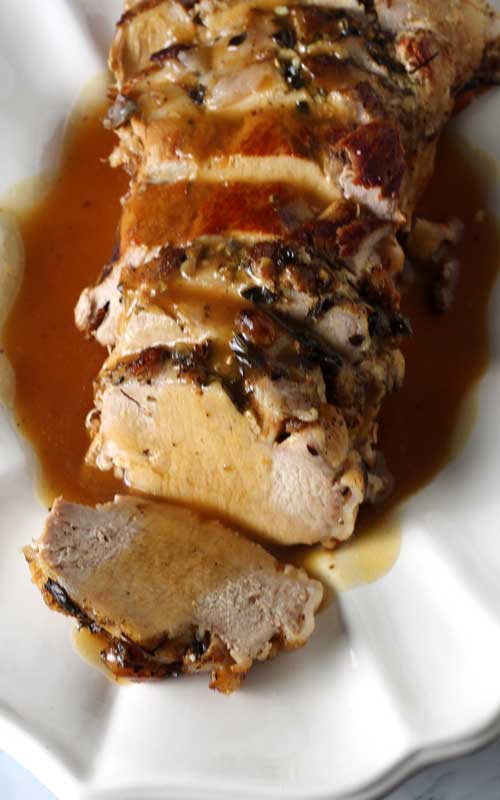 Some tips:
What is the best way to thaw frozen meat? The best way to defrost meat is in the refrigerator in its wrapping and placed in a large mixing bowl or container that won't leak while it thaws, so everything in fridge stays clean and protected from thawing raw meat. Follow these guidelines for defrosting pork in the refrigerator:

Small roast will take 3-5 hours per pound
Large roast will take 4-7 hours per pound

When you getting ready to prepare your dinner, the pork can be set out a while to get near room temperature, not cold straight from the fridge, so remove it about 30 minutes or so, still covered, and set in a cool place.
Make sure to let your roast rest before slicing. Resting your Pork loin will allow the meat to cool a bit, and retain the juices, providing a more tender and flavorful dish. If you slice too soon, or just out of the oven you'll lose a lot of the natural juices all over the cutting board. So just loosely tent with foil for 10-15 minutes while finishing up the side dishes and getting the table set.
The National Pork Board recommends cooking Pork to 145 degrees Fahrenheit
Can pork be refrozen if it has thawed? According to the USDA, once the food is thawed in the refrigerator, it is safe to refreeze it without cooking, although there may be a loss of quality due to the moisture lost through defrosting. After cooking raw foods which were previously frozen, it is safe to freeze the cooked food.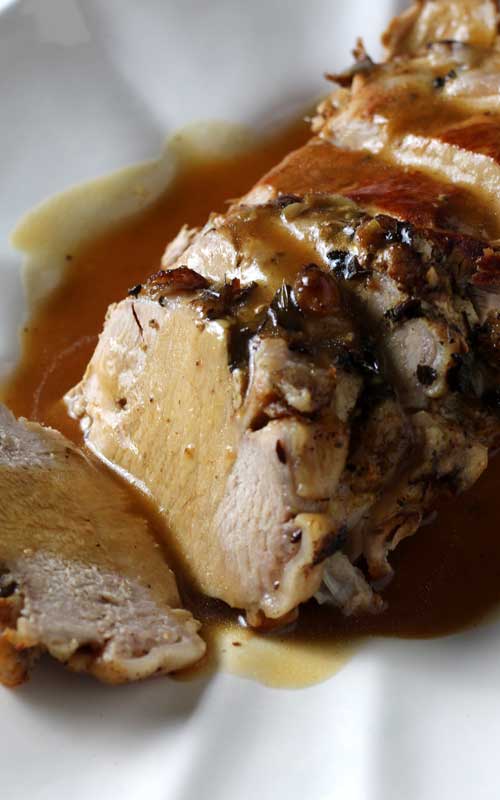 Don't forget to follow along, so you don't miss out! Did you know you can get a notification on your phone now as soon something is published? People are loving this so much, more than the emails clogging up your inbox. If you happened to not accept the notification box earlier…now is a good time to click the small bell in the corner and get signed up!
FOLLOW Sparkles of Yum ON FACEBOOK | PINTEREST | INSTAGRAM | TWITTER FOR ALL OF THE LATEST CONTENT, RECIPES AND UPDATES.
Feel free to join the Sparkles of Yum Recipe Swap Facebook group! A fun place to find and share all of your favorite recipes.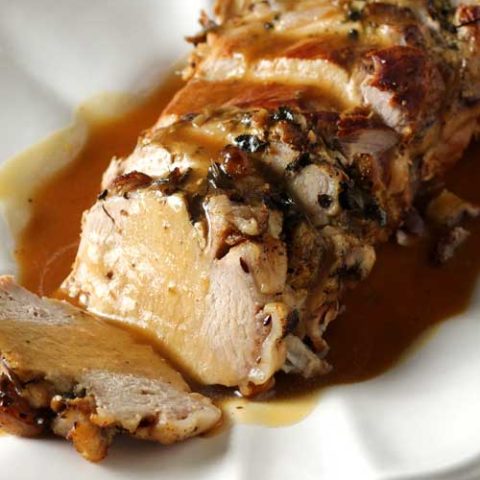 Irish Beer Braised Pork Loin
Yield: 6-8 Servings

Prep Time: 10 minutes

Cook Time: 2 hours 10 minutes

Additional Time: 10 minutes

Total Time: 2 hours 30 minutes

This super easy Irish Beer Braised Pork Loin recipe makes for one of the most tender and delicious roasts you will ever have.
Ingredients
3-4 lb boneless pork loin (with the fat cap)
3 tablespoons of vegetable oil
12 ounces beer (we used half a Guinness Blonde and half a Smithwick's Red Ale)
3 tablespoons balsamic vinegar
Salt and freshly ground pepper
3 cloves minced garlic
1 1/2 teaspoons paprika
1 teaspoon oregano
1 teaspoon Italian seasoning
2 tablespoons honey or brown sugar
2 bay leaves
Instructions
Score uniform cuts through the fat about 1/4" deep and season well with salt and pepper all around the roast.
Preheat oven to 425°F.
In a large skillet or Dutch Oven heat oil over medium high heat, brown roast for 2-3 minutes on each side.
Whisk together beer, balsamic vinegar, salt, pepper, oregano and honey in a medium bowl. Pour mixture over top of roast. Tuck the minced garlic into the cuts you scored on the top.
Roast in oven for 15 minutes at 425°F then lower the temperature to 300°F and continue to roast for another 1 hour 45 minutes. Insert thermometer to insure it's fully cooked to a temp of at least 145°F.
Return the pot to the stove top and transfer the roast to a cutting board and tent loosely with foil. Discard the bay leaves. Strain off the fat, bring the pan sauce to a boil over medium heat; reduce until thickened, about 8-10 minutes, scraping up the bottom of the pot with a wooden spoon.
Nutrition Information
Yield 8 Serving Size About 8 Oz. Precooked
Amount Per Serving Calories 1397Total Fat 65gSaturated Fat 20gTrans Fat 1gUnsaturated Fat 35gCholesterol 544mgSodium 354mgCarbohydrates 8gFiber 0gSugar 6gProtein 180g

Nutrition data was provided and calculated by Nutritionix, and should only be used as a general guideline. This information is provided as a courtesy and there is no guarantee that the information will be completely accurate.

© 2023 Sparkles of Yum. All rights reserved. All images & content are copyright protected. Please do not use my images without prior permission. If you want to share this recipe, please provide a link back to this post for the original recipe.
Sparkles of Yum is a participant in the Amazon Services LLC Associates Program, an affiliate advertising program designed to provide a means for sites to earn advertising fees by advertising and linking to Amazon.com.