This Extra Creamy Chicken Alfredo Lasagna is not your average Chicken Alfredo Lasagna. It's extra rich and creamy with an easy home made Ricotta Alfredo Sauce. It is everything I crave in comfort food!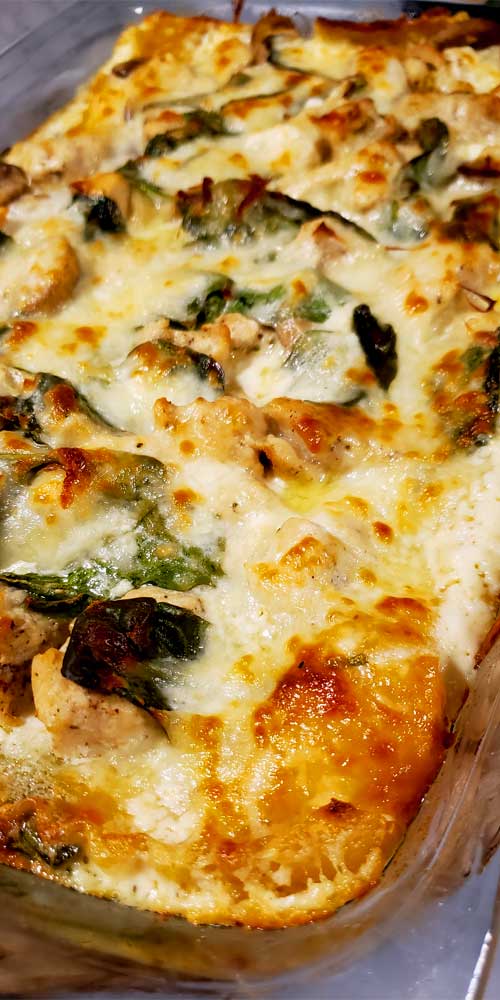 Craving a dreamy extra creamy cheesy pasta. A little hint of garlic and herbs and big fat tender noodles, oh yeah and some juicy seasoned chicken with sauteed mushrooms and spinach, then more cheese. Say hello to this Extra Creamy Chicken Alfredo Lasagna.
Yes, it's got everything I crave in comfort food, and even more when it's cold and snowy outside. That doesn't even matter if this Lasagna is in the oven for dinner; it's going to be a good day.
And you'll want to show up with a healthy appetite because it's kinda hard to stop eating. Better to call in support, like some hungry teenagers or "you know" that one relative that brings their own Tupperware every time they're invited to dinner. Yeah that one, send them an invite.
Or if you prefer a nice quiet dinner, have half for dinner and freeze the other half in an air tight container for up to 3 months. Or you can freeze individual squares to grab out of the freezer and heat some up for a nice warm lunch.
"And NO you can't substitute cottage cheese!" We can agree to disagree, if that's what you were hoping for, sorry not sorry. My Dad was raised in Italy and pretty much all of my ancestors would haunt me if I used cottage cheese in Lasagna, of any sort. And I like cottage cheese, just not for Lasagna.
So if your still with me here we can be like besties, we've got something in common!
Let's talk about noodles, everyone has an opinion or their own way they like to do lasagna noodles. If you have a favorite method do that.
Is it par-boiling, soaking in a skillet so they stay flat, or using the no-boil oven ready noodles, which the trick to using those is having enough sauce so the noodles stay covered because they swell up when they're cooking and you don't want crunchy noodles sticking out of the top of your lasagna.
So I've included two different measurements below so you're not confused when you read that, keep in mind which way your doing yours.
I recommend having all your ingredients for making the sauce out and measured and ready to go, because it comes together quickly and requires stirring while your adding each ingredient. I don't want to make you nervous.
It's not hard to do, but if your not paying attention it could get too thick or lumpy then you would need to add more liquid if that happens.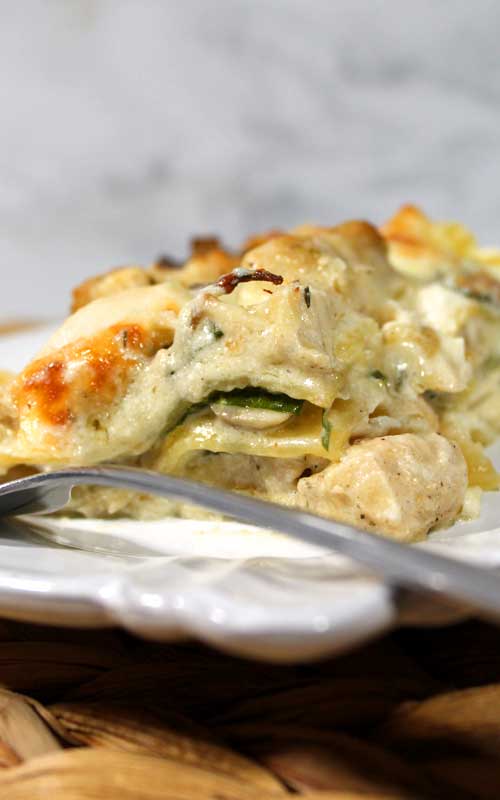 What can you serve with this Extra Creamy Chicken Alfredo Lasagna?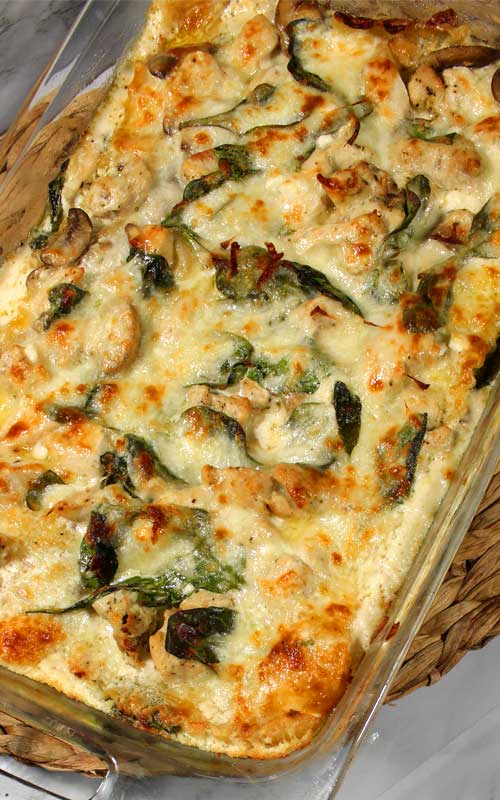 Some tips:
Lasagna Noodles- Boil, Soak or Bake an in depth look.
You can use fresh or frozen spinach, just thaw frozen spinach and squeeze out the excess water.
Spray aluminium foil with non-stick spray so the the cheese doesn't stick!
Tip for slicing: Make your cuts the same size as the spatula you are using and slice all the way through the bottom.
Italian seasoning is a blend of dried Italian-inspired herbs such as basil, marjoram, oregano, rosemary, and thyme.
If your dried herbs don't smell like anything, they need to be replaced. If they've lost their smell they have also lost their flavor!
If you LOVE this Extra Creamy Chicken Alfredo Lasagna recipe, try this Philly Cheesesteak Lasagna, it's a little out side the normal lasagna but oh so delicious. OR this Zucchini Pizza Lasagna, that's right Zucchini instead of lasagna noodles along with a few pizza fixens makes a yummy dinner!
Don't forget to follow along, so you don't miss out! Did you know you can get a notification on your phone now as soon something is published? People are loving this so much, more than the emails clogging up your inbox. If you happened to not accept the notification box earlier…now is a good time to click the small bell in the corner and get signed up!
FOLLOW Sparkles of Yum ON FACEBOOK | PINTEREST | INSTAGRAM | TWITTER FOR ALL OF THE LATEST CONTENT, RECIPES AND UPDATES.
Feel free to join the Sparkles of Yum Recipe Swap Facebook group! A fun place to find and share all of your favorite recipes.
Extra Creamy Chicken Alfredo Lasagna
Yield: About 8 Servings

Prep Time: 15 minutes

Cook Time: 55 minutes

Additional Time: 10 minutes

Total Time: 1 hour 20 minutes

This Extra Creamy Chicken Alfredo Lasagna is not your average Chicken Alfredo Lasagna. It's extra rich and creamy with an easy home made Ricotta Alfredo Sauce. It is everything I crave in comfort food!
Ingredients
Ricotta Alfredo Sauce:
6 tablespoons butter
2 tablespoons flour
1 1/2 cup heavy cream
1 1/2 cup milk (if using oven ready or no-boil noodles -1 cup if par-boiling noodles)
1 cup whole milk ricotta
1/4 cup grated Parmesan cheese
1/2 teaspoon granulated garlic
Pinch of nutmeg
salt and fresh cracked pepper
Lasagna
3 tablespoons olive oil
2 cups fresh sliced mushrooms (white or baby bella)
1/2 onion (diced)
1 teaspoon minced garlic
1 teaspoon Italian seasoning
3 chicken breasts cut into bite size pieces and cooked or 3 cups shredded rotisserie chicken
12 lasagna noodles (oven ready or cooked according to package instructions)
3 cups shredded mozzarella cheese
1/4 cup grated Parmesan cheese
3 cups baby spinach leaves
Instructions
For the Ricotta Alfredo Sauce:
Melt butter in a large saucepan over medium heat. Add flour and cook while stirring for a couple minutes. Add heavy cream; stir constantly until butter-flour mix is incorporated and smooth, slowly add milk while stirring.
Reduce heat, add Parmesan and Ricotta; stir until melted. Bring sauce to a low simmer add granulated garlic, salt and pepper to taste. Remove from heat and set aside, it will thicken slightly while cooling.
For the Lasagna:
Heat the olive oil in a large skillet, saute mushroom, onions and garlic. When onions are translucent and mushrooms are tender transfer to a bowl or plate and set aside. To that same skillet cook the cut up chicken. (Seasoned with salt, pepper & Italian seasoning). Add the mushrooms, onions and garlic back to the skillet and stir to combine.
Preheat oven to 350F and spray a 9x13 baking dish with non-stick spray.
Spoon enough sauce to just cover the bottom of the dish and place 3 noodles down, I usually break the end off one more to fill the bottom section. Start layering the combined chicken/mushrooms, then spread a handful of spinach, couple handfuls of cheese and repeat layers covering the noodles with sauce for each layer.
Top with a good amount of cheese, spray aluminium foil with non-stick spray (so the the cheese doesn't stick) and cover for first 30 minutes. Remove foil and cook 10 more minutes until toasty brown on top and the noodles are tender. Let rest for about 10 minutes before slicing.
Nutrition Information
Yield 8 Serving Size 1
Amount Per Serving Calories 879Total Fat 53gSaturated Fat 27gTrans Fat 1gUnsaturated Fat 21gCholesterol 239mgSodium 914mgCarbohydrates 42gFiber 4gSugar 4gProtein 61g

Nutrition data was provided and calculated by Nutritionix, and should only be used as a general guideline. This information is provided as a courtesy and there is no guarantee that the information will be completely accurate.

© 2023 Sparkles of Yum. All rights reserved. All images & content are copyright protected. Please do not use my images without prior permission. If you want to share this recipe, please provide a link back to this post for the original recipe.
Sparkles of Yum is a participant in the Amazon Services LLC Associates Program, an affiliate advertising program designed to provide a means for sites to earn advertising fees by advertising and linking to Amazon.com.