Doesn't get any easier than this Quick Peach Cobbler recipe. Luscious velvety peaches, all sweet and juicy, just want to be in an easy cobbler. We just let them do their job in this recipe.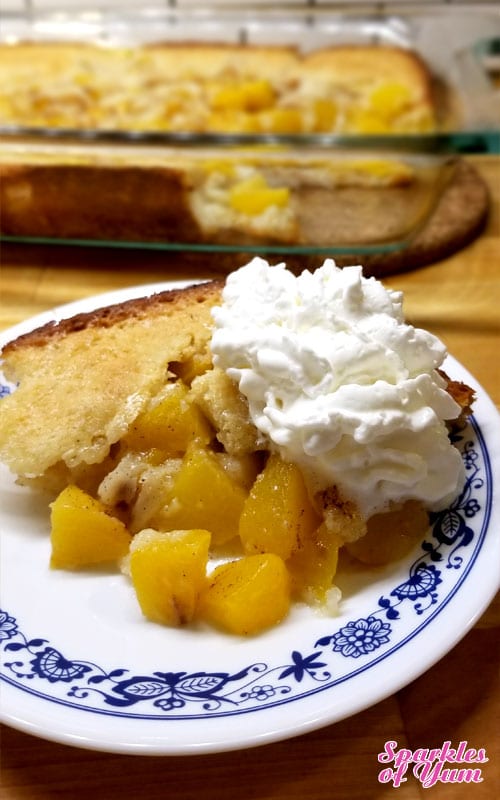 Who knew there was such a debate on cobblers? I saw Carla Hall on "The Chew" say different parts of the country had way different cobblers, something I had no idea about. There's drop biscuit cobbler, cookie top cobbler, Cinnamon Roll Peach Cobbler (which looks really good), and the list went on.
But this is the only cobbler I grew up with, and it's so quick and easy. I thought maybe not everyone has heard of this version, or it might trigger happy memories if you remember having it as a child. My mom had written this in a folder over 50 years ago for cherries, so it can be changed out for any fruit of your choice, canned fresh or frozen.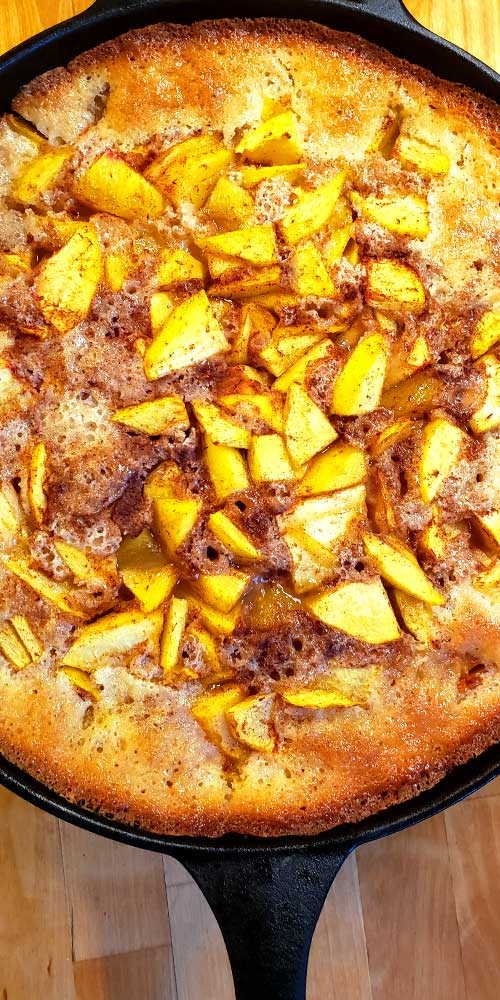 Thinking about peach cobblers, we went to a couple of county fairs this summer. Neither one of them had any type of baking competitions or prize-winning vegetables on display. One did have a live stock auction. The auction was so packed it was standing room only. It was a lively crowd bidding on a 500 pound pig, we did hear it went for $350.00.
I was just surprised to see that many people gathered in one place who all had enough space for a pig, but we were good hour outside the city, so pretty much out in the country. Saw lots of John Deere and cowboy boots, but I did not know John Deere actually made cowboy boots.
We also got to see the Monster Trucks up close, and lo and behold a 19 year old GIRL, Kaylyn Migues, was driving the hell out of this monster truck "JailBird" at Jefferson County Fairgrounds in Missouri.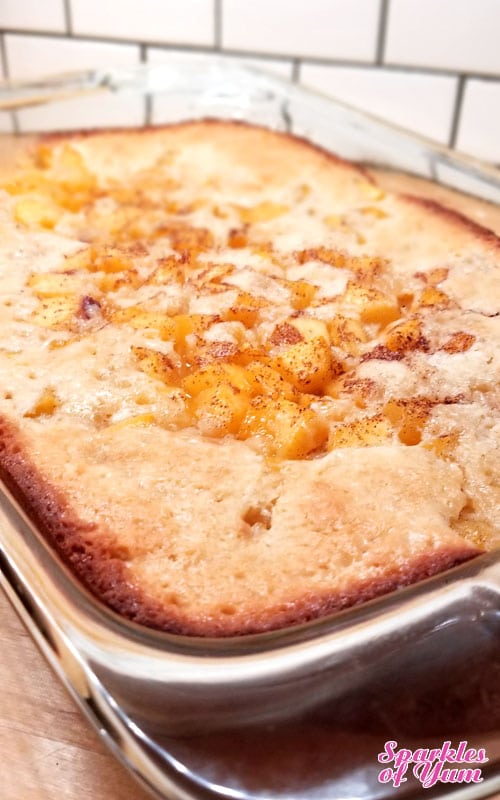 The other one we went to was Madison County Fair at the Highland Speedway in Illinois. That one we saw a demolition derby where they take beat up old cars and just crash into each other until they can't run anymore. Pretty fun stuff.
The Madison County Fair also had a whole barn full of chickens and roosters, there were feathers flying, and some crazy crowing going on in there. I, however, was a little sad that we missed the "little miss pig tails pageant" that was going to be the next day.
But, boy did we have some good food that day from Who Dats in Troy, IL. Who Dats has some really good authentic Cajun food. Their menu also has a cute story about how the owners, "A boy from New Orleans and a girl from the Midwest", originally met.
Don't you just love to venture outside your area and discover new places and adventures? That's how I feel about recipes too. Always on the lookout for something a little different than the normal. Hope you enjoy this one I know we did.
Don't forget to follow along, so you don't miss out! Did you know you can get a notification on your phone now as soon something is published? People are loving this so much, more than the emails clogging up your inbox. If you happened to not accept the notification box earlier…now is a good time to click the small bell in the corner and get signed up!
FOLLOW Sparkles of Yum ON FACEBOOK | PINTEREST | INSTAGRAM | TWITTER FOR ALL OF THE LATEST CONTENT, RECIPES AND UPDATES.
Feel free to join the Sparkles of Yum Recipe Swap Facebook group! A fun place to find and share all of your favorite recipes.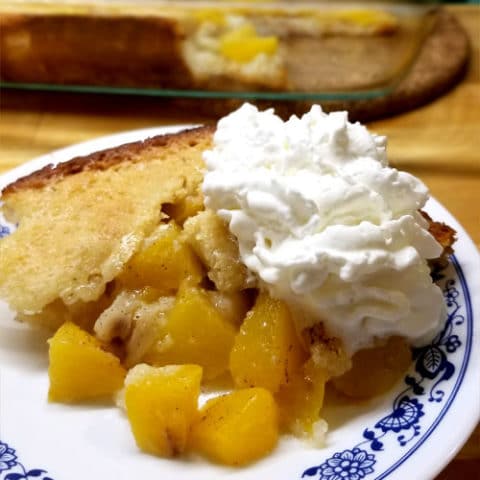 Quick Peach Cobbler
Doesn't get any easier. Luscious velvety peaches, all sweet and juicy, just want to be in an easy cobbler. We just let them do their job in this recipe.
Ingredients
Batter:
1/2 cup butter
1 cup flour
1 cup sugar
1/4 teaspoon salt
2 teaspoons baking powder
2/3 cup room temp milk
1 egg room temp
Filling:
6 cups peaches (sliced or diced)
1/4 cup sugar
1 teaspoon cinnamon
1/2 teaspoon nutmeg
Instructions
If using fresh peaches get them peeled and diced or sliced and stir in your sugar, cinnamon and nutmeg then set aside.
Cut and melt 1 stick butter in a 9 x 13 baking dish (I used Pyrex)
Mix flour, sugar, baking powder, and salt. Whisk in milk and eggs.
Pour this batter evenly over the middle of the melted butter, DO NOT STIR!
Pour sweetened peaches or fruit right down the middle of the batter, just gently spreading them over the top and let the batter come up on the sides.
Put in a preheated 350 degree oven and bake 45-50 minutes. Watch that last few minutes until golden brown.
Serve with whipped cream or ice cream.
Notes
We will be using this recipe to make a batch Peach Cobbler Ice Cream, which will be posted on this site shortly!
Nutrition Information
Yield

9
Serving Size

1
Amount Per Serving
Calories

308
Total Fat

12g
Saturated Fat

7g
Trans Fat

0g
Unsaturated Fat

4g
Cholesterol

49mg
Sodium

207mg
Carbohydrates

50g
Fiber

2g
Sugar

36g
Protein

4g
Nutrition data was provided and calculated by Nutritionix, and should only be used as a general guideline. This information is provided as a courtesy and there is no guarantee that the information will be completely accurate.
If you happen to have any of this peach cobbler left, why not try to turn it into ice cream? I have a recipe right here!
© 2023 Sparkles of Yum. All rights reserved. All images & content are copyright protected. Please do not use my images without prior permission. If you want to share this recipe, please provide a link back to this post for the original recipe.
Sparkles of Yum is a participant in the Amazon Services LLC Associates Program, an affiliate advertising program designed to provide a means for sites to earn advertising fees by advertising and linking to Amazon.com.