We love trying new recipes, and this recipe for Thai Drunken Noodles has become a favorite. It also happens to be healthy, so that's a bonus. It also comes together quickly another bonus, but most of all it tastes so good!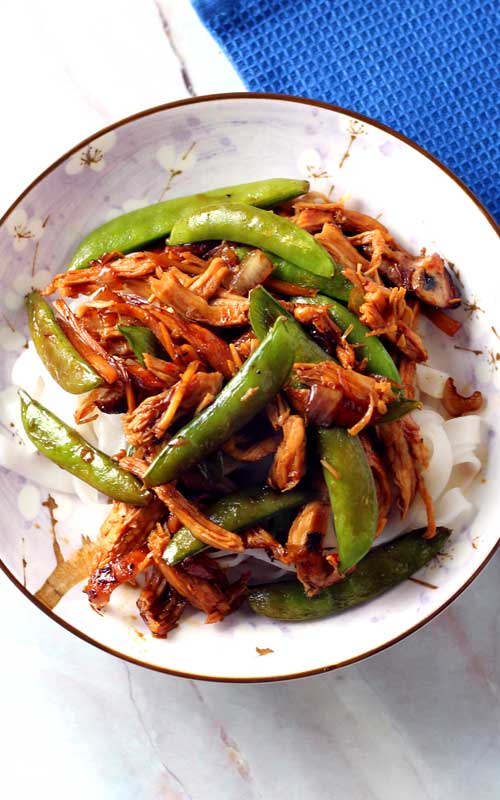 Now do not let the name 'drunken noodles' scare you off. There is no alcohol in this dish. In fact, the EXACT reason why they are called drunken noodles is not really known.
My favorite version of the story, and the one I will go with with is…This dish is so hot, that you will need a nice cold beer to cool your taste buds down. Again, not the official way that this dish got it's name, but it is the one that I like the best.
The hardest part might be finding what you need. We're lucky enough to live close to a couple of really awesome Asian Markets. They may be across town, but it is well worth the trip.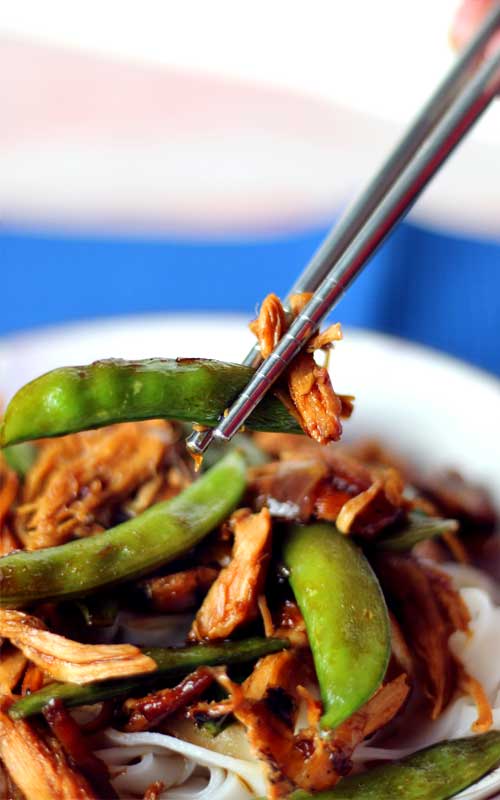 If you love trying new things, it really does open up a whole new world of things to try. Who knows, you may have a similar style market right around the corner from you.
It's almost like having a vacation in your own kitchen. Some people get to travel all over the world to try recipes, or find those excellent restaurants. When it comes to trying new things at a restaurant, you only get to pick one thing or two off the menu.
But when we go to the Asian markets, we'll look over everything and say I'd love to try a bunch of these dinners. Well It's not that hard to do some research and learn to make some of those awesome dinners.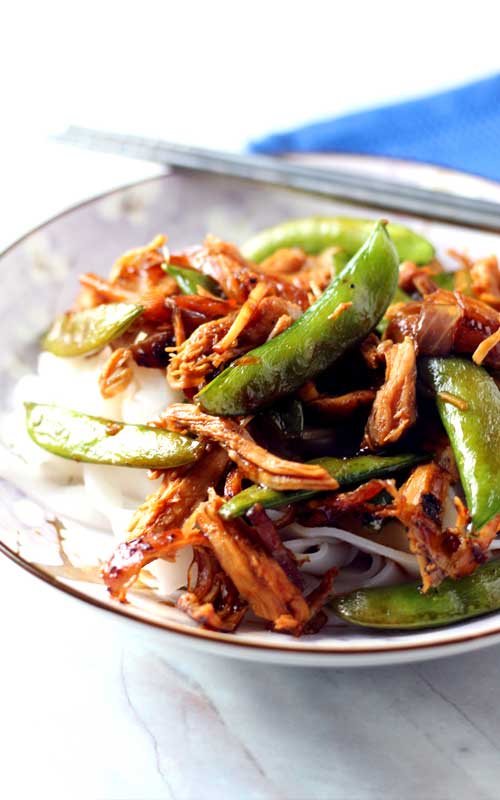 I always try and find the authentic recipes to experiment with. It's a little like an adventure sometimes, and can turn a normal day into an exciting dinner you'll want to have on a regular basis. Sometimes you just fall into a rut of having the same things over and over..and that's no fun.
And by experimenting with making dishes from other cultures, you not only get to try the food, but you can learn about the culture of different peoples. Using food to explore like this can be a great teaching experience for the kiddos…right there at your own table.
This is my version of Thai Drunken Noodles based on Jet Tila's , he's one of the regular judges on Cut Throat Kitchen on Food Network with host Alton Brown.
If you know anything about food, you know that Alton is a walking encyclopedia when it comes to anything about food. I really miss his old show 'Good Eats.'
Don't forget to follow along, so you don't miss out! Did you know you can get a notification on your phone now as soon something is published? People are loving this so much, more than the emails clogging up your inbox. If you happened to not accept the notification box earlier…now is a good time to click the small bell in the corner and get signed up!
FOLLOW Sparkles of Yum ON FACEBOOK | PINTEREST | INSTAGRAM | TWITTER FOR ALL OF THE LATEST CONTENT, RECIPES AND UPDATES.
Feel free to join the Sparkles of Yum Recipe Swap Facebook group! A fun place to find and share all of your favorite recipes.
Thai Drunken Noodles (Pad Kee Mow)
We love trying new recipes, and this recipe for Thai Drunken Noodles has become a favorite. It also happens to be healthy, so that's a bonus.
Ingredients
3 tbsp black soy sauce
1 tbsp sweet soy sauce
1 tbsp oyster sauce
2 tbsp fish sauce
3 tbsp canola or peanut oil
2-3 garlic cloves, minced
1/3 pound chicken, torn or shredded (you can also use beef or pork)
1/2 medium white onion, diced
4 cups fresh rice noodles, separated
1 cup Thai basil leaves, loosely packed
1 small bag frozen snow peas
1 small can bamboo shoots
1/2 tsp pepper
1/4 Cup Sweet Chile Sauce*
Instructions
Combine black soy, sweet soy, oyster sauce, and fish sauce in a small bowl and set aside.

Heat oil to medium high in a medium sauté pan and sauté garlic until light brown.

Toss in frozen snow peas and bamboo shoots

Add meat and onions folding constantly until the meat is half cooked, about 1 to 2 minutes.

Add sauce mixture and basil to pan, and cook for about an additional 3 to 5 minutes

Preparing noodles and serving
Soak noodles in large pot of hot water until tender but still firm to bite, stirring frequently.You can bring to a simmer, these cook way faster than pasta Bite a noodle to make sure the noodles are cooked, it should be tender.Then drain.

Divide noodles onto plates, and top with mixture from pan.

Pour Sweet Chile Sauce over the top, to your desired taste
Notes
Thai Basil has purple stems. Available in the Asian foods section or produce section of some supermarkets, and at Asian markets. (Basil not shown in picture)
Nutrition Information
Yield

2 servings
Serving Size

1
Amount Per Serving
Calories

1002
Total Fat

41g
Saturated Fat

10g
Trans Fat

0g
Unsaturated Fat

27g
Cholesterol

109mg
Sodium

3754mg
Carbohydrates

112g
Fiber

9g
Sugar

16g
Protein

45g
© 2023 Sparkles of Yum. All rights reserved. All images & content are copyright protected. Please do not use my images without prior permission. If you want to share this recipe, please provide a link back to this post for the original recipe.
Sparkles of Yum is a participant in the Amazon Services LLC Associates Program, an affiliate advertising program designed to provide a means for sites to earn advertising fees by advertising and linking to Amazon.com.