The grilled caramelized pineapple takes this dish over the top. These Brazilian Beef Kabobs with Pineapple and Peppers are very easy and so delish! Marinaded, smoky, and full of flavor goodness. Treat yourself this summer.
If your having a staycation this year, like we are, that doesn't mean you have to be bored with the same old grilled burgers and dogs. Especially once you have this recipe for Brazilian Beef Kabobs with Pineapple and Peppers by your side!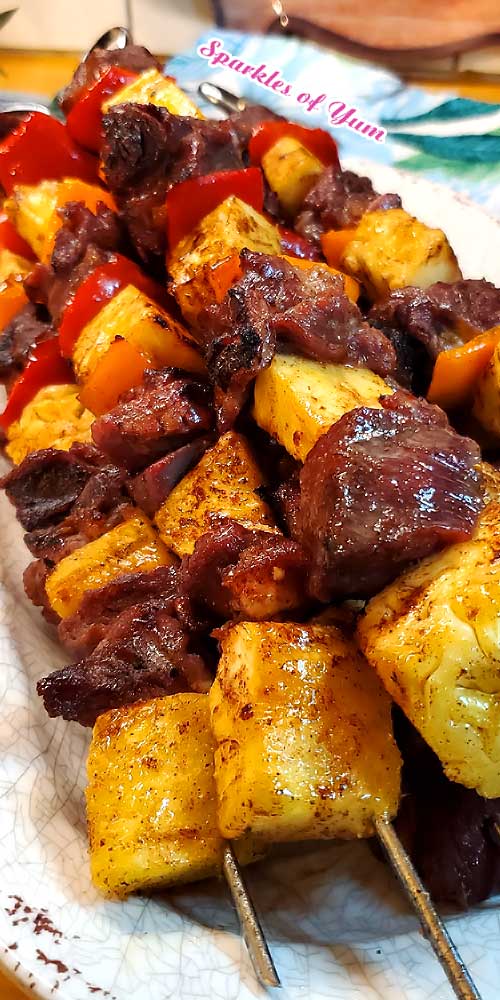 Brazilian Beef Kabobs with Pineapple and Peppers, also known as Churrasco, a traditional Brazilian barbecue dish that has become a world-wide trend in Brazilian restaurants, but these are so easy to do at home don't worry if you don't have the opportunity to make it to a pricey restaurant.
You can make enough of these to feed a crowd for what it would cost for one person to walk into one of those restaurants. Which is fine if you can afford it, but it's not often we want to pay a small fortune to eat out if it's something we can make at home.
On a personal note, if you've wondered what I've been up to lately….
<start rant>
We inherited a teenager. My grand daughter moved in with us back in December in her senior year at high school. So needless to say things have been unexpectedly busy these last few months, with her not knowing anyone since she was living in a different state for the last ten years.
We had a lot of catching up to do, as well as getting her ready for Prom and Graduation. Plus she doesn't drive or ever had a job. But is the typical teenager; with a phone in her hand and ear plug in her ear or playing a game on the Playstation all the time.
When my kids were teens, pagers were a new thing, so it has been a bit of a crazy time for us to get used to and try to get her to experience life. Now I understand why you hear so many people say that "adulting is hard." They haven't had to do anything for themselves.
It's a shock to the system when they realize that they're 18 and suppose to know what they want in life. They don't have a clue, because what they really want is to play games and read memes. Why should they want to do something for themselves, if their parents hand them everything under the sun?
They've got absolutely no appreciation for any of it, if they don't have to work for anything. Just saying it's pretty frighting to be coming of age with no particular direction. Seriously they don't even have to remember a phone number are read an analog clock, think about it.
</end rant>
Back to actual adult life, if you can read a recipe and light a grill this Brazilian Beef Kabobs with Pineapple and Peppers is so easy and delicious you'll want to show it off to your friends and family. Happy Summer!!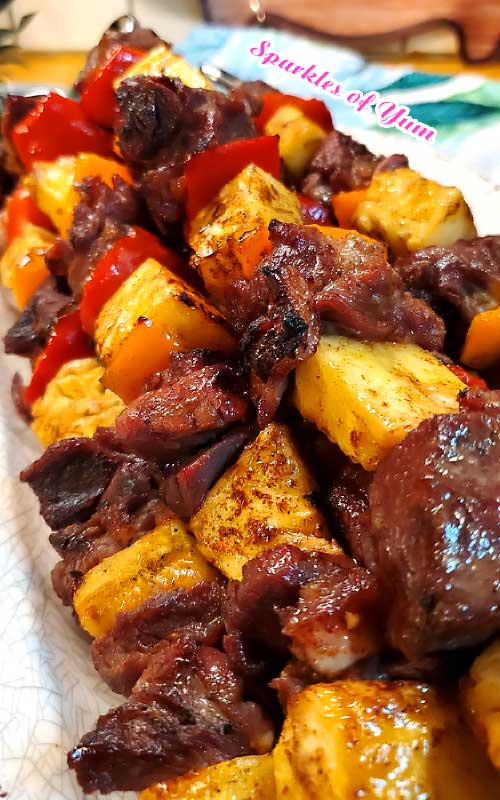 What can you serve with this Brazilian Beef Kabobs with Pineapple and Peppers?
Some tips:
If using wooden skewers be sure to soak 30 minutes in water. This will help keep the skewers from catching on fire.
Feel free to use different cuts of beef with this recipe…you could even use pork or chicken (just a matter of adjusting the cooking time to ensure everything is done properly).
Bon Apetit has a great guide on how to select a ripe pineapple. You can go read it by clicking here!
If you LOVE this Brazilian Beef Kabobs with Pineapple and Peppers recipe, try this Grilled Rib-Eye Steaks with Roasted Garlic Herb Butter recipe OR these Hawaiian Shrimp Kabobs!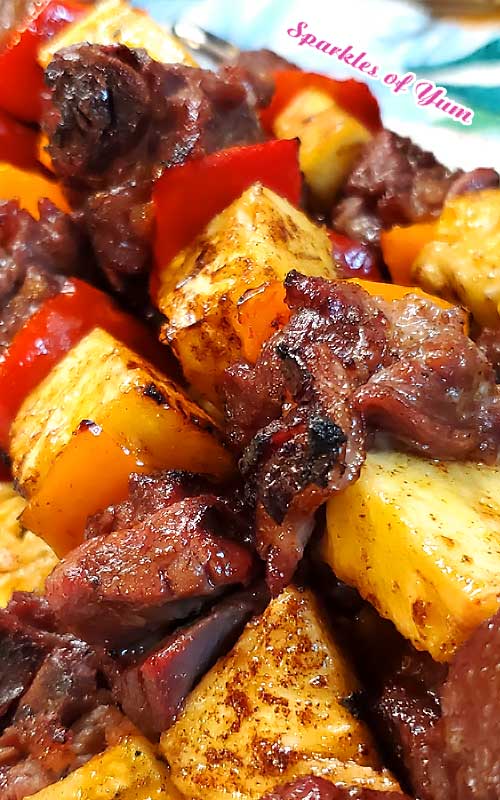 Don't forget to follow along, so you don't miss out! Did you know you can get a notification on your phone now as soon something is published? People are loving this so much, more than the emails clogging up your inbox. If you happened to not accept the notification box earlier…now is a good time to click the small bell in the corner and get signed up!
FOLLOW Sparkles of Yum ON FACEBOOK | PINTEREST | INSTAGRAM | TWITTER FOR ALL OF THE LATEST CONTENT, RECIPES AND UPDATES.
Feel free to join the Sparkles of Yum Recipe Swap Facebook group! A fun place to find and share all of your favorite recipes.
Brazilian Beef Kabobs with Pineapple and Peppers
Yield: About 6 servings

Prep Time: 20 minutes

Cook Time: 10 minutes

Additional Time: 2 hours

Total Time: 2 hours 30 minutes

The grilled caramelized pineapple takes this dish over the top. These Brazilian Beef Kabobs with Pineapple and Peppers are very easy and so delish! Marinaded, smoky, and full of flavor goodness.
Ingredients
1 1/2 lb Top Sirloin, trim excess fat and cut into cubes
2 Bell peppers (I had 1 red and 1 orange), cut into squares
Olive oil
Marinade:
1/2 cup Olive oil
1/2 cup orange juice
2 garlic cloves, minced
1 Tablespoon salt
1 Teaspoon Cumin
1 Teaspoon Smoked Paprika
1 Teaspoon Worcestershire sauce
1/2 Teaspoon Cayenne pepper (optional)
Couple twists of fresh cracked pepper
Brazilian Grilled Pineapple:
One pineapple peeled, cored cut into cubes
1/2 cup Brown Sugar
1/2 cup Butter, melted
1 teaspoon Cinnamon
Instructions
Instructions for pineapple:
In a heavy glass measuring cup or bowl, melt butter in the microwave. Whisk in brown sugar, cinnamon, and pinch of salt if using unsalted butter. Brush all sides of pineapple.
Marinate meat:
Whisk together all marinade ingredients in a small bowl. Add in beef chunks to a large zip top bag or bowl. Add marinade and toss well to coat the beef with the marinade. Place in fridge for at least 2 hours to overnight.
Making the kabobs:
Prepare grill for direct medium-high heat.
Thread chunks of beef on to skewers and alternating with pineapple chunks and bell peppers.
Grill the kebabs for about 6-8 minutes, turning them to char peppers and pineapple on each side, or until beef reaches medium rare.
Nutrition Information
Yield 6 Serving Size 1
Amount Per Serving Calories 689Total Fat 52gSaturated Fat 19gTrans Fat 1gUnsaturated Fat 29gCholesterol 145mgSodium 1259mgCarbohydrates 25gFiber 1gSugar 20gProtein 32g

Nutrition data was provided and calculated by Nutritionix, and should only be used as a general guideline. This information is provided as a courtesy and there is no guarantee that the information will be completely accurate.

© 2023 Sparkles of Yum. All rights reserved. All images & content are copyright protected. Please do not use my images without prior permission. If you want to share this recipe, please provide a link back to this post for the original recipe.
Sparkles of Yum is a participant in the Amazon Services LLC Associates Program, an affiliate advertising program designed to provide a means for sites to earn advertising fees by advertising and linking to Amazon.com.