A simple and delicious centerpiece to any holiday spread. This glazed holiday ham is everything about why family traditions are so important!
This is the glazed holiday ham my childhood memories are made of, and I've kept the tradition for my kids. We are to the point that this ham is what had better be on the table, or I'll never hear the end of it.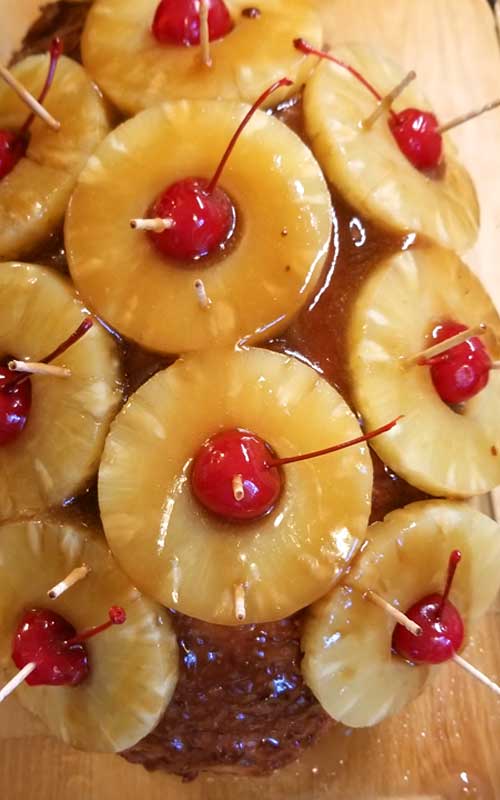 I still love making this ham though, I think I've kept up the tradition because not everyone is still around and having our traditions makes things feel as though our lost loved ones could be smiling down on us.
Even though so much changes in the world we can keep making memories for the next generations and just maybe they'll have sweet thoughts of us. Not to be thinking gloomy thoughts, I just heard someone in a Facebook group say "I'm so tired of ham for Easter, what else could I make?".
Well I'd prefer to make some memories for the ones I love, there's 51 other weeks in the year to try new things.
Seriously if you watch "This is Us" there's a reason the foundation of the show is based on their family traditions and how doing these things on special days is comforting to the soul.
We all need that sometimes and we can't forget to pass these things on to our children just because no one ever knows what the future brings.
Families are so spread out these days, and sometimes the holidays are the only time we can all get together. And the one thing you don't want to do is be completely exhausted and stressed out on that one day you can all spend some quality time together.
So I tend to have a set routine for each holiday, and maybe add one new thing to try different and introduce. It makes shopping easier too, I have my list on the computer and know what I need for each holiday.
I just print it out and check things off as I go, I can start picking things up and getting things organized ahead of time and be ready to start cooking up a storm a day ahead.
Simple, easy, delicious and all about why family traditions are so important! Keep it simple, make it fun.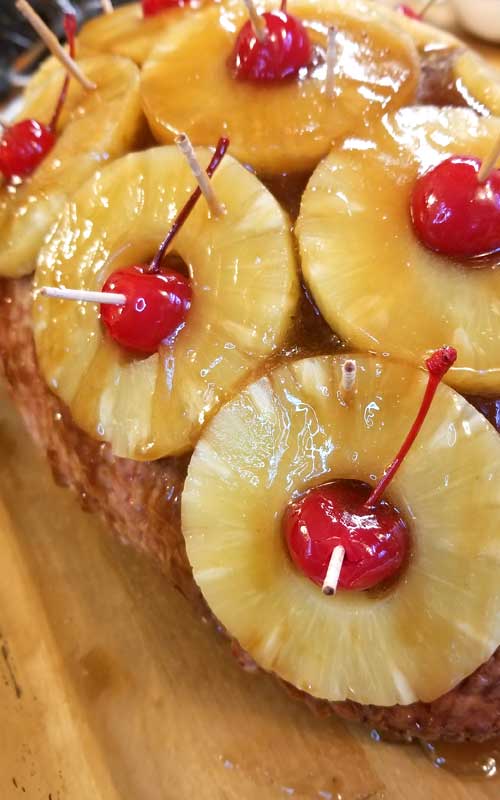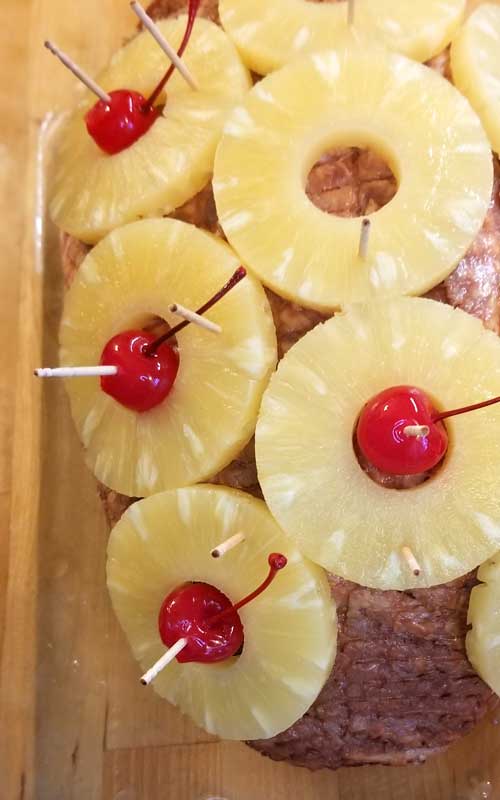 If you LOVE this Glazed Holiday Ham recipe, try this Southern Honey Bourbon Glazed Ham for a great twist on the classic holiday ham!
Don't forget to follow along, so you don't miss out! Did you know you can get a notification on your phone now as soon something is published? People are loving this so much, more than the emails clogging up your inbox. If you happened to not accept the notification box earlier…now is a good time to click the small bell in the corner and get signed up!
FOLLOW Sparkles of Yum ON FACEBOOK | PINTEREST | INSTAGRAM | TWITTER FOR ALL OF THE LATEST CONTENT, RECIPES AND UPDATES.
Feel free to join the Sparkles of Yum Recipe Swap Facebook group! A fun place to find and share all of your favorite recipes.
Glazed Holiday Ham
Yield: About 40 servings (4 oz. each)

Prep Time: 10 minutes

Cook Time: 4 hours

Additional Time: 15 minutes

Total Time: 4 hours 25 minutes

A simple and delicious centerpiece to any holiday spread. This glazed holiday ham is everything about why family traditions are so important!
Ingredients
10 lb ham (boneless or bone-in)
For the glaze
1 1/2 cup brown sugar
1/2 cup butter
1/4 cup honey
2 tablespoons pineapple juice
For the ham:
1 20-ounce can pineapple slices, juice reserved
1 small jar maraschino cherries
tooth picks
Instructions
Preheat the oven as directed on the ham package and follow the instructions for baking the ham.
Decoratively arrange the pineapple slices on top of the ham, securing them with toothpicks. Place a cherry in the center of each pineapple ring and secure with a toothpick.
In a small pot, melt the butter and stir in the brown sugar, honey and a couple tablespoons of the reserved pineapple juice. Keep stirring just until the mixture begins to thicken and remove from heat. Slowly drizzle the glaze over the pineapples, cherries and ham and cover with foil or slide in roasting bag. Remove foil or carefully cut open bag the last 30 minutes of baking. Remove the ham from the oven, let rest 15-30 minutes before carving.
Nutrition Information
Yield 40 Serving Size About 4 oz.
Amount Per Serving Calories 274Total Fat 8gSaturated Fat 3gTrans Fat 0gUnsaturated Fat 4gCholesterol 79mgSodium 1133mgCarbohydrates 26gFiber 2gSugar 22gProtein 26g

Nutrition data was provided and calculated by Nutritionix, and should only be used as a general guideline. This information is provided as a courtesy and there is no guarantee that the information will be completely accurate.

© 2023 Sparkles of Yum. All rights reserved. All images & content are copyright protected. Please do not use my images without prior permission. If you want to share this recipe, please provide a link back to this post for the original recipe.
Sparkles of Yum is a participant in the Amazon Services LLC Associates Program, an affiliate advertising program designed to provide a means for sites to earn advertising fees by advertising and linking to Amazon.com.