Carne Adovada looks like a misspelling of Avocado, it's not. This is what it's called, and it's the most tender, moist and flavorful Pork Tacos we've ever had! We also made an awesome Creamy Avocado Cilantro Lime Dressing to top it off with.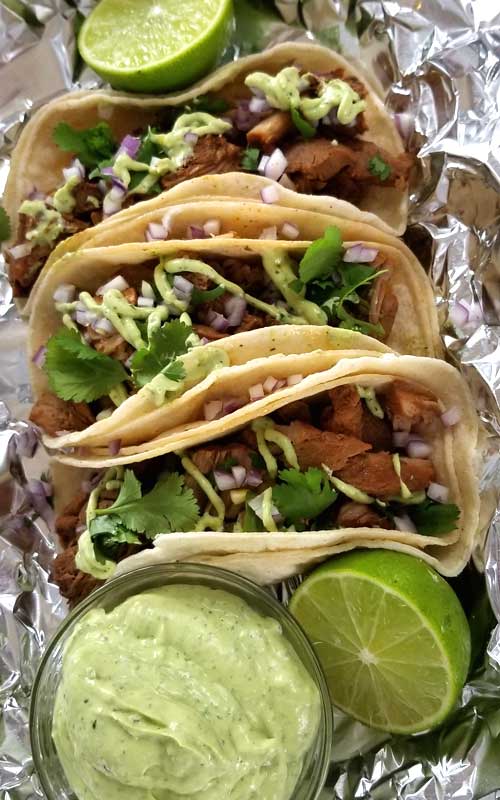 We saw an episode of Man Fire Food on the cooking channel where the host, Roger Mooking, goes all over the country visiting different home cooks and pitmasters cooking all kinds of ways with fire. This episode he was at a ranch in New Mexico where they have been making carne adovado in their family for 6 generations.
They make this Carne Adovada using huge discs from an old farm plow (horse shoes welded on for handles) and they use these like giant cast iron skillets over an open fire. Pretty creative, but this recipe is just as creative using a marinade we tried to resemble his awesome recipe, which they didn't put online.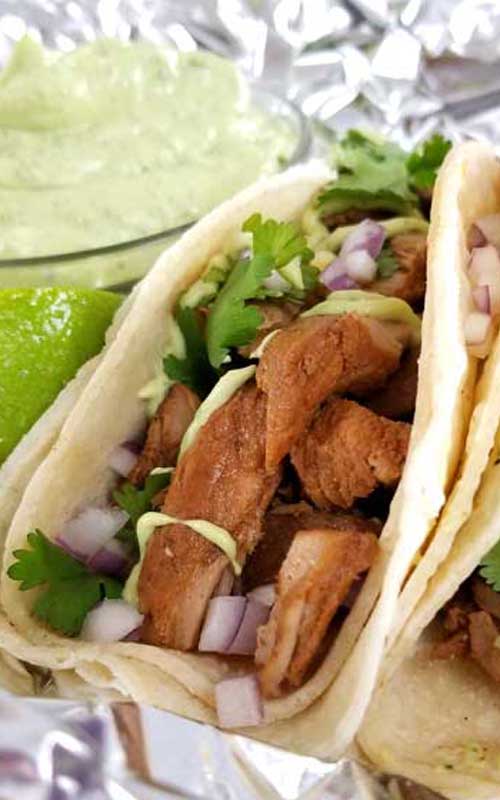 So this isn't the exact recipe from the show, but it turned out so good and probably a lot easier then finding some old plow discs. It's complex flavors are similar to the awesome food truck tacos we can find around town, where the meat gets marinated overnight in herbs, spices, chilis, honey and broth.
Got your attention now I bet! I could hear Mr. Yum yelling from the other room when he saw this. it spoke to him like "I need this in my life!"
We both love Mexican food, we normally go out almost every week and have tried every restaurant within a 50 mile radius of our house and have never seen this on a menu anywhere around here, but here's the catch it's not exactly Mexican. We asked at our favorite restaurant, and they have never heard of carne adovada.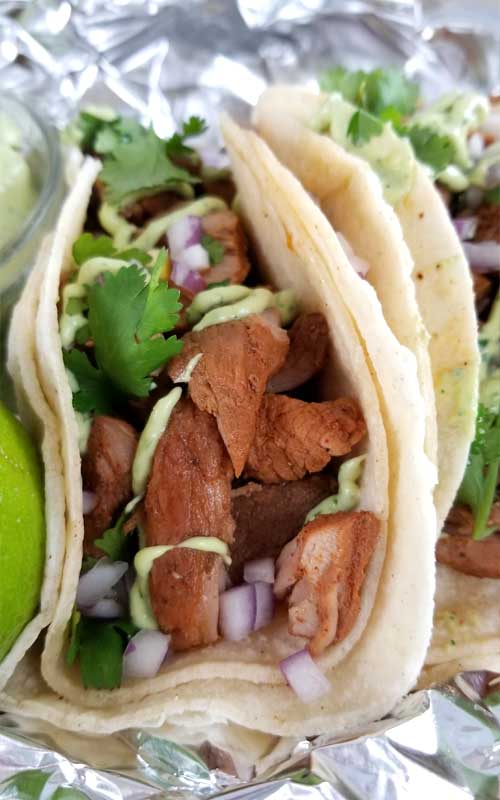 So it's evidently a New Mexican thing from the state of New Mexico, like green chilis aren't really found in authentic Mexican cuisine. They're grown in the Hatch Valley, in and around Hatch, New Mexico. Hence why they are called Hatch chiles.
And here is another bit of history about Hatch chiles; they were initially developed by pioneer horticulturist Fabián Garcia, at New Mexico State University in 1894.
Well anyway, you learn something new everyday, right? We like to keep things interesting, so we might as well understand the origin of what we love so we don't lose the authenticity along the way. I think it's a good way to respect who came before us and give tribute when we can.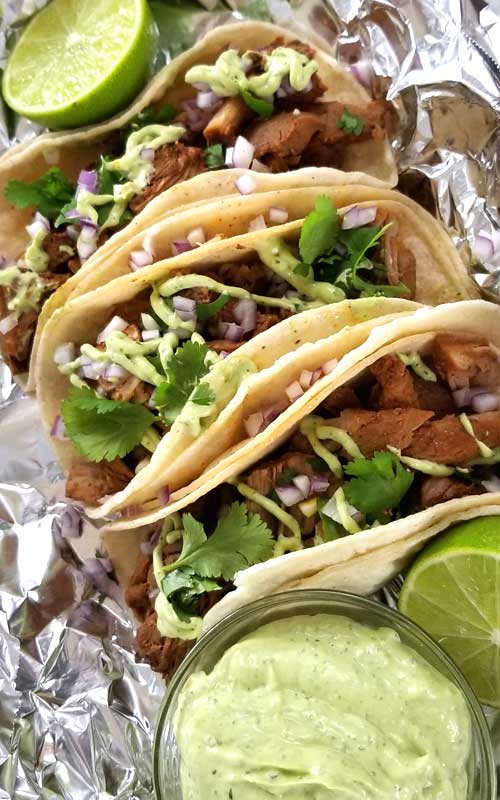 Don't forget to follow along, so you don't miss out! Did you know you can get a notification on your phone now as soon something is published? People are loving this so much, more than the emails clogging up your inbox. If you happened to not accept the notification box earlier…now is a good time to click the small bell in the corner and get signed up!
FOLLOW Sparkles of Yum ON FACEBOOK | PINTEREST | INSTAGRAM | TWITTER FOR ALL OF THE LATEST CONTENT, RECIPES AND UPDATES.
Feel free to join the Sparkles of Yum Recipe Swap Facebook group! A fun place to find and share all of your favorite recipes.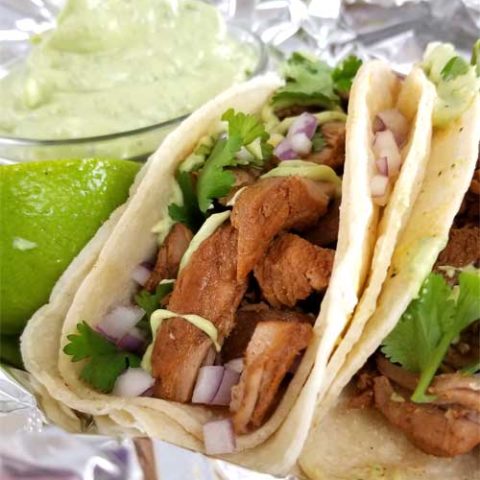 Carne Adovada Street Tacos | New Mexico-Style Pork Tacos
Yield: 10-12 Servings

Prep Time: 30 minutes

Cook Time: 2 hours

Additional Time: 4 hours

Total Time: 6 hours 30 minutes

These New Mexico-Style Pork Tacos make for some of the most tender, moist, and flavorful Pork Tacos we've ever had! Complete with a Creamy Avocado Cilantro Lime Dressing to top it off with.
Ingredients
5-6 lbs. pork loin or butt, cut in 1-2 cubes
Tortillas, White Corn or Flour (either steamed with damp paper towels in the microwave or you can toast in a warm skillet)
1 red onion
1 bunch cilantro (torn)
Marinade
1/3 cup peanut or vegetable oil
2 cups diced onion
2 Tablespoons minced garlic
4 cups chicken broth (we used 2 cans and added a little water)
2 teaspoons ground coriander
2 teaspoons dried Mexican oregano
2 teaspoons chili flakes
3/4 cup Chili powder, mild or medium
1 Tablespoon honey
2 Tablespoons Sherry vinegar or red wine vinegar
salt and pepper to taste
Browning the meat and sauté
2 onions (diced)
2 garlic cloves (minced)
2-3 tablespoons oil
Creamy Avocado Cilantro Lime Dressing:
1 Avocado
1 clove Garlic, peeled
1/4 cup roughly chopped cilantro
1/4 cup low-fat sour-cream or Greek yogurt
Juice from 1 fresh lime
3 tablespoons Olive Oil
1/4 teaspoon Kosher Salt
1/4 teaspoon Ground Black Pepper
Instructions
Cut pork into 1-2 inch cubes place in covered bowl or extra large bag. Add the marinade ingredients, and set in fridge for at least 4 hours to overnight.
Preheat the oven to 350°.
Heat oil in a large skillet and brown pork in batches. Set the pork aside. Add the onions to skillet and sauté until golden. Add the garlic and sauté for 1 minute. Deglaze the skillet with 1 cup of the marinade, loosening the browned bits with a spoon.
Place the browned pork, the chile marinade, onions, garlic, and bits from deglazing the skillet in an ovenproof pot, stir to combine well, and cook for 1 1/2 hours or until the pork is tender.
Instructions for Creamy Avocado Cilantro Lime Dressing:
Place all the ingredients In a food processor or blender.
Process until smooth, stopping to scrape down the sides a few times. Thin the dressing out with a little water until it reaches your desired consistency.
Keep in an airtight container for 4-5 days
Notes
This dish reheats wonderfully and is better the next day.
If you do not want tacos, you can serve the Carne Adovada over chile rellenos, rice, or with beans and Spanish Rice.
Other options for toppings are whatever you like on Tacos; cheese, salsa etc.
Nutrition Information
Yield 12 Serving Size 1
Amount Per Serving Calories 2454Total Fat 115gSaturated Fat 34gTrans Fat 1gUnsaturated Fat 63gCholesterol 911mgSodium 1191mgCarbohydrates 32gFiber 6gSugar 9gProtein 308g

Nutrition data was provided and calculated by Nutritionix, and should only be used as a general guideline. This information is provided as a courtesy and there is no guarantee that the information will be completely accurate.

Recipe adapted from: Santa Fe School of Cooking
© 2023 Sparkles of Yum. All rights reserved. All images & content are copyright protected. Please do not use my images without prior permission. If you want to share this recipe, please provide a link back to this post for the original recipe.
Sparkles of Yum is a participant in the Amazon Services LLC Associates Program, an affiliate advertising program designed to provide a means for sites to earn advertising fees by advertising and linking to Amazon.com.