When thinking about comfort food, there is nothing more comforting than a savory, succulent, and satisfying Fancy Yankee Pot Roast.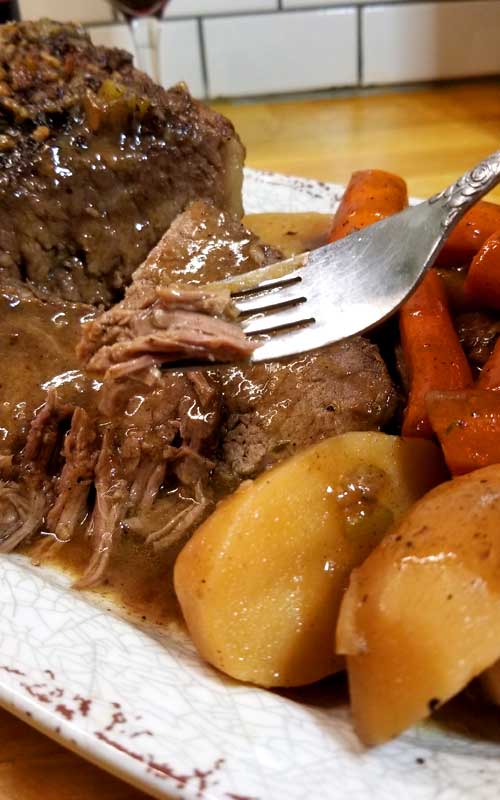 Thumb through any New England cookbook from the last hundred years and you'll be hard pressed to find one without an entry for savory Yankee pot roast. As essential to winter survival as snow tires and a good pair of slippers, this classic combination of tender beef, seasoned vegetables, and rich sauce is comfort food at its best, earning it a spot on menus and dinner tables across America. – Yankee Magazine
Mr. Yum lived up that way for more than 10 years, so I learned of this yummy dish while visiting his family a few years back. This is when I got to experience my first time on an plane, first time going to New York City and a visit to Times Square for shopping and pizza at John's Pizza (Mr. Yum swears it is the best in NYC, and will probably receive some flak for thinking that), and had New York Cheesecake from Juniors.. (be still my heart)
Took a trip up in the Empire State building, (didn't know there's still lots of steps to climb to get to the top after you get off the last elevator), and visited the 9/11 Memorial. I remember that day well, we walked around 15 miles that day.
So we had to cover a lot of ground in a short amount of time, since we had to go to a graduation as well. That took an additional train ride, to go to Saratoga Springs. Sadly, we had so much to do that day I didn't really get to see much there.
Then it was back to New York City. Made our way to China Town and Little Italy. Finally our last day we made it to Coney Island.
But it was the trip back to New York City that I discovered this classic. There was a small diner that was (or maybe it still is) legendary while it was still open. It was called "The Eveready" on Route 9 in Hyde Park; just north of the Culinary Institute of America.
Being that close to THE definitive cooking school in the country, you know their food has to be good! I can't really say why, even with the 10 pages of menu that they had, there was just something about this dish that just called my name.
And let me just say, the only thing disappointing about it is the fact that this diner has since closed up shop, so now I have to go somewhere else to get this when I make my way up north again.
Since I've been paying so much love to the south recently with my Trisha Yearwood Crockpot Pork Tenderloin and my Shrimp and Grits, I thought it was time to change things up a bit and show some love to the North East with this Fancy Yankee Pot Roast worthy of a family sit down meal for Sunday dinner!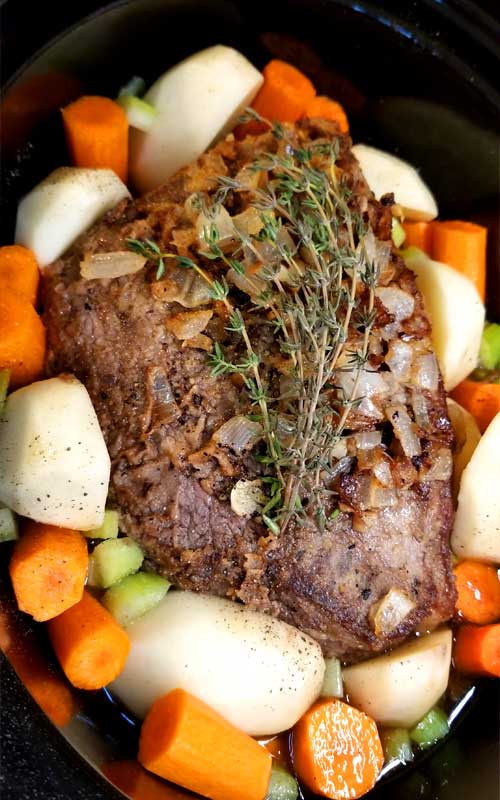 Don't forget to follow along, so you don't miss out! Did you know you can get a notification on your phone now as soon something is published? People are loving this so much, more than the emails clogging up your inbox. If you happened to not accept the notification box earlier…now is a good time to click the small bell in the corner and get signed up!
FOLLOW Sparkles of Yum ON FACEBOOK | PINTEREST | INSTAGRAM | TWITTER FOR ALL OF THE LATEST CONTENT, RECIPES AND UPDATES.
Feel free to join the Sparkles of Yum Recipe Swap Facebook group! A fun place to find and share all of your favorite recipes.
Fancy Yankee Pot Roast – Crock Pot
Cook Time:
4 hours
20 minutes
Additional Time:
10 minutes
Total Time:
4 hours
50 minutes
When thinking about comfort food, there is nothing more comforting than a savory, succulent, and satisfying Fancy Yankee Pot Roast.
Ingredients
1/4 cup olive oil
3 onions, (diced)
3 - 4 pound top or bottom round beef roast (I used rump roast)
Flour for dredging
8 carrots, quartered
5-6 potatoes (halved)
3 ribs celery (diced)
2 1/2 cups beef broth
1 1/2 cups hearty red wine (I used Bordeaux)
3 garlic cloves, minced
6-8 sprigs fresh thyme
2 bay leaves
1 teaspoon freshly ground black pepper
Kosher or sea salt to taste
For gravy:
2 tablespoons unsalted butter at room temperature
2 tablespoons flour
Instructions
Coat the beef roast with flour on all surfaces. Heat the olive oil and saute the onions and garlic in a large skillet. Add the beef to the skillet and sear evenly on all sides, using tongs to turn the roast, about 5 minutes per side. Transfer to a plate and set aside.

Deglaze the skillet: Add the wine and 1 cup of the beef stock, scraping up the browned bits from the bottom of the pot.

Place the roast in a crock pot, pour the beef broth wine mixture over the roast. Add remaining beef broth. Add the potatoes, carrots, celery, onion, garlic, and bay leaves into the crock pot around the sides and place the thyme on top of the roast.

Cook on low setting for 8-9 hours or on high for 3-4 hours.

Transfer roast to a cutting board; let rest 10 minutes before carving. Transfer vegetables to a platter. Tent both with foil to keep warm.

To make the gravy

With a ladle, spoon the liquid from the crock pot into a 2 cup measuring cup. Strain juices through a fine-mesh sieve. In a 4-qt. saucepan over medium-high heat, melt 2 tablespoons butter, whisk 2 tablespoons flour into the butter and whisk in the 2 cups strained reserved juices; simmer stirring frequently, until the gravy is thick and bubbly, about 2 minutes. Taste and season with salt and pepper, if needed. Serve the roast with the gravy and vegetables.
Nutrition Information
Yield

8
Serving Size

1
Amount Per Serving
Calories

695
Total Fat

28g
Saturated Fat

10g
Trans Fat

0g
Unsaturated Fat

16g
Cholesterol

101mg
Sodium

582mg
Carbohydrates

68g
Fiber

8g
Sugar

7g
Protein

32g
© 2023 Sparkles of Yum. All rights reserved. All images & content are copyright protected. Please do not use my images without prior permission. If you want to share this recipe, please provide a link back to this post for the original recipe.
Sparkles of Yum is a participant in the Amazon Services LLC Associates Program, an affiliate advertising program designed to provide a means for sites to earn advertising fees by advertising and linking to Amazon.com.