This is a simple, flavorful creation that's ready to party on your plate! Creamy cheesy sauce, buttery shrimp, and Pico De Gallo all make this Creamy Mexican Shrimp Pasta Recipe a love fest for your taste buds!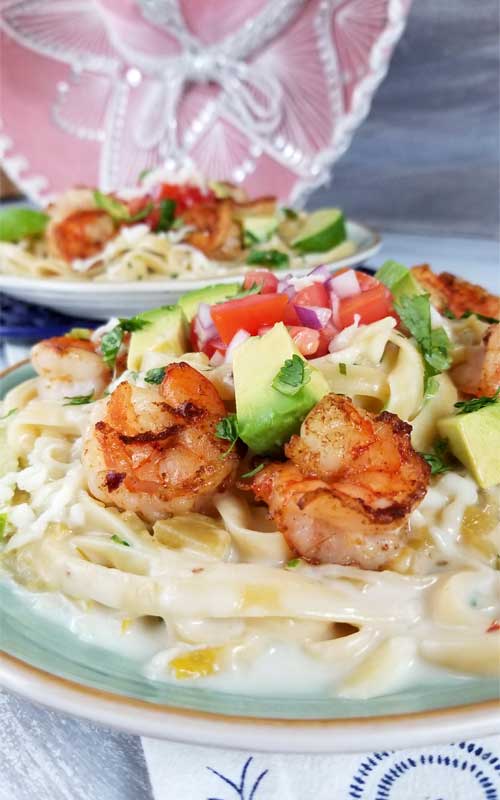 Do you love the song "Despacito"? I love that song. All summer that year we'd go to our favorite Mexican restaurant in town and have my two margaritas, and wonder why they never played that song at the restaurant. So we'd have to play it in the car on the way home.
It was pretty new at the time, we did eventually find out Luis Fonsi is Puerto Rican, and our Mexican friends were only playing music they were familiar with.
Well, fast forward to this spring and I'm trying to find some inspiration to write this post. I asked Mr. Yum to play that song and he pulls up a search with hundreds of versions, literally every spin you could imagine.
So we listened to a few of them and that song sounds good in just about any language including a fusion between Chinese and Spanish. I don't have a clue what they saying, but it just speaks to your soul in any language. Like a smile!
It's not very often something comes along that practically the whole world embraces in such a way. But there was even a metal cover band version people! This guy does metal versions of tons of songs, like Frozen's, "Let it Go" and Adele's "Hello" So you just never know these days, I'm surprised some of these haven't hit the viral media.
In fact, talking about my favorite restaurant, "La Fiesta", is where I got the idea for this new dish. They offered a lenten menu option that had something similar to this, but it had poblanos and more of an alfredo cream sauce.
Well the poblanos were all gone at the store, so I thought green chiles would work well, even though you never see green chiles (or Hatch chiles) in an authentic Mexican restaurant either.
Green chiles like what you find in the can at the grocery store actually originated in New Mexico, by the Ortega family. So just like the "Despacito" song, Mexican restaurants don't have a history with green chiles either.
I don't think a lot of Americans know how lucky we are. We have the opportunity to learn from, love, and embrace the whole world right in our own neighborhoods. Where else on earth do people get to intertwine with all the cultures we have, all within a few blocks of their house?
And we all have so much more in common then we ever thought we could. We love our families, we love good food, and we all love a smile and a pretty song! It really is the simple things.
Speaking of simple things, this is a simple little creation from the love of all these flavors coming to party on one plate! From the creamy cheesy sauce to the peppered buttery shrimp topped with Pico De Gallo, avocado, and fresh cilantro. All over yummy pasta.. it's a love fest for your taste buds!
To make this sauce we're using a a Mexican melting cheese, Oaxaca; with a rich flavor and meltability just right for this sauce. It's like Mozzarella, meets string cheese (literally, it comes in a knot that can be unwound) and with a little science it can be easily turned into a sauce.
Not too science-y it just needs a little flour and milk and 10-15 minutes of your time, not much different than an Alfredo sauce. So if you have a favorite Alfredo sauce you can totally use that!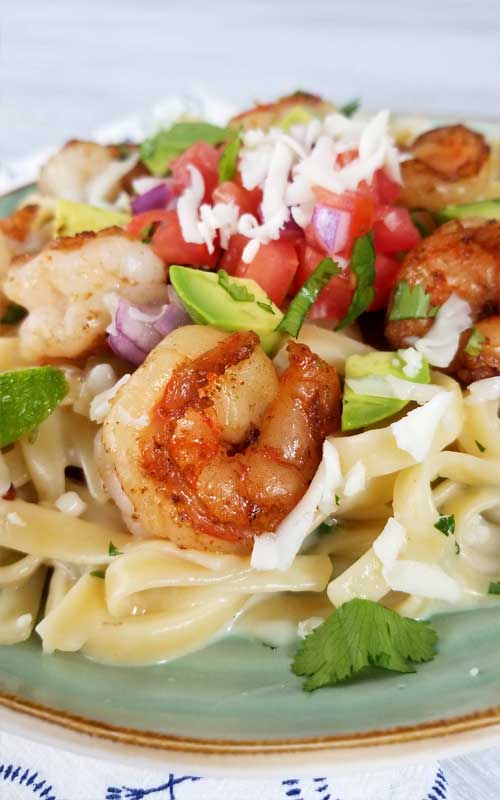 Some tips:
Does shrimp size matter? That link is a nice visual of the different sizes and count per pound. I think it's a matter of personal preference as long as your aware what to look for when the shrimp is done. It will turn pinkish and curl to tighten up. Feel free to use fresh shrimp or frozen and safely thawed. Thawing instructions below)
How many shrimp to serve person: Allow about 4 ounces for each adult and about 2 ounces for small children. Shrimp Servings By the Numbers

Medium and below, about 9 to 11 shrimp per person
Large to jumbo, about 5 to 7 shrimp per person
Extra jumbo and above, about 3 to 5 per person

Best method for thawing shrimp according to the Food and Drug Administration FDA: Thaw frozen seafood gradually by placing it in the refrigerator overnight. Use a bowl never trust just a baggie or butcher paper to not leak over other items in the refrigerator. If you have to thaw seafood quickly, either seal it in a plastic bag and immerse it in cold water, or — if the food will be cooked immediately thereafter — microwave it on the "defrost" setting and stop the defrost cycle while the fish is still icy but pliable.
Plan ahead when we are shopping for seafood: We keep an ice pack in the freezer to grab and and insulated bag so if your shopping at multiple stores your food is staying at a safe temperature.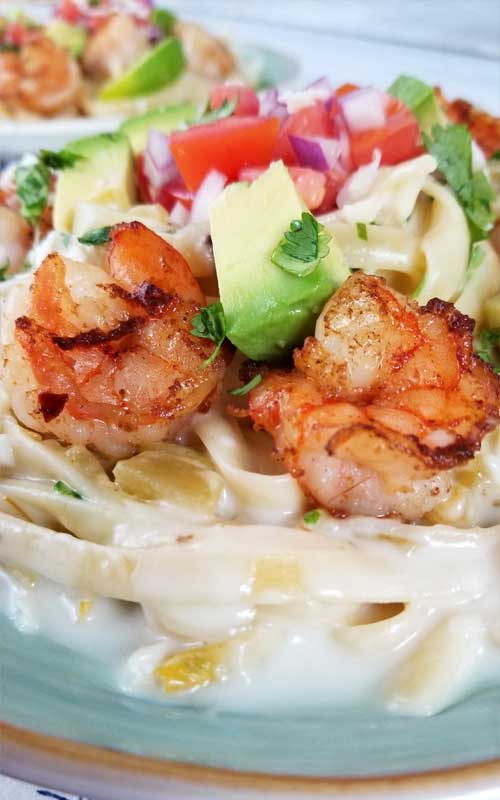 Don't forget to follow along, so you don't miss out! Did you know you can get a notification on your phone now as soon something is published? People are loving this so much, more than the emails clogging up your inbox. If you happened to not accept the notification box earlier…now is a good time to click the small bell in the corner and get signed up!
FOLLOW Sparkles of Yum ON FACEBOOK | PINTEREST | INSTAGRAM | TWITTER FOR ALL OF THE LATEST CONTENT, RECIPES AND UPDATES.
Feel free to join the Sparkles of Yum Recipe Swap Facebook group! A fun place to find and share all of your favorite recipes.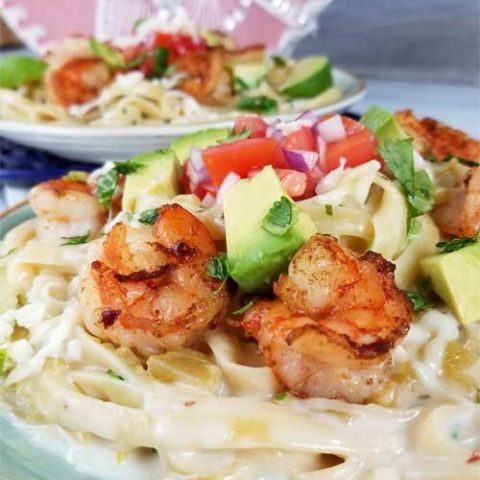 Creamy Mexican Shrimp Pasta
Yield: 4-6 servings

Prep Time: 15 minutes

Cook Time: 30 minutes

Total Time: 45 minutes

This is a simple, flavorful creation that's ready to party on your plate! Creamy cheesy sauce, buttery shrimp, and Pico De Gallo all make this Creamy Mexican Shrimp Pasta Recipe a love fest for your taste buds!
Ingredients
1 lb shrimp (we used jumbo 18/20)
16 oz fettuccine pasta
2 tablespoons unsalted butter
3/4 teaspoon chili powder
1/2 teaspoon sea salt
pinch of red pepper flakes
1/4 teaspoon cayenne pepper
1 7 oz can green chiles
2 oz white wine (splash for deglazing the skillet)
1 lime
1 avocado (diced)
For the sauce:
8 oz Oaxaca Cheese (grated- reserve some for topping)
1 cup milk
2 Tablespoons flour
12 oz can chicken broth
1/4 teaspoon cayenne pepper
pinch of red pepper flakes
1/2 teaspoon salt
For the Pico De Gallo:
2 small diced plum tomatoes (diced)
1 small onion (diced)
1 tablespoon lime juice
2 tablespoons cilantro
1 serrano chile - minced (optional)
Instructions
Pico de Gallo:
Dice everything, mix together and set aside.
Pasta:
Bring a large pot of water to a boil for fettuccine pasta and cook al dente using package instructions, do not rinse. Drain leaving some pasta water in the bottom, and cover. (Tip: I bring the water to a rolling boil and turn on low until almost ready to put the pasta in as it doesn't take as long to bring back to a boil, salt the water well after adding the pasta. Al dente is still a tiny bit of firmness when you bite into the noodle, so they don't turn too mushy).
Sauce:
Using a non stick saucepan on low heat, warm up 1 cup milk and slowly add grated cheese. Add more cheese once last batch has melted. Keep stirring until last added batch melts. The cheese will most likely form a large clump in your pot, this is fine.
Once the cheese is melted mix 2 tablespoons flour into a 1/4 cup of cold chicken broth. Stir well and pour into milk and cheese mixture. Stir for a minute or two, and cheese clump will start to dissolve into the milk.
Slowly add in the rest of the chicken broth, until desired consistency is reached. Then add 1/4 teaspoon cayenne pepper, pinch of red pepper flakes and salt. Set on warmer burner or on lowest setting just to keep warm.
Shrimp:
Melt two tablespoons butter in a large non stick skillet over medium high heat. Season shrimp well with 3/4 teaspoon chili powder, 1/2 teaspoon sea salt, 1/4 teaspoon cayenne pepper, pinch of red pepper flakes. Quickly sear shrimp on both sides, they turn pink and curl so you know they're done.
Remove to a plate and set aside. Deglaze skillet with a splash of white wine and add drained green chiles, drained pasta and stir in cream sauce. (If you don't use all the pasta, you can freeze it)
Assembly:
Place the pasta on the bottom, arrange the shrimp on top of the pasta and top in the center a scoop of Pico de gallo, diced avocado and scatter with chopped fresh cilantro. Enjoy with margaritas or white wine!
Nutrition Information
Yield 6 Serving Size 1
Amount Per Serving Calories 827Total Fat 37gSaturated Fat 17gTrans Fat 1gUnsaturated Fat 16gCholesterol 317mgSodium 2384mgCarbohydrates 70gFiber 8gSugar 8gProtein 53g

© 2023 Sparkles of Yum. All rights reserved. All images & content are copyright protected. Please do not use my images without prior permission. If you want to share this recipe, please provide a link back to this post for the original recipe.
Sparkles of Yum is a participant in the Amazon Services LLC Associates Program, an affiliate advertising program designed to provide a means for sites to earn advertising fees by advertising and linking to Amazon.com.