Oh my heavens! Blueberry and Bacon French Toast is my new obsession! Weekend brunch, holiday breakfast or breakfast for dinner, I'll take any and all if this is on the table!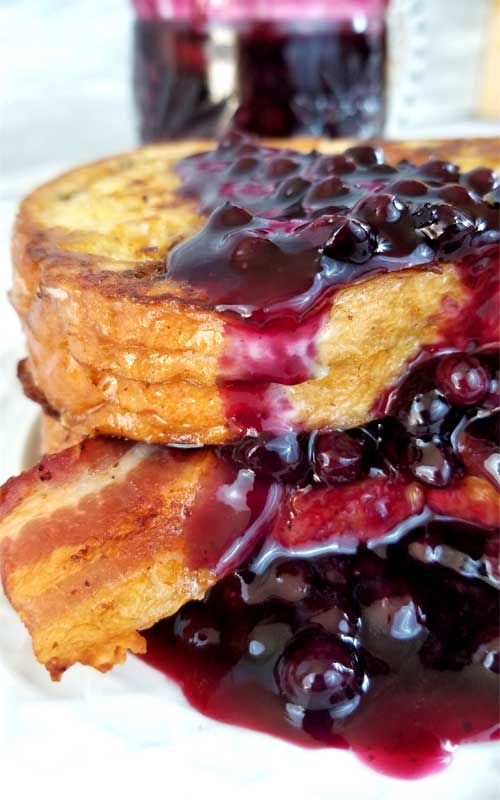 How did I never have this before now?! Such mixed emotions, I'm so happy to have this in my life now, but all the years I haven't had it makes me a little sad.
All the holidays I could have been serving this awesome brunch. Well OK, I have to move forward and just make it more often now to make up for all the missed opportunities of all the compliments and happy little taste buds!
I'm only a little upset over this because as a kid I loved to put a piece of bacon with grape jelly on a piece of bread or toast, and this is only about a million times better than that.
So another reason I'm a little sad over this is I just learned that Panera Bread used to have something similar to this on their menu. Panera originally started in St. Louis back in the 80's, except here they are called St. Louis Bread Co.
Panera was the first to start listing calorie counts on menus. In addition to that, they also removed all artificial trans fats from the menu in 2005 and completely eliminated artificial ingredients from its ingredients in January 2017.
So, sorry can't it find there any longer, but that's OK this is easy to make at home.
We headed over to our new favorite store, Fresh Thyme, to get a fresh loaf of Cinnamon Raisin Bread, because they have a machine where you can slice your own loaf. We wanted some nice thick slices, but the machine didn't cooperate.
That's OK, it didn't matter because if you hold two thin slices of bread together when you dip it they stay together just fine.
To make this go quick you just set up your dipping station right next to the stove using an 8×10 Pyrex dish; you can dip, flip, and toast like a top chef! Plus, you don't have to worry about making breakfast before going to bed and then waiting an hour and a half for breakfast to be ready.
I mean, I guess it's fine on occasion, but I think personally that's really what bread pudding is. French Toast is toasted on both sides. Technically French toast is a dish made of bread soaked in eggs and milk, then fried.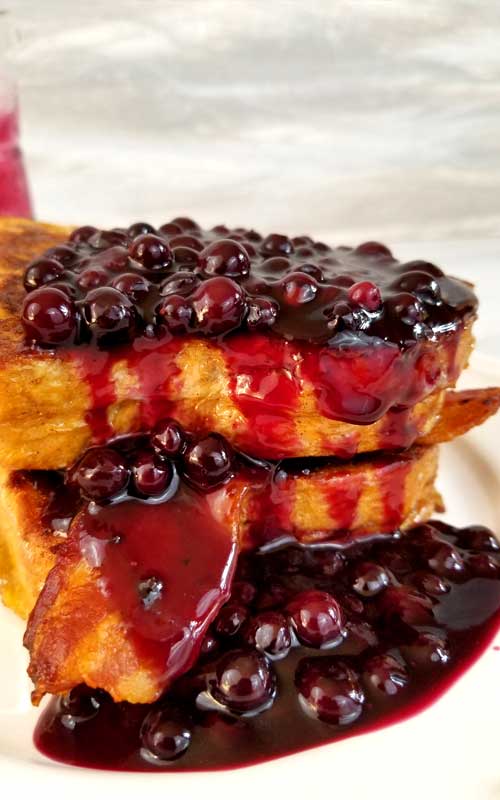 Don't forget to follow along, so you don't miss out! Did you know you can get a notification on your phone now as soon something is published? People are loving this so much, more than the emails clogging up your inbox. If you happened to not accept the notification box earlier…now is a good time to click the small bell in the corner and get signed up!
FOLLOW Sparkles of Yum ON FACEBOOK | PINTEREST | INSTAGRAM | TWITTER FOR ALL OF THE LATEST CONTENT, RECIPES AND UPDATES.
Feel free to join the Sparkles of Yum Recipe Swap Facebook group! A fun place to find and share all of your favorite recipes.
Blueberry and Bacon French Toast
Yield: About 8 servings

Prep Time: 15 minutes

Cook Time: 1 hour

Total Time: 1 hour 15 minutes

Oh my heavens! Blueberry and Bacon French Toast is my new obsession! Weekend brunch, holiday breakfast or breakfast for dinner, I'll take any and all if this is on the table!
Ingredients
1 loaf Cinnamon Raisin Bread (I used 16 slices)
4 eggs
1/4 cup milk
1/4 cup sugar
1 teaspoon vanilla
1/4 teaspoon or a pinch of ground nutmeg
1/2 teaspoon ground cinnamon
butter for toasting
For the stuffing and topping:
Instructions
In a medium baking dish; whisk together the eggs, milk, and sugar. Stir in vanilla, nutmeg and cinnamon. Using either thick sliced bread (or holding 2 thin sliced together) dip bread in egg mixture and gently turn over to do both sides. Slightly shake to let excess fall back into dish. (We're not letting it sit in the mixture for long, just a few seconds then turn).
Have a large skillet or griddle ready with 1 tablespoon butter; heat over medium heat. Add the bread when the butter is melted and beginning to sizzle, cook until nicely browned and crisp. NOTE: Check under a corner making sure it doesn't burn, when toasted using a large spatula flip to other side. You may want to add another tablespoon of butter as needed, working it in batches. Cooking time was about 5 to 7 minutes. When golden brown on both sides remove to an oven ready dish, if necessary, to keep warm in a 170 degree oven until all is ready to serve.
When ready to serve, add blueberry sauce and bacon and if your using cream cheese spread on one side and top with more blueberry sauce.
Nutrition Information
Yield 8 Serving Size 2 slices toast with bacon and topping
Amount Per Serving Calories 496Total Fat 34gSaturated Fat 14gTrans Fat 0gUnsaturated Fat 18gCholesterol 183mgSodium 1257mgCarbohydrates 21gFiber 1gSugar 14gProtein 25g

Nutrition data was provided and calculated by Nutritionix, and should only be used as a general guideline. This information is provided as a courtesy and there is no guarantee that the information will be completely accurate.

© 2023 Sparkles of Yum. All rights reserved. All images & content are copyright protected. Please do not use my images without prior permission. If you want to share this recipe, please provide a link back to this post for the original recipe.
Sparkles of Yum is a participant in the Amazon Services LLC Associates Program, an affiliate advertising program designed to provide a means for sites to earn advertising fees by advertising and linking to Amazon.com.