Brighten up your weekend brunch with all the creamy, orangey goodness of this fun, bubbly, slushy, yummy Creamsicle Mimosa Sunrise Float!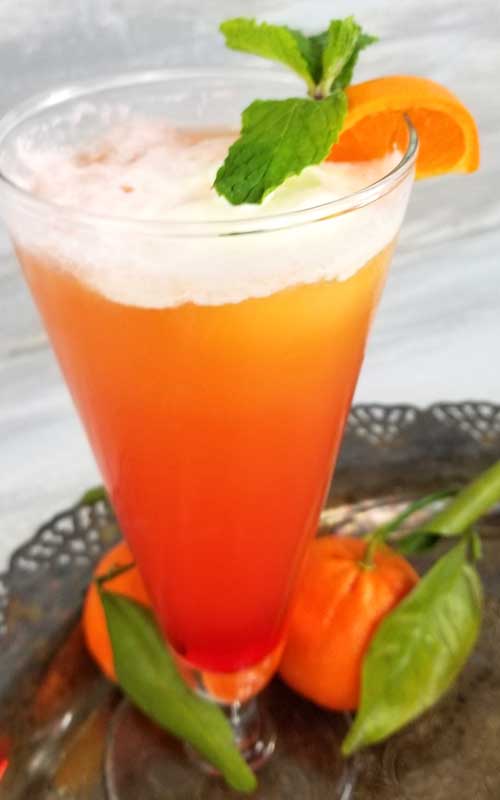 Hold on to your hats, Mama's getting crazy in the kitchen! Girlfriends, squirlfriends, (they know who they are); time to bring on the Spring Fling!
Get up and get your brunch on, we already started to party with this ultimate knock you naked (whoa did I say that out loud) Creamsicle Mimosa Sunrise Float! Nothing better for a bright sunshiny weekend morning then having a great brunch with a little bit of extra fun. Maybe it'll be nice enough to take it outside.
Move over winter, we are so done with you! I can't even. Time for the birds to get singing and the bees to get buzzing. The daffodils are ready to burst into bloom. Can you tell what my favorite time of year is?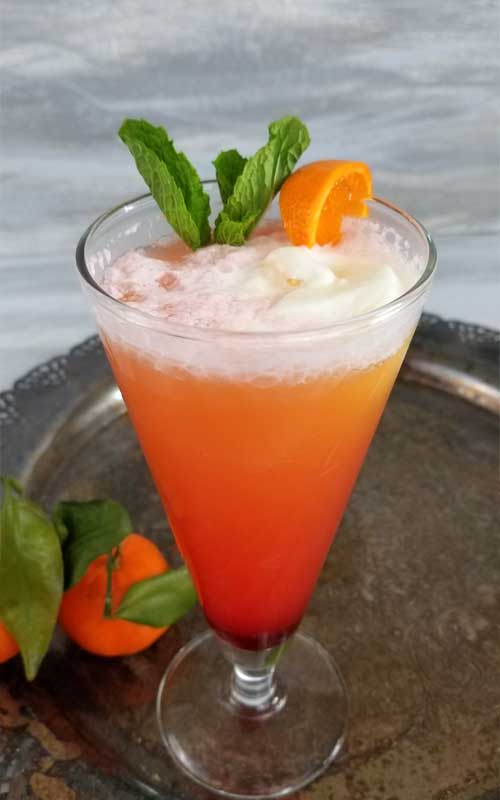 Time for everything to "get woke", you know like everything is coming back to life. (I never use that phrase, but it really works here). Pack away the sweaters and coats and bring on the shorts and flip flops.
A few more weeks and I can get my hands in the dirt, and get my little garden started again and I can hardly wait. There's nothing better than walking outside and picking your own fresh veggies.
Well I don't know if you've ever got to experience a real creamsicle before. They were like a popsicle, such orangey creamy goodness! Even if you've never had one you can brighten up your weekend brunch with all the creamy, orangey goodness of this fun, bubbly, slushy, yummy Creamsicle Mimosa Sunrise Float!
Pretty sure it's not on the menu at any swanky bottomless mimosa brunch place, so you can get the bragging rights by sharing it with your all your friends.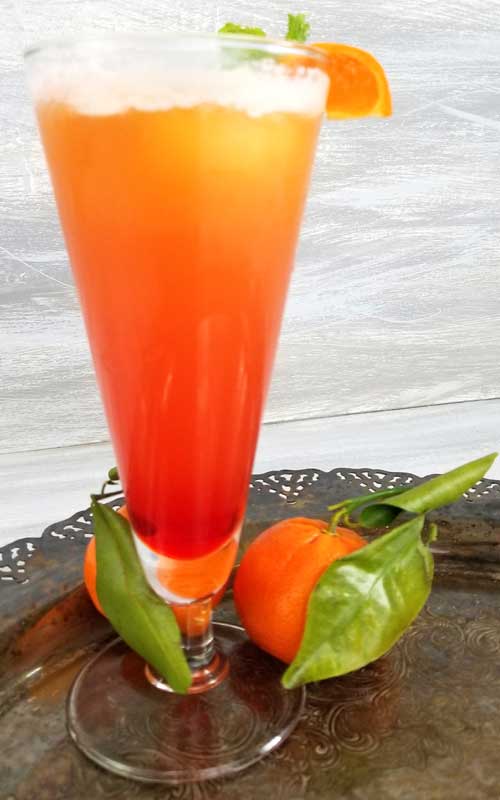 Don't forget to follow along, so you don't miss out! Did you know you can get a notification on your phone now as soon something is published? People are loving this so much, more than the emails clogging up your inbox. If you happened to not accept the notification box earlier…now is a good time to click the small bell in the corner and get signed up!
FOLLOW Sparkles of Yum ON FACEBOOK | PINTEREST | INSTAGRAM | TWITTER FOR ALL OF THE LATEST CONTENT, RECIPES AND UPDATES.
Feel free to join the Sparkles of Yum Recipe Swap Facebook group! A fun place to find and share all of your favorite recipes.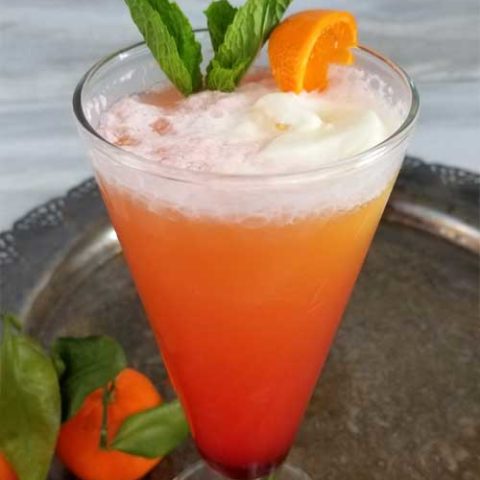 Creamsicle Mimosa Sunrise Float
Yield: About 6 glasses

Prep Time: 5 minutes

Total Time: 5 minutes

Brighten up your weekend brunch with all the creamy, orangey goodness of this fun, bubbly, slushy, yummy Creamsicle Mimosa Sunrise Float!
Ingredients
3 cups Prosecco
2 cups Pure Orange juice
1 cup Vanilla Frozen Custard - we used Ted Drewes (or Ice Cream would work)
1/4 cup grenadine
4-5 cups ice (depending how slushy you like yours)
fresh mint for garnish
Tangerines cut into wedges with a slice to fit the glass
Instructions
Using a blender, pour just the orange juice in, add the ice and pulse until you reach a slushy consistency.
In a separate pitcher pour the Prosecco in and pour orange juice and icy mixture on top.
In each glass pour 1 oz of grenadine. Slowly pour mixture from pitcher over the back of a spoon (pouring very slowly) into each glass. This will give you the sunrise effect. Be sure to leave enough room at the top for a scoop of Frozen Custard.
Garnish with fresh mint and Tangerine wedge.
Nutrition Information
Yield 6 Serving Size 1
Amount Per Serving Calories 307Total Fat 2gSaturated Fat 1gTrans Fat 0gUnsaturated Fat 1gCholesterol 13mgSodium 31mgCarbohydrates 32gFiber 1gSugar 25gProtein 2g

Nutrition data was provided and calculated by Nutritionix, and should only be used as a general guideline. This information is provided as a courtesy and there is no guarantee that the information will be completely accurate.

© 2023 Sparkles of Yum. All rights reserved. All images & content are copyright protected. Please do not use my images without prior permission. If you want to share this recipe, please provide a link back to this post for the original recipe.
Sparkles of Yum is a participant in the Amazon Services LLC Associates Program, an affiliate advertising program designed to provide a means for sites to earn advertising fees by advertising and linking to Amazon.com.