This Cajun Marinated BBQ Chicken recipe is an all-time favorite. all-time favorite and the very definition of "winner winner chicken dinner"!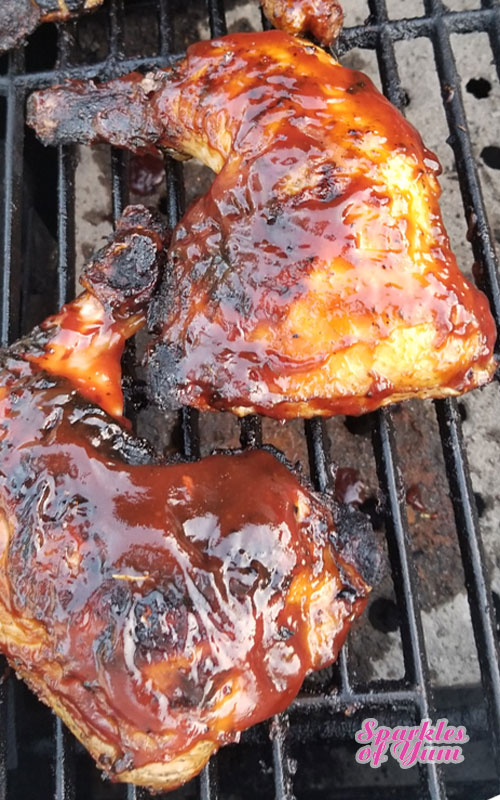 Seasonings hold a special place in my heart, and the ones that make up this marinade are no exception.
When it comes to this recipe, a little patience goes a long way. Unlike those quick 20-minute marinades, this one demands some forethought. To truly savor the magic, let your chicken luxuriate in the marinade for a minimum of 4 hours.
But let me tell you, the wait is worth it. The flavors permeate every inch of the chicken, transforming it into a succulent, tender masterpiece. You'll find yourself yearning for it over and over again, just like we do in our household, where it consistently earns rave reviews.
Chicken is not only delicious but also budget-friendly, making it a staple in our weekly menu rotation.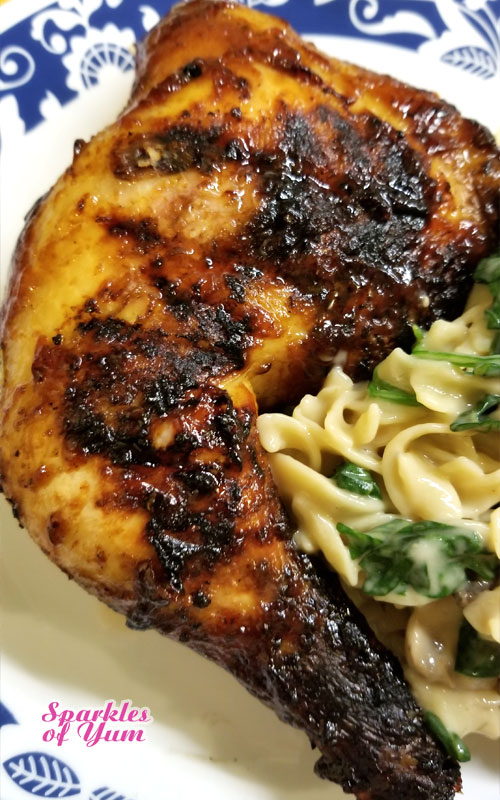 Speaking of chicken favorites, we have another gem in our culinary repertoire: the Sweet Hawaiian Crock Pot Pineapple Chicken. And for those times when you're feeling a tad fancy, consider trying out the Coq Au Vin – Chicken in Red Wine with Mushrooms, Onions, and Bacon, a delectable French classic inspired by the legendary Julia Child.
As you might have gathered, I'm an avid advocate for bold and enticing flavors. Bland dishes rarely grace our kitchen, and as you gain experience in the culinary realm, you'll swiftly discern which recipes are destined to delight your family.
Now, let's talk about side dishes. On this particular occasion, I opted for a quick and easy preparation—boiled egg noodles, a generous handful of fresh spinach, and a can of mushrooms gently simmered with a can of creamy mushroom soup. To achieve the desired consistency, I stirred in half a can of milk. Voila! A delightful side dish in a matter of moments. Alternatively, a crisp side salad would undoubtedly complement this dish wonderfully.
In conclusion, this Cajun Marinated BBQ Chicken embodies the very essence of a "winner winner chicken dinner." Plus, I promise you'll adore just how effortlessly this dish comes together.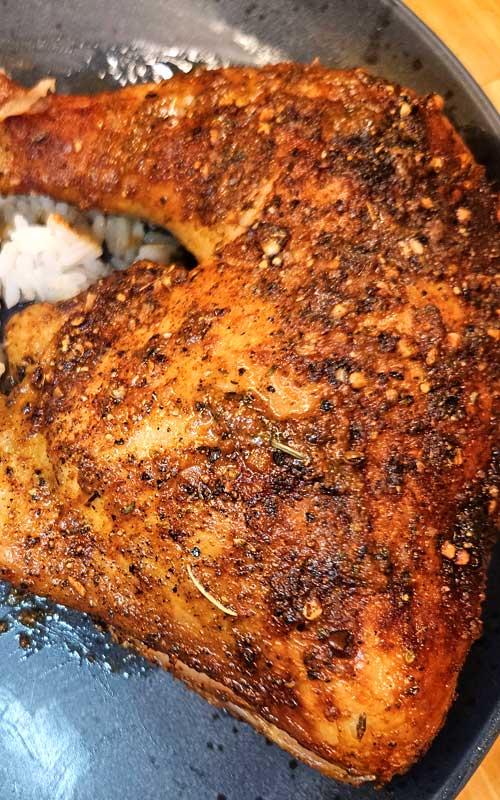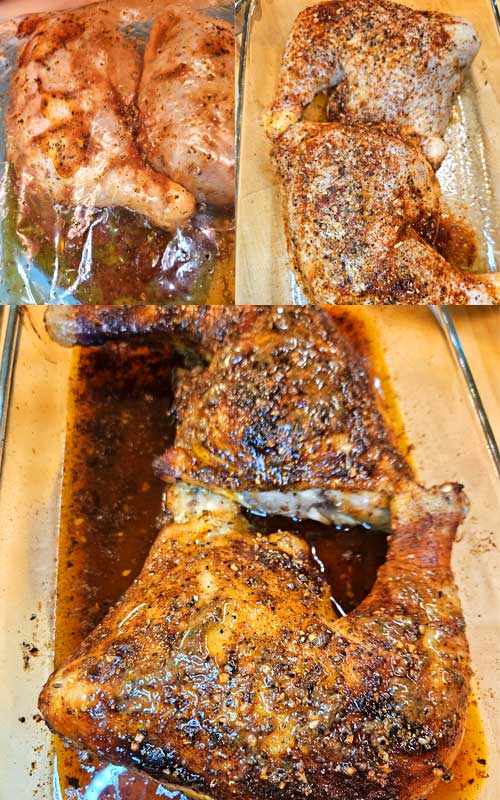 Don't forget to follow along, so you don't miss out! Did you know you can get a notification on your phone now as soon something is published? People are loving this so much, more than the emails clogging up your inbox. If you happened to not accept the notification box earlier…now is a good time to click the small bell in the corner and get signed up!
FOLLOW Sparkles of Yum ON FACEBOOK | PINTEREST | INSTAGRAM | TWITTER FOR ALL OF THE LATEST CONTENT, RECIPES AND UPDATES.
Feel free to join the Sparkles of Yum Recipe Swap Facebook group! A fun place to find and share all of your favorite recipes.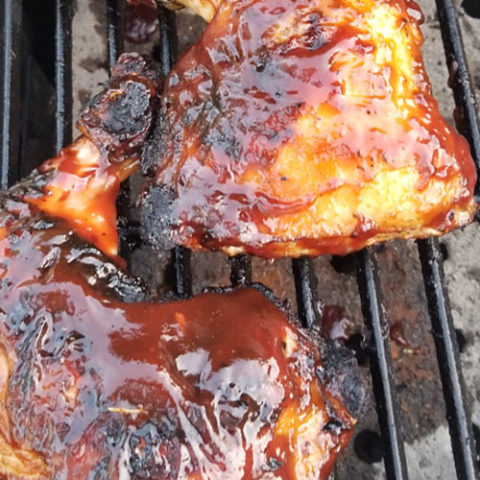 Cajun Marinated BBQ Chicken
Yield: 3 Servings (2 pieces each)

Prep Time: 5 minutes

Cook Time: 15 minutes

Additional Time: 4 hours 10 minutes

Total Time: 4 hours 30 minutes

This Cajun Marinated BBQ Chicken recipe is an all-time favorite and the very definition of "winner winner chicken dinner"!
Ingredients
2 lbs chicken (we did 3 legs and thighs)
Marinade:
1/2 cup oil
2 tablespoons apple cider vinegar
2 tablespoons ketchup
1 tablespoon Italian seasoning
1 teaspoon garlic powder
1/4 teaspoon black pepper
1 1/2 tablespoon Cajun seasoning (I used Zatarains Cajun Creole)
Instructions
Grill Instructions:
Put all marinade in a large zip top bag with chicken, and place in a bowl in your fridge for 4-8 hours.
Get the grill ready to medium-high heat.
You can use the rest of the marinade to brush on chicken as you turn it and add BBQ sauce the last few minutes. Cook until an internal temp of 165 degrees or the juices run clear. Let rest 5 -10 minutes
Or if it's too cold for grilling or you don't have an outdoor grill...
Oven Instructions:
Using a Pyrex or roasting pan, place the chicken in a 400 degree F oven brush or spoon with marinade or BBQ the last 10 minutes, cook until it reaches an internal temperature of 165 degrees F.
Nutrition Information
Yield 3 Serving Size 1 Leg and 1 Thigh
Amount Per Serving Calories 1021Total Fat 77gSaturated Fat 14gTrans Fat 0gUnsaturated Fat 58gCholesterol 284mgSodium 1938mgCarbohydrates 6gFiber 1gSugar 2gProtein 73g

Nutrition data was provided and calculated by Nutritionix, and should only be used as a general guideline. This information is provided as a courtesy and there is no guarantee that the information will be completely accurate.

© 2023 Sparkles of Yum. All rights reserved. All images & content are copyright protected. Please do not use my images without prior permission. If you want to share this recipe, please provide a link back to this post for the original recipe.
Sparkles of Yum is a participant in the Amazon Services LLC Associates Program, an affiliate advertising program designed to provide a means for sites to earn advertising fees by advertising and linking to Amazon.com.