Love me some Chicken Cacciatore! It's so delicious and saucy with all the Italian goodness of the seasoning and a subtle sweetness in the sauce and goes perfectly served over this Pappardelle Pasta.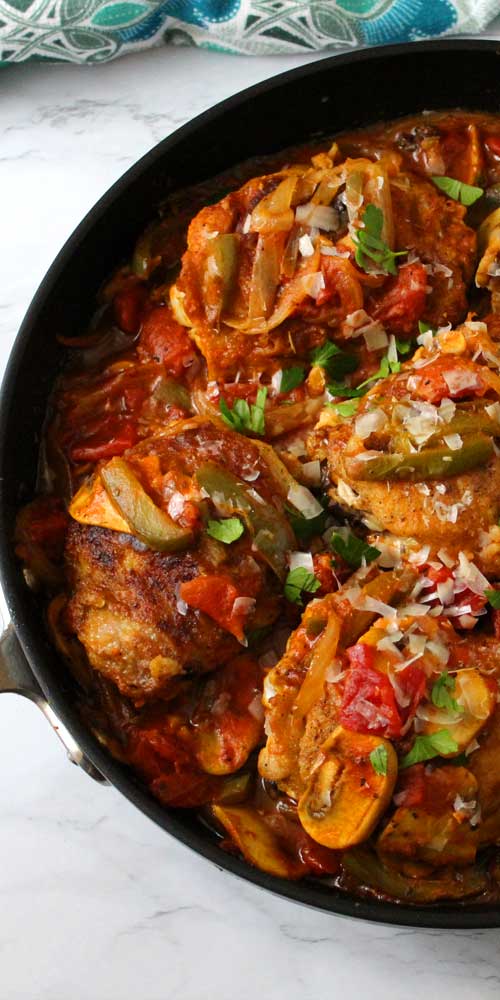 The chicken stays juicy braised first in a light dusting of flour, then simmered in a simple sauce on the stove, so much depth of flavor in such a short time. It looks like you worked hard on this impressive dinner for guests, but it's so simple.
I remember being so proud of myself the first time I made Chicken Cacciatore as a newlywed many years ago, in the 70's, and it's been a staple in my kitchen ever since.
I found it back then in my old Betty Crocker cook book from 1972, for some reason it seemed so much more complicated back then, but I didn't have much experience cooking so everything seems more complicated to me.
Once you get used to cooking everyday it gets way easier, so if your new to cooking this one is pretty simple, but looks like you worked hard.
This is a hearty meal for these cold days when it seems like winter is just never gonna end. It's almost mid February and we're starting to see signs of spring at the stores like spring clothes and garden supplies showing up. YAY!
It can't come soon enough for me, because we're still getting the whole wintery mix stuff, you just never know how slick the street is going to be. So it just needs to hurry up and stay above freezing so we can all get outside and fire up the grill again!
Cacciatore means "hunter" in Italian, and it is hunters who first ate this dish. In fact, it is thought that the first Chicken Cacciatore was not made with chicken at all, but with rabbit or other wild game sometime during the Renaissance period, so between the 14th and 16th centuries.
Chicken Cacciatore's simple but delicious recipe was likely developed to satisfy the appetites of hunters who may have been on the track of a larger animal or herd of animals for several days, and who needed a tasty, filling stew that could easily be cooked outdoors to keep them going.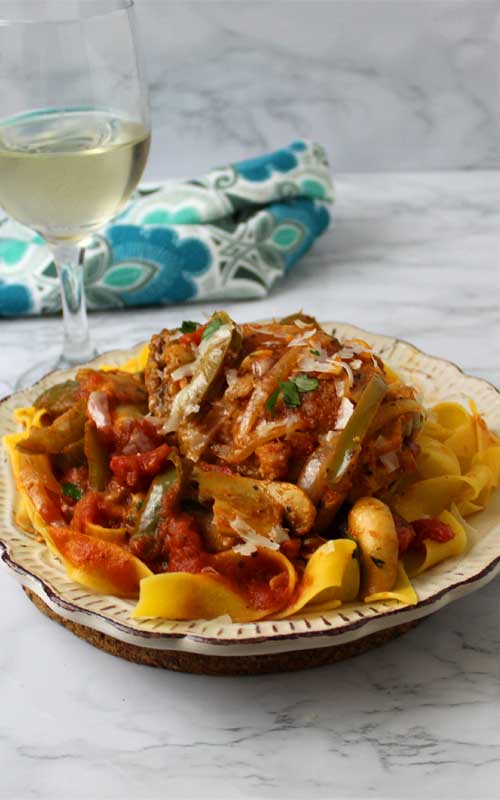 What can you serve with this Chicken Cacciatore?
For low carb, you can serve over Cauliflower rice or use Zucchini Noodles
Looking for something besides pasta you can serve with mashed potatoes or soft polenta.
If you don't want to use wine, you can substitute apple juice.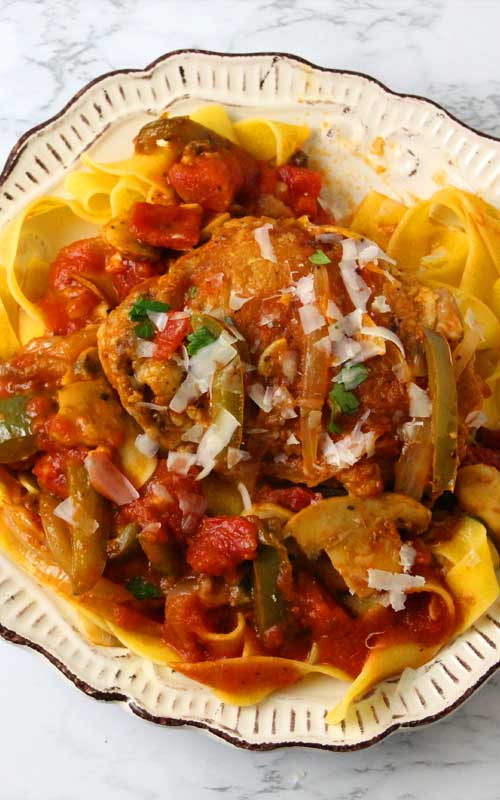 Some tips:
Freeze any leftovers for up to three months
If you'd like more veggies, you can also add a couple diced carrots and celery
If you LOVE this Chicken Cacciatore recipe, try this Chicken Marsala OR this Coq au vin – Chicken in Red Wine with Mushrooms Onions and Bacon!
Don't forget to follow along, so you don't miss out! Did you know you can get a notification on your phone now as soon something is published? People are loving this so much, more than the emails clogging up your inbox. If you happened to not accept the notification box earlier…now is a good time to click the small bell in the corner and get signed up!
FOLLOW Sparkles of Yum ON FACEBOOK | PINTEREST | INSTAGRAM | TWITTER FOR ALL OF THE LATEST CONTENT, RECIPES AND UPDATES.
Feel free to join the Sparkles of Yum Recipe Swap Facebook group! A fun place to find and share all of your favorite recipes.
Chicken Cacciatore
Yield: 3-6 servings

Prep Time: 15 minutes

Cook Time: 1 hour 10 minutes

Total Time: 1 hour 25 minutes

Love me some Chicken Cacciatore! It's so delicious and saucy with all the Italian goodness of the seasoning and a subtle sweetness in the sauce and goes perfectly served over this Pappardelle Pasta.
Ingredients
6 Chicken Thighs
salt and fresh cracked black pepper
1/2 cup all purpose flour, for dredging
3 tablespoons olive oil
1 cup sliced mushrooms (cremini or baby bella mushrooms)
1 large green bell pepper, sliced thin
1 onion, chopped
3 garlic cloves, finely chopped
3/4 cup dry white wine
1 ( 28-ounce) can diced tomatoes with juice
1 can (8 ounces) tomato sauce
1 Tablespoon sugar
3/4 cup reduced-sodium chicken broth
1 1/2 teaspoons dried Italian seasoning
2 Tablespoons chopped fresh parsley or basil
2 Tablespoons Grated Parmesan cheese
Pappardelle Pasta- 16 oz bag (or your favorite pasta or rice)
Instructions
Dust chicken with flour. Season with salt and pepper. In a large skillet, brown chicken on all sides in olive oil over medium-high heat. Remove chicken to platter with paper towels. Pour excess oil from the pan and discard.
In the same skillet, cook and stir the onion, bell pepper and mushrooms for 5 minutes. Stir in the wine and bring to a boil until the wine has reduced by about half. Stir in the tomatoes, tomato sauce, herbs, garlic, herbs, garlic, sugar and salt and pepper to taste.
Return chicken to skillet. Cover and simmer for 30-45 minutes or until chicken is tender. Taste to adjust seasoning. Serve over pasta and sprinkle with Parmesan cheese and garnish with parsley or basil.
A few minutes before chicken is ready prepare pasta per package directions and serve Chicken Cacciatore and enjoy!
Nutrition Information
Yield 6 Serving Size 1
Amount Per Serving Calories 703Total Fat 28gSaturated Fat 7gTrans Fat 0gUnsaturated Fat 20gCholesterol 225mgSodium 597mgCarbohydrates 67gFiber 3gSugar 11gProtein 43g

Nutrition data was provided and calculated by Nutritionix, and should only be used as a general guideline. This information is provided as a courtesy and there is no guarantee that the information will be completely accurate.

© 2023 Sparkles of Yum. All rights reserved. All images & content are copyright protected. Please do not use my images without prior permission. If you want to share this recipe, please provide a link back to this post for the original recipe.
Sparkles of Yum is a participant in the Amazon Services LLC Associates Program, an affiliate advertising program designed to provide a means for sites to earn advertising fees by advertising and linking to Amazon.com.