Lawd have mercy, this Authentic New Orleans Cajun Gumbo is unbelievably delicious, thick, rich and full of Cajun flavor!
Have yourself a Mardi Gras feast any day of the year with this Authentic New Orleans Cajun Gumbo recipe. Loaded up with all the flavors of New Orleans you are sure to be the belle of the ball!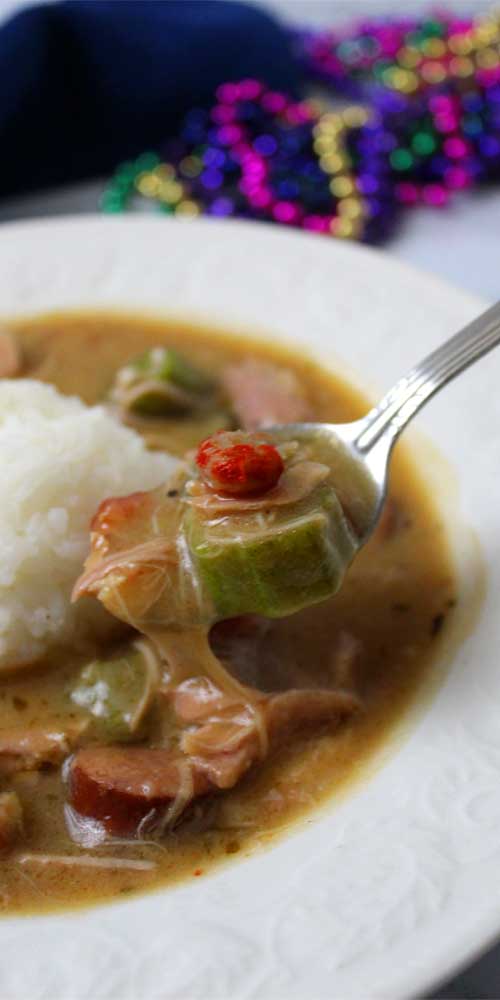 There are no short cuts to a good pot of gumbo it takes time to develop all the flavors that goes into this so plan on having a nice afternoon chopping, stirring and tasting, and when you get to the finished pot of Gumbo it's worth every minute you put into it.
This is one of those dishes if you haven't had it before you'll ask, "where have you been my whole life?!"
This isn't something you can order in most restaurants, unless of course your in New Orleans, but even then, we've been told our's is actually better then some in New Orleans. My daughter and son-in-law said the gumbo they had in New Orleans wasn't as rich and thick as ours.
We've got a couple good Cajun restaurants around town and they don't match up to the flavors in our gumbo either. So a whole lotta of love goes into making a good pot of Authentic New Orleans Cajun Gumbo.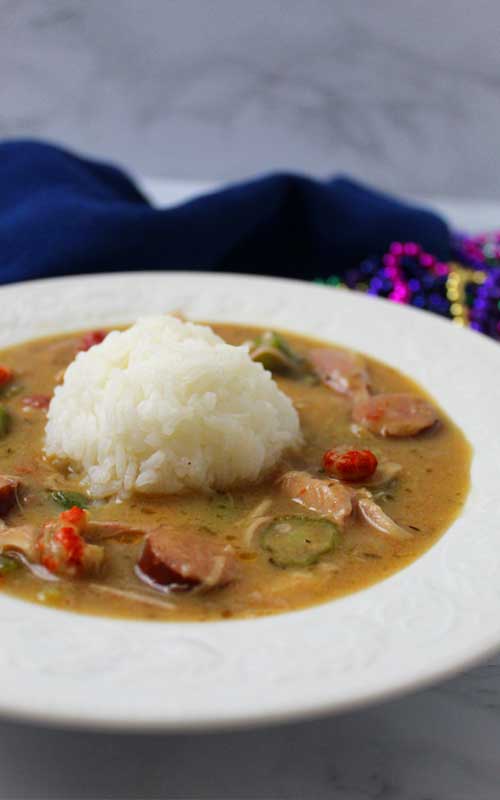 So why is this gumbo authentic? It's a combination of Chef Paul Prudhomme and Chef Justin Wilson and a little Emeril Lagasse. Three of the most well known New Orleans Chefs that helped put New Orleans on the map as one of the top food destinations of the world.
Plus we like craw fish tails in ours, they add to the authentic experience, if you can find them. We find them at Walmart with the frozen seafood, so they shouldn't be that hard to find especially around Mardi Gras time.
Although here in St. Louis we have the largest Mardi Gras celebration outside of New Orleans. The Bud Light Grand Parade is the Midwest's largest and most spectacular pre-Lenten celebration. The parade begins just south of Busch Stadium and winds through the streets of Downtown South and Soulard to the Anheuser-Busch Brewery. Krewes from over 100 floats will toss over 10,000,000 strands of beads and other sought-after goodies to celebratory masses gathered along the route.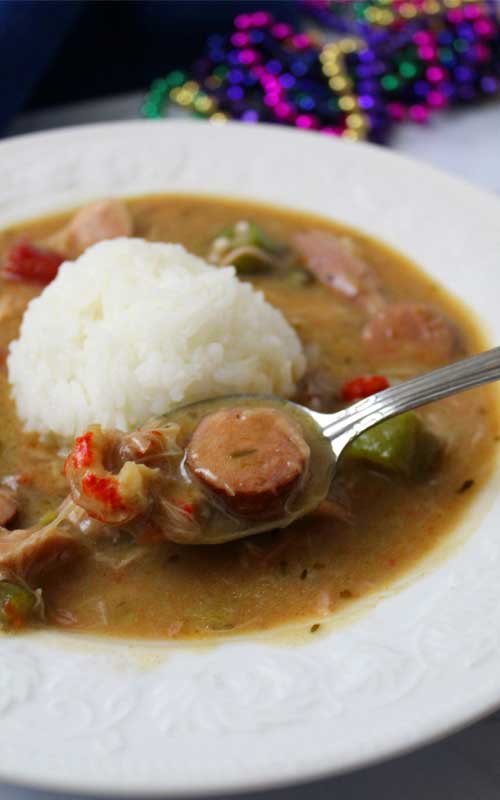 What can you serve with this Authentic New Orleans Cajun Gumbo?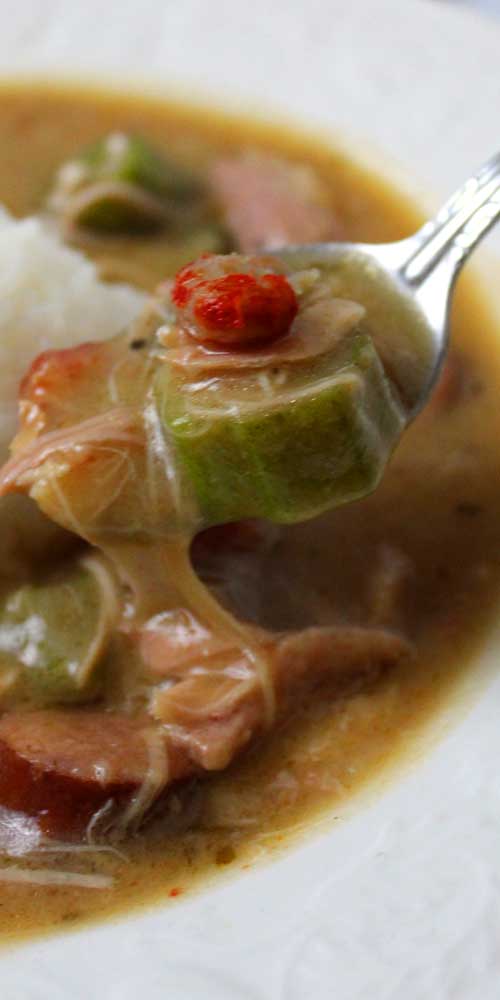 Some tips:
When making the roux, be sure to stir the entire time. If you fail to stir it for even a few seconds too long, you will start to get a burnt flavor…and that is not good eats.
You can spend longer stirring the roux if you would like. This will bring out an even nuttier flavor from the flour. The color will also get darker as well.
No butter, no problem. You can substitute almost any oil you have on hand for the butter when making the roux. The key is to make sure that they are equal in measurement…and that you keep stirring the whole time.
If you LOVE this Authentic New Orleans Cajun Gumbo recipe, try this New Orleans Barbeque Shrimp OR this Cajun Dirty Rice or maybe this Jambalaya!
Don't forget to follow along, so you don't miss out! Did you know you can get a notification on your phone now as soon something is published? People are loving this so much, more than the emails clogging up your inbox. If you happened to not accept the notification box earlier…now is a good time to click the small bell in the corner and get signed up!
FOLLOW Sparkles of Yum ON FACEBOOK | PINTEREST | INSTAGRAM | TWITTER FOR ALL OF THE LATEST CONTENT, RECIPES AND UPDATES.
Feel free to join the Sparkles of Yum Recipe Swap Facebook group! A fun place to find and share all of your favorite recipes.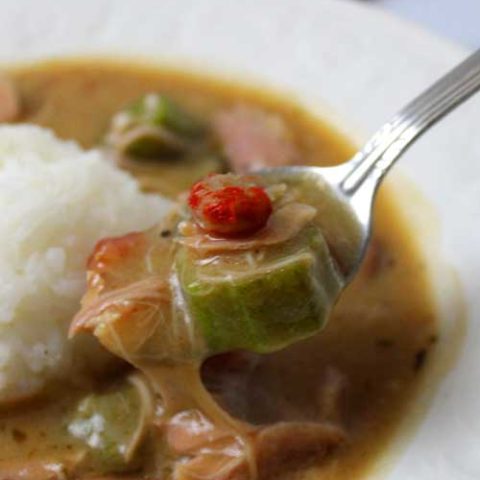 Authentic New Orleans Cajun Gumbo
Yield: 12 Servings

Prep Time: 20 minutes

Cook Time: 4 hours

Total Time: 4 hours 20 minutes

Lawd have mercy, this Authentic New Orleans Cajun Gumbo is unbelievably delicious, thick, rich and full of Cajun flavor!
Ingredients
2-3 pounds, chicken leg quarters
Salt to taste
1 teaspoon finely ground black pepper
1 1/4 teaspoons finely ground white pepper
1 teaspoon powdered mustard
1 1/2 teaspoons cayenne pepper
1 1/2 teaspoons paprika
1 1/2 Old Bay Seasoning
1 teaspoon granulated garlic
1 teaspoon file powder, optional
1 1/2 cups flour
1 1/2 cups butter
3/4 cup finely chopped onion
3/4 cup finely chopped celery
3/4 cup finely chopped green pepper
2 cups diced okra
1 1/2 teaspoon fresh thyme
1 12 oz can diced tomatoes
9 cups chicken broth
1 lb chopped or thinly sliced smoked sausage such as andouille (or kielbasa if you can't find andouille)
1 lb craw fish tails (or shrimp if you can't find crawfish tails)
3 bay leaves
1 teaspoon finely minced fresh garlic
2 cups cooked rice
Pinch of File powder for serving
Optional garnish parsley, green onions and Crystal's Louisiana Hot Sauce
Instructions
Place an 8-quart stockpot over medium heat, and add the butter. Allow the butter to heat for a couple minutes, then add the flour to the pot. Stir the butter and flour together with a wooden spoon to form a roux. Lower the heat to medium low and continue to stir the roux for at least 30 minutes, or until a rich golden color.
Add the onions, bell peppers, and celery to the roux and stir to blend. Stir the vegetables for 5 minutes. Add the garlic.
While stirring add the seasonings; salt, pepper, powdered mustard, cayenne pepper, paprika, Old Bay, granulated garlic, fresh thyme, and file powder.
Slowly add the stock while stirring the roux and bring to a boil (If you add the stock too fast, parts of the roux will seize up into clumps). Then add the chicken pieces and bay leaves and cook uncovered till the chicken is done.
When the chicken is done, pull the chicken pieces out and let cool to shred the chicken.
While the chicken is cooling add the tomatoes and andouille sausage.
Once the chicken is shredded, add back to the gumbo.
Continue to simmer the gumbo for 3 hours stirring occasionally. Add okra and craw fish tails about 20 minutes before serving.
Serve in shallow bowls over white rice.
Notes
If you can not find, or do not want, craw fish, you can add 1 lb. of pre-cooked shrimp in their place. We prefer the small or medium size.
Nutrition Information
Yield 12 Serving Size 1
Amount Per Serving Calories 723Total Fat 47gSaturated Fat 22gTrans Fat 1gUnsaturated Fat 20gCholesterol 257mgSodium 1495mgCarbohydrates 26gFiber 3gSugar 4gProtein 47g

Nutrition data was provided and calculated by Nutritionix, and should only be used as a general guideline. This information is provided as a courtesy and there is no guarantee that the information will be completely accurate.

© 2023 Sparkles of Yum. All rights reserved. All images & content are copyright protected. Please do not use my images without prior permission. If you want to share this recipe, please provide a link back to this post for the original recipe.
Sparkles of Yum is a participant in the Amazon Services LLC Associates Program, an affiliate advertising program designed to provide a means for sites to earn advertising fees by advertising and linking to Amazon.com.