Sweet and spicy. Light and savory. This Grilled Salmon with Sweet Chili Glaze is a perfect example of mixing flavors together, and having them work together perfectly.
We're always looking for something new to try and this Grilled Salmon with Sweet Chili Glaze is a keeper!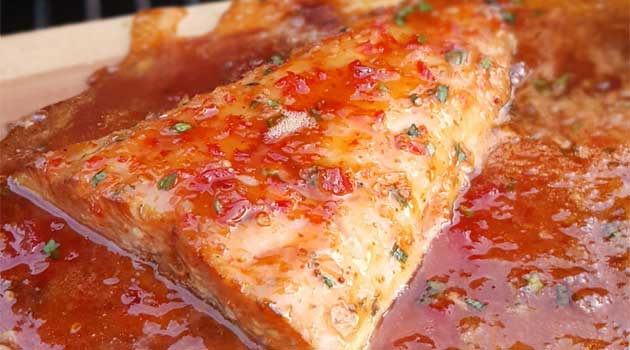 I don't know how some people can be happy with eating the same things week after week the same way. There's just so many different ways to explore flavor profiles. This dish is a perfect example of mixing flavors together, and having them work together perfectly.
You do not even have to use the most expensive piece of salmon from the store. This one we found on sale at Save-a-lot. It was wild caught salmon from Alaska for $4.00 for 20 ounces…wha what?! There was no way I could pass that up. Not the most gorgeous piece of salmon, but it was already frozen. I drool when I walk by those perfect looking pieces of salmon, but they are just so expensive. Just not something everyone can afford to buy all the time.
We try to get a balance of healthy meals in, and it just doesn't get much healthier than salmon. By now you have had to of heard how they say salmon is especially good for your Omega 3's. If you have to watch that cholesterol number, this is what every doctor will tell you eat to help reduce bad cholesterol.
We did this one up on cedar planks on the grill. This could just as easily be done in the oven, or skillet for that matter, and it would taste just as wonderful.
Those little green flakes are garlic chives, cut fresh right from my garden. They have a mild onion garlic flavor and really have been worry free in the garden. Nothing seems to bother them, they've come back from winter just fine, and we've moved them to a new spot because they spread bigger than I expected.
No pests have bothered them at all. They're a little thicker than a regular chive, but really tasty. I've never seen them in the store. I included a picture at the bottom, they are going to bloom now with their little white flowers. I'll have to save some seeds and start some new plants in the spring to share.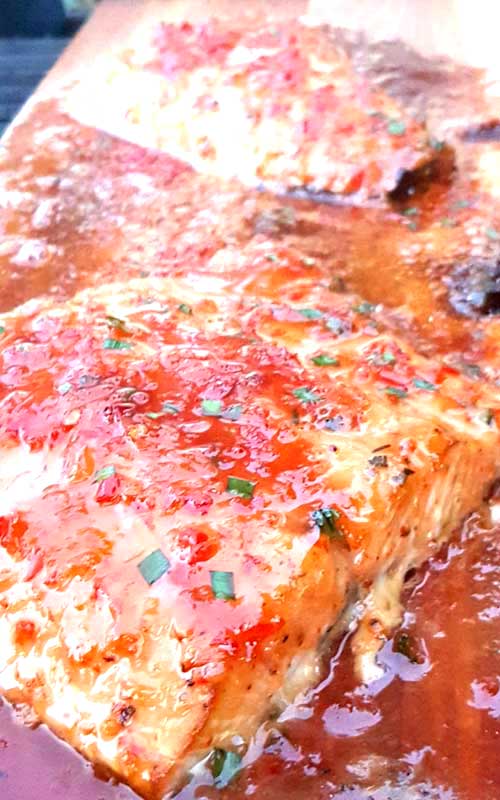 Don't forget to follow along, so you don't miss out! Did you know you can get a notification on your phone now as soon something is published? People are loving this so much, more than the emails clogging up your inbox. If you happened to not accept the notification box earlier…now is a good time to click the small bell in the corner and get signed up!
FOLLOW Sparkles of Yum ON FACEBOOK | PINTEREST | INSTAGRAM | TWITTER FOR ALL OF THE LATEST CONTENT, RECIPES AND UPDATES.
Feel free to join the Sparkles of Yum Recipe Swap Facebook group! A fun place to find and share all of your favorite recipes.
Grilled Salmon with Sweet Chili Glaze
Sweet and spicy. Light and savory. This Grilled Salmon with Sweet Chili Glaze is a perfect example of mixing flavors together, and having them work together perfectly.
Ingredients
20 oz Salmon
a few drops of sesame oil
2/3 cup Sweet Chili Sauce (I used Mae Ploy) found in the Asian Isle
1 teaspoon Mirin (Rice Wine Vinegar)
1 teaspoon Hoisin
1 tablespoon chives (I used garlic chives)
1/2 teaspoon Seafood Seasoning (Old Bay)
Salt and fresh cracked pepper to taste
Instructions
If using cedar planks, you will need to get them soaking for AT LEAST 30 minutes prior to them going on to the grill.
Get your grill going, and set to cook over medium, direct heat.
While waiting on the grill, make the glaze; combine the chili sauce, mirin, and hoisin. Set glaze to the side.
Put sesame oil over the salmon, then season with salt, pepper, and seafood seasoning.
Place planks on grill grates, then lay salmon on planks (skin side down)
Allow salmon to cook for about 20 minutes. The ends of the salmon will start to turn white-ish.
Brush on one layer of glaze, and let cook for 5 minutes.
Brush on another layer of glaze, and wait another 5 minutes.
Garnish with chives, and remove salmon from planks to plate.
Drizzle with remaining glaze, and serve.
Nutrition Information
Yield

2
Serving Size

1
Amount Per Serving
Calories

755
Total Fat

48g
Saturated Fat

10g
Trans Fat

0g
Unsaturated Fat

33g
Cholesterol

196mg
Sodium

991mg
Carbohydrates

8g
Fiber

1g
Sugar

3g
Protein

69g
© 2023 Sparkles of Yum. All rights reserved. All images & content are copyright protected. Please do not use my images without prior permission. If you want to share this recipe, please provide a link back to this post for the original recipe.
Sparkles of Yum is a participant in the Amazon Services LLC Associates Program, an affiliate advertising program designed to provide a means for sites to earn advertising fees by advertising and linking to Amazon.com.