All the flavors in this Cajun Dirty Rice may just make you believe that you are sitting in one of the finest restaurants on the bayou, without having to worry about all the gators.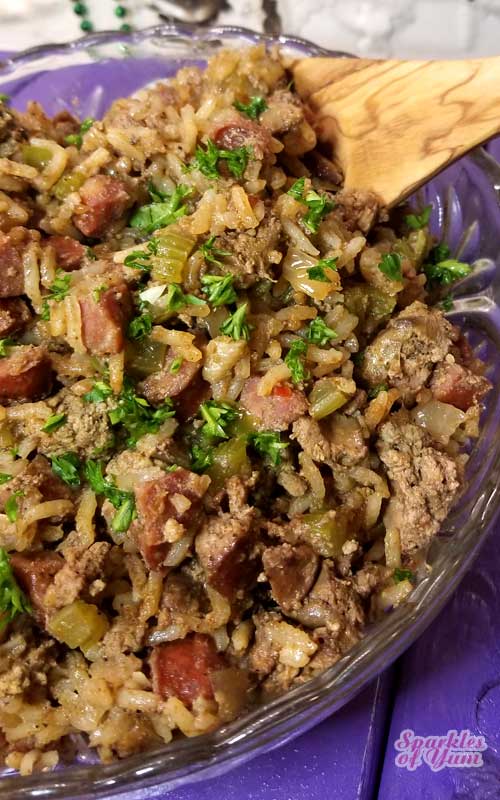 Mr. Yum used to live in New Orleans and makes some of the best Cajun dishes you've ever tasted, all from memory. When you know something by heart, it's a little different because you know what it's suppose to look like, before moving on to the next step.
You taste it as you go along, and add a little of this or that as you go to get your beloved dish to come out the way you remember it. Somehow it just works every time.
Trying to pick someone's brain to get it into "recipe form" can be a little trial and error, but when you finally get all the parts worked out, you've got something that can be passed down for generations.
So I think this is one of those recipes that's evolved over the years, but there's still families looking for the one recipe they remember having as a child and nothing will ever compare to what they remember.
If you search google for a Dirty Rice recipe, it's hard to tell what's an authentic Dirty Rice, some are called Cajun Dirty Rice, but according to Wikipedia there's also "Rice Dressing" which uses ground beef or ground pork, but has no chicken in it.
A true Dirty Rice from back in the old days would have chicken giblets in it because nothing went to waste back then. Waste not, want not! That's a saying I remember hearing a lot growing up.
So we went on a hunt to find an actual authentic Dirty Rice recipe and found one from one of America's best-known chefs, Chef Paul Prudhomme who is credited for helping to put New Orleans cuisine on the map for diners "anywhere on the planet".
Among his many accolades and awards, Chef Paul was honored as Nation's Restaurant News "Fine Dining Legend Award" winner and selected as Chairman of the National Food Safety Education Month in 2001. In 2012, Chef Paul was awarded the high honor being named one of the Pioneers of American Cuisine by the Culinary Institute of America.
I learned so much about cooking from Chef Paul, just watching him on the noon day news (when I was much younger). I think that's when I first really got excited about cooking. One thing I'll never forget is to season every step while you cook, best tip ever!
I never got to eat at his restaurant, but I appreciate his generosity in sharing his knowledge with the world. He sadly passed away in 2015, but he gave so much to the culinary world he will never be forgotten.
So there's also Justin Wilson who was quite a character and well known cook around Louisiana and still has several old recipes on You Tube. Now at least we still have Emeril LaGasse who demonstrates gourmet cooking, with a BAM!
Real "Dirty rice" is a traditional cuisine invented by the Creole people, a dish made from white rice which gets a "dirty" color from being cooked with small pieces of chicken liver or giblets, green bell pepper, celery, and onion, and spiced with cayenne and black pepper. Parsley and chopped green onions are common garnishes. Dirty rice is most common in the Creole regions of southern Louisiana.
If you need an idea of something to serve along your Cajun Dirty Rice, give my recipe for New Orleans Barbeque Shrimp a try!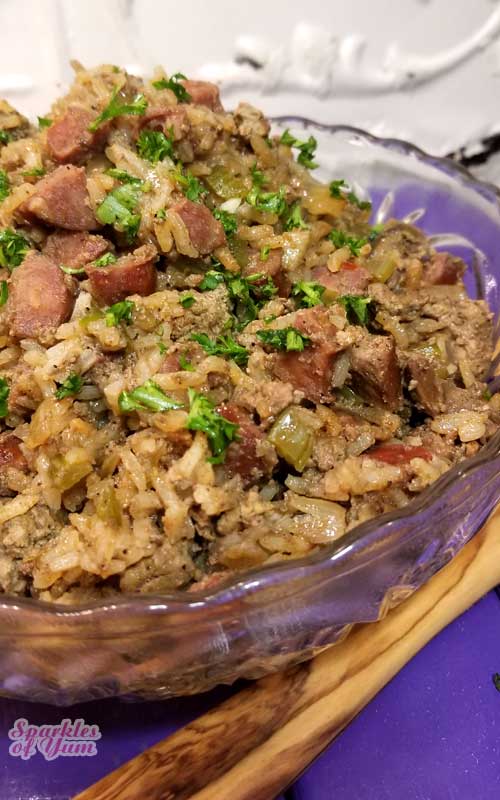 Don't forget to follow along, so you don't miss out! Did you know you can get a notification on your phone now as soon something is published? People are loving this so much, more than the emails clogging up your inbox. If you happened to not accept the notification box earlier…now is a good time to click the small bell in the corner and get signed up!
FOLLOW Sparkles of Yum ON FACEBOOK | PINTEREST | INSTAGRAM | TWITTER FOR ALL OF THE LATEST CONTENT, RECIPES AND UPDATES.
Feel free to join the Sparkles of Yum Recipe Swap Facebook group! A fun place to find and share all of your favorite recipes.
Cajun Dirty Rice
Yield: About 8 Servings

Prep Time: 15 minutes

Cook Time: 1 hour

Total Time: 1 hour 15 minutes

All the flavors in this Cajun Dirty Rice may just make you believe that you are sitting in one of the finest restaurants on the bayou, without having to worry about all the gators.
Ingredients
1 lb Andouille sausage or ground breakfast sausage* (we used Andouille, diced)
2 bay leaves
2 tablespoons, plus 1 teaspoon Cajun Seasoning (we used Tony Chachre's)
1 teaspoon dry mustard
1 teaspoon ground cumin
1 teaspoon dried thyme leaves (or 2 teaspoons fresh thyme)
1/2 cup finely chopped diced onions
1/2 cup finely diced celery
1/2 cup finely diced green bell peppers
2 teaspoons minced fresh garlic
4 tablespoons unsalted butter
4 tablespoons flour
1/2 pound ground chicken livers (optional or you can use ground beef)
salt and fresh cracked pepper to taste
3 tablespoons fresh parsley for garnish
For the rice
1 cup uncooked rice
2 cups chicken stock (we use low sodium)
Instructions
Start cooking rice on back burner (or rice cooker) using chicken stock instead of water.
Heat the butter over medium high heat, add flour when melted and stir constantly until it's a light brown (about 10-15 minutes).
Add all of the seasonings and stir until combined.
Add chicken livers and cook until meat is browned, should crumble easily
Add 1/2 cup of onions, 1/2 cup of bell pepper, 1/2 cup of celery, and 2 teaspoons garlic. Saute for 2 minutes.
Add diced Andouille sausage until browned
Stir in cooked rice until completely incorporated, the rice will take on brownish color, and lower heat and simmer for 30 minutes.
Garnish with parsley. and/or your favorite hot sauce.
Notes
If using breakfast sausage and/or hamburger; brown before adding the vegetables
Nutrition Information
Yield 8 Serving Size 1
Amount Per Serving Calories 455Total Fat 28gSaturated Fat 11gTrans Fat 0gUnsaturated Fat 14gCholesterol 118mgSodium 847mgCarbohydrates 30gFiber 1gSugar 3gProtein 20g

Nutrition data was provided and calculated by Nutritionix, and should only be used as a general guideline. This information is provided as a courtesy and there is no guarantee that the information will be completely accurate.

© 2023 Sparkles of Yum. All rights reserved. All images & content are copyright protected. Please do not use my images without prior permission. If you want to share this recipe, please provide a link back to this post for the original recipe.
Sparkles of Yum is a participant in the Amazon Services LLC Associates Program, an affiliate advertising program designed to provide a means for sites to earn advertising fees by advertising and linking to Amazon.com.