This is one wicked good New England Clam Chowder. It is bursting with comfort and flavor! In honor of National Clam Chowder Day on Feb. 25, this delicious dish and clam-tastic recipe will make you shout loudah for chowdah!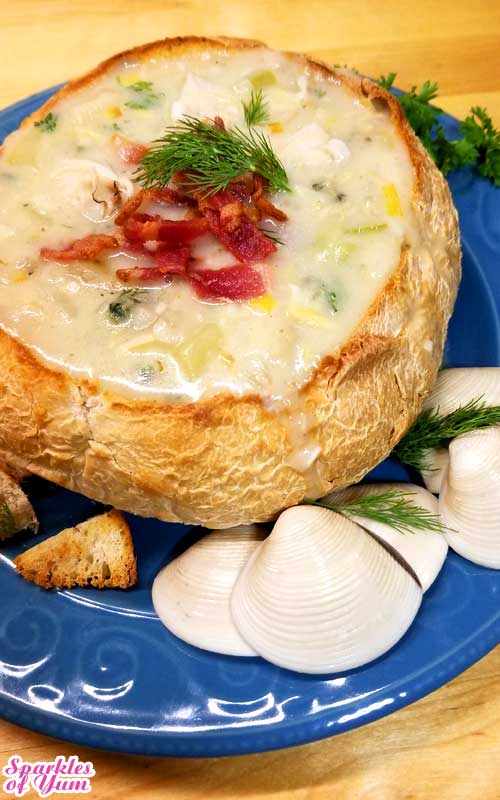 This is not a recipe I grew up with. I have never had New England Clam Chowder until just a few years ago. I think it was an episode of "Best Thing I Ever Ate" on Food Network that convinced me I needed this in my life.
They make everything sound so enticing on that show, if you had enough money you would just hop on a plane and fly to the restaurant so you could have it that day (I know that I would). Well that's me dreaming in fantasy land.
Since I do not have that sort of money, I am stuck making my own stay-at-home adventure in an effort to create this masterpiece dinner I've been craving. There's so many different recipes for New England Clam Chowder.
How do I know which one is the perfect one?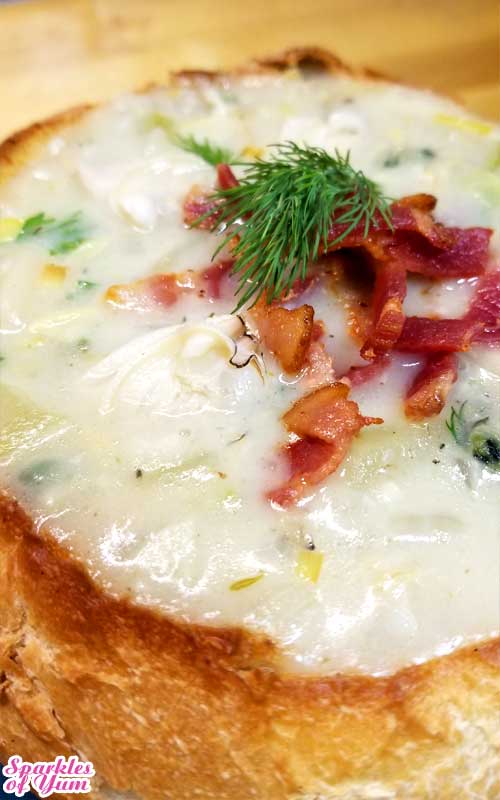 It's really hard to know when you don't have a history with a certain dish. So I've taken a couple of my favorite chefs from Food Network both from New York and kinda put them together. So parts are from Alex Guarnaschelli and parts are from Anne Burrell.
It's your preference for the actual clams, though they recommend little neck or cherry stone clams, I used razor clams, frozen clam meat, and canned clams. Personally, I think they're all pretty good.
Not everyone has access to real clams. So I guess it depends on where you are and how deep are your pockets.
This time around I used both 1 small bag of frozen razor clams and canned clams. I added the can because there's really not much clam meat in those little shells and I'm nowhere near the ocean, and sadly there are no clams in the Mississippi River, which is right down the road from my house.
We were able to find the sourdough bowls at the store, but you can just use bowls and have some garlic bread on the side. But we love the bread bowls so much we don't even shop for the ingredients for clam chowder until we have bread bowls in our hands.
Maybe one day I'll attempt making the bowls too, so I don't have to hunt them down any longer.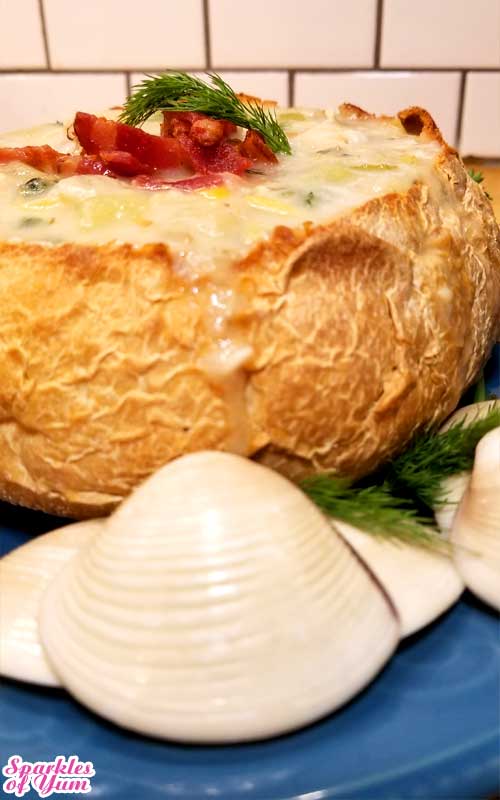 Don't forget to follow along, so you don't miss out! Did you know you can get a notification on your phone now as soon something is published? People are loving this so much, more than the emails clogging up your inbox. If you happened to not accept the notification box earlier…now is a good time to click the small bell in the corner and get signed up!
FOLLOW Sparkles of Yum ON FACEBOOK | PINTEREST | INSTAGRAM | TWITTER FOR ALL OF THE LATEST CONTENT, RECIPES AND UPDATES.
Feel free to join the Sparkles of Yum Recipe Swap Facebook group! A fun place to find and share all of your favorite recipes.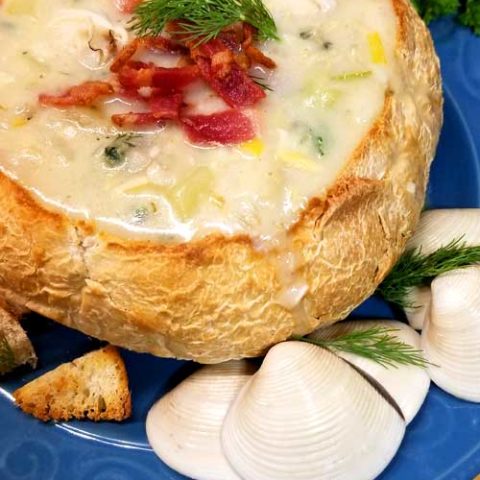 New England Clam Chowder
Yield: 2 servings

Prep Time: 20 minutes

Cook Time: 45 minutes

Total Time: 1 hour 5 minutes

This is one wicked good New England Clam Chowder. It is bursting with comfort and flavor! In honor of National Clam Chowder Day on Feb. 25, this delicious dish and clam-tastic recipe will make you shout loudah for chowdah!
Ingredients
8 small Yukon gold or russet potatoes, washed, peeled and cut into 3/4-inch dice
4 slices thick cut bacon, cut into 1/2 inch pieces
pinch of chili powder (or Ancho or other smoky dried pepper), for dusting bacon
2 tablespoons unsalted butter
2 stalks green celery, washed, trimmed and diced
1 leek (white and light green part only), cut in half to wash and sliced thin
1 small yellow onion, diced
2 cloves garlic, minced
2 tablespoons flour - optional - omit if you want a thinner base
1 bottle clam juice
1/2 cup dry white wine
1 1/2 cups heavy cream or half-and-half
1 cup milk
1 teaspoon dried thyme
2 bay leaves
couple dashes Hot sauce (optional)
couple dashes Worcestershire sauce, for flavor
2 (10-ounce) can minced clams, drained, clams and juice reserved -or- 2 1/2 lb bag of frozen, -or- fresh clams, steamed and shelled
1 teaspoon chopped fresh dill
2 tablespoons chopped fresh parsley
Kosher salt and freshly ground black pepper
Baked Croutons for Clam Chowder Dipping:
Sourdough bread, cut in to 3/4- to 1-inch cubes (use the tops from bread bowls if making)
4 tablespoons unsalted butter
1 1/2 teaspoon granulated garlic
salt and white pepper, to taste
1/2 teaspoon paprika
1 pinch fresh dill
Instructions
Place diced potatoes with enough water to cover them into a large soup pot. Boil until the potatoes are tender. Drain most of the water (try to save the starchy water that is in the bottom of the pot) and set aside.
Add the bacon to large skillet and cook over medium heat until crispy. Remove the bacon with a slotted spoon onto a paper towel, dust with chili powder and set aside.
Drain most of the bacon grease and add the butter to the same skillet. Add the celery, leeks, onions and garlic; season with salt and black pepper. Cook until the vegetables become tender and translucent, about 3 to 5 minutes.
Sprinkle the flour over the vegetable mixture and stir to combine. Gradually whisk in clam juice, add the white wine after there are no lumps. Transfer to pot with the potatoes. Whisk in the milk and heavy cream. Add the bay leaves and thyme. Continue to cook until some liquid has evaporated, about 8 to 12 minutes. Sprinkle with salt and black pepper.
Stir to blend, smash some of the potatoes against the side of the pot if it needs to be a little thicker. Taste for seasoning. Add a splash of hot sauce and Worcestershire. Stir to blend.
Add the clam meat, parsley, and dill. Remove and discard the bay leaves. Taste for seasoning. Add more cream or water if needed.
Ladle chowder into bread bowls. Garnish with the bacon and dill just before serving.
Baked Bread Bowls for Clam Chowder:
Preheat the oven to 350 degrees F. Cut a big circle around the top for your bowl, pointing your knife down at an angle towards the bottom center of the bowl. Be careful not to cut all the way through the bread bowl, or your chowder will leak out of the bottom.
Remove top center section from bowl section, and cut tops into cubes.
Arrange the bread on a baking sheet in a single layer. Melt the butter in a small skillet or microwave and add the garlic. Sprinkle with salt and white pepper. Heat gently for 1 minute. Use a pastry brush to coat the inside of bread bowls and cubes with the butter. Dust the bread with the paprika and dill.
Place the baking sheet in the center of the oven and bake until all the bread is browned and crispy, about 12 to 15 minutes. Remove and cool for a minute before serving alongside the soup.
Nutrition Information
Yield 2 Serving Size 1
Amount Per Serving Calories 2504Total Fat 125gSaturated Fat 71gTrans Fat 2gUnsaturated Fat 44gCholesterol 557mgSodium 5452mgCarbohydrates 213gFiber 18gSugar 33gProtein 126g

Nutrition data was provided and calculated by Nutritionix, and should only be used as a general guideline. This information is provided as a courtesy and there is no guarantee that the information will be completely accurate.

© 2023 Sparkles of Yum. All rights reserved. All images & content are copyright protected. Please do not use my images without prior permission. If you want to share this recipe, please provide a link back to this post for the original recipe.
Sparkles of Yum is a participant in the Amazon Services LLC Associates Program, an affiliate advertising program designed to provide a means for sites to earn advertising fees by advertising and linking to Amazon.com.