Sink your teeth into these Ham and Cheese Sliders and you won't be able to stop at one. They are so good, you'll want them at every party!
These little Ham and Cheese Sliders are so easy and so perfect for a crowd or just a lazy night at home, everyone will love them.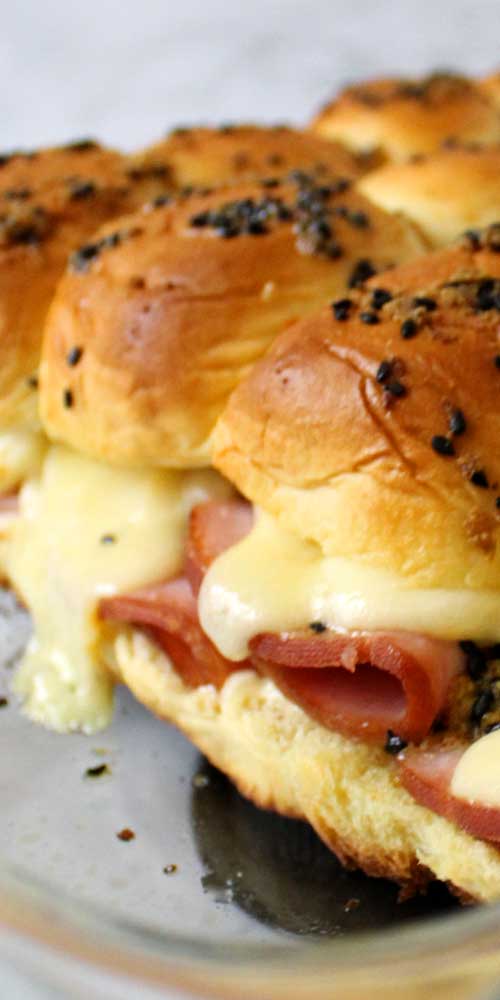 We had these for the Superbowl, but these little sandwiches come in handy for lots of events; baby or bridal showers, upcoming graduation parties or just binge watching TV on Saturday night.
So an update around town in St. Louis, for Superbowl Sunday, Do you want to hear what was going on around our town since the used to be St. Louis Rams (NOW L.A. Rams) were playing the Patriots well?
I'll tell you it was not pretty. They were throwing darts at Rams owner Stan Kronke at some bars around town and every time the Pat's score the price for drinks went down a dollar.
Another bar was having a Superb-owl party, they showed a movie as soon as the game started, about owls! As for us we stayed home and made a ton of food to try and enjoy the commercials. The commercials turned out to be better than the boring game, but we love eating game day foods, so that was fun!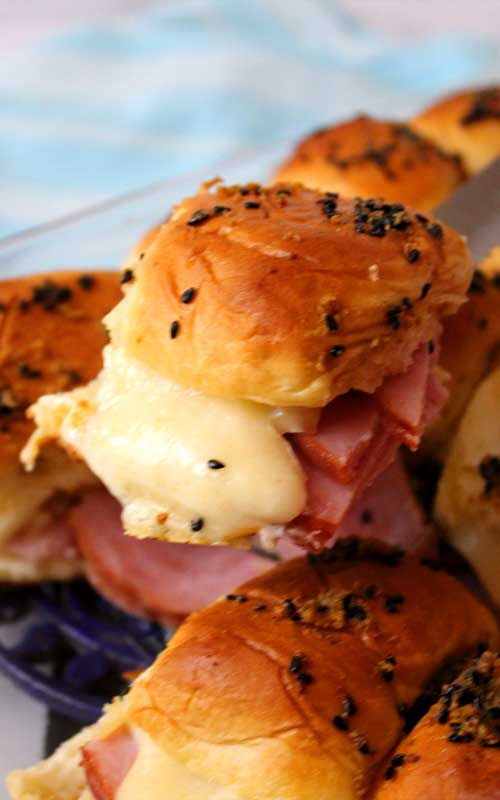 What else you could have at the party along with these Ham and Cheese Sliders?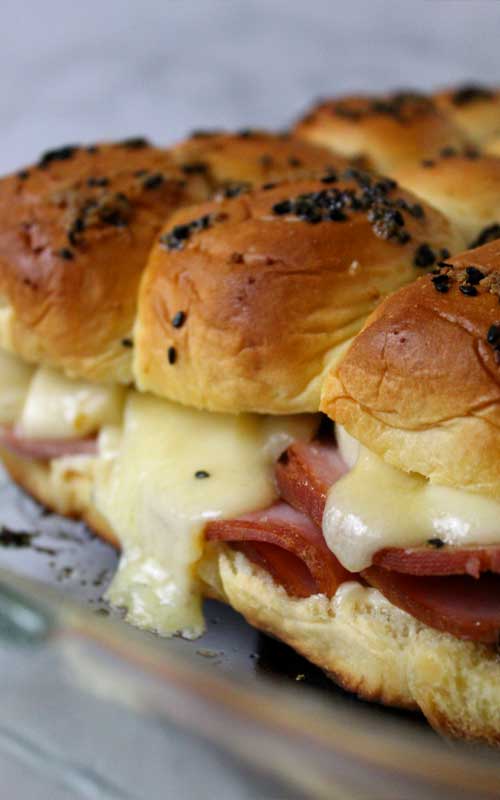 Don't forget to follow along, so you don't miss out! Did you know you can get a notification on your phone now as soon something is published? People are loving this so much, more than the emails clogging up your inbox. If you happened to not accept the notification box earlier…now is a good time to click the small bell in the corner and get signed up!
FOLLOW Sparkles of Yum ON FACEBOOK | PINTEREST | INSTAGRAM | TWITTER FOR ALL OF THE LATEST CONTENT, RECIPES AND UPDATES.
Feel free to join the Sparkles of Yum Recipe Swap Facebook group! A fun place to find and share all of your favorite recipes.
Ham and Cheese Sliders
Yield: 16 sliders

Prep Time: 10 minutes

Cook Time: 15 minutes

Total Time: 25 minutes

Sink your teeth into these Ham and Cheese Sliders and you won't be able to stop at one. They are so good, you'll want them at every party!
Ingredients
16 pack small dinner rolls (I used King's Hawaiian Rolls)
3/4 cup butter (1 stick, plus 4 tablespoons)
1 tablespoon Dijon mustard
1 teaspoon honey
2 tablespoons poppy seed
1 teaspoon Worcestershire sauce
16 ounces thick sliced ham
16 slices Provolone or Swiss cheese
Instructions
Preheat oven to 375 F degrees. Lightly spray a 2 quart rectangular baking dish with cooking spray and set aside.
Using a serrated knife (like a bread knife), carefully slice across the rolls, horizontally and set aside.
In a saucepan over low heat, melt the butter over low heat; add mustard, honey and Worcestershire sauce for brushing over the inside of the rolls.
Fill evenly with the sliced ham and cheese.
Add the remaining butter in the saucepan, add the poppy seeds and brush the tops
Cover with foil and bake the rolls in the preheated oven for about 10-12 minutes, uncover to let the tops brown about 3 more minutes or until they are thoroughly heated and cheese has melted.
Nutrition Information
Yield 16 Serving Size 1 slider
Amount Per Serving Calories 325Total Fat 22gSaturated Fat 12gTrans Fat 0gUnsaturated Fat 8gCholesterol 67mgSodium 779mgCarbohydrates 15gFiber 1gSugar 1gProtein 18g

Nutrition data was provided and calculated by Nutritionix, and should only be used as a general guideline. This information is provided as a courtesy and there is no guarantee that the information will be completely accurate.

© 2023 Sparkles of Yum. All rights reserved. All images & content are copyright protected. Please do not use my images without prior permission. If you want to share this recipe, please provide a link back to this post for the original recipe.
Sparkles of Yum is a participant in the Amazon Services LLC Associates Program, an affiliate advertising program designed to provide a means for sites to earn advertising fees by advertising and linking to Amazon.com.