I'm pretty sure we'll be making a lot more of these frosty Watermelon Breeze Frosés this summer, it's the most refreshing icy cold drink for a hot summer day.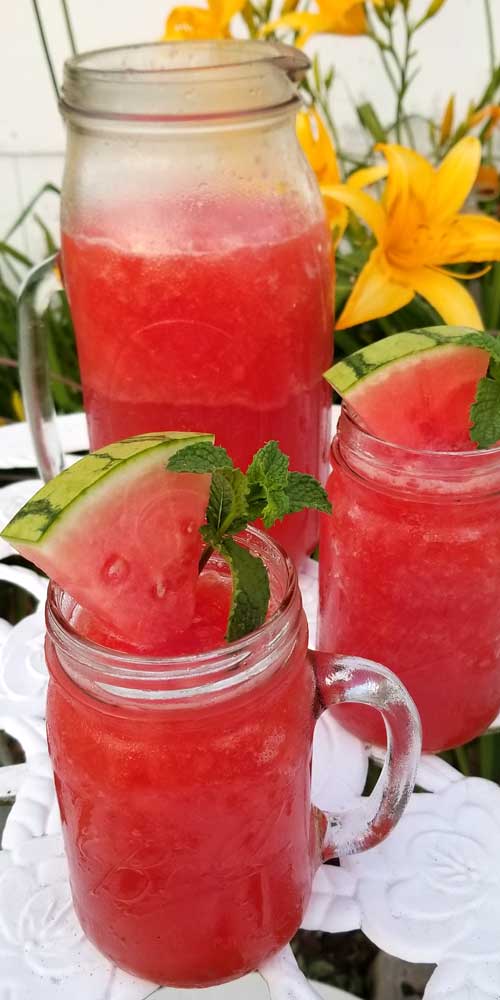 Happy summer everyone! It is not officially summer yet, but we've already had excessive heat warning for the second week of June.
So the weather man just said we've been at above average temps for 49 of the last 50 days and we are even breaking records for the warmest low temps. We're smack dab in the middle of the country, in St. Louis, and the heatwave is on the move, so if it's coming your way get ready to stay hydrated.
When I was growing up the only way we ever had watermelon was ice cold, sliced, and salted. We always got a big watermelon on the 4th of July, and that was before there was seedless watermelon. So, needless to say, there was plenty of seeds for spitting, no ribbons were given out though, just try to get it further than your cousin.
Now there's all kinds of ways to enjoy watermelon, that we never heard of back then. There was no internet back then either, just word of mouth, the newspaper, or Betty Crocker Cookbooks.
Last week I made a Crunchy Watermelon Jicama and Cucumber Salad with fresh mint and fresh lime juice that was so good and so healthy. I hope you get a chance to try it, as well as this Watermelon Breeze Frosé.
Plus if you'd rather have it without the wine you could totally replace that with a flavored sparkling water or white soda or just the Watermelon Breeze that inspired this drink can be found here.
If you happen to have more watermelon than you know what to do with, and need some more ideas, visit Watermelon.org to get some ideas!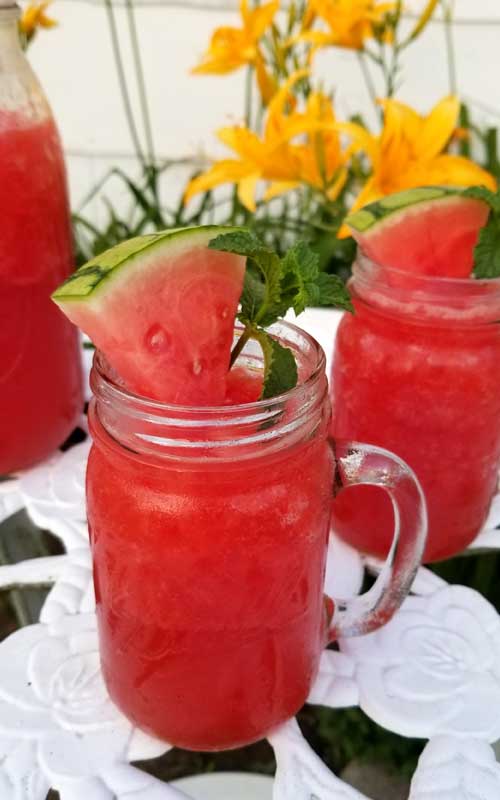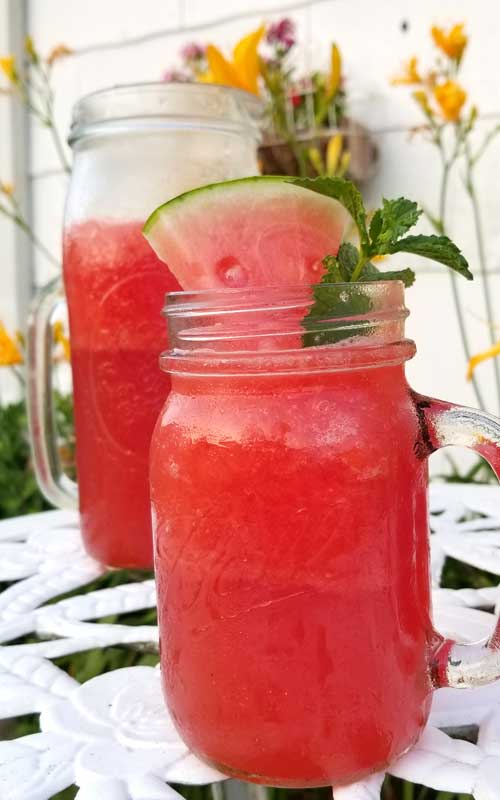 Don't forget to follow along, so you don't miss out! Did you know you can get a notification on your phone now as soon something is published? People are loving this so much, more than the emails clogging up your inbox. If you happened to not accept the notification box earlier…now is a good time to click the small bell in the corner and get signed up!
FOLLOW Sparkles of Yum ON FACEBOOK | PINTEREST | INSTAGRAM | TWITTER FOR ALL OF THE LATEST CONTENT, RECIPES AND UPDATES.
Feel free to join the Sparkles of Yum Recipe Swap Facebook group! A fun place to find and share all of your favorite recipes.
Watermelon Breeze Frose'
Yield: 6-8 servings

Prep Time: 10 minutes

Total Time: 10 minutes

I'm pretty sure we'll be making a lot more of these frosty Watermelon Breeze Frosés this summer, it's the most refreshing icy cold drink for a hot summer day.
Ingredients
4 1/2 cups watermelon
9 oz coconut water (we used Bai)
1 bottle (750ml) Sparkling Rosé
Fresh mint for garnish
Instructions
Cut watermelon into chunks and remove the rind and the seeds, setting aside some pieces for garnish.
Place watermelon chunks in to blender, and blend until smooth.
Pour watermelon through a fine mesh strainer to remove the pulp and any missed seeds. reserving the strained juice. Discard pulp. (Straining is optional, there's not much pulp but it could clog a straw or you may swallow a seed)
Pour watermelon juice into ice cube trays, and freeze the watermelon for at least 5 hours to overnight
Place the frozen watermelon in a high powered blender and pulse until slushie. Add more ice if needed to get the consistency you like.
Add sparkling rosé and coconut water to watermelon juice. Stir lightly.
Pour into glasses, and garnish with watermelon and fresh mint.
Nutrition Information
Yield 8 Serving Size 1
Amount Per Serving Calories 49Total Fat 0gSaturated Fat 0gTrans Fat 0gUnsaturated Fat 0gCholesterol 0mgSodium 38mgCarbohydrates 9gFiber 1gSugar 7gProtein 1g

Nutrition data was provided and calculated by Nutritionix, and should only be used as a general guideline. This information is provided as a courtesy and there is no guarantee that the information will be completely accurate.

© 2023 Sparkles of Yum. All rights reserved. All images & content are copyright protected. Please do not use my images without prior permission. If you want to share this recipe, please provide a link back to this post for the original recipe.
Sparkles of Yum is a participant in the Amazon Services LLC Associates Program, an affiliate advertising program designed to provide a means for sites to earn advertising fees by advertising and linking to Amazon.com.