Today I have a unique twist on the average stuffed pepper recipe-Thai Curry Stuffed Peppers-SO FLAVORFUL!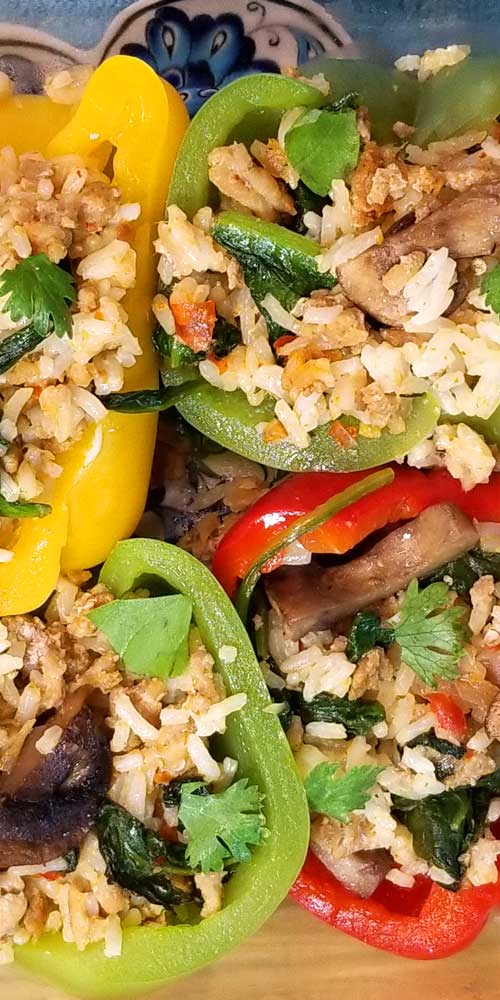 I decided to go with ground turkey to keep it lean and healthy, but feel free to substitute hamburger if that's what you have on hand.
We are big fans of Thai food around here, so I keep a tub of Thai curry paste in the fridge. It's pretty common to find curry paste in the Asian isle at the grocery store now.
It's basically a mixture of peppers, garlic, coriander, lemon grass, shallots, galangal (which is a milder version of ginger) and some other things that are harder to find than just buying the curry paste already made, like shrimp paste.
If your not familiar with Thai food, but wonder what all the rage is about, it's all about the balance of flavors. Salty, sweet, spicy, and sour.
So just like an experienced home cook, you taste as your cooking to get the balance of flavor you like. If you don't like spicy leave out the pepper flakes, if you like a little more tang add more lime juice.
There's so many recipes to try around the world, you never have to get bored. I see people in Facebook groups all the time saying "I'm so tired of eating the same old thing".
Just get on Pinterest people, you'll never ever be bored again, there's so many things to explore and try new things. You might say I used to like Pinterest, but they made so many changes, I got away from it.
Well they are putting back some of the very feature we all loved before, so it's worth giving it a try again. They are at least making a huge effort again to listen.
For this recipe, I par-boiled the bell peppers so I didn't have to have the oven on as long, since it's summer, and I had a few nice peppers from my garden. The prices for bell peppers are lower at store now too, since they're in season.
If you don't want to par-boil, just leave in the oven longer, till they're tender, you could turn the temp up to 375 and cook 45 about minutes, that should do the trick.
You can also make this ahead of time as a freezer meal, since bell peppers freeze well, then put in the slow cooker or Insta-pot.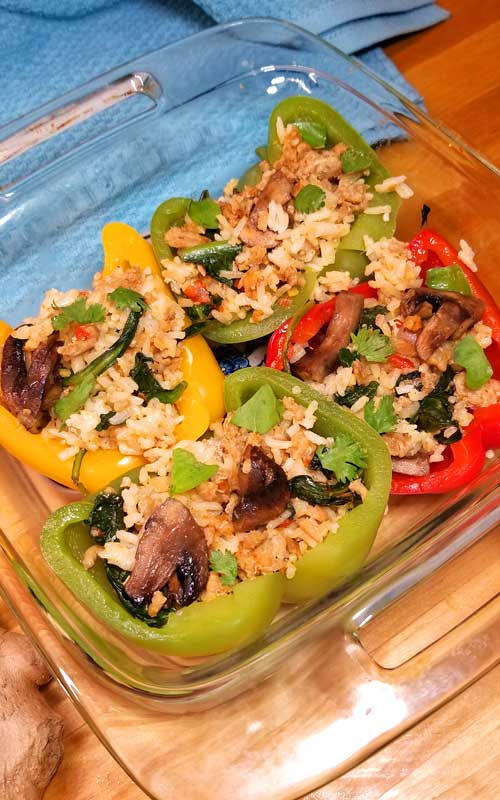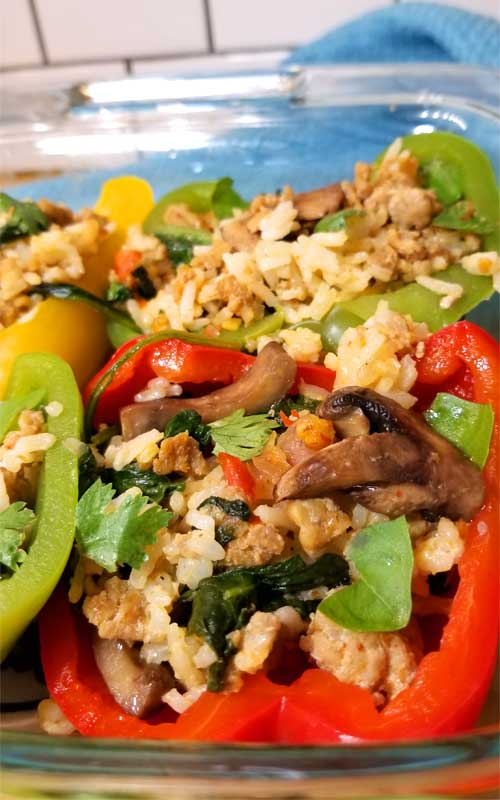 Some tips:
If you don't want to par-boil the peppers, just leave them in the oven longer.
If you don't like spicy leave out the pepper flakes, if you like a little more tang add more lime juice.
If you LOVE this Thai Curry Stuffed Peppers recipe, try this Thai Drunken Noodles (Pad Kee Mow) recipe!
Don't forget to follow along, so you don't miss out! Did you know you can get a notification on your phone now as soon something is published? People are loving this so much, more than the emails clogging up your inbox. If you happened to not accept the notification box earlier…now is a good time to click the small bell in the corner and get signed up!
FOLLOW Sparkles of Yum ON FACEBOOK | PINTEREST | INSTAGRAM | TWITTER FOR ALL OF THE LATEST CONTENT, RECIPES AND UPDATES.
Feel free to join the Sparkles of Yum Recipe Swap Facebook group! A fun place to find and share all of your favorite recipes.
Thai Curry Stuffed Peppers
Yield: 4 Peppers

Prep Time: 15 minutes

Cook Time: 50 minutes

Total Time: 1 hour 5 minutes

Today I have a unique twist on the average stuffed pepper recipe-Thai Curry Stuffed Peppers-SO FLAVORFUL!
Ingredients
3 Bell Pepper (cut in half) (or 2 if you don't want the different color peppers)
2 tablespoons olive oil
2 shallots
2 garlic cloves
1 lb ground turkey
salt and pepper to taste
pinch of red pepper flakes (optional)
1 tablespoon ginger (or galangal)
1 tablespoon curry paste (We used Panang Curry Paste)
1 teaspoon brown sugar (or palm sugar)
1 tablespoon fresh lime juice
3/4 lb mushrooms
4 cups baby spinach
Thai basil or basil for garnish
1 Tablespoon Cilantro for garnish
For the Coconut Rice:
1 cup cup rice
1 can coconut milk
1/4 cup water
1/2 teaspoon salt
Instructions
For the rice:
Rinse the rice using a wire strainer until the water runs clear.
In a medium sized pot, add 1/4 cup water, coconut milk, rice and salt. On high heat bring to a boil, as soon as it starts to boil turn the heat down to low and cover and let simmer for 20 minutes. Gently stir to fluff.
For the Peppers:
Preheat the oven to 350 deg.
Bring a pot of water to a boil.
Slice the tops off the peppers. Seed and core the peppers, and boil them until just tender, about 4 minutes. Using tongs or a large skimmer, carefully transfer the peppers to a colander to drain, upside down.
In a saucepan, heat 1 tablespoon olive oil. Add the shallots, garlic, and mushrooms; season with salt, and cook over medium heat until softened. Set aside.
In a large skillet, cook ground turkey, stir in the ginger and curry paste. If you want things extra spicy, add the red pepper flakes.
Add the spinach and cook until wilted, about 1 minute.
In a large bowl, combine the rice and the vegetables, add the chopped basil and lime juice, and mix well.
Stuff the peppers and place in a shallow glass or ceramic baking dish.
Cover with foil and bake until the rice is heated through, about 25 minutes.
Garnish with additional basil leaves, if desired.
Nutrition Information
Yield 4 Serving Size 1 pepper
Amount Per Serving Calories 681Total Fat 49gSaturated Fat 25gTrans Fat 0gUnsaturated Fat 19gCholesterol 120mgSodium 567mgCarbohydrates 32gFiber 5gSugar 7gProtein 36g

Nutrition data was provided and calculated by Nutritionix, and should only be used as a general guideline. This information is provided as a courtesy and there is no guarantee that the information will be completely accurate.

© 2023 Sparkles of Yum. All rights reserved. All images & content are copyright protected. Please do not use my images without prior permission. If you want to share this recipe, please provide a link back to this post for the original recipe.
Sparkles of Yum is a participant in the Amazon Services LLC Associates Program, an affiliate advertising program designed to provide a means for sites to earn advertising fees by advertising and linking to Amazon.com.