A summer favorite, Blackberry Bourbon Lemonade. A glass or two of this, a big shade tree, and a cool breeze are all you need to make your day complete. What a way to chill out on a hot day.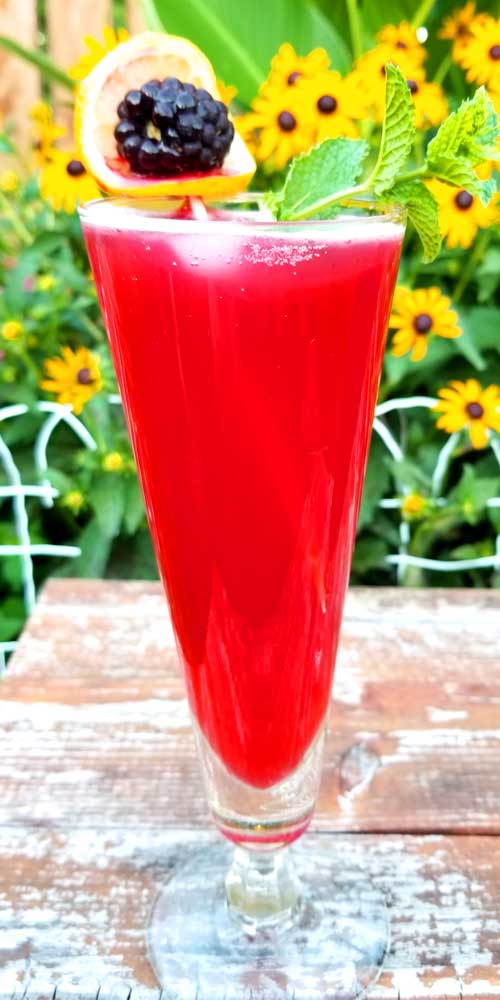 Yes we had a mini cool down and August comes with the dog days of summer, hit 100 again. My tomatoes are not happy about this heat, I swear they're cooking right on the vine. So forget your worries and make yourself a big glass of this southern classic Blackberry Bourbon Lemonade, it'll put a big ole smile on your face.
We first had this Blackberry Bourbon Lemonade at an awesome little off the wall place over in Illinois, on our way back from the Country Fair in Madison County. we had some good Cajun food that day from Who Dats in Troy, IL. Who Dats has some really good authentic Cajun food. Their menu also has a cute story about how the owners, "A boy from New Orleans and a girl from the Midwest", originally met.
So I just checked their Facebook page and found out we missed the "Frog Leg Festival", not something you normally hear about in these parts. Definitely have to mark our calendar for next year.
I just love small town charm. The people are always friendlier, there's a whole different vibe. More laid back and not as much rushing around. It reminds me of when I was little and visited relatives in the country. They didn't have air conditioners back then so they had to chill under the big shade tree in the heat of the day. It's a good thing to slow down, put your phone away and reminisce in conversation with some loved ones over an ice cold drink.
I almost forgot to take a picture of the bottle of bourbon that we used. It is a local brand called "Rebel Yell", but you can use your favorite brand; Jack Daniels, Kentucky Bourbon, Jim Beam, Johnnie Walker etc.. We made the pitcher of Blackberry Lemonade and poured it over however much bourbon you like in the bottom of your glass, add a little ice and set back and enjoy!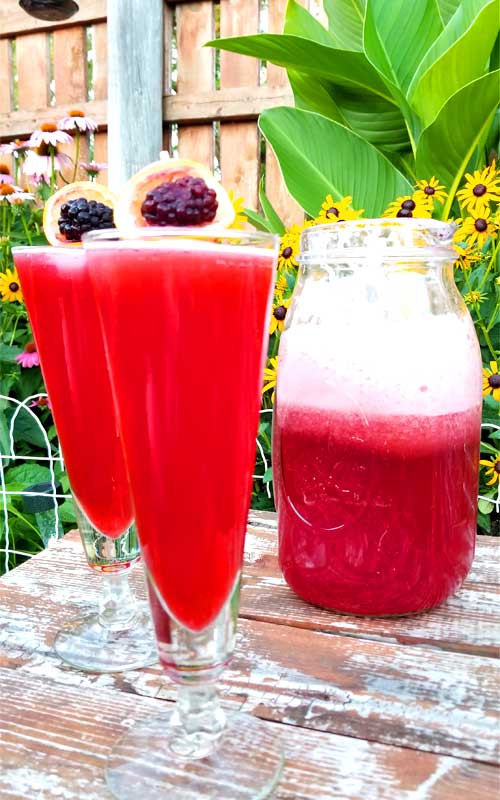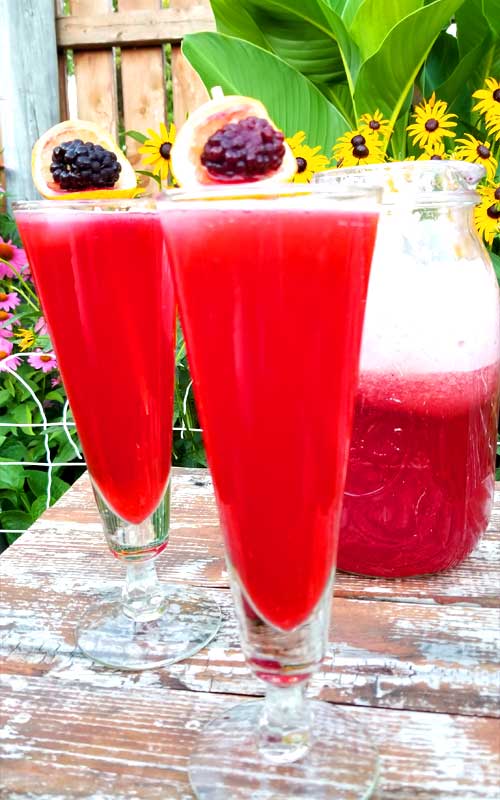 Don't forget to follow along, so you don't miss out! Did you know you can get a notification on your phone now as soon something is published? People are loving this so much, more than the emails clogging up your inbox. If you happened to not accept the notification box earlier…now is a good time to click the small bell in the corner and get signed up!
FOLLOW Sparkles of Yum ON FACEBOOK | PINTEREST | INSTAGRAM | TWITTER FOR ALL OF THE LATEST CONTENT, RECIPES AND UPDATES.
Feel free to join the Sparkles of Yum Recipe Swap Facebook group! A fun place to find and share all of your favorite recipes.
Blackberry Bourbon Lemonade
A summer favorite, Blackberry Bourbon Lemonade. A glass or two of this, a big shade tree, and a cool breeze are all you need to make your day complete. What a way to chill out on a hot day.
Ingredients
1 cup freshly squeezed lemon juice (about 6 lemons) (or your favorite lemonade)
3 cups cold water
1 12 oz bottle ginger ale (optional if you want bubbles) (You could use sparkling wine, if no one has to drive afterwards)
1 lemon, thinly sliced for garnish
Blackberries for garnish
Fresh mint leaves for garnish
1 skewer for each glass
Blackberry Mint Simple Syrup
6 oz fresh blackberries
1/2 teaspoon cinnamon
10 mint leaves, roughly chopped
1 cup water
1 cup sugar
Instructions
In a small, heavy-bottomed saucepan over low heat, stir together the water, sugar, blackberries and 10 mint leaves. Bring to a simmer, stirring, until the sugar has dissolved. Increase heat to medium and bring to a boil. Cook for 2 minutes, then set aside off the heat to cool. Pour and smash blackberries through a wire strainer.

Once the syrup is cool, pour it into a 2-quart pitcher. Add the lemon juice and cold water. Add as much ginger ale as you would like (if you are wanting it bubbly), then stir well.

Garnish each glass with lemon slices cupped around a blackberry and slide onto a skewer, and float fresh mint leaves over the top.

Serve over ice and bourbon.
Nutrition Information
Yield

8
Serving Size

1 cup
Amount Per Serving
Calories

137
Total Fat

0g
Saturated Fat

0g
Trans Fat

0g
Unsaturated Fat

0g
Cholesterol

0mg
Sodium

21mg
Carbohydrates

35g
Fiber

3g
Sugar

31g
Protein

1g
© 2023 Sparkles of Yum. All rights reserved. All images & content are copyright protected. Please do not use my images without prior permission. If you want to share this recipe, please provide a link back to this post for the original recipe.
Sparkles of Yum is a participant in the Amazon Services LLC Associates Program, an affiliate advertising program designed to provide a means for sites to earn advertising fees by advertising and linking to Amazon.com.