Delicioso, family friendly, quick dinner with easy clean up. This Tex-Mex Fiesta Skillet recipe checks all the boxes for the perfect weeknight meal in my book, and it's pretty too!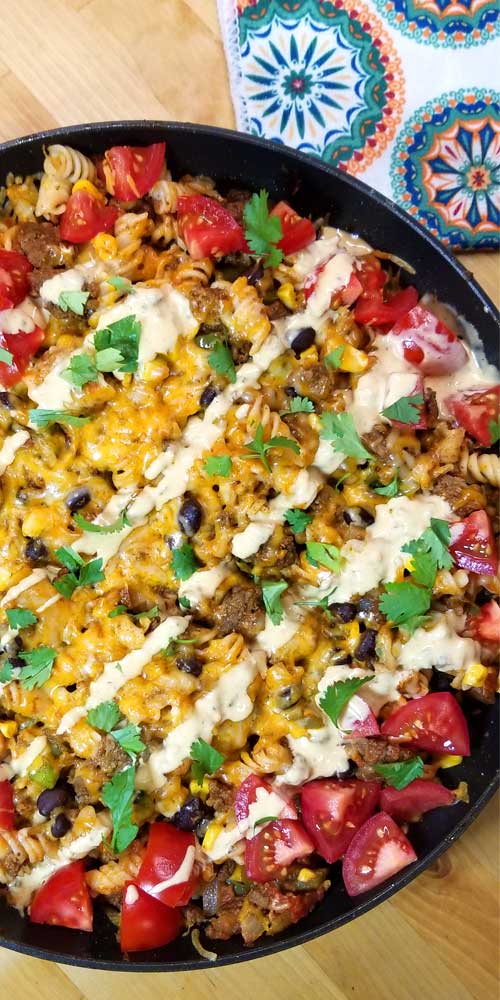 Look at all the fresh veggies… PLUS this one is made with gluten free pasta, not that it's high on my list of priorities, but I thought I try it out. The pasta was made with brown rice and quinoa, not much different in taste than regular pasta, but you can use whichever kind you like in this recipe.
There's no reason to pick up the Hamburger Helper, this is going to feed a lot more mouths then a tiny box dinner ever will. Sorry "recommended serving size", you don't work so good for our appetites in this house. This Tex-Mex Fiesta Skillet is loaded with fresh veggies; tomatoes, corn, bell pepper, onion. Fiber and protein from the black beans, and more protein from the hamburger. If you wanted to make it even leaner, you could use ground turkey or even leftover rotisserie chicken.
This is such a busy time of year, in early May when the daylight is getting longer, I like to be outside. I am still getting plants in to the garden (thanks to our non-stop winter). Trying to get all the weeds out, and whispering nice things to our new plants so they grow up to be strong and fruitful, like those pretty Campari tomatoes in the picture. We always save seeds from those and plant them, they are so good and produce a lot of tomatoes from one plant.
This also works with bell peppers you buy at the store. Well I'm sure lots of other things, but these are the things we've actually done. We also buy seeds, but you just don't get as many seeds in those packs as you used too, and it's seems like every year it's less than the year before, plus the prices go up every year as well.
Now, since we're all so busy this time of year, be it running the kids around for sports or getting the home repairs and remodels done; I've got a couple other quick dinners you might like as much as this one such as this Mac n Cheesy Cowboy Casserole or 30-Minute Taco Spaghetti, or maybe you just want to pour glass of wine or have a beer and sit on the deck, relax and watch the sunset, sounds good to me!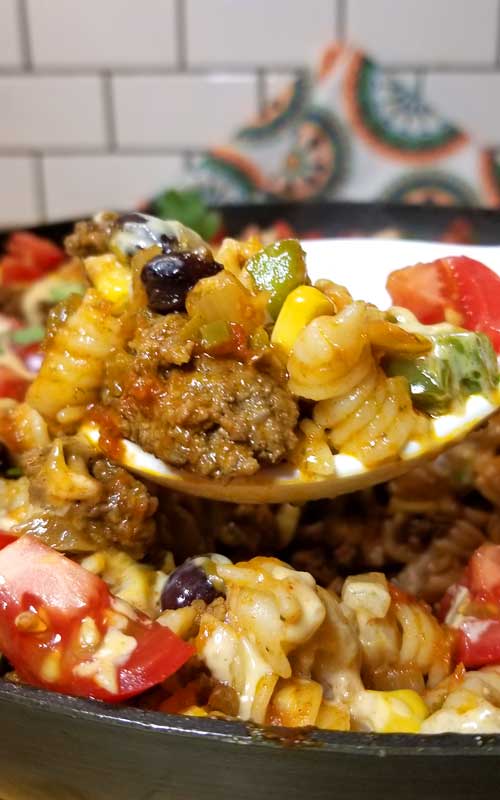 Don't forget to follow along, so you don't miss out! Did you know you can get a notification on your phone now as soon something is published? People are loving this so much, more than the emails clogging up your inbox. If you happened to not accept the notification box earlier…now is a good time to click the small bell in the corner and get signed up!
FOLLOW Sparkles of Yum ON FACEBOOK | PINTEREST | INSTAGRAM | TWITTER FOR ALL OF THE LATEST CONTENT, RECIPES AND UPDATES.
Feel free to join the Sparkles of Yum Recipe Swap Facebook group! A fun place to find and share all of your favorite recipes.
Tex Mex Fiesta Skillet
Delicioso, family friendly, quick dinner with easy clean up. This Tex-Mex Fiesta Skillet recipe checks all the boxes for the perfect weeknight meal in my book, and it's pretty too!
Ingredients
8 ounces pasta (we used Gluten Free Organic Brown Rice and Quinoa Fusilla)
1 pound lean ground beef
1 small onion (diced)
1 small green bell pepper (diced)
1 cup Salsa or 1 can RoTel
1 (15-ounce) can reduced-sodium black beans, drained and rinsed
1 can whole kernel corn, drained (or cut corn from 1 ear corn)
1 envelope Taco Seasoning or 3 Tablespoons homemade
1 teaspoons chili powder
½ cup shredded reduced-fat four cheese Taco blend
1 cup tomato, diced (I used 4 small Campari tomatoes)
2 Tablespoons Cilantro
3 Tablespoons Chipotle Ranch Dressing or sour cream (for garnish)
Instructions
Bring a large pot of salted water to a boil over high heat. Cook the pasta to al dente according to package directions. Drain and set aside.
In a large skillet over medium-high heat, cook the ground beef, until the beef is no longer pink, 7 to 8 minutes. Breaking the beef up as it cooks. Drain any excess fat and return the skillet to the stovetop, turning the heat down to low.
Add the salsa, taco seasoning, chili powder, bell pepper, onion and corn and let simmer just until onions are translucent.
Add back the meat, cooked pasta, beans, to the skillet and stir until well combined.
Sprinkle cheese in the middle and tomatoes around the outside, cover a couple minutes, just until cheese is melted.
Drizzle Chipotle Ranch Dressing or sour cream and top with fresh cilantro
Nutrition Information
Yield

8
Serving Size

1
Amount Per Serving
Calories

476
Total Fat

22g
Saturated Fat

9g
Trans Fat

1g
Unsaturated Fat

10g
Cholesterol

93mg
Sodium

1018mg
Carbohydrates

36g
Fiber

6g
Sugar

6g
Protein

35g
© 2023 Sparkles of Yum. All rights reserved. All images & content are copyright protected. Please do not use my images without prior permission. If you want to share this recipe, please provide a link back to this post for the original recipe.
Sparkles of Yum is a participant in the Amazon Services LLC Associates Program, an affiliate advertising program designed to provide a means for sites to earn advertising fees by advertising and linking to Amazon.com.