Simple quick easy cheesy, a little bit crispy, and always yummy Breakfast Quesadillas are a nice change of pace for the breakfast table. Well I think they'd be good at lunch or dinner too, it's basically like a grilled cheese sandwich in tortilla form so why not.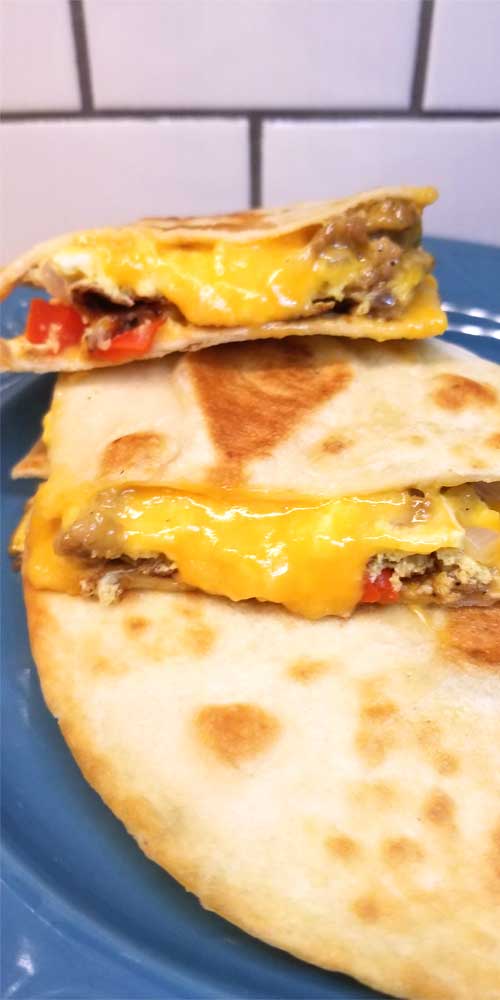 If your a meal prepper this is a good one, like my Loaded Denver Omelets Muffins, where you can make extra and freeze them to toss in the microwave on the way out the door. Plus it's a busy time of year with the weather finally starting to feel like springtime, we've got so much to do outside.
Basically anything that doesn't involve being in the house after the long winter we've all had is a good thing in my book.
Working in the yard, hiking, going fishing, craft fairs, kids' games so many things outside that we love to get out of the house and do, just as soon as the weather gets nice.
So this Breakfast Quesadilla recipe is also good to save a few bucks and not go through a drive thru when your busy. It's so tempting and just not so satisfying.
Anyway, you could have these done in the amount of time you wait in the line, plus don't you hate being told to pull over and wait even longer than the guy behind you, that's the worst and the prices are just stupid these days.
So now your in a bad mood on top of paying for overpriced, over salted, not so yummy food that's tossed in styrofoam that's going to take 50 years to break down and go back to the earth.
We just had "Earth Day", so I was reminded of this, it also takes 450 years for plastic bottles to break down. Not trying to be preachy, but trying to do better myself as far as being wasteful, and everyone else who wasn't aware.
That's a good thing, if more people care about the future of our environment.
If you want, you can go crazy with these and make a Quesadilla Brunch Bar with extra toppings like Pico de Gallo, black beans, sour cream, diced scallions, cilantro; or use chorizo or ham instead of breakfast sausage.
Well if your going to do that you might want to have a little Creamsicle Mimosa Sunrise Float with that as well!
Hey, I think these are easy enough to put the kids to work on and let them help, or a good starter with learning to cook, they've gotta learn sometime. I started mine in the kitchen around the tween years with easy things like this.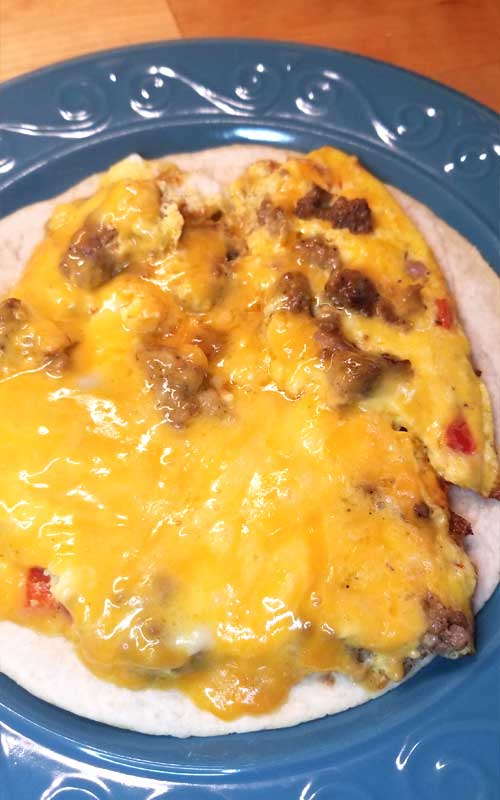 Don't forget to follow along, so you don't miss out! Did you know you can get a notification on your phone now as soon something is published? People are loving this so much, more than the emails clogging up your inbox. If you happened to not accept the notification box earlier…now is a good time to click the small bell in the corner and get signed up!
FOLLOW Sparkles of Yum ON FACEBOOK | PINTEREST | INSTAGRAM | TWITTER FOR ALL OF THE LATEST CONTENT, RECIPES AND UPDATES.
Feel free to join the Sparkles of Yum Recipe Swap Facebook group! A fun place to find and share all of your favorite recipes.
Breakfast Quesadillas
Yield: 4 quesadillas

Prep Time: 5 minutes

Cook Time: 12 minutes

Total Time: 17 minutes

Simple quick easy cheesy, a little bit crispy, and always yummy Breakfast Quesadillas are a nice change of pace for the breakfast table. Well I think they'd be good at lunch or dinner too!
Ingredients
1 pound pork breakfast sausage
1 medium onion (diced)
1 medium red bell pepper (diced)
8 large eggs, slightly beaten
3 Tablespoons milk or half and half
salt and pepper to taste
2 cups Cheddar cheese – shredded
2 tablespoons olive oil or butter
8 flour tortillas
Instructions
Using a large non-stick skillet, break up sausage into crumbles and cook through.
Add onion and bell pepper, cook stirring frequently, for 3 to 4 minutes, or until onion is translucent. Reduce heat to medium-low. (If sausage is too fatty, drain and return to skillet)
In a bowl, whisk eggs with the milk and season with salt and pepper. Add to sausage mixture and cook, stirring frequently, for 4 to 5 minutes, or until eggs are almost set and top with cheese, cover for a few seconds until melted. Remove from heat and slide on to a plate.
Wipe skillet with a paper towel and add a little oil to the skillet to toast tortillas one at a time adding a tiny bit of oil or butter for each one. I just toasted one side leaving the other side soft.
Arrange omelet spreading out on each tortilla, top with another tortilla and slice with a pizza cutter
Nutrition Information
Yield 4 Serving Size 1
Amount Per Serving Calories 1172Total Fat 77gSaturated Fat 29gTrans Fat 1gUnsaturated Fat 42gCholesterol 535mgSodium 2009mgCarbohydrates 64gFiber 4gSugar 4gProtein 56g

Nutrition data was provided and calculated by Nutritionix, and should only be used as a general guideline. This information is provided as a courtesy and there is no guarantee that the information will be completely accurate.

© 2023 Sparkles of Yum. All rights reserved. All images & content are copyright protected. Please do not use my images without prior permission. If you want to share this recipe, please provide a link back to this post for the original recipe.
Sparkles of Yum is a participant in the Amazon Services LLC Associates Program, an affiliate advertising program designed to provide a means for sites to earn advertising fees by advertising and linking to Amazon.com.