Swiss Steak is so tender and delicious, it comes together quick and is classic comfort food loved by all.
However: Swiss Steak does not stem from Switzerland, as the name suggests, but from the technique of tenderizing by pounding or rolling, called "swissing".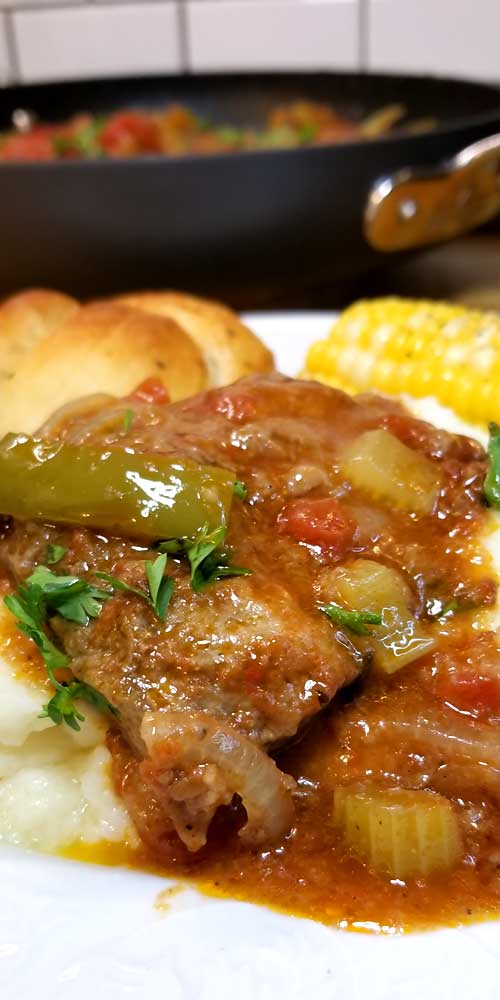 Just like Grannie, you can get out some frustrations with a mallet. I have to admit it's a little therapeutic. I kinda really like it myself and I wasn't even frustrated.
Maybe this is why some people like punching bags, never gave it any thought personally, but there might be something beneficial there. Maybe it taps into some of that primal underlying stuff, who knows.
It only takes a couple minutes though, then dredge them through a little flour, flip them in the skillet a few minutes with some veggies, turn the heat down to simmer, have yourself a glass of wine, mash up some tators, cook a little corn, heat up some dinner rolls and dinner is done and on the table with a big satisfying smile on your face, cuz it was that easy and a little fun!
So whether it's Sunday dinner, throwback Thursday dinner, or anytime you find inexpensive steaks (the kind that your afraid might be too tough), this works to tenderize them so well that you don't need a steak knife at all. You can practically cut them with a fork.
I love easy comfort food dinners like this one, another one we loved that's pretty easy is Chicken Marsala and French Onion Pork Chops, I can't wait to make those again!
You don't need to turn the oven on, but if you want to, you can set them in the oven instead of simmering on the stove top, but when I made these it was 96 outside even though the leaves are just starting to fall.
If you do put them in the oven, use an oven safe skillet or transfer to a baking dish, cover and set oven at 325 for about an hour.
If you've never had Swiss Steak, you'll wish you had them way sooner, you might even be a little frustrated if your Momma never made them. Just saying, cuz they're that good!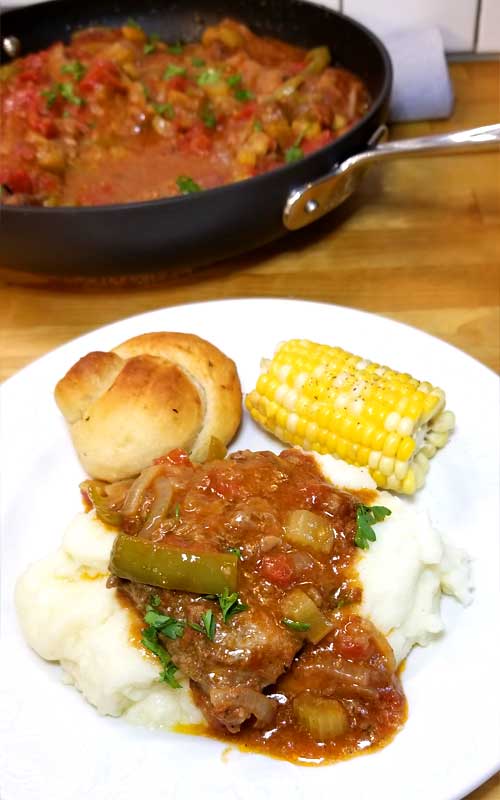 What can you serve with this Swiss Steak?
If there is gravy, there must be mashed potatoes. I am a very firm believer in this…lol
A good steak recipe always needs good bread on the side.
With all of the acidity from the tomatoes, and nice sweet red wine would pair very nicely with this.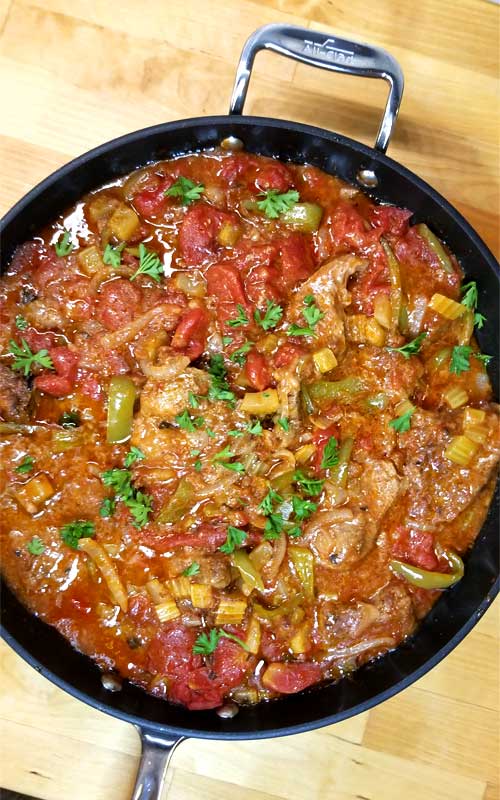 Some tips:
Place your steaks in a zip-top bag when you go to tenderize them. This will prevent any splattering.
Do not buy expensive cuts of steaks to make this Swiss Steak. The cheaper the cut, the better. This recipe was made just for them.
If you LOVE this Swiss Steak recipe, try this Chicken Marsala or these French Onion Pork Chops!
Don't forget to follow along, so you don't miss out! Did you know you can get a notification on your phone now as soon something is published? People are loving this so much, more than the emails clogging up your inbox. If you happened to not accept the notification box earlier…now is a good time to click the small bell in the corner and get signed up!
FOLLOW Sparkles of Yum ON FACEBOOK | PINTEREST | INSTAGRAM | TWITTER FOR ALL OF THE LATEST CONTENT, RECIPES AND UPDATES.
Feel free to join the Sparkles of Yum Recipe Swap Facebook group! A fun place to find and share all of your favorite recipes.
Swiss Steak
Swiss Steak is so tender and delicious, it comes together quick and is classic comfort food loved by all.
Ingredients
1 1/2 to 2 pounds bottom round steak, trimmed of excess fat (or cube steaks then you don't need to pound with a mallet)
salt & freshly ground black pepper
3/4 cup all-purpose flour
1/4 cup olive oil or bacon drippings
1 large onion, diced
1 green bell pepper, sliced
2 cloves garlic, minced
2 stalks celery, chopped
1 tablespoon tomato paste
1 (14.5-oz) can diced tomatoes
1 teaspoon smoked paprika
1 teaspoon dried oregano
1/2 teaspoon dried thyme
1 bay leaf (optional)
1 tablespoon Worcestershire sauce
1 1/2 cups low sodium beef broth (or 14.5 oz can is fine)
2 tablespoons fresh parsley for garnish (optional)
Instructions
Pound steaks until about 1/4-inch thick.
Season on both sides with salt and pepper. Dredge the steaks in the flour (I season the flour too). Dredge the slices on both sides once more and set aside.
Add enough of the oil to just cover the bottom of a skillet set over medium-high heat. Once the oil begins to shimmer, add the steaks to the pan, being careful not to overcrowd. Cook until golden brown on both sides, approximately 2 minutes per side. Remove the steaks to a plate and repeat until all of the steaks have been browned.
Remove the last steaks from the skillet and add the onions, green bell pepper, garlic, and celery. Saute for 1 to 2 minutes. Add the tomatoes, tomato paste, bay leaf, paprika, oregano, thyme, Worcestershire sauce and beef broth and stir to combine. Return the meat to the skillet, spoon the sauce over the steaks. Cover and let simmer until the meat is tender and falling apart, 35-45 minutes. Remove bay leaf before serving and top with fresh parsley.
Nutrition Information
Yield 4 Serving Size 1
Amount Per Serving Calories 759Total Fat 38gSaturated Fat 11gTrans Fat 0gUnsaturated Fat 23gCholesterol 213mgSodium 617mgCarbohydrates 29gFiber 3gSugar 5gProtein 78g

Nutrition data was provided and calculated by Nutritionix, and should only be used as a general guideline. This information is provided as a courtesy and there is no guarantee that the information will be completely accurate.

© 2023 Sparkles of Yum. All rights reserved. All images & content are copyright protected. Please do not use my images without prior permission. If you want to share this recipe, please provide a link back to this post for the original recipe.
Sparkles of Yum is a participant in the Amazon Services LLC Associates Program, an affiliate advertising program designed to provide a means for sites to earn advertising fees by advertising and linking to Amazon.com.