Decadently delicious Apple Pie Croissant French Toast, is pure buttery goodness filled with tender fried cinnamon apples, perfect for a fall brunch or special holiday breakfast.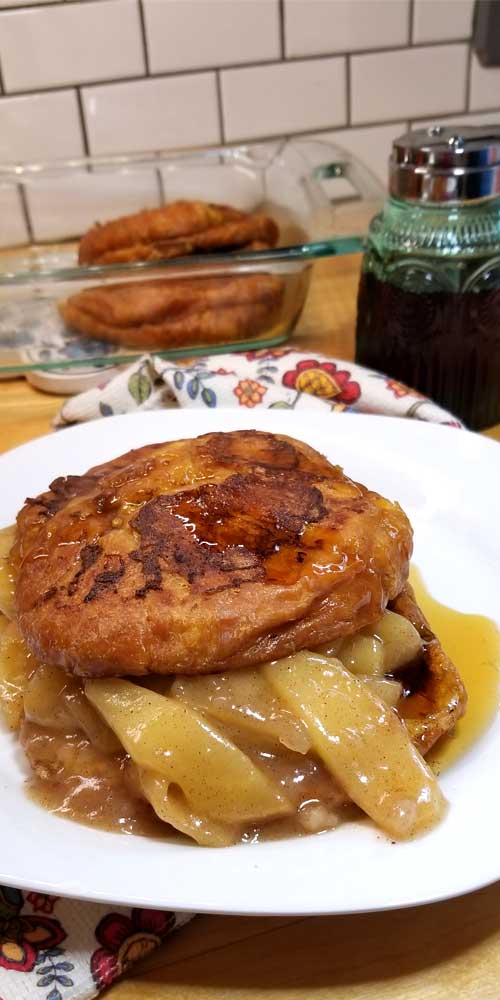 You probably won't need lunch, this will put you in a happy place of yum! Day old croissants work best to soak up all the custard for frying to a lightly crisp outside and warm sweet apples on the inside. A little indulgent when topped with warm maple syrup, but so worth it.
I love getting those huge packs of croissants from Costco, but you kinda have to make plans to be able to use that many so they don't go to waste. They're so good for Chicken Salad Sandwiches too, or at Christmas time you could use them for Cinnamon Eggnog French Toast.
Croissants are much richer in taste and flakier with more layers than crescent rolls, but both are good. I like the crescent rolls for Apple Dumplings. I've also used them for Stuffed Party Bites there's just so many ways you can use Croissants and crescent rolls, what's your favorite? This one has to be one of my all time favorites!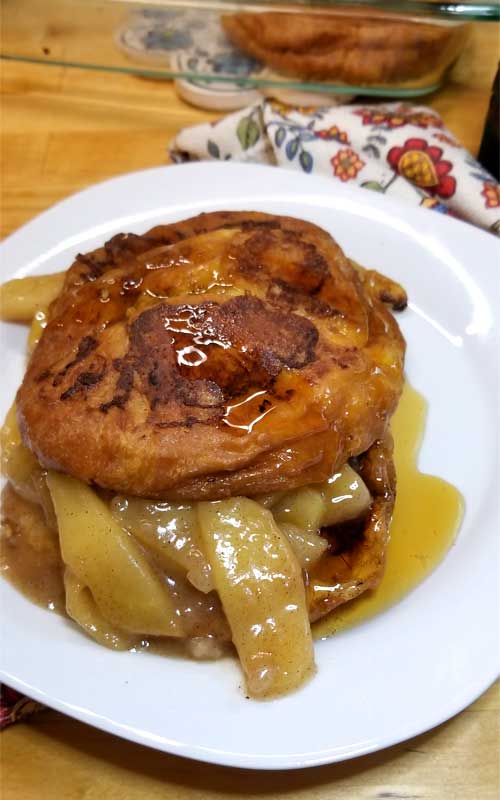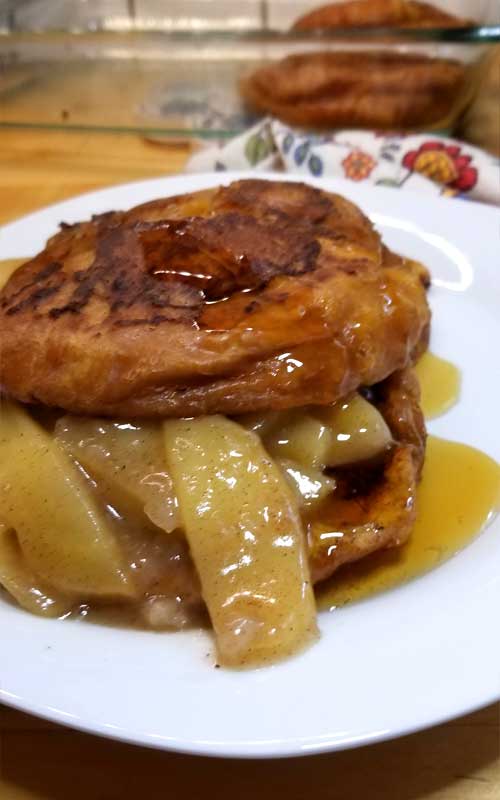 Some tips:
Day old croissants work best to soak up all the custard
Don't want to mess around with cutting and frying the apples? Just heat up a can of apple pie filling!
If you LOVE this Apple Pie Croissant French Toast recipe, try this small batch recipe for apple dumplings!
Don't forget to follow along, so you don't miss out! Did you know you can get a notification on your phone now as soon something is published? People are loving this so much, more than the emails clogging up your inbox. If you happened to not accept the notification box earlier…now is a good time to click the small bell in the corner and get signed up!
FOLLOW Sparkles of Yum ON FACEBOOK | PINTEREST | INSTAGRAM | TWITTER FOR ALL OF THE LATEST CONTENT, RECIPES AND UPDATES.
Feel free to join the Sparkles of Yum Recipe Swap Facebook group! A fun place to find and share all of your favorite recipes.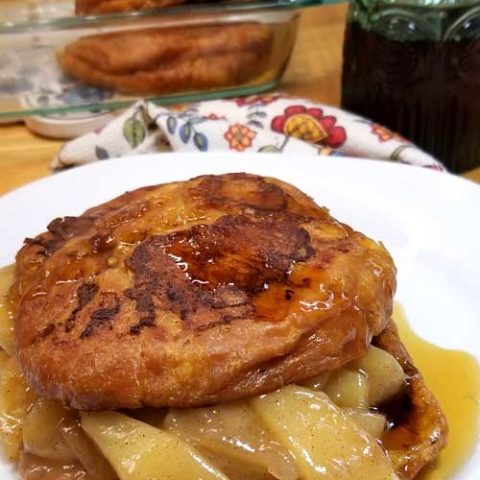 Apple Pie Croissant French Toast
Yield: About 4 Servings

Prep Time: 15 minutes

Cook Time: 30 minutes

Total Time: 45 minutes

Decadently delicious Apple Pie Croissant French Toast, is pure buttery goodness filled with tender fried cinnamon apples, perfect for a fall brunch or special holiday breakfast.
Ingredients
For the Fried Apples: (or you can use a large can of apple pie filling)
2 large granny smith apples, honey crisp or your favorite
4 tablespoons real butter, chopped
Juice of 1/2 lemon
2 tablespoons sugar
1 teaspoon cinnamon or apple pie spice
1/8 tsp nutmeg
pinch of salt
1 cup apple juice
1 tablespoon cornstarch
For the French Toast:
4 large round bakery style Croissant rolls-sliced in half lengthwise - 8 slices (you could also use French bread or Texas Toast)
6 large eggs
1/2 cup milk
2 tablespoons sugar
2 teaspoons vanilla extract
1 teaspoon ground cinnamon
Butter, for frying and serving
Warm maple syrup, for serving
Instructions
For the Fried Apples:
Wash, peel and core apples and cut into about 1/4 inch slices. In a bowl squeeze lemon juice, sprinkle sugar and spices over sliced apples. Heat butter in a large nonstick skillet over medium heat, add apples and let cook 8-10 minutes, flipping occasionally to cook evenly through.
Add 1 tablespoon cornstarch to cold apple juice, mix well, and pour over apples. Stir until thickened and remove from heat.
For the croissant French toast:
Slice the croissants in half through the middle.
In a bowl, whisk together the eggs, milk, sugar, vanilla, and cinnamon. Dunk each croissant half into the mixture so that it's fully coated, let excess run off. Set the pieces aside on a plate.
Heat a large nonstick skillet over low heat, then melt a small amount of butter in it. Add as many croissant halves as will fit, cut-side down, cook on the first side for 3 to 4 minutes on medium heat. Check by lifting a corner occasionally to make sure they don't burn. When they're golden brown on the bottom, flip them to the other side and let them cook for another 2 minutes or so.
Remove from the pan and cook the rest of the croissant halves, adding a little butter as you go. You can place in the oven on low (about 170 F.) to keep warm, while finishing up the rest.
Fill with cooked apples and top with maple syrup or powdered sugar.
Nutrition Information
Yield 4 Serving Size 1
Amount Per Serving Calories 821Total Fat 30gSaturated Fat 15gTrans Fat 1gUnsaturated Fat 12gCholesterol 331mgSodium 462mgCarbohydrates 128gFiber 6gSugar 98gProtein 14g

Nutrition data was provided and calculated by Nutritionix, and should only be used as a general guideline. This information is provided as a courtesy and there is no guarantee that the information will be completely accurate.

© 2023 Sparkles of Yum. All rights reserved. All images & content are copyright protected. Please do not use my images without prior permission. If you want to share this recipe, please provide a link back to this post for the original recipe.
Sparkles of Yum is a participant in the Amazon Services LLC Associates Program, an affiliate advertising program designed to provide a means for sites to earn advertising fees by advertising and linking to Amazon.com.