This Stuffed Butternut Squash with Chicken and Rice is a great healthy fall dinner. Easy to prepare and tastes delicious with all the savory flavors of fall.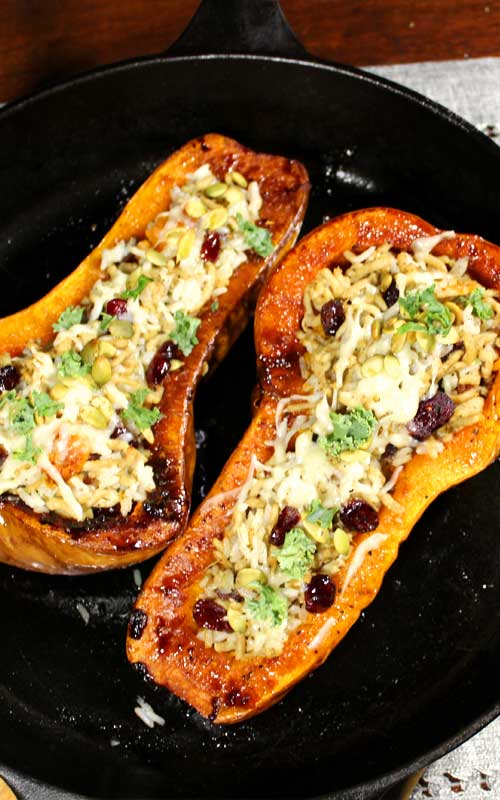 We've finally got some chilly weather, so it's nice to turn the oven on for a change. I've been making so many stove-top recipes and Instant pot recipes, I almost forgot how good it tastes to roast something in the oven and squeeze in some healthy meals before we go on an all out binge for the holidays. And this recipe for Stuffed Butternut Squash with Chicken and Rice is exactly one of those things.
I love butternut squash. It's just naturally good cooked any way, but when it gets roasted in the oven with a little olive oil and seasoning it's the best! See how pretty the caramelization is around the side of the butternut squash? That's flavor. So while you have it roasting you prepare everything else on the stove top and it all comes together perfectly, the flavors all enhance each other so well. This recipe WILL definitely be making a recurring appearance at our home!
This recipe is so versatile, I happened to have ground chicken on hand, but you could swap out the chicken for ground turkey or even used leftover rotisserie chicken. Or, if it's after Thanksgiving, and you have leftover turkey; just shred some up and use that. Also, we always have rice on hand, but if you have quinoa or cauliflower rice that would work as well.
Same thing goes with the pumpkin seeds. Pecans, walnuts or whatever little crunchy seeds or nuts you prefer. So you get the idea, you can make your own with what you have on hand.
Now you might ask, "Why put Montreal Steak Seasoning on butternut squash?" Well, it's a staple in my kitchen and in my opinion it's a perfect blend of salt, pepper, garlic, paprika and some natural herbs so why not grab one fantastic bottle of great ingredients and save a little time and still have all the flavor you could ask for. I think it's spot on for a quick seasoning on just about anything savory.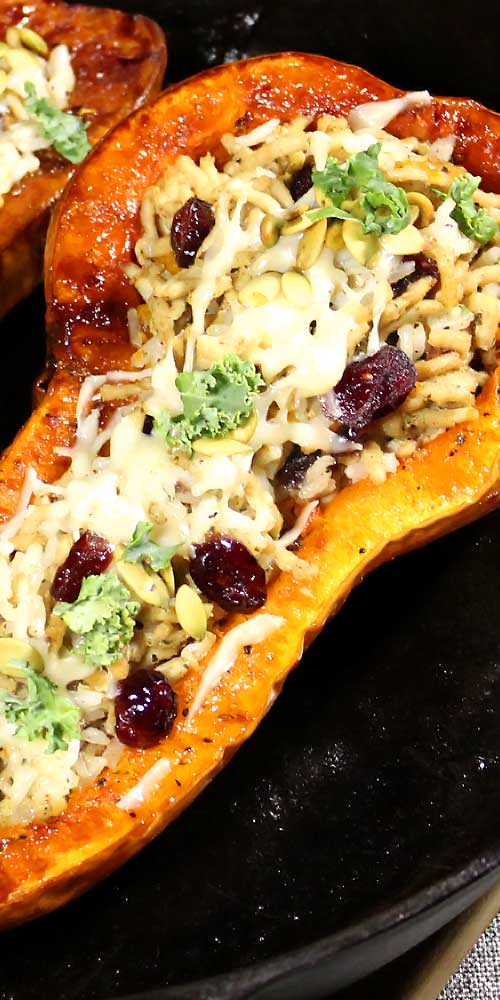 What can you serve with this Stuffed Butternut Squash with Chicken and Rice?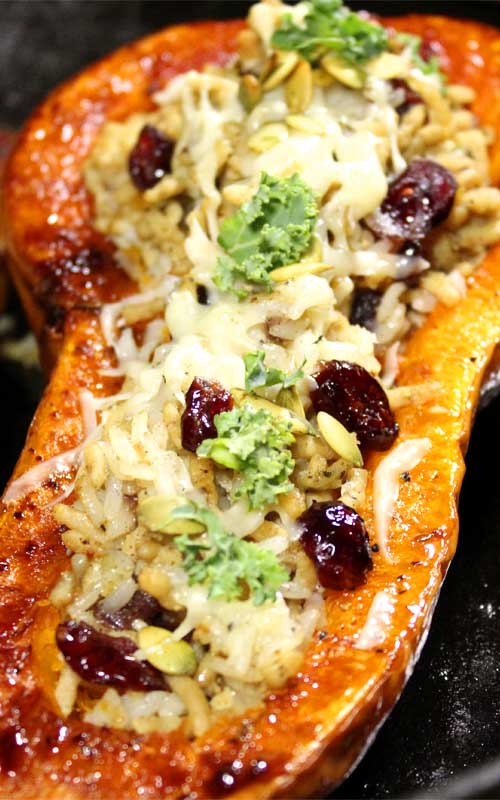 Some tips:
If you LOVE this Stuffed Butternut Squash with Chicken and Rice recipe, try this Chicken Margherita OR this Salsa Verde Chicken Zucchini Enchiladas!
Don't forget to follow along, so you don't miss out! Did you know you can get a notification on your phone now as soon something is published? People are loving this so much, more than the emails clogging up your inbox. If you happened to not accept the notification box earlier…now is a good time to click the small bell in the corner and get signed up!
FOLLOW Sparkles of Yum ON FACEBOOK | PINTEREST | INSTAGRAM | TWITTER FOR ALL OF THE LATEST CONTENT, RECIPES AND UPDATES.
Feel free to join the Sparkles of Yum Recipe Swap Facebook group! A fun place to find and share all of your favorite recipes.
Stuffed Butternut Squash with Chicken and Rice
Yield: 2 Servings

Prep Time: 14 minutes

Cook Time: 45 minutes

Total Time: 59 minutes

This Stuffed Butternut Squash with Chicken and Rice is a great healthy fall dinner. Delicious and easy to prepare with all the savory flavors of fall.
Ingredients
For the Squash:
For the stuffing:
1 lb Ground Chicken or you could use Leftover Rotisserie Chicken
2 cups cooked rice
1 tablespoon olive oil
1 small onion, diced
1 garlic clove, minced
1/2 teaspoon McCormick Montreal Steak Seasoning
1 teaspoon mild yellow curry powder
1/4 cup dried cranberries
2 tablespoons chopped kale or parsley for garnish
2 tablespoons pumpkin seeds for garnish
1/4 cup grated Parmigiano Reggiano
Instructions
Preheat oven to 400 degrees F.
Cut off the squash stem, then cut the squash in half lengthwise and use a spoon to scoop the seeds, and discard. Rub the flesh with olive oil and sprinkle with Montreal Seasoning. Spray a large cast iron skillet, baking dish or sheet pan and place butternut squash flesh side down. Bake for 35-45 minutes, until tender (when you can easily stick a toothpick or paring knife through)
While that's cooking start your rice and in a large skillet over medium heat, 1 tablespoon olive oil. Add onion and cook 3-4 minutes. Stir in garlic and cook 30 seconds, then stir in ground chicken. Season with Montreal and Curry Powder. Cook to no longer pink. Add the cranberries toward the end just to plump a bit.
When squash is done remove from oven flip over with a spatula, scoop a little more squash out to make a little boat through the middle. I diced the excess squash up and mixed in with the chicken stuffing.
Mix rice and chicken together and fill the hollowed boats with stuffing and top with grated Parmigiano Reggiano return to oven till cheese is melted and top with kale and pumpkin seeds.
Nutrition Information
Yield 2 Serving Size 1
Amount Per Serving Calories 1296Total Fat 63gSaturated Fat 16gTrans Fat 0gUnsaturated Fat 42gCholesterol 402mgSodium 929mgCarbohydrates 80gFiber 7gSugar 18gProtein 105g

Nutrition data was provided and calculated by Nutritionix, and should only be used as a general guideline. This information is provided as a courtesy and there is no guarantee that the information will be completely accurate.

© 2023 Sparkles of Yum. All rights reserved. All images & content are copyright protected. Please do not use my images without prior permission. If you want to share this recipe, please provide a link back to this post for the original recipe.
Sparkles of Yum is a participant in the Amazon Services LLC Associates Program, an affiliate advertising program designed to provide a means for sites to earn advertising fees by advertising and linking to Amazon.com.