This recipe for Sparkling Mango Berry Sangria is a perfect and super-simple way to celebrate summer, or any day for that matter.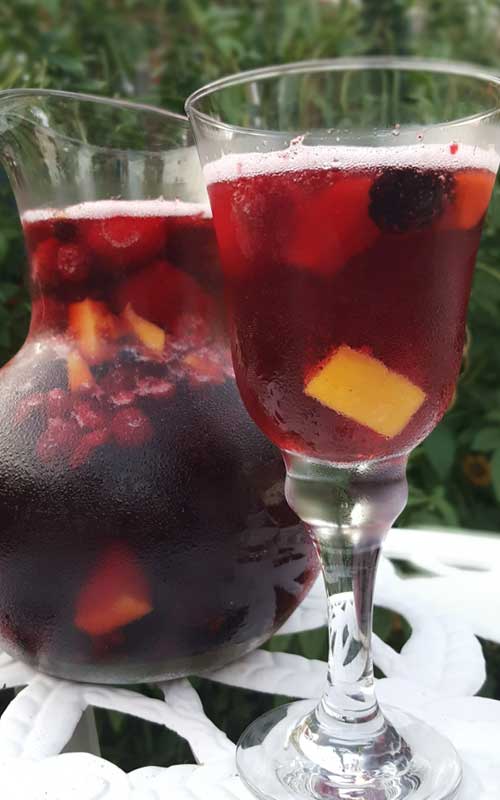 Did you know you can make a whole playlist out of Sangria songs? I didn't until I started writing this post, but sure enough there's at least 10 Sangria songs on a quick search. But the one my mind always goes back to is "Sangria" by Mr. Blake Shelton.
"Your Lips Taste Like Sangria", just can't get that song out of my head. Blake Shelton takes a simple melody and hypnotizes you with it.
That's what this pitcher of Sangria does. It IS no joke. Make a pitcher of this up, and make any normal day into a celebration!
I hadn't really thought about it before, but now that I am, Sangria is really sexy. You definitely need someone to share your thoughts with and before you know it your feeling all sorts of happy! Might just have to look for some Sangria lipstick to go with that Sangria Feeling.
I guess there's good reason why people have been drinking some version of this for over 2000 years, and yes, I found that on Wikipedia.
I like to learn about the history of things. There's always some interesting tidbits of information to share with people and it gives you a chance to "learn something new everyday".
Now that the summer of 2016 is coming to a close, and everyone is turning their thoughts to pumpkin (before apple picking season is even here might I add), I want to linger in my summertime a little longer.
The days might be getting shorter, but my flowers are still in full bloom; and I want to sit in my backyard with my wine glass and breath in the scents of the roses before they're gone for the year.
There will be plenty of time for fall when it gets here.
This particular rose is called Peace Hybrid Tea Rose, it only produced 2 roses this year. Our fence got knocked down by a bad storm last year and it broke the rose bush I didn't think it would come back at all.
Somehow, it did, and just before the end of summer to see it bloom I believe is a gift. This also happens to be the same type of rose that is used in the table settings for my pictures.
When you love to nurture nature (say that three times fast), you get lots of visitors. Like this dragonfly dropping by to show off it's beauty.
This recipe is easy to make, and a simple way to enjoy the small gifts we have to celebrate on a normal day at the end of one more wonderful summer.
Don't forget to follow along, so you don't miss out! Did you know you can get a notification on your phone now as soon something is published? People are loving this so much, more than the emails clogging up your inbox. If you happened to not accept the notification box earlier…now is a good time to click the small bell in the corner and get signed up!
FOLLOW Sparkles of Yum ON FACEBOOK | PINTEREST | INSTAGRAM | TWITTER FOR ALL OF THE LATEST CONTENT, RECIPES AND UPDATES.
Feel free to join the Sparkles of Yum Recipe Swap Facebook group! A fun place to find and share all of your favorite recipes.
Sparkling Mango Berry Sangria
This recipe for Sparkling Mango Berry Sangria is a perfect and super-simple way to celebrate summer, or any day for that matter.
Ingredients
1 bottle (750ml) red wine
1 bottle (750ml) prosecco
12oz mixed berries, frozen (I used Aldi's berry medley)
1 ripe mango, diced
Instructions
Add frozen berries and mango to pitcher.
Add red wine, then prosecco.
Enjoy!
Notes
If your pitcher is not large enough to hold everything, divide it up evenly into more than one.
Nutrition Information
Yield

12 glasses
Serving Size

1 glass
Amount Per Serving
Calories

134
Total Fat

0g
Saturated Fat

0g
Trans Fat

0g
Unsaturated Fat

0g
Cholesterol

0mg
Sodium

6mg
Carbohydrates

11g
Fiber

2g
Sugar

7g
Protein

1g
© 2023 Sparkles of Yum. All rights reserved. All images & content are copyright protected. Please do not use my images without prior permission. If you want to share this recipe, please provide a link back to this post for the original recipe.
Sparkles of Yum is a participant in the Amazon Services LLC Associates Program, an affiliate advertising program designed to provide a means for sites to earn advertising fees by advertising and linking to Amazon.com.