You are gonna love this rich and creamy, super flavorful Simple Skillet Butter Chicken that you can make in around 30 minutes.
A classic and traditional Indian dish, this Simple Skillet Butter Chicken is the perfect starting point if you're looking to cook some Indian food at home!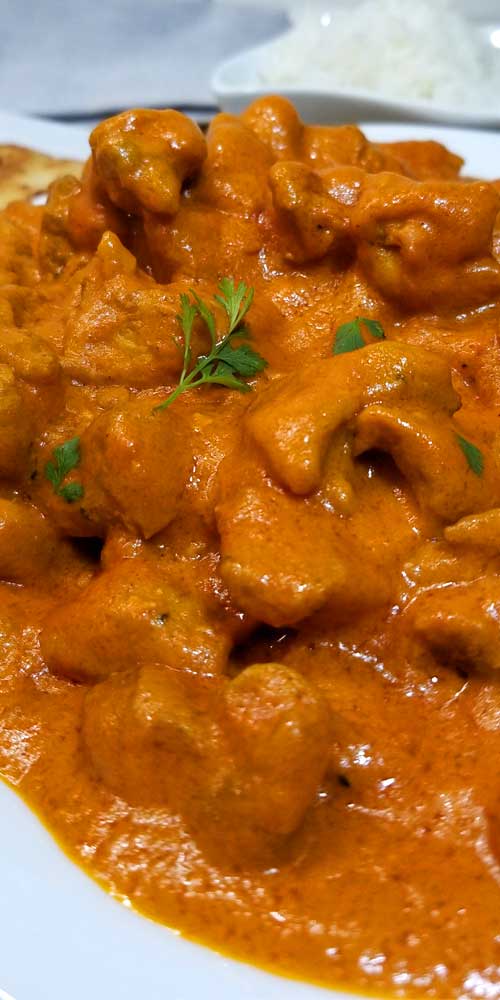 Butter Chicken, or Murgh Makhani, is an Indian dish that originated at a restaurant in Delhi, India in the 1950s.
The dish was made "By Chance" by mixing the leftover chicken in a tomato gravy, that is rich in butter and cream. They didn't want dry leftover chicken so they decided to really jazz it up and make it creamy and yummy with lots of spices, and cashew paste would normally be used as a thickener.
Well us picky Americans get our hands on something and we just can't settle for an authentic recipe without putting our 2 cents worth in it.
So that's what my version of Simple Skillet Butter Chicken is.
Normally I would go for an authentic recipe, but because I'm not a huge fan of Garam Masala, or particularly the spice "cardamom" which makes up the most of Garam Masala. A little is ok, but it's one of those things that a little too much overtakes things for me.
So guess what, Indian Curry Powder or Hot Madras Curry Powder has a lot of the same spices as Garam Masala, but without all the cardamom. I love a good coconut curry, so I chose coconut milk instead of using cashew paste, cornstarch, or heavy cream; but we do have butter in our butter chicken.
Normally in India, they would be using Ghee, which is pretty pricey in my opinion. Clarified butter can also be used, but I don't have a problem with regular butter, when consumed in moderation, butter is not bad for you. So if you are down with that you're gonna love this rich and creamy, super flavorful Simple Skillet Butter Chicken that you can make in around 30 minutes.
Serve with Jasmine rice, basmati rice or your favorite rice. And if you can find Naan Bread it is so good with this too. You might find Naan in most supermarkets now, they do have it at Aldi, or you can check the Ethnic food aisle. All you need to do with Naan is toast it in a skillet with a little olive oil or butter.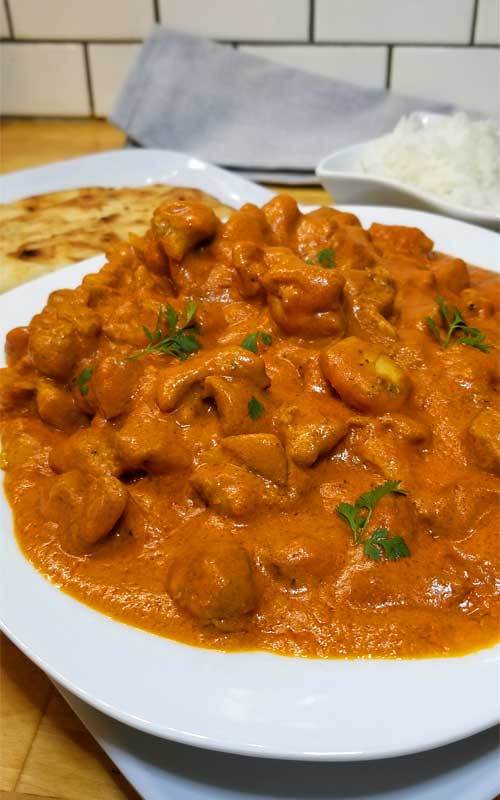 What can you serve with this Simple Skillet Butter Chicken?
Traditionally Butter Chicken is served with rice and naan bread.
Since Butter Chicken is heavy you can roast any veggies you like and sprinkle with curry powder or garam masala for a nice accompaniment to the meal.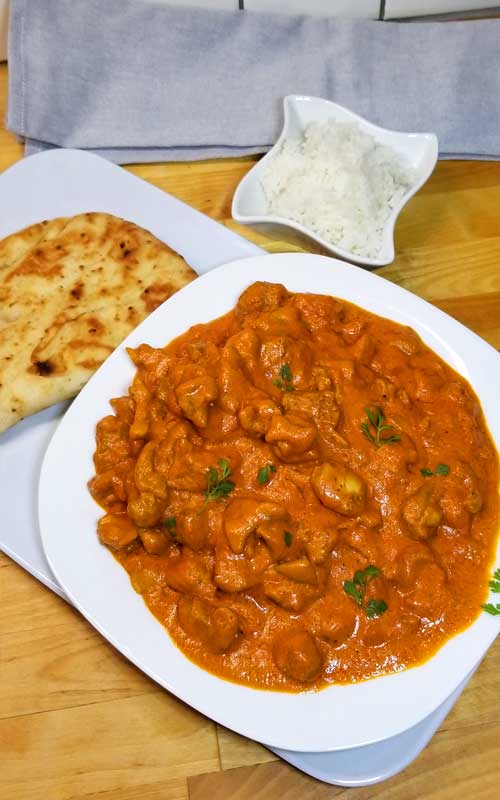 Don't forget to follow along, so you don't miss out! Did you know you can get a notification on your phone now as soon something is published? People are loving this so much, more than the emails clogging up your inbox. If you happened to not accept the notification box earlier…now is a good time to click the small bell in the corner and get signed up!
FOLLOW Sparkles of Yum ON FACEBOOK | PINTEREST | INSTAGRAM | TWITTER FOR ALL OF THE LATEST CONTENT, RECIPES AND UPDATES.
Feel free to join the Sparkles of Yum Recipe Swap Facebook group! A fun place to find and share all of your favorite recipes.
Simple Skillet Butter Chicken
Yield: 4 Servings

Prep Time: 10 minutes

Cook Time: 30 minutes

Total Time: 40 minutes

You are gonna love this rich and creamy, super flavorful Simple Skillet Butter Chicken that you can make in around 30 minutes.
Ingredients
3 tablespoons butter
1 tablespoon olive oil
1 onion (diced)
3 garlic cloves (crushed & minced)
1 tablespoon grated ginger
4 boneless and skinless chicken breasts (about 1 1/2 lbs cut into 1-inch chunks)
2 tablespoons Indian or Hot Madras curry powder
1 teaspoon turmeric
1 tablespoon sugar
1 tablespoon lemon juice
1/2 teaspoon chili powder
pinch of chili flakes (optional)
1 cup tomato puree (or 3-4 tablespoons tomato paste to 1 cup water)
1 13 oz. can coconut milk
salt and pepper to taste
Instructions
In a large skillet, over medium high heat, add 1 tablespoon olive oil and 1 tablespoon butter. Add diced onion, cook for a minute, then add garlic and ginger. Cook a minute and stir in 2 tablespoons of butter and add the chunks of chicken (seasoned with salt and pepper). Stir in curry powder, turmeric, sugar, chili powder, chili flakes, lemon juice.
When chicken is cooked through add tomato puree, stirring up any brown bits from the bottom of the skillet and bring to boil.
Turn down to a simmer for 5 minutes, add the coconut milk and stir all together. Cover and cook, stirring occasionally, until thick (about 20 minutes).
Serve with Rice and Naan
Nutrition Information
Yield 4 Serving Size 1
Amount Per Serving Calories 545Total Fat 36gSaturated Fat 25gTrans Fat 0gUnsaturated Fat 9gCholesterol 125mgSodium 274mgCarbohydrates 17gFiber 3gSugar 7gProtein 41g

Nutrition data was provided and calculated by Nutritionix, and should only be used as a general guideline. This information is provided as a courtesy and there is no guarantee that the information will be completely accurate.

© 2023 Sparkles of Yum. All rights reserved. All images & content are copyright protected. Please do not use my images without prior permission. If you want to share this recipe, please provide a link back to this post for the original recipe.
Sparkles of Yum is a participant in the Amazon Services LLC Associates Program, an affiliate advertising program designed to provide a means for sites to earn advertising fees by advertising and linking to Amazon.com.