When fresh peaches are at the farmers market, and it's too damn hot to turn the oven on, you make Peach Fritters with Honey Cinnamon Glaze!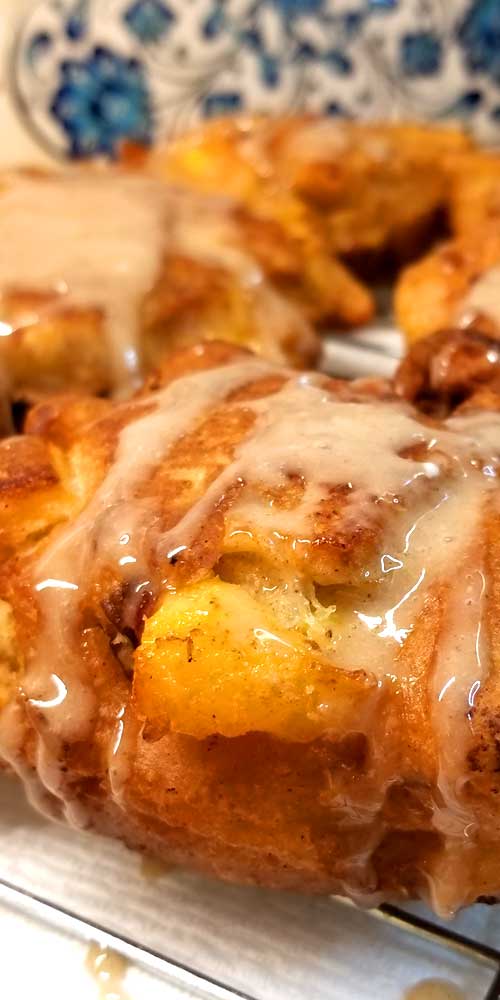 And these Peach Fritters with Honey Cinnamon Glaze are so good, you can't even come up with words for how good they are.
Just sounds of "Mmmm", and those crispy edges and soft peachy light fluffy insides are to die for. It's really an exercise in discipline to not eat more than one.
I failed, we both failed, we ate two each. Luckily this batch only makes six. So if you need more you'll have to double it up, but fair warning make sure you have enough mouths to feed!
This is so easy, you don't need a mixer, or any kitchen gadgets for that matter, just whisk it all together and fry it up by the spoonfuls. If you get your oil to right temperature it doesn't get greasy.
If your intimidated by frying, the trick is getting the oil to the sizzle point without smoking. Test it with a tiny drop of batter; when it starts to sizzle your oil is ready.
Then carefully lay the spoonfuls of batter in so it doesn't splatter, just ease it in and check before turning it over. When it's golden brown on the bottom carefully tip it on it's side and lay it over gently using a spatula and a wire spider or slotted spoon. Then remove using a wire spider on to a wire rack with some paper towels.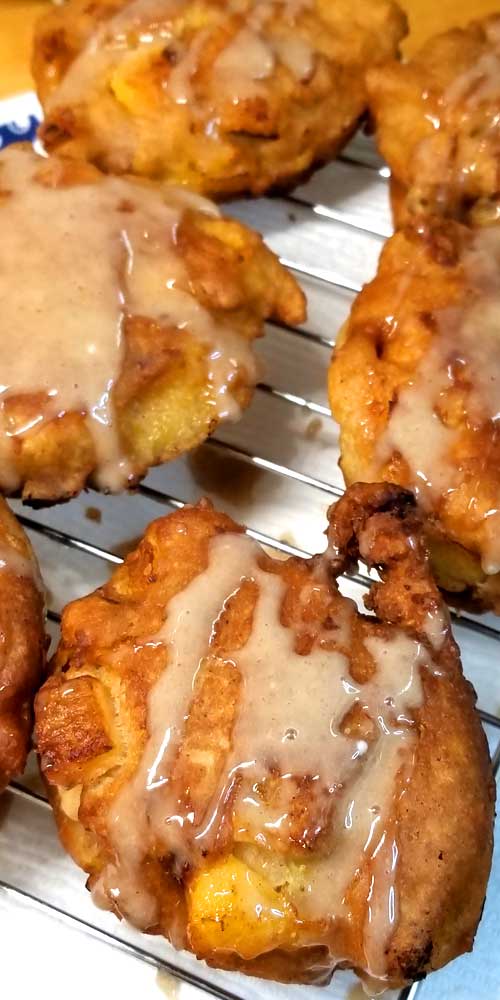 The Honey Cinnamon Glaze is just as easy.
It mixes up in just a few seconds, and just drizzle over the fritters while they're still hot and it turns into just a nice sweet glaze. Or you can use it for dipping as well because it makes more than you really need.
Thinking about it, this glaze would also be good on pancakes.
Now I have to say, we live close to one of the top rated Donut places in America, The Donut Stop, it's been on the top 10 list by Bon Appétit magazine good luck getting fresh fritters, because they fly out the door so fast, unless you're there at the crack of dawn, your going to have a hard time finding fritters as fresh as homemade.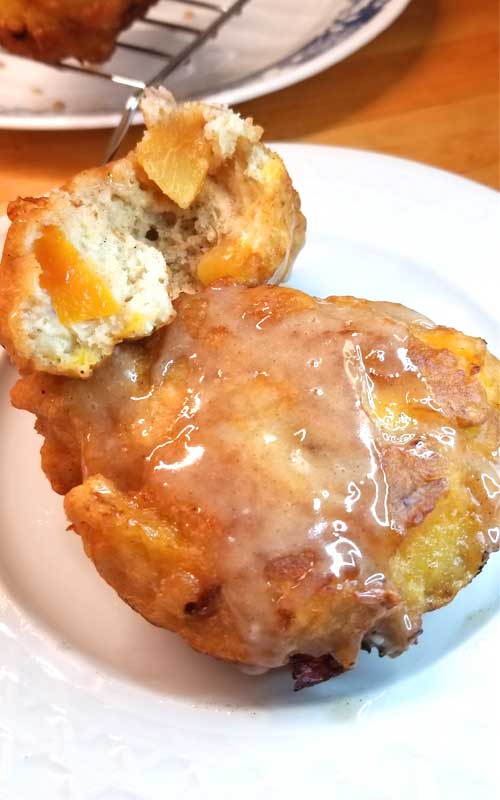 Don't forget to follow along, so you don't miss out! Did you know you can get a notification on your phone now as soon something is published? People are loving this so much, more than the emails clogging up your inbox. If you happened to not accept the notification box earlier…now is a good time to click the small bell in the corner and get signed up!
FOLLOW Sparkles of Yum ON FACEBOOK | PINTEREST | INSTAGRAM | TWITTER FOR ALL OF THE LATEST CONTENT, RECIPES AND UPDATES.
Feel free to join the Sparkles of Yum Recipe Swap Facebook group! A fun place to find and share all of your favorite recipes.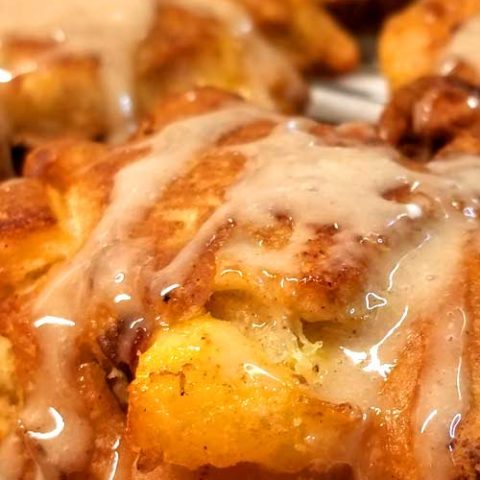 Peach Fritters with Honey Cinnamon Glaze
Yield: About 6 fritters

Prep Time: 15 minutes

Cook Time: 15 minutes

Total Time: 30 minutes

When fresh peaches are at the farmers market, and it's too damn hot to turn the oven on, you make Peach Fritters with Honey Cinnamon Glaze! And they are so good, you can't even come up with words for how good they are.
Ingredients
1 cup flour
3 Tablespoons sugar
1/4 Teaspoon salt
1 1/2 Teaspoon Baking Powder
1/2 Teaspoon Cinnamon
1/8 Teaspoon Nutmeg
2 large fresh peaches (about 2 cups, diced)
1/3 cup milk
1/2 Teaspoon Vanilla
1 Large egg
Honey Cinnamon Icing:
1 cup Powder Sugar
3 Tablespoon Honey
1/2 Teaspoon Cinnamon
2-3 Tablespoons milk
Instructions
In a small bowl, combine all the dry ingredients first; flour, sugar, salt, baking powder, cinnamon and nutmeg. Give it a little whisk. Add peaches, milk, vanilla, and the egg to dry mixture. Then stir well until combined.
Heat oil to 350 degrees F. Working in batches, gently drop a large spoonful (about half a ladle) into the sizzling oil. (I did 3 at a time to make sure they weren't crowded in a deep skillet). Frying until they're golden brown on both sides, 2-3 minutes per side.
Place paper towels on plate under a wire rack. Remove fritters to wire rack to start cooling.
While those are cooling a couple minutes, in a small bowl, whisk the powdered sugar, honey, cinnamon, and milk or cream to combine. Add more milk or cream as needed to make the glaze "drizzly". Drizzle each fritter with the glaze, and serve immediately.
Nutrition Information
Yield 6 Serving Size 1 fritter
Amount Per Serving Calories 310Total Fat 2gSaturated Fat 1gTrans Fat 0gUnsaturated Fat 1gCholesterol 33mgSodium 234mgCarbohydrates 72gFiber 2gSugar 53gProtein 5g

Nutrition data was provided and calculated by Nutritionix, and should only be used as a general guideline. This information is provided as a courtesy and there is no guarantee that the information will be completely accurate.

© 2023 Sparkles of Yum. All rights reserved. All images & content are copyright protected. Please do not use my images without prior permission. If you want to share this recipe, please provide a link back to this post for the original recipe.
Sparkles of Yum is a participant in the Amazon Services LLC Associates Program, an affiliate advertising program designed to provide a means for sites to earn advertising fees by advertising and linking to Amazon.com.