Porchetta, or porketta if that is what you prefer, is the pork lovers paradise. You get a crispy crackling outer layer, with the ultimate juicy and tender porky goodness all the way through.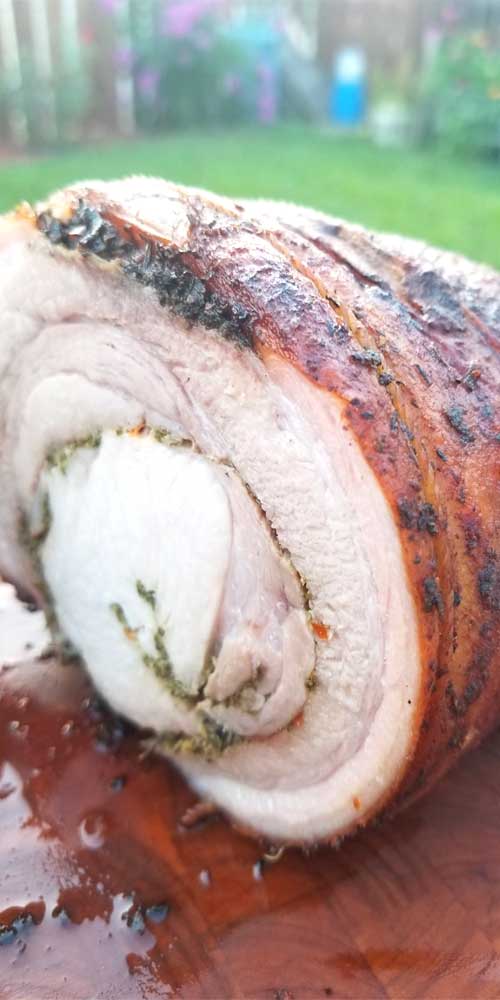 It starts with a luscious layer of pork belly that gets wrapped around the loin. (Which in case you didn't know pork belly is where bacon comes from.) So while it's cooking the belly layer just keeps melting into the loin keeping it moist with all the flavors of the herbs melding together so by the time it's done you have the ultimate porky goodness you could ever dream of.
Traditionally porchetta has been made with a year old deboned pig. It originated in central Italy, one of two iconic culinary products of the Lazio region, the other being the sheep cheese pecorino romano.
It is a very popular street food throughout Italy. It is also considered a celebratory dish, so since Mr. Yum's birthday fell on a Friday the 13th this year, he decided he was up for going all out for a Porchetta, since if you found this dish a restaurant around here it would probably be way overpriced for our budget.
This wouldn't be a dinner to come home from work and make as weeknight dinner, this would be more of a Sunday dinner because it's more time consuming. And since Mr. Yum was cooking, that meant the smoker and the grill had to come into play, although you can make this in your oven and on the stovetop with just a few minor tweaks.
Recently we've been seeing a lot of different type of porchetta's on Food Network and decided to put our own spin on it using a pork belly wrapped around a butterflied pork loin and filled with a pesto, which normally it's rolled with fresh herbs anyway.
We were lucky to have an abundance of fresh herbs from the garden this year. So we called our local butcher shop and asked about the porchetta. So they're priced differently depending on how you ask for it. If we wanted it already wrapped up and seasoned it would have been $8.99 a pound, but to buy the pieces and season and wrap it yourself it's only $3.99 a pound!
So we had plenty for a couple meals. The first night we had the Porchetta with smashed potatoes and a salad.
Then we had Porchetta sandwiches which I didn't get pictures of, but was also still moist and very good on a sandwich with some really good buns from a bakery. We'll definitely be making more of these, I want to try it as a panini with leftovers next time.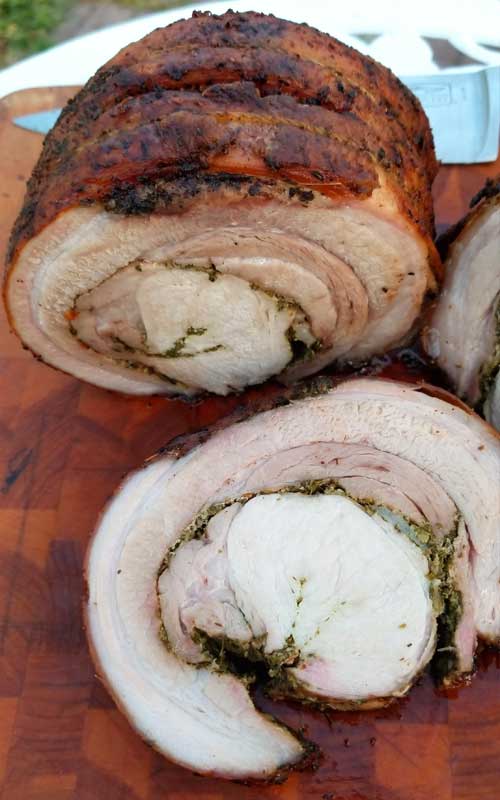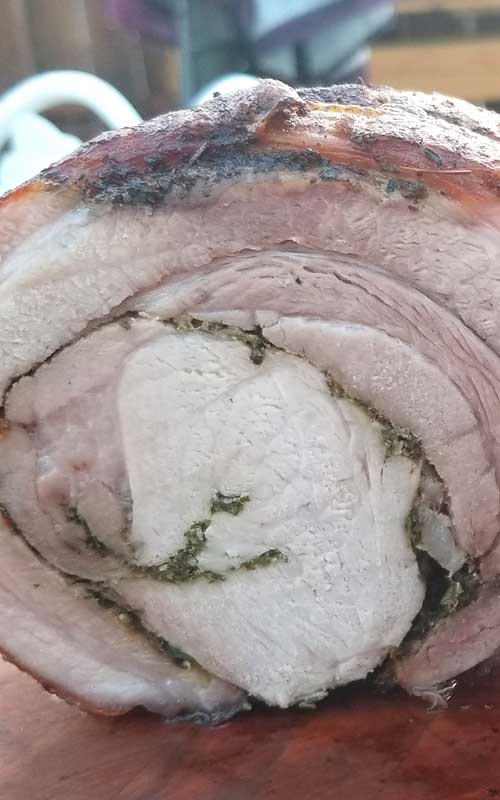 If you LOVE this Italian Porchetta recipe, try this Roast Pork and Garlic Sauce Using Leftover Pork Roast OR this White Lightning Moonshine BBQ Sauce over Pork Tenderloin!
Don't forget to follow along, so you don't miss out! Did you know you can get a notification on your phone now as soon something is published? People are loving this so much, more than the emails clogging up your inbox. If you happened to not accept the notification box earlier…now is a good time to click the small bell in the corner and get signed up!
FOLLOW Sparkles of Yum ON FACEBOOK | PINTEREST | INSTAGRAM | TWITTER FOR ALL OF THE LATEST CONTENT, RECIPES AND UPDATES.
Feel free to join the Sparkles of Yum Recipe Swap Facebook group! A fun place to find and share all of your favorite recipes.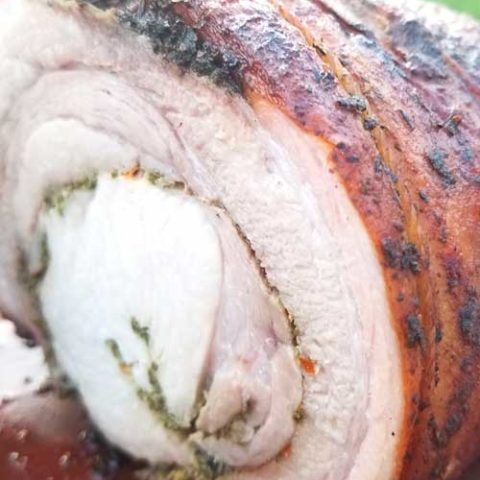 Italian Porchetta
Yield: About 16 Servings

Prep Time: 15 minutes

Cook Time: 8 hours 10 minutes

Additional Time: 15 minutes

Total Time: 8 hours 40 minutes

Porchetta, or porketta if that is what you prefer, is the pork lovers paradise. You get a crispy crackling outer layer, with the ultimate juicy and tender porky goodness all the way through.
Ingredients
1 3-4 lb pork loin
1 3-4 lb pork belly
Butchers Twine for tying
Pesto:
4 cloves garlic
2 cups basil
10-12 sprigs fresh thyme
1/2 extra virgin olive oil
1/2 small onion (diced)
juice from 1 lemon
pinch of red pepper flakes
1 teaspoon sea salt
fresh cracked pepper (to taste)
pinch of red pepper flakes
Rub (Combine and divide in to halves):
2 Tablespoons Italian Seasoning
1 Teaspoon Paprika
1 Tablespoon Kosher salt
Instructions
Combine all pesto ingredients into a food processor or blender, and blend to make a paste.
Lay out pork belly, skin side down, and pour pesto over top. Spread pesto so it covers the pork belly evenly.
Place pork loin piece over the pesto. Evenly distribute half of the rub mixture over everything.
Roll pork belly tightly around the loin. Some of the pesto will run out of the sides, this is fine. Tie the rolled pork up by using 5-6 pieces of twine. Just make sure it is tight, and the twine is evenly spaced. Slit the pork belly between each piece of twine. Slits should be about half way through the pork belly, do not go all the way through.
Evenly spread the rest of the dry rub over the top of the pork belly, and then add any of the pesto that may have leaked out when you were tying it up.
Place in your smoker set at 250F for 7-8 hours, starting with the slits facing upwards. You can also do this in an oven, just place in an oven safe pan, and leave uncovered. About once an hour rotate the porchetta 90 degrees (each side will be at the top twice during the cooking process). Using a meat thermometer check the temperature of the loin. It should be about 160-165F. If not, let cook for one more hour with slits facing up.
Once your meat thermometer reaches the 160-165F mark, remove porchetta from heat. Get your grill set and ready to cook for high direct heat. Once the grill is ready, place porchetta on the grill and cook for about 3 minutes per side. This will help to get the skin to start crisping up.
If you do not feel safe doing the next section, continue to cook the porchetta for 3 minutes per side until each side has been directly over the heat twice. Once done, remove porchetta from heat, and proceed to the "Serving" section below.
This step can be dangerous, so please be sure to not burn yourself. The oil WILL splash some, and if you slip, you stand a VERY good chance of burning yourself!
This section is completely optional, but will give you an even crisper skin.
Remove porchetta to cool side of grill. Pour 1-1 1/2 inches of oil into a cast iron skillet. Place skillet over direct heat, and let warm up for about 2-3 minutes. Lift handle side of skillet, and prop up using a brick or metal smoker box.
Place porchetta on high end of the skillet, with the slits facing up. Using a metal ladle, spoon the oil over the porchetta non-stop for about 5 minutes, making sure that it runs over the entire piece of meat.
Remove porchetta from heat, then remove the skillet from the heat.
Serving
Let porchetta rest 10-15 minutes before slicing or removing strings.
Cut the slices as thick or as thin as you would like.
To serve traditionally, just place porchetta on ciabatta rolls, and enjoy; however, we will not judge you for using a fork and knife, that's how we ate it the first night.
Nutrition Information
Yield 16 Serving Size 8oz Precooked weight
Amount Per Serving Calories 1665Total Fat 104gSaturated Fat 36gTrans Fat 1gUnsaturated Fat 59gCholesterol 558mgSodium 1015mgCarbohydrates 4gFiber 1gSugar 2gProtein 169g

Nutrition data was provided and calculated by Nutritionix, and should only be used as a general guideline. This information is provided as a courtesy and there is no guarantee that the information will be completely accurate.

© 2023 Sparkles of Yum. All rights reserved. All images & content are copyright protected. Please do not use my images without prior permission. If you want to share this recipe, please provide a link back to this post for the original recipe.
Sparkles of Yum is a participant in the Amazon Services LLC Associates Program, an affiliate advertising program designed to provide a means for sites to earn advertising fees by advertising and linking to Amazon.com.