What better way to get your dark leafy greens than in an awesome, fresh from the garden, summer, Panzanella Salad with "Everything" Garlic Bread and a zesty Lemon Dijon Dressing. It was deee-lish!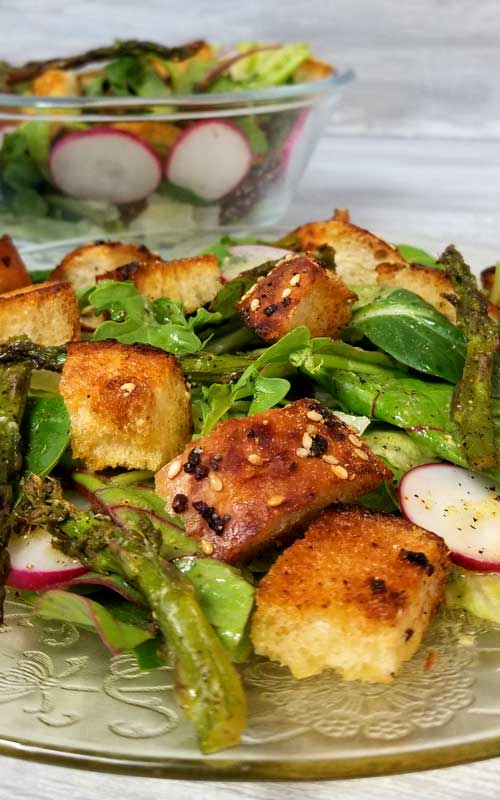 Panzanella, is an Italian salad traditionally made with stale bread that's softened by a light dressing, and a delicious way to put a variety of summer vegetables to work. To kick it up a notch I found a loaf of "Everything" Italian bread, you know like "Everything bagels" with toasted sesame seeds, poppy seeds, etc.. If you can't find the everything bread, you can make your own, Two Peas and Their Pod put together a blog post just for the seasoning mixture and it's super simple.
This was a good way to use my little salad garden harvest. We've had good rain and hot hot weather so everything is growing so fast. I'm having a hard time using my fresh veggies as fast as they're growing, but sharing with the neighbors helps and they can't believe how much we have grown in our garden boat.
I know sounds crazy, but we had to move the boat from out of the driveway when my son needed to park his car there, because he was leaving town for months at a time. So we turned our boat into a raised garden and I love it. There's a picture at the bottom with everything growing strong. I probably could of done more thinning when they were tiny, but I always feel guilty killing the little seedlings. I'd rather have them crowded.
This is also an awesome way to use up stale bread because your going to butter it and toast it anyway. I happened to have a half of a bunch of asparagus, so I tossed it in the oven while the bread was toasting as well. But if you want to substitute the asparagus for something else, you could use tomatoes, cucumbers, olives or capers.
And to finish off the salad, I used a simple homemade light healthy dressing. The lemon Dijon dressing is so simple, you probably already have all the ingredients on hand already.
This was a perfect side dish to go with our Chicken Margherita. This Panzanella Salad would also go great with your summer BBQ like these grilled Hawaiian Shrimp Kabobs or ever a nice slab of Smoky Ranchero Ribs.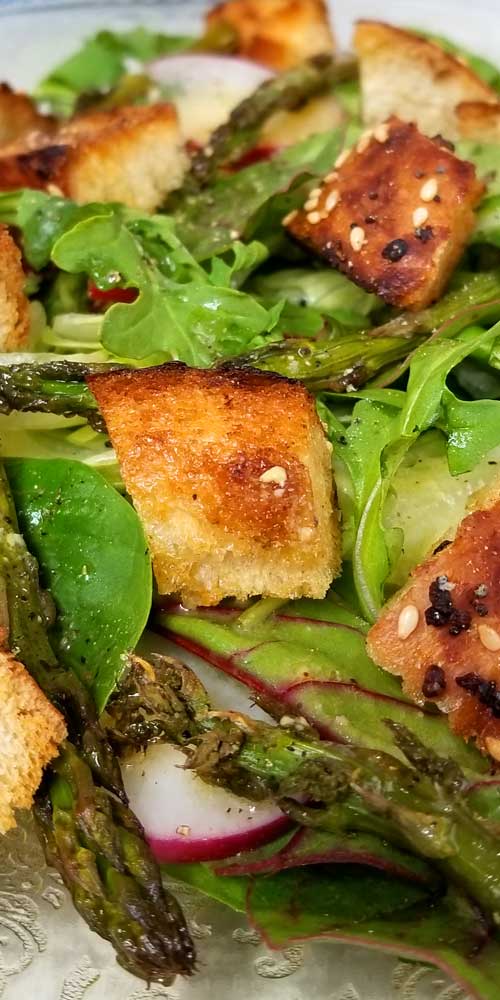 What can you serve with this Panzanella Salad with Everything Garlic Bread & Lemon Dijon Dressing?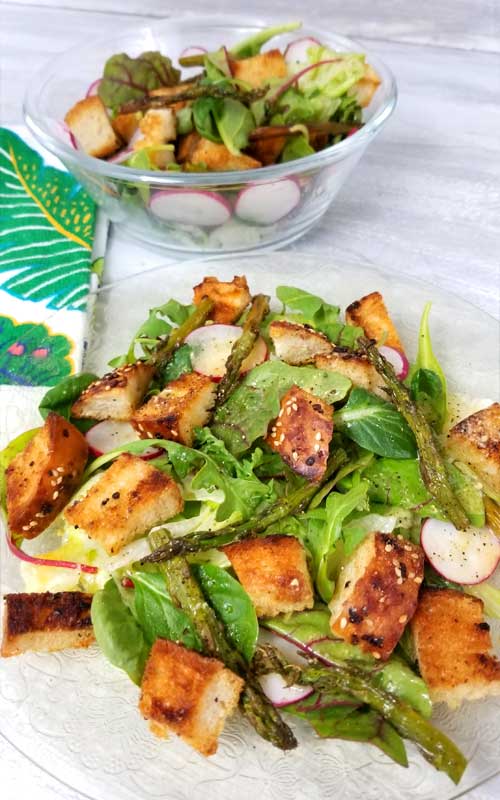 Don't forget to follow along, so you don't miss out! Did you know you can get a notification on your phone now as soon something is published? People are loving this so much, more than the emails clogging up your inbox. If you happened to not accept the notification box earlier…now is a good time to click the small bell in the corner and get signed up!
FOLLOW Sparkles of Yum ON FACEBOOK | PINTEREST | INSTAGRAM | TWITTER FOR ALL OF THE LATEST CONTENT, RECIPES AND UPDATES.
Feel free to join the Sparkles of Yum Recipe Swap Facebook group! A fun place to find and share all of your favorite recipes.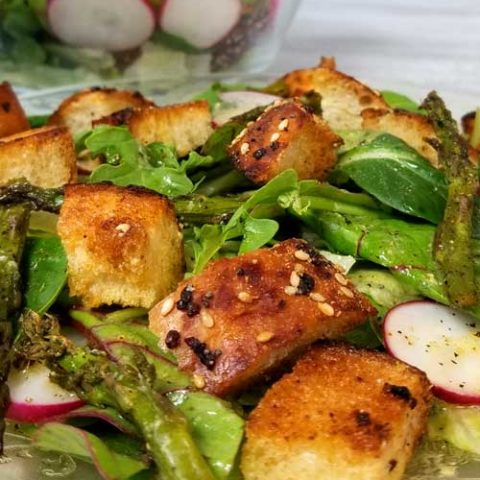 Panzanella Salad with Everything Garlic Bread & Lemon Dijon Dressing
What better way to get your dark leafy greens than in an awesome fresh from the garden summer Panzanella Salad with "Everything" Garlic Bread and a zesty Lemon Dijon Dressing. It was deee-lish!
Ingredients
For the salad:
4 cups mixed salad
4 red radishes (sliced thin)
3 tablespoons fresh dill
1/2 bunch asparagus (trimmed and chopped)
1 loaf Everything Italian Bread (about 3 cups, cubed)
3 tablespoons butter
1 tablespoon granulated garlic
For the Vinaigrette:
2 Tablespoons Lemon juice
1 Tablespoon White wine vinegar
1 Tablespoon Dijon Mustard
1/3 cup Olive oil
1/2 Teaspoon Horseradish (optional)
1/2 teaspoon kosher salt
1/4 teaspoon freshly ground black pepper
Instructions
Preheat oven to 425
Arrange asparagus on a sheet pan and drizzle with olive oil, a good sprinkle of salt and pepper. Place on lower oven rack for 15 minutes at 425
Cut bread into 1" cubes
Heat 3 tablespoons butter in a skillet over medium heat
When butter has melted, remove the skillet from the heat, add granulated garlic
Place bread cubes on a baking sheet, and brush butter and garlic mixture on bread cubes. Toast in the preheated oven until golden, about 5 to 10 minutes; allow to cool slightly.
For the Dressing:
While the bread and asparagus are in the oven, combine the lemon juice, white wine vinegar, Dijon mustard, horseradish and salt and pepper in a jar with a lid. Add the olive oil, attach the lid and shake it vigorously until well combined. Store in the refrigerator until ready to use.
For the salad:
Combine mixed salad, asparagus pieces, tuck sliced radishes around the sides. Add toasted bread and add a drizzle of salad dressing
© 2023 Sparkles of Yum. All rights reserved. All images & content are copyright protected. Please do not use my images without prior permission. If you want to share this recipe, please provide a link back to this post for the original recipe.
Sparkles of Yum is a participant in the Amazon Services LLC Associates Program, an affiliate advertising program designed to provide a means for sites to earn advertising fees by advertising and linking to Amazon.com.