You will not believe how much flavor this Mediterranean Shrimp Skillet has. A no-guilt meal that is THIS easy to make?! Yes Please!!!
Loaded with healthy, flavorful ingredients like this juicy shrimp, garlic and fire roasted tomatoes; this Mediterranean Shrimp Skillet ups it's game by adding artichoke hearts, Kalamata olives, and a splash of white wine makes this so vibrant.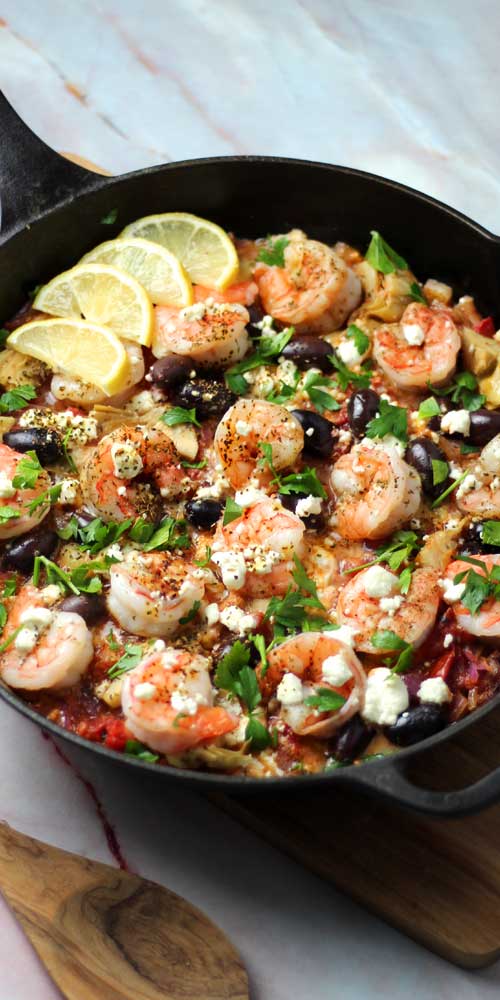 You get that little bit of char from those fire roasted tomatoes, you can certainly fire roast your own or use a can. Either way, you still get that extra bit of flavor that comes together so well with sweet shrimp and tart olives. You have a little bite of red onions with the artichoke hearts and yes even that little bit of fresh parsley loves a squeeze of that fresh lemon over the top and it all says, "Hello, we're here for the party!".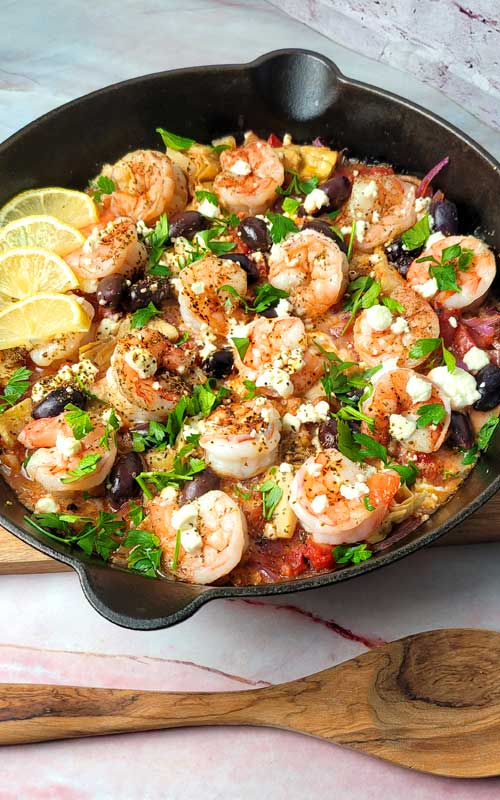 Call me for dinner already, because this is how we love to transform a blah dreary winter day. Turn up the music and pour that extra glass of wine after dinner. Now you might just have a night to remember! That's living the good life, little special moments you share over good food and good company and sharing a few good laughs.
It tastes so divine, little did I know this Mediterranean Shrimp Skillet would quickly become a family favorite!
I'll tell you a little secret… I would make this exact same recipe again and use leftover rotisserie chicken just to change it up a bit and have all those yummy flavors come out and play again.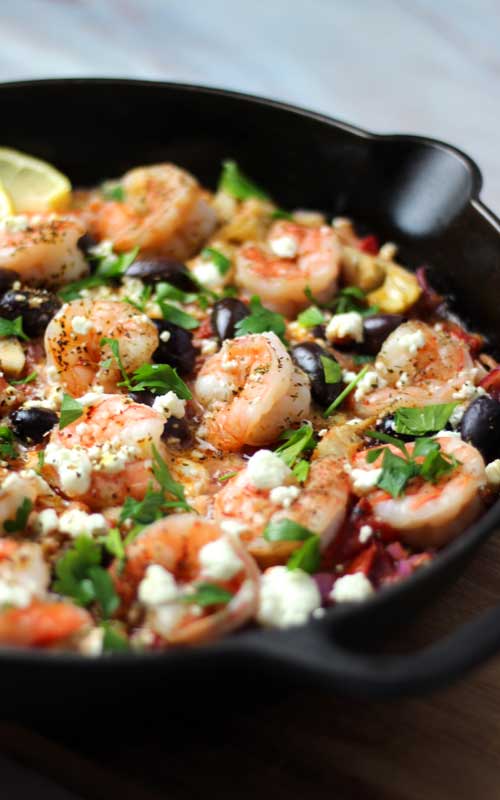 Talking about wine, we like a white wine with this Mediterranean Shrimp Skillet, but since this is Mediterranean and seafood one of these will fit the bill just fine for your wine pairing. – Pinot Noir, Chardonnay, Riesling, Rosé. There's way more information about wine pairings out there it's kind of fun to learn more about what compliments certain ingredients this is particularly for wine pairing with cooking shrimp.
Don't be intimidated by the amount of ingredients either because most of them are opening a jar, a can, and a tub of cheese crumbles.. YAY easy dinner is definitely a win in my book too. The only things you need to chop is an onion, some garlic a tiny bit of parsley and a lemon. Toss it all together it's ready to go in 20-25 minutes tops depending what you serve with it.
Mediterranean cuisine was recommended by my doctor for it's health benefits. So I'm exploring what those living by the Mediterranean Sea experience every day, and I have to say; it's bold and tasty flavors are delicious. But not to worry, I'm not giving up gravy all the way, no ma'am – no way just trying to plan ahead better and work out more.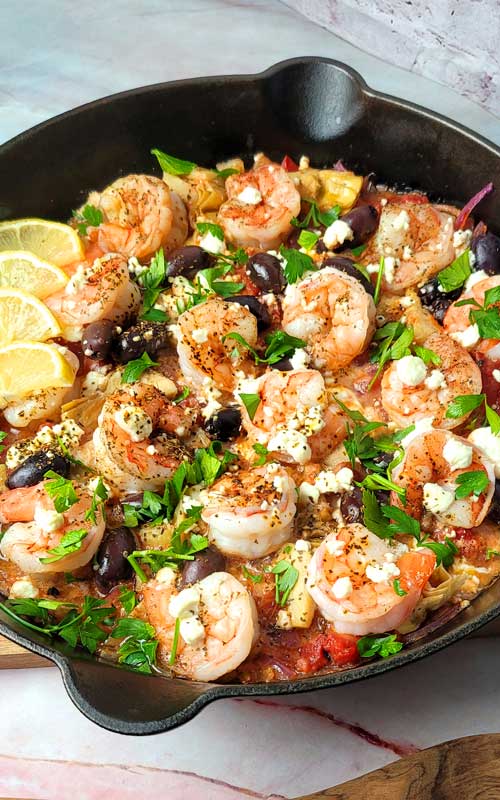 What can you serve with this Mediterranean Shrimp Skillet?
If you like a side with this you could toss this Cucumber Tomato Salad together in a couple minutes.
This Oven Roasted Asparagus recipe may just be the perfect healthy side dish. Super tender, simple, and delicious!
Of course you can always go with rice, couscous or how about something different like Greek cauliflower rice.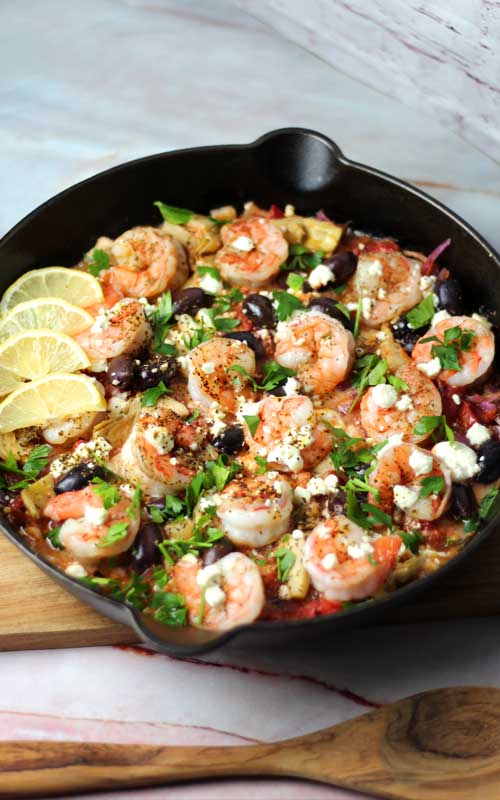 Some tips:
If you LOVE this Mediterranean Shrimp Skillet recipe, I bet you will also love to try this Garlic Butter Tuscan Shrimp in Creamy Wine Sauce OR this Skillet Grilled Seafood Paella for a taste of Spain at it's finest!
Don't forget to follow along, so you don't miss out! Did you know you can get a notification on your phone now as soon something is published? People are loving this so much, more than the emails clogging up your inbox. If you happened to not accept the notification box earlier…now is a good time to click the small bell in the corner and get signed up!
FOLLOW Sparkles of Yum ON FACEBOOK | PINTEREST | INSTAGRAM | TWITTER FOR ALL OF THE LATEST CONTENT, RECIPES AND UPDATES.
Feel free to join the Sparkles of Yum Recipe Swap Facebook group! A fun place to find and share all of your favorite recipes.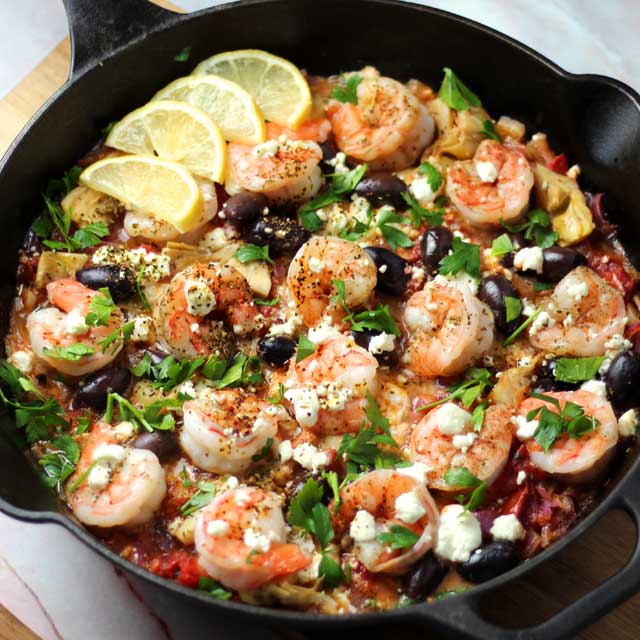 Mediterranean Shrimp Skillet
Yield: About 6 servings

Prep Time: 10 minutes

Cook Time: 20 minutes

Total Time: 30 minutes

You will not believe how much flavor this Mediterranean Shrimp Skillet has. A no-guilt meal that is THIS easy to make?! Yes Please!!!
Ingredients
1 pound Jumbo shrimp - 16/20 count per pound peeled, deveined shrimp, (fresh or frozen and thawed)
2 tablespoons extra virgin olive oil
1 small red onion chopped
3 cloves garlic minced
1 14.5-ounce can fire roasted diced tomatoes in their juices
1 8-ounce jar artichoke hearts, liquid drained
1 teaspoon dried oregano
1/2 teaspoon dried thyme
1/2 teaspoon ground cumin
1/2 cup dry white wine
1/2 cup pitted Kalamata olives
1/4 cup crumbled goat cheese or feta
2 tablespoons chopped fresh parsley
2 tablespoons fresh lemon juice
1 pinch red pepper flakes (optional)
Instructions
In a large skillet, over medium heat, add olive oil and sauté the onions, while those get going.
Add the fire roasted tomatoes, garlic, oregano, and ground cumin. Stir in the white wine.
Add the artichoke hearts and Kalamata olives.
Pat the shrimp dry and season with salt pepper and dried thyme add to skillet.
Reduce the heat to medium-low and let gently simmer for 8-10 minutes, flipping the shrimp halfway Remove from the heat and sprinkle with goat cheese or feta. Add lemon juice and serve with sliced lemons, chopped fresh parsley, and red pepper flakes if using.
Notes
The white wine can be swapped out for chicken stock if you would like.
Nutrition Information
Yield 6 Serving Size 1
Amount Per Serving Calories 351Total Fat 13gSaturated Fat 4gTrans Fat 0gUnsaturated Fat 8gCholesterol 328mgSodium 1721mgCarbohydrates 18gFiber 4gSugar 8gProtein 39g

Nutrition data was provided and calculated by Nutritionix, and should only be used as a general guideline. This information is provided as a courtesy and there is no guarantee that the information will be completely accurate.

© 2023 Sparkles of Yum. All rights reserved. All images & content are copyright protected. Please do not use my images without prior permission. If you want to share this recipe, please provide a link back to this post for the original recipe.
Sparkles of Yum is a participant in the Amazon Services LLC Associates Program, an affiliate advertising program designed to provide a means for sites to earn advertising fees by advertising and linking to Amazon.com.