This Chicken & Kale Salad with Roasted Vegetables is so good we've had it twice in the last month! Proof that healthy can be tasty too!
Packed with flavor and loaded with nutrition, this Chicken & Kale Salad with Roasted Vegetables makes having a lot more dinners at home a pleasure. It also makes trying to eat at least a few healthy meals per week not so much a challenge.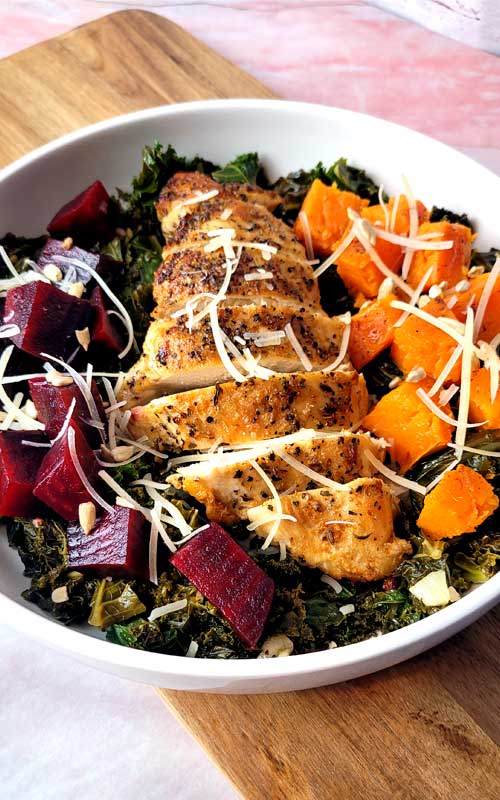 I'm going to share with you the secret to getting this beautiful, juicy, flavorful, golden brown chicken breast with no breading what-so-ever. It's so easy and simple. It just takes a little patience, that's it. Nothing fancy. I told you it was easy and simple. Just check the tips section below if you really want to see it for yourself!
In fact at least one of these pictures are on two different days.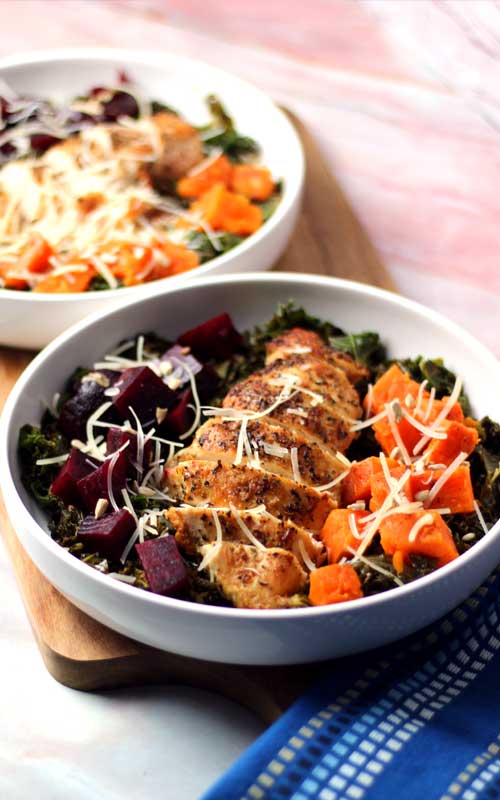 Plus this salad is so so pretty with all of the bright colors from the sweet potatoes and beets, the golden brown juicy chicken, all on a bed of warm sautéed peppered kale, and a little drizzle of a super simple Dijon vinaigrette. It makes you feel good inside like your doing a good deed for yourself and the loved ones you are cooking for.
Besides how good it is, it's so easy, it just takes a little planning ahead. If you do any meal prepping you can roast your beets and sweet potatoes in the oven over the weekend, or a day a head and re-heat in the microwave. Or put in the instant pot if you like that method better. I've done both ways, either way I suggest letting them cool a few minutes before slicing.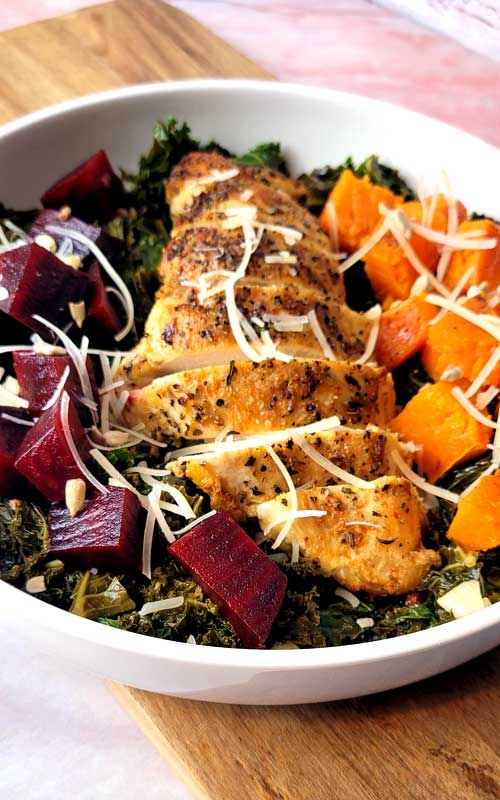 What can you serve with this Chicken and Kale Salad with Roasted Vegetables?
This Chicken & Kale Salad with Roasted Vegetables makes a complete meal on it's own. You have your protein and veggies. Maybe some wild rice or quinoa would be good.
Unless, of course you want a little dessert because you are eating so healthy. Can I tempt you with a little Strawberry Banana Trifle, or how about a small batch of Apple Dumplings.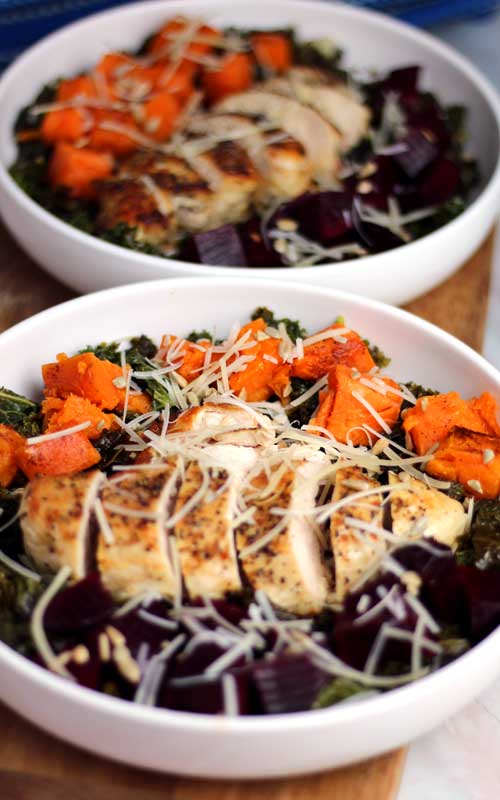 Some tips:
You'll want to start the beets and sweet potatoes first because they actually take a little longer to cook than the chicken does and you'll need to preheat the oven.
For the chicken:
The trick to a nice golden brown juicy chicken breast without any breading is patience. Get a heavy cast iron skillet nice and hot, put the oil in. Pat the chicken dry with paper towels, sprinkle with some kosher salt, and set aside a few minutes while you getting the skillet ready and setting up what other things your making. Then pat the chicken dry again and season with Montreal seasoning on both sides.
Now when the oil shimmers lay the chicken in the sizzling oil and leave them be. Do NOT touch them for at least 4-5 minutes. Now just give one a little nudge it should release easily, that tells you it's ready to flip. If it resists, let it go another minute or so.
When you flip it same thing let it do it's thing. You can insert a thermometer to make sure you don't overcook it that's when you get dry chicken. You want to get the chicken out of the skillet and onto the cutting board at about 160F. The chicken will reach 165F by the time it rests for 5-10 minutes.
For the Kale:
Kale is one of those love it or hate things, but we all know it is packed with nutrients. If you have a loved one that doesn't like it maybe you can let them know there is a lot of health benefits to eating kale. If you'd like to research more about how good kale is for you check out this link: vitamins and minerals of kale. My eye doctor said eat more kale to protect against macular degeneration and cataracts. My regular doctor also says eat more dark leafy greens.
If you don't want the kale warm and sautéed; you can massage the kale with olive oil for a minute or two until all the leaves are coated. It helps to break down the toughness of the kale and makes it less bitter.
You can use whatever kind of kale you like best, just pull away the thick middle stem and discard it. Roll the leaves as best and as tightly as you can, chopping thin strips like a chiffonade cut.
This recipe calls for 1-2 bunches of kale because some stores the bunches are small and some are huge. We are wanting about 4 cups once the stems and removed and it's chopped. Kale does shrink and wilt once in the skillet; so if it doesn't all fit at first you can either do in batches or just slide the warm kale to the other side of the skillet and flip it to the top of the newer kale.
For the beets:
I roast the beets with the skins on and wrapped in foil.
If you cut them in half or quartered they take less time to cook than when they are whole. A nice size whole beet can take 50 minutes to an hour.
You can also use precooked beets if you like; jarred, canned, or Costco sells organic whole peeled cooked beets in a vacuum packed that are excellent (I do not get paid if you buy these…I just think they are very good.).
For the Sweet Potatoes:
Just slice your sweet potatoes in half, rub a little olive oil on, and roast face down on aluminum foil 25-30 minutes. The skin lifts right off when they're done. Just let them cool a few minutes then cut into about 1 inch bite size pieces. Sometimes I'll sprinkle a pinch of paprika over them.
Montreal Seasoning: If you can't find it or don't have it you can order it from Amazon or make your own it's a blend of a bunch of herbs and spices Meggan at Culinary Hill made a copy cat version Montreal Seasoning that has 5 stars!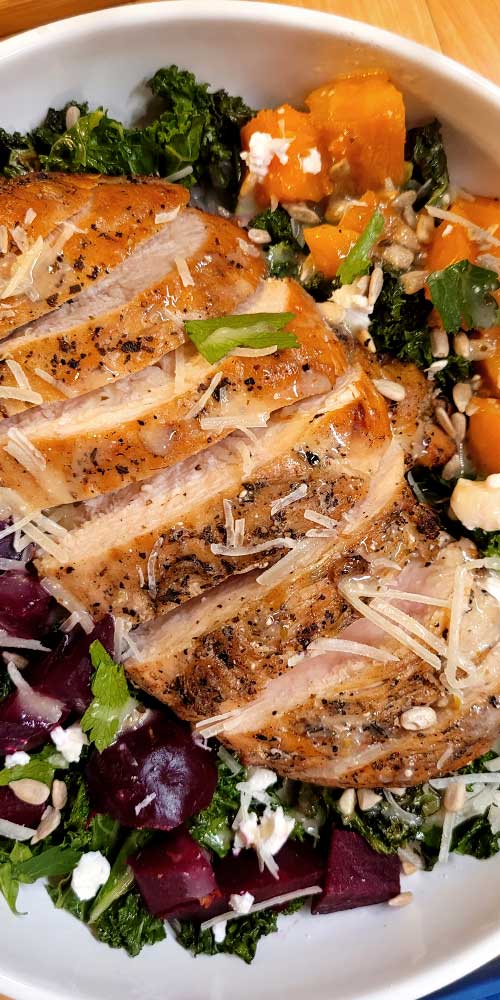 If you LOVE this Chicken and Kale Salad with Roasted Vegetables recipe, try this Stuffed Butternut Squash with Chicken and Rice OR this Summer Strawberry Spinach Salad with Chicken!
Don't forget to follow along, so you don't miss out! Did you know you can get a notification on your phone now as soon something is published? People are loving this so much, more than the emails clogging up your inbox. If you happened to not accept the notification box earlier…now is a good time to click the small bell in the corner and get signed up!
FOLLOW Sparkles of Yum ON FACEBOOK | PINTEREST | INSTAGRAM | TWITTER FOR ALL OF THE LATEST CONTENT, RECIPES AND UPDATES.
Feel free to join the Sparkles of Yum Recipe Swap Facebook group! A fun place to find and share all of your favorite recipes.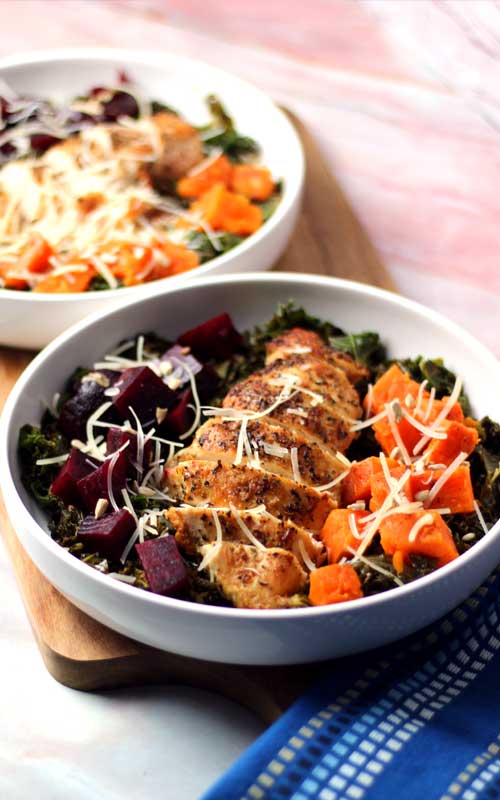 Chicken & Kale Salad with Roasted Vegetables
This Chicken & Kale Salad with Roasted Vegetables is so good we've had it twice in the last month! Proof that healthy can be tasty too!
Ingredients
2 boneless skinless chicken breasts
2 beets
2 sweet potatoes
1-2 bunches kale (about 4 cups washed & chopped)
1 tablespoon Montreal Seasoning
3 tablespoons Olive oil (divided)
1/2 teaspoon dried thyme
1/4 cup Parmesan
2 tablespoons sunflower seeds (optional)
1/4 cup crumbled goat cheese or feta cheese (optional)
Parsley (optional)
For the Dijon Dressing:
3 tablespoons extra virgin olive oil
2 tablespoons apple cider vinegar
1 tablespoon Dijon mustard
1 teaspoon honey
sea salt & pepper to taste
Instructions
For the Sweet Potatoes and Beets:
Preheat oven to 400 degrees. Cut sweet potatoes in half and rub with a little of olive oil sprinkle a little salt and pepper and place face down in a baking dish or sheet pan with parchment paper.
Bake for 25-30 minutes You can tell when they're done by sticking a tooth pick in it should be tender all the way through or give it a squeeze, should feel soft.
Cut the beets in half and wrap the beets in tinfoil and place on sheet pan with the sweet potatoes, they may take a few minutes longer to cook depending on the size a knife should slide through easily when they're done. The peel will slide off paper towels, you might want to use some rubber gloves the juice will stain. When cooled, chop into bite size pieces.
While those are cooking pat the chicken dry and season on both sides with Montreal seasoning. Set aside for a few minutes. Heat of large heavy skillet like cast iron to medium high, with 2 tablespoons olive oil. Once the skillet is hot, place chicken breasts in the skillet and don't touch it for a good 4-5 minutes so you get that nice golden brown sear when it's ready to turn it should release easily to flip to the other side for another 4-5 minutes. You can use a meat thermometer to make sure it's 165.
Cooking time will always depend on the thickness of the chicken breasts.
When finished, transfer chicken breasts to a cutting board. Let rest for 5 minutes, then slice and serve.
Strip the leaves from the stems of the kale, and then roll up the leaves and chop them into thin strips.
Return the sauté pan over medium heat and add a tablespoon of olive oil and add the kale and cook, stirring occasionally until the kale wilts. about 3 minutes. Season with pepper and remove from heat.
Make the honey garlic Dijon sauce. In a small bowl, combine olive oil, vinegar, Dijon mustard, honey, and salt & pepper. Whisk until combined.
Start with the Kale on the bottom, slice the chicken and lay across the center and spread the sweet potato along one side and the beets along the other side with parmesan and sunflower seeds then top with the dressing and you have a beautiful healthy dinner. Enjoy!
© 2023 Sparkles of Yum. All rights reserved. All images & content are copyright protected. Please do not use my images without prior permission. If you want to share this recipe, please provide a link back to this post for the original recipe.
Sparkles of Yum is a participant in the Amazon Services LLC Associates Program, an affiliate advertising program designed to provide a means for sites to earn advertising fees by advertising and linking to Amazon.com.