A deliciously snackable finger food, these Keto Bacon Wrapped Buffalo Chicken Tenders are perfect for any get together; be it the big game, family celebration, or even a shower.
We packed these incredible little Keto Bacon Wrapped Buffalo Chicken Tenders full of smoky spicy flavor. The little bacon wrap just added to that and keeps the chicken so juicy.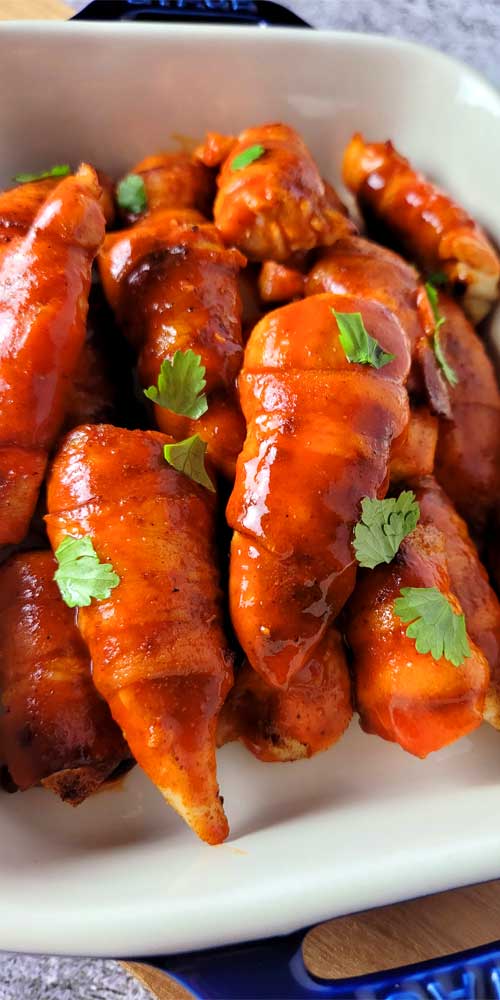 Anyone trying to keep the carbs in check they will love you for thinking of them if you were to serve these Keto Bacon Wrapped Buffalo Chicken Tenders. They know the challenge you faced coming up with the perfect low carb recipe to help them keep those pesky carbs in check. What they won't know is how quick and easy this dish is to prepare.
There's no fussing with breading just sprinkle some seasoning wrap with bacon, pop in the oven, and brush on your sauce.
Plus, this method is so much more affordable than ordering out or buying a bag that is already seasoned. Those bags are also not the best because you have no control over the amount of sodium or preservatives your getting in your food.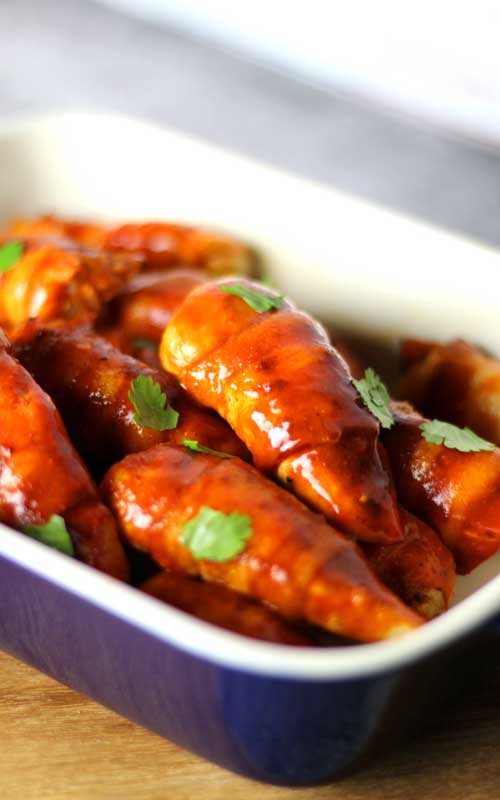 Now a major question is, "How many appetizers is enough when entertaining?" I personally like to put out a good variety, and usually wayyy more than I need to.
According to What's Cooking America: "A fairly standard formula is used among caterers to figure out how many appetizers are needed from each recipe. 12 pieces per person times the number of people divided by the number of different appetizers."
If the guest list has fewer than 45 people, plan on using roughly 6 different appetizers. For more than 45 guests, approximately 8 different appetizers. The rule of thumb for smaller gatherings is that 3 types of appetizers are suitable for 8 to 10 guests; 4 or 5 types of appetizers for 14 to 16 people.
What can you serve with this Keto Bacon Wrapped Buffalo Chicken Tenders?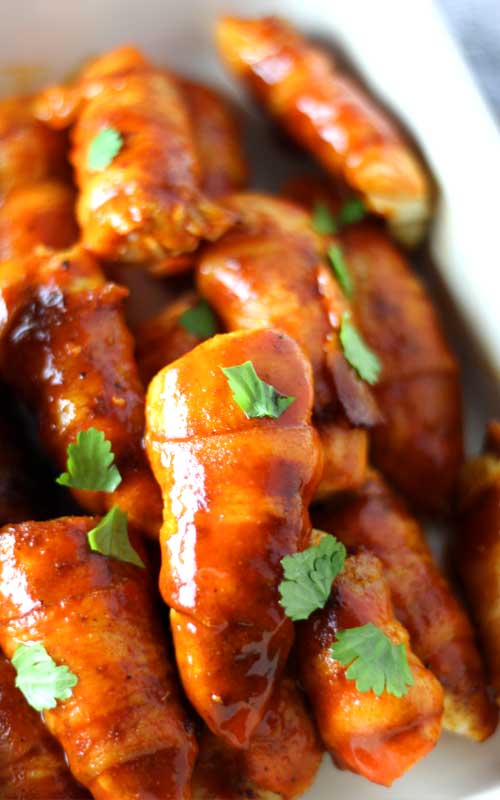 Is there a difference between chicken tenders and strips?
Tenders are the smaller outside muscle of the breast meat. Strips are the other slightly tougher side. A chicken breast has 1 small section, that is used for chicken tenders. Fingers and strips can just be the rest of the chicken breast cut to size and shape.
Are chicken tenders better than chicken nuggets?
While primarily breast meat, nuggets can be made from chopped and formed from different parts of the chicken, while tenders are solid strips of poultry breast meat. If you find a quality nuggets from a high-quality, smaller company," it'll be less "cheap meal products" and more like actual "breast meat cut into chunks."
If you LOVE this Keto Bacon Wrapped Buffalo Chicken Tenders recipe, try this Crispy Baked Wings 3 Ways OR this Beer Cheese Buffalo Bites recipe!
Don't forget to follow along, so you don't miss out! Did you know you can get a notification on your phone now as soon something is published? People are loving this so much, more than the emails clogging up your inbox. If you happened to not accept the notification box earlier…now is a good time to click the small bell in the corner and get signed up!
FOLLOW Sparkles of Yum ON FACEBOOK | PINTEREST | INSTAGRAM | TWITTER FOR ALL OF THE LATEST CONTENT, RECIPES AND UPDATES.
Feel free to join the Sparkles of Yum Recipe Swap Facebook group! A fun place to find and share all of your favorite recipes.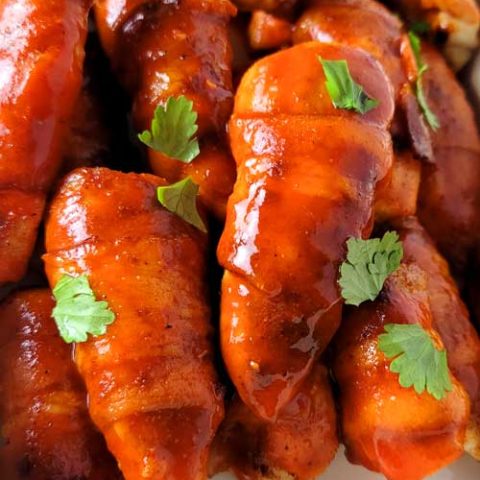 Keto Bacon Wrapped Buffalo Chicken Tenders
A perfectly snackable finger food, these Keto Bacon Wrapped Buffalo Chicken Tenders are perfect for any get together; be it the big game, family celebration, or even a shower.
Ingredients
2 lbs chicken tenders or chicken breast cut into 4" long strips.
1 lb bacon cut in 1/3 pieces (long enough to wrap the chicken)
1 teaspoon Montreal seasoning
1 teaspoon smoked paprika
1/4 teaspoon cayenne pepper
1 cup hot wing sauce (we prefer Frank's)
1/4 cup butter (melted)
pinch of cilantro or parsley for garnish (optional)
Instructions
Preheat oven to 375 degrees. Line a baking sheet with parchment paper or foil and sprayed with a non-stick cooking spray.
In a bowl add the Montreal seasoning, smoked paprika, cayenne pepper.
Wrap each chicken strip in a strip of bacon and place baking sheet.
Sprinkle the seasoning mixture over chicken pieces.
Cook for 25 minutes. While that's in the oven..
Melt the butter in a small saucepan over medium-low heat until hot and melted then mix in the wing sauce. Brush the Bacon wrapped Chicken with the sauce about halfway through cooking then back in the oven to finish cooking until the chicken reaches an internal temperature of 165 degrees.
Nutrition Information
Yield

20
Serving Size

1 tender
Amount Per Serving
Calories

275
Total Fat

18g
Saturated Fat

6g
Trans Fat

0g
Unsaturated Fat

11g
Cholesterol

55mg
Carbohydrates

9g
Fiber

1g
Sugar

0g
Protein

18g
Nutrition data was provided and calculated by Nutritionix, and should only be used as a general guideline. This information is provided as a courtesy and there is no guarantee that the information will be completely accurate.
© 2023 Sparkles of Yum. All rights reserved. All images & content are copyright protected. Please do not use my images without prior permission. If you want to share this recipe, please provide a link back to this post for the original recipe.
Sparkles of Yum is a participant in the Amazon Services LLC Associates Program, an affiliate advertising program designed to provide a means for sites to earn advertising fees by advertising and linking to Amazon.com.