No knife needed, spoon tender, and so much flavor. You can't go wrong with this Instant Pot Beef Bourguignon, and it's EASY.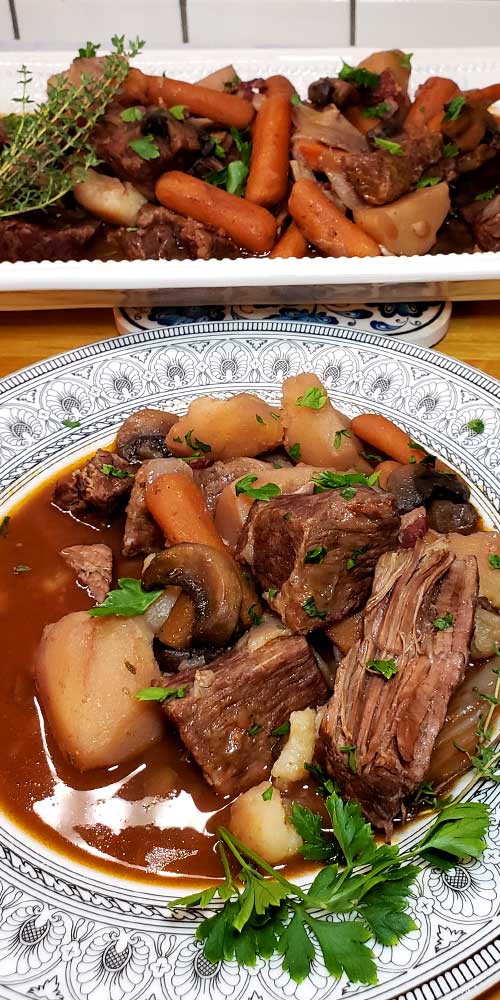 Another classic Julia Child recipe that will knock your socks off. If you've never tried it in a Instant Pot, it goes so much faster, you can make this for dinner on a weeknight.
It tasted so good right out of the Instant Pot. I didn't even bother to thicken the gravy, and I'm pretty much known for a good thick gravy, but it was so good it just wasn't really necessary in my opinion. But you can thicken it if you really want to with just 3 tablespoons cornstarch to 2 cups of this yummy wine broth.
Perfect comfort food for cold weather and it is a prerequisite to drink wine while cooking, because that's what Julia would do, so just keeping with tradition; pour yourself an extra glass!
If you want a similar recipe to this one without chopping the roast into piece, I recommend you try this Fancy Yankee Pot Roast or for a no fail pork tenderloin with a silky gravy be sure to try Trisha Yearwood Pork Tenderloin.
Just so we don't forget about the chicken, here's another favorite Julia Child recipe for Coq Au Vin, which also has a good wine broth we absolutely loved.
And Speaking of Julia Child…here are a few facts that you may not have known about her:
Julia was 6'2″, and played sports all through high school and college
She grew up in a wealthy family that had a private chef, and did not learn to cook until after she was married
Julia served in the Office of Strategic Services (which would later become the CIA) during World War II (This would also be where she would eventually meet her husband, Paul)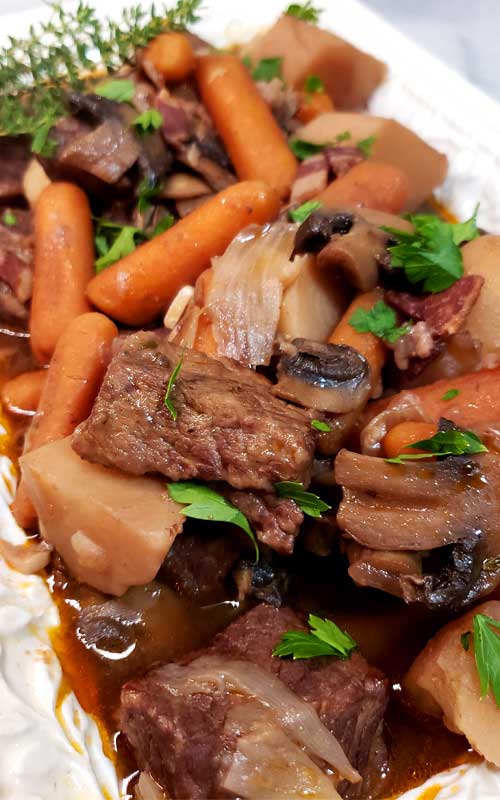 What can you serve with this Instant Pot Beef Bourguignon?
As you have your meat and veggies cooked together in your Instant Pot, there is really no need for additional sides, unless you want them.
Some good bread, and a glass of red wine would pair very well here.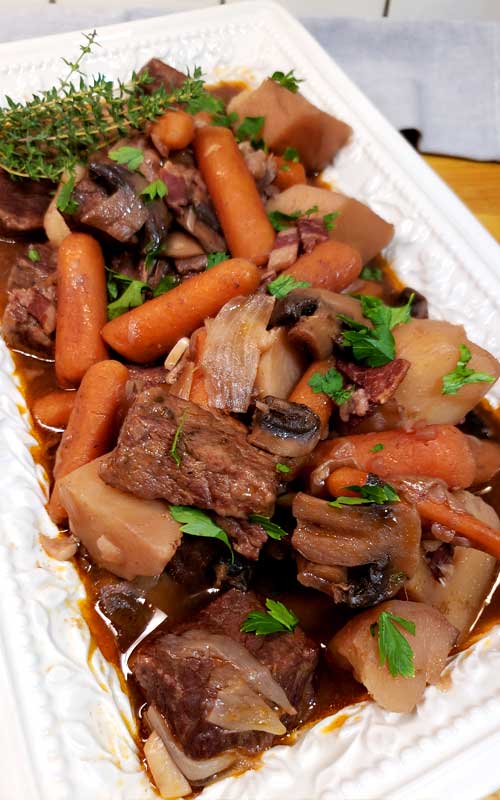 Some tips:
When choosing what wine to use, be sure to grab a bottle of something you enjoy drinking!
There is no need to thicken the gravy. However, if you really want to, simply stir together 3 tablespoons cornstarch and 2 cups of the wine broth from your Instant Pot.
If you LOVE this Instant Pot Beef Bourguignon recipe, try this Fancy Yankee Pot Roast OR this Coq Au Vin, another Julia Child favorite!
Don't forget to follow along, so you don't miss out! Did you know you can get a notification on your phone now as soon something is published? People are loving this so much, more than the emails clogging up your inbox. If you happened to not accept the notification box earlier…now is a good time to click the small bell in the corner and get signed up!
FOLLOW Sparkles of Yum ON FACEBOOK | PINTEREST | INSTAGRAM | TWITTER FOR ALL OF THE LATEST CONTENT, RECIPES AND UPDATES.
Feel free to join the Sparkles of Yum Recipe Swap Facebook group! A fun place to find and share all of your favorite recipes.
Instant Pot Beef Bourguignon
Yield: 4-6 servings

Prep Time: 10 minutes

Cook Time: 40 minutes

Additional Time: 10 minutes

Total Time: 1 hour

No knife needed, spoon tender, and so much flavor. You can't go wrong with this Instant Pot Beef Bourguignon, and it's EASY.
Ingredients
1/4 cup all-purpose flour
1/2 teaspoon salt
1 teaspoon black pepper freshly ground
2-2 1/2 pounds chuck beef roast cut into 1-inch cubes, stew meat or bottom round roast also work well
2 bacon slices diced
2 tablespoons oil
1 1/2 cup good dry red wine, such as Chianti or Pinot Noir
10 1/2 ounce beef broth (1 can)
3 cups baby carrots
4 russet potatoes, quartered (optional)
2 cups baby Bella mushrooms sliced
1 bunch fresh thyme or 1 teaspoon dried thyme
1 teaspoon Italian seasoning
6 shallots halved or a jar pearl onions (drained)
4 garlic cloves, thinly sliced
1 Tablespoon tomato paste
2 tablespoons Worcestershire sauce
2 bay leaves
2 tablespoons minced fresh Italian parsley (optional)
salt and pepper to taste
Instructions
Combine flour, salt, and pepper and coat all sides beef cubes, either in a bowl or shake in a large zip top bag.
Sauté bacon in cooker, and cook, stirring constantly, so you get enough bacon fat to add the beef cubes. Remove the bacon and set aside. (If you need to, add 2 tablespoons more oil).
Brown the outside of the beef cubes in batches turning to seal the juices in (about 3 minutes) transfer seared beef to a plate and set aside.
Add the garlic and tomato paste and sauté for a minute. Add the wine and stir to deglaze and stir up any little brown bits. Let it come to a simmer and cook for about 3 to 4 minutes, until wine is slightly reduced.
Add the beef broth, Worcestershire sauce, thyme, Italian seasoning, bay leaves, and reserved seared beef, along with all the bacon, carrots, shallots, potatoes and mushrooms.
Add the lid and secure to lock position and put vent valve in closed position. Select Meat/Stew - high pressure and set for 25 minutes cook time. (Not counting amount of time for building pressure)
Allow the pressure to release naturally for 8-10 minutes. Using tongs or long handle spoon, open the vent valve and allow and remaining steam to escape (for Instant Pot, turn the valve from sealing to venting to release the pressure).
Remove bay leaves, taste, and season with additional salt and pepper if needed and garnish with fresh parsley, if desired.
Nutrition Information
Yield 6 Serving Size 1
Amount Per Serving Calories 824Total Fat 25gSaturated Fat 8gTrans Fat 1gUnsaturated Fat 15gCholesterol 234mgSodium 750mgCarbohydrates 49gFiber 7gSugar 10gProtein 82g

Nutrition data was provided and calculated by Nutritionix, and should only be used as a general guideline. This information is provided as a courtesy and there is no guarantee that the information will be completely accurate.

© 2023 Sparkles of Yum. All rights reserved. All images & content are copyright protected. Please do not use my images without prior permission. If you want to share this recipe, please provide a link back to this post for the original recipe.
Sparkles of Yum is a participant in the Amazon Services LLC Associates Program, an affiliate advertising program designed to provide a means for sites to earn advertising fees by advertising and linking to Amazon.com.