These Grilled Lemon Garlic Pork Chops were so fantastic! They were the superstar of our cookout! The lemon garlic marinade makes for the most juicy and tender chops around.
I put these Grilled Lemon Garlic Pork Chops on a bed of arugula and it was a match made in heaven, the peppery arugula and grilled lemon on the side was dinner perfection!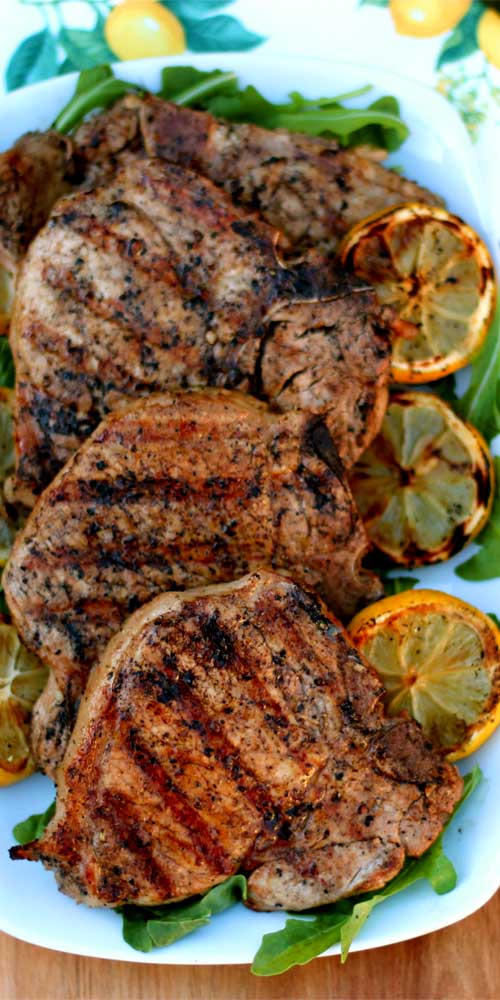 Every last bite had scrumptious lemony garlic flavors. I was hooked from the first bite to the last!
We were blessed with some awesome weather for a change around here. So the old grill is getting a workout from Mr. Yum who's become quite the grill master. I haven't touched the grill in years and he loves it.
He's got the timing down for letting the charcoals burn to get a good ash covering, he uses a charcoal chimney starter and always Kingsford professional charcoal. Depending on what's cooking and how long it might take will determine how much charcoal you'll need.
Now, I realize not everyone has a charcoal grill, others might find it too much of a hassle to light the charcoal. There are still ways to turn your gas grill into tasting like it's been smoking on the grill with a smoker box and some wood chips made just for smoking meat to get the most flavor possible.
If you don't have a way to cook outside, hopefully you can put it on your goals list for the future. But for now, you can still make this awesome Lemon Garlic Pork Chops on the stove top, just marinate as the instructions say and put a little oil in a skillet and cook through as per instructions below. It is almost made the exact same way if you'd like to put in the oven, that will work as well. You will find instructions for both of these methods below.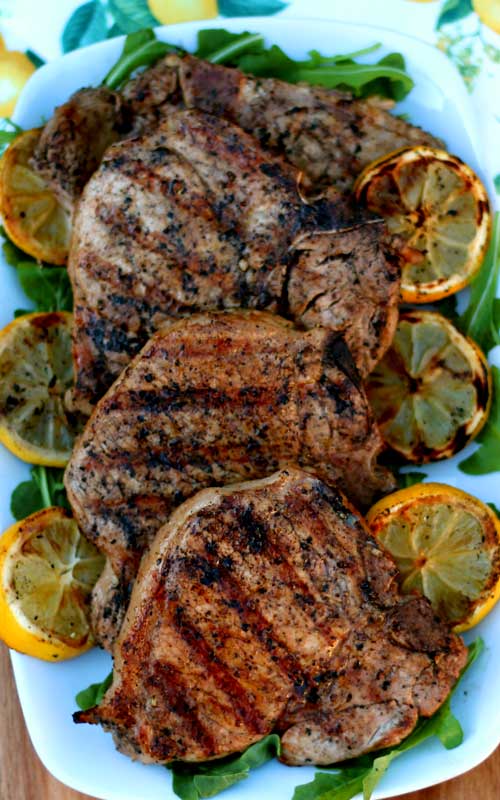 What can you serve with this Grilled Lemon Garlic Pork Chops?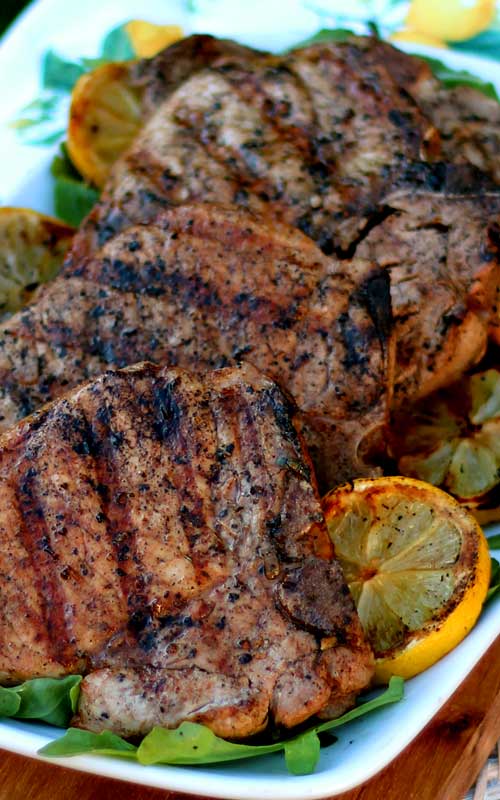 Food Safety for Pork:
When ready to prepare, the pork can be set out to be near room temperature, not cold straight from the fridge, so remove it about 30 minutes or so, still covered, and set in a cool place.
Make sure to rest your meat before slicing. Resting your meat will allow the meat to cool a bit, retaining the juices, and providing a more tender and flavorful dish.
The National Pork Board recommends cooking Pork to 145 degrees Fahrenheit
What is the best way to thaw frozen pork? The best way to defrost pork is in the refrigerator in its wrapping. 3-5 hours per pound in the refrigerator works best.
Can pork be refrozen if it has thawed? According to the USDA, once the food is thawed in the refrigerator, it is safe to refreeze it without cooking, although there may be a loss of quality due to the moisture lost through defrosting. After cooking raw foods which were previously frozen, it is safe to freeze the cooked food.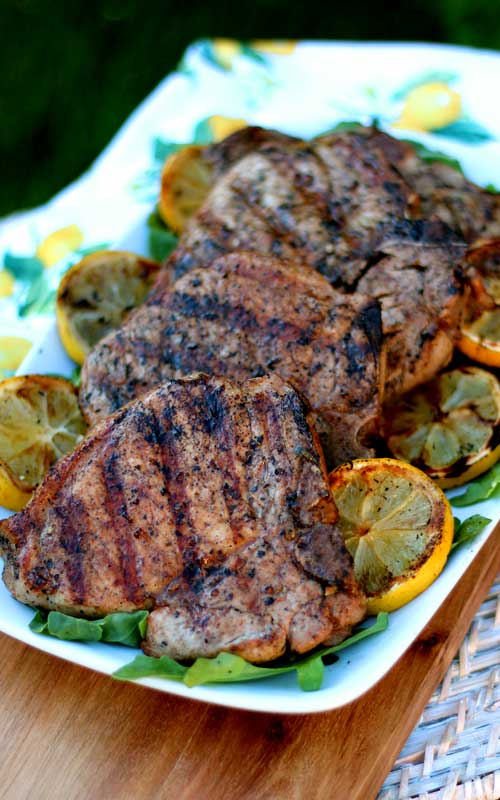 Some tips:
I do recommend massaging the marinade into the meat to press gently on the garlic and herbs kind of rubbing the flavors into the meat.
I don't recommend marinating this longer than 4 hours, the acid in the lemons would start to break down the meat and change the texture to an unpleasant mealy consistency.
Any acidic liquid will help tenderize meat and also infuse flavor. This include wine, vinegar, and acidic fruit juice like pineapple, lemon, lime, and orange. Just cover the meat with the marinade and place in the fridge for a couple of hours.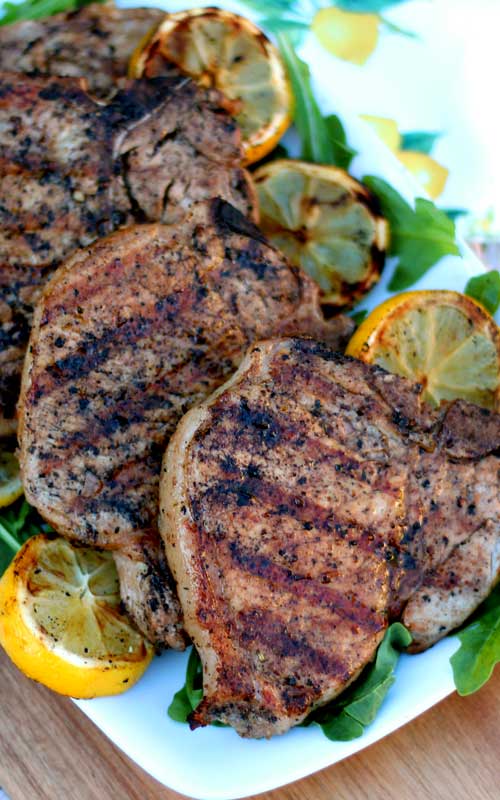 Don't forget to follow along, so you don't miss out! Did you know you can get a notification on your phone now as soon something is published? People are loving this so much, more than the emails clogging up your inbox. If you happened to not accept the notification box earlier…now is a good time to click the small bell in the corner and get signed up!
FOLLOW Sparkles of Yum ON FACEBOOK | PINTEREST | INSTAGRAM | TWITTER FOR ALL OF THE LATEST CONTENT, RECIPES AND UPDATES.
Feel free to join the Sparkles of Yum Recipe Swap Facebook group! A fun place to find and share all of your favorite recipes.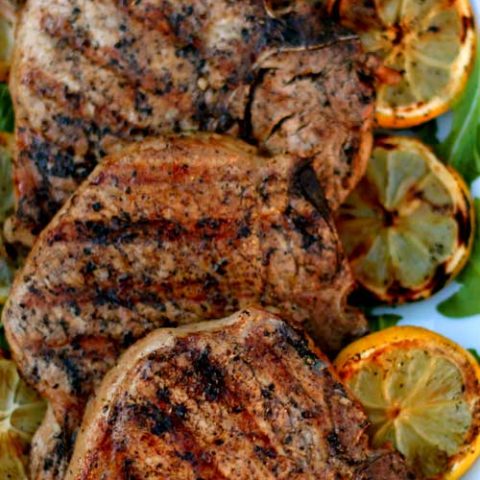 Grilled Lemon Garlic Pork Chops
These Grilled Lemon Garlic Pork Chops were so fantastic! They were the superstar of our cookout! The lemon garlic marinade makes for the most juicy and tender chops around.
Ingredients
4-6 Pork Chops (I used bone in center cut pork chops)
salt and fresh cracked pepper
Marinade
1/4 cup lemon juice (from 2-3 lemons) + a little zest
1/4 cup Olive Oil
3-4 cloves garlic, minced
1/2 teaspoon Italian seasoning (oregano, rosemary, basil or thyme will work as well)
2 tablespoons Soy Sauce (I use low sodium)
Instructions
Instructions for Grill:
In a medium bowl, mix lemon juice, olive oil, minced garlic, Italian seasoning and soy sauce together. Pour marinade over pork chops in a large zip top bag or covered baking dish and place in the refrigerator for 1-4 hours.
Lightly oil the grill grate. Preheat an outdoor grill for high heat. Remove chops from bag, and transfer remaining marinade to a saucepan. Bring marinade to a boil, remove from heat, and set aside.
Grill pork chops for 3 minutes per side on high heat, move to low heat side basting frequently with boiled marinade, until done when the juices run clear or register at 145 on a thermometer. Let meat stand for 5 minutes before serving.
Instructions for Stove top:
Heat a heavy skillet over medium-high heat. Add 2 tablespoons oil and let heat up, but not smoke.
Shake off or pat pork chops with paper towel to remove excess marinade. Place pork chops in skillet and cook about 4 minutes then turn and let cook till internal temperature of 145 or the juices run clear. Let rest about 5 minutes before serving.
Instructions for oven:
Preheat oven to 375 degrees F. Heat a heavy oven safe skillet over medium-high heat. Add 2 tablespoons oil and let heat up, but not smoke.
Shake off or pat pork chops with paper towel to remove excess marinade. Sear each side of chops for at least a couple minutes on each side (until brown on both sides, for flavor and color then)
Transfer to oven and cook until internal temperature reaches 145 degrees or the juices runs clear, about 25 minutes for a thick pork chop.

Nutrition Information
Yield 6 Serving Size 1 pork chop
Amount Per Serving Calories 417Total Fat 26gSaturated Fat 7gTrans Fat 0gUnsaturated Fat 16gCholesterol 132mgSodium 476mgCarbohydrates 2gFiber 0gSugar 0gProtein 41g

Nutrition data was provided and calculated by Nutritionix, and should only be used as a general guideline. This information is provided as a courtesy and there is no guarantee that the information will be completely accurate.

© 2023 Sparkles of Yum. All rights reserved. All images & content are copyright protected. Please do not use my images without prior permission. If you want to share this recipe, please provide a link back to this post for the original recipe.
Sparkles of Yum is a participant in the Amazon Services LLC Associates Program, an affiliate advertising program designed to provide a means for sites to earn advertising fees by advertising and linking to Amazon.com.