Creamy Cajun Shrimp and Sausage Pasta, is a celebration of flavors in one outstanding dish. I totally thought it tasted like I had ordered from a restaurant. This sauce is absolute Cajun heaven!
This Creamy Cajun Shrimp and Sausage Pasta comes together so quick it's perfect for a weeknight meal, but fancy enough to serve guests as well.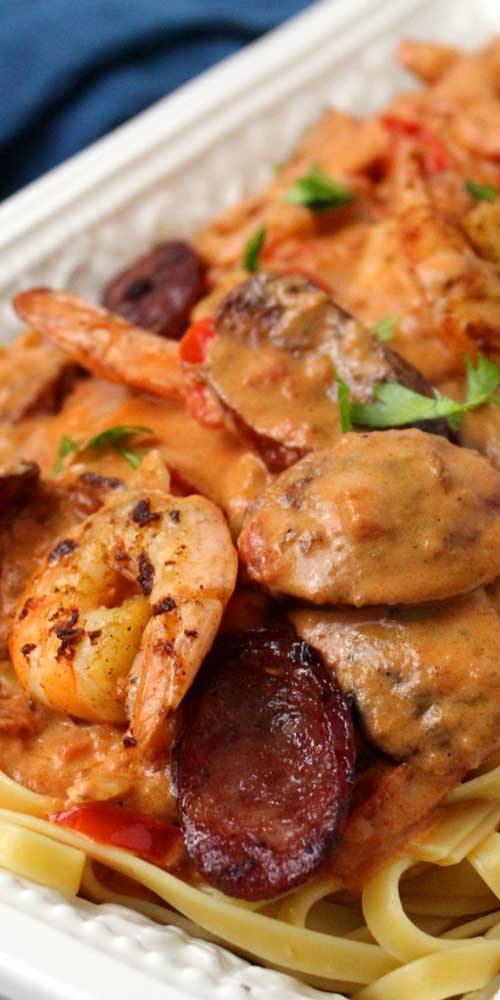 You can make this Creamy Cajun Shrimp and Sausage Pasta spicy or not, it really is your preference. But if you're a lover of real Andouille sausage, you don't mind a little kick; and if you like even more of a kick, you can always add some red pepper flakes and a couple dashes of hot sauce to top if off.
This sauce comes out so creamy without even making a roux, so no need to worry that it's too complicated. Basically, this is a two pot dish, so not that much clean up time either. Boil the pasta like normal, brown a few vegetables, the sausage is already smoked (but we like to brown it a little), the shrimp takes only a few minutes and the sauce comes together in hardly no time.
So you've got an impressive dinner on the table whether your celebrating Mardi Gras, or just trying to come up with something different than the same ole thing.
The pasta can be your choice, but I like a thicker type noodle with this, because the sauce is so thick and creamy it deserves a thicker noodle. If you don't have fettuccine or linguine, a penne would work too.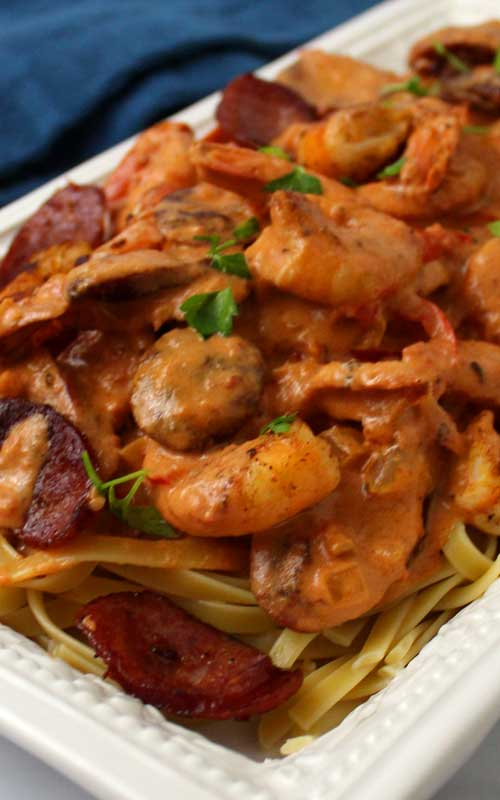 What can you serve with this Creamy Cajun Shrimp and Sausage Pasta?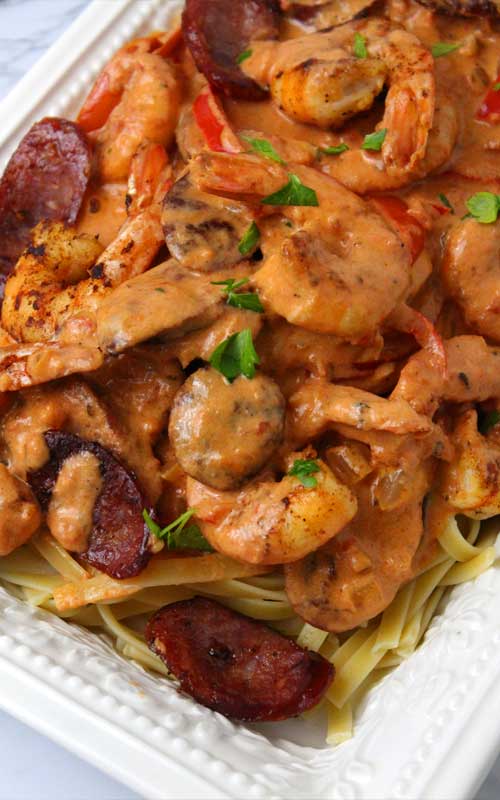 Some tips:
You can use smoked sausage instead of Andouille if you can't find it.
If you get Andouille from a good butcher shop it will be spicy.
If you use Johnsonville, it's not very spicy at all. So if you like spicy, you might want to add red pepper flakes and a couple dashes of cayenne pepper, or Crystals Hot Sauce
If you LOVE this Creamy Cajun Shrimp and Sausage Pasta recipe, try this Authentic New Orleans Cajun Gumbo OR this New Orleans Barbeque Shrimp!
Don't forget to follow along, so you don't miss out! Did you know you can get a notification on your phone now as soon something is published? People are loving this so much, more than the emails clogging up your inbox. If you happened to not accept the notification box earlier…now is a good time to click the small bell in the corner and get signed up!
FOLLOW Sparkles of Yum ON FACEBOOK | PINTEREST | INSTAGRAM | TWITTER FOR ALL OF THE LATEST CONTENT, RECIPES AND UPDATES.
Feel free to join the Sparkles of Yum Recipe Swap Facebook group! A fun place to find and share all of your favorite recipes.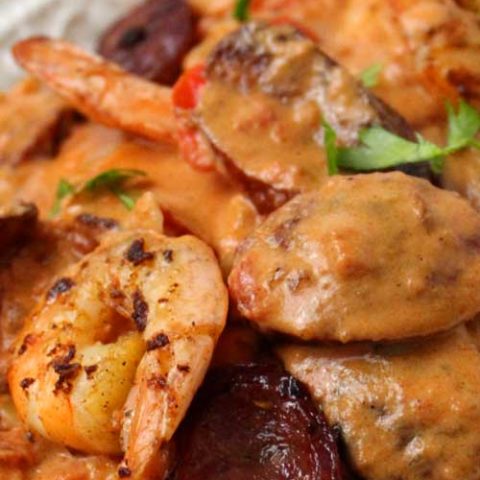 Creamy Cajun Shrimp and Sausage Pasta
Yield: 6 servings

Prep Time: 15 minutes

Cook Time: 20 minutes

Total Time: 35 minutes

Creamy Cajun Shrimp and Sausage Pasta, is a celebration of flavors in one outstanding dish. I totally thought it tasted like I had ordered from a restaurant. This sauce is absolute Cajun heaven!
Ingredients
12 ounces uncooked pasta (I used fettuccine)
2 tablespoons olive oil
1 lb Andouille Sausage
1 pound large shrimp (For this I used frozen deveined. If using fresh clean and devein)
1 bell peppers, thinly sliced (I used a red bell pepper)
1 small onion, peeled and diced
Creamy Cajun Alfredo Sauce Ingredients:
2 tablespoons olive oil or butter
4 large cloves garlic, minced or pressed
1 tablespoon sugar
1 cup chicken broth
1 15 oz can crushed tomatoes
1 1 1/2 cup heavy cream
1/4 cup Parmesan cheese
2 tablespoons Cajun seasoning, homemade or store-bought (divided using a pinch to season the shrimp)
1 teaspoon fresh thyme or 1/2 teaspoon dried thyme
salt and fresh cracked black pepper, to taste
1 tablespoon chopped fresh parsley for garnish (optional)
Instructions
Cook the fettuccine according to the package instructions, and keep warm.
Cut the sausage into 1/4" -1/2" chunk size slightly diagonal. Season shrimp with salt and pepper and a pinch of Cajun seasoning.
In a large skillet over medium heat, heat olive oil, add onion and bell pepper. When the onion is almost translucent, about 3 minutes then add garlic. Remove and set aside.
Add sausage to brown and set aside. Pour out any excess grease leaving about 1 tablespoon, add the shrimp and cook until pink, curled and cooked through, about 2 minutes per side, then transfer to a plate.
Add chicken broth, stirring and scraping up any brown bits from bottom of pan. Add crushed tomatoes, sugar, remaining Cajun seasoning, thyme and heavy cream then turn down to a simmer.
Once simmering, add Parmesan and stir into sauce, simmer a few more minutes and taste if sauce needs any extra salt or pepper.
If serving directly from the skillet, mix in pasta and top with shrimp, sausage and the parsley. Depending on the size of your skillet I poured the pasta into a serving dish, and topped with the sauce, shrimp, sausage and sprinkled the chopped parsley.
Nutrition Information
Yield 6 Serving Size 1
Amount Per Serving Calories 903Total Fat 58gSaturated Fat 24gTrans Fat 1gUnsaturated Fat 27gCholesterol 282mgSodium 2919mgCarbohydrates 58gFiber 4gSugar 11gProtein 39g

Nutrition data was provided and calculated by Nutritionix, and should only be used as a general guideline. This information is provided as a courtesy and there is no guarantee that the information will be completely accurate.

© 2023 Sparkles of Yum. All rights reserved. All images & content are copyright protected. Please do not use my images without prior permission. If you want to share this recipe, please provide a link back to this post for the original recipe.
Sparkles of Yum is a participant in the Amazon Services LLC Associates Program, an affiliate advertising program designed to provide a means for sites to earn advertising fees by advertising and linking to Amazon.com.