Perfect for a holiday morning, or weekend brunch we made this Country Sausage Gravy Breakfast Pizza when we had out of town family staying over and it was a big hit. Everyone said this is pretty spectacular!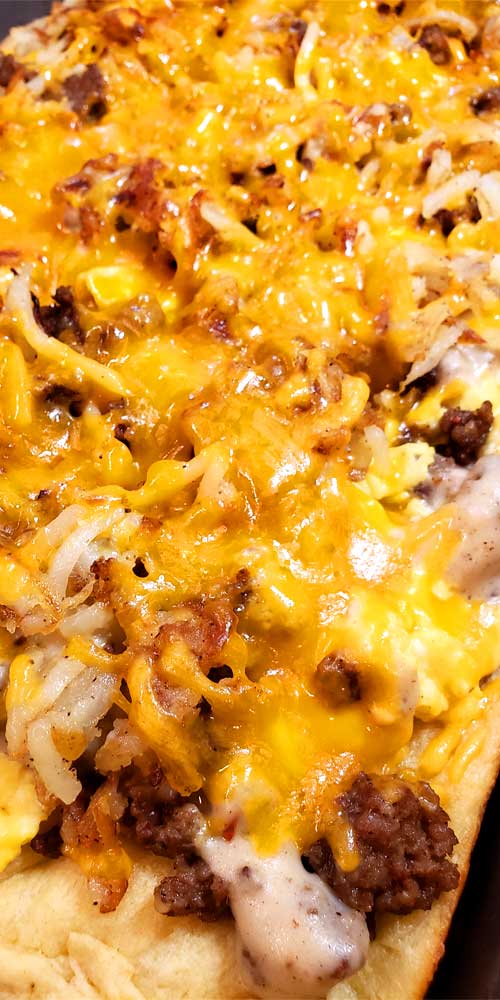 We tried coming up something different for breakfast since we were leaving most days and eating out the rest of the day. So we wanted a hearty filling breakfast that would come together pretty quick and not have to stand over the stove like a short order cook making eggs all different ways. This Country Sausage Gravy Breakfast Pizza fit the bill perfectly.
Evidently, they don't have country gravy in upstate New York. The first time our guests came here we found out the boyfriend had never had country gravy, not only never had it, never even heard of it before!
So this made it even more fun, you know they're going to love it, like taking a kid to an amusement park for the first time and watching their face light up with joy!
Sometimes the simplest things are the best. So with that in mind, I'm going to try and explain how to make it for everyone who's maybe never had it, or heard of Country Sausage Gravy.
I know gravy can be intimidating but once you make it a few times, you get the feel for how it's supposed to be, then you don't need to measure anything. You just sort of eyeball it and you know it's right, no need to be scared of the gravy anymore!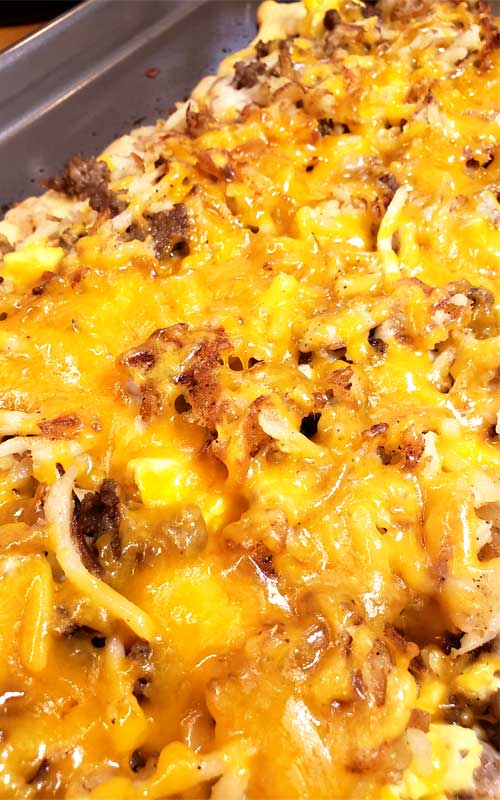 Some tips:
This comes together pretty quick, I just used two skillets, one to toast up frozen hashbrowns in about two tablespoons canola or peanut oil, while the sausage is cooking in the other skillet and the crescent rolls are baking.
With a slotted spoon, remove the sausage leaving about 3 tablespoons of drippings in the bottom, you should have pretty equal amounts of oil to flour to make the gravy and have the milk ready to slowly pour right next to you. This is the basics for making a roux. If your a little short on the drippings, just add a tablespoon of butter. Depending on the brand of sausage, is how much drippings you get, I like Tennessee Pride, but some brands don't have enough fat, you can also use bacon drippings if you save yours.
When the hashbrowns are toasted, you wipe that skillet out with a paper towel and add a little butter to scramble up the eggs. Make sure you add salt and pepper to eggs and a little milk, whisk them up good toss them in the skillet and let them cook on the bottom, then break apart till all the runny parts are cooked and remove from heat.
Now if you wanted to you could also add bell peppers, onions, spinach or tomatoes to make yours more of a Supreme Country Sausage Gravy Breakfast Pizza.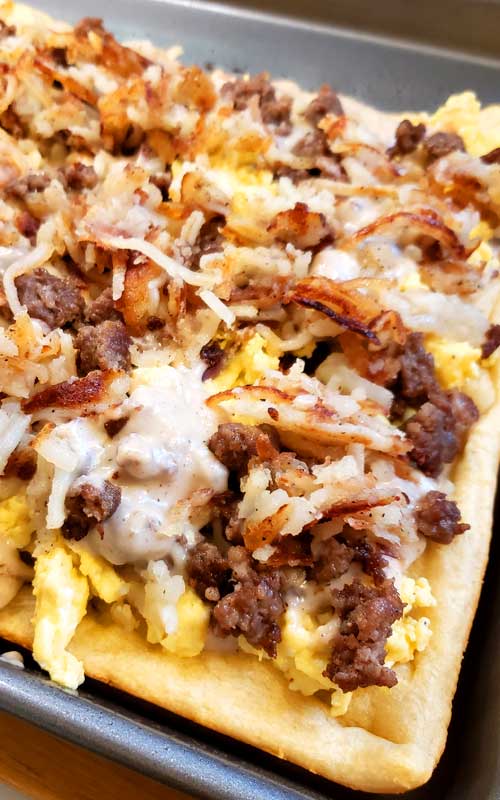 If you LOVE this Country Sausage Gravy Breakfast Pizza recipe, try these:
Don't forget to follow along, so you don't miss out! Did you know you can get a notification on your phone now as soon something is published? People are loving this so much, more than the emails clogging up your inbox. If you happened to not accept the notification box earlier…now is a good time to click the small bell in the corner and get signed up!
FOLLOW Sparkles of Yum ON FACEBOOK | PINTEREST | INSTAGRAM | TWITTER FOR ALL OF THE LATEST CONTENT, RECIPES AND UPDATES.
Feel free to join the Sparkles of Yum Recipe Swap Facebook group! A fun place to find and share all of your favorite recipes.
Country Sausage Gravy Breakfast Pizza
Yield: About 8 servings

Prep Time: 5 minutes

Cook Time: 25 minutes

Total Time: 30 minutes

Perfect for a holiday morning, or weekend brunch we made this Country Sausage Gravy Breakfast Pizza when we had out of town family staying over and it was a big hit. Everyone said this is pretty spectacular!
Ingredients
2 rolls refrigerated crescent rolls
1 lb breakfast sausage (I used Tennessee Pride)
6 eggs, scrambled
2 cups prepared hash browns (I used frozen hash browns)
8 oz shredded cheddar cheese
Country Gravy:
3 tablespoons rendered grease from sausage
3 tablespoons flour
2-2 1/2 cups milk
salt and pepper to taste
crumbled cooked sausage
Instructions
Heat oven to 375 degrees. Roll out crescent dough on a greased, sheet pan.
Press edges together to seal seams and pinch some up the sides of pan to form one large crust. Bake for 11-13 minutes or until golden brown.
While that's in the oven crumble sausage in a large skillet and cook over medium high heat.
Remove sausage, leaving three tablespoons of the oil, spoon out any extra or add bacon grease, butter, or oil if not enough.
Whisk in flour and continue whisking for two to three minutes, or until smooth and a nice and golden brown. Reduce heat and slowly begin adding milk while stirring, whisking constantly, as it thickens add more milk (about 2 cups) until desired thickness. Add about half the sausage into the gravy. Taste and season with salt and extra pepper. Remove from heat, or it will just keep getting thicker, you can add a little more milk if it begins to get too thick.
Spread gravy over the baked crescent rolls, top with the rest of the sausage, scrambled eggs, cooked hash browns and top with cheese, put back in the oven 3-5 minutes to melt the cheese.
Nutrition Information
Yield 8 Serving Size 1
Amount Per Serving Calories 673Total Fat 47gSaturated Fat 17gTrans Fat 1gUnsaturated Fat 26gCholesterol 224mgSodium 1287mgCarbohydrates 33gFiber 2gSugar 2gProtein 31g

Nutrition data was provided and calculated by Nutritionix, and should only be used as a general guideline. This information is provided as a courtesy and there is no guarantee that the information will be completely accurate.

© 2023 Sparkles of Yum. All rights reserved. All images & content are copyright protected. Please do not use my images without prior permission. If you want to share this recipe, please provide a link back to this post for the original recipe.
Sparkles of Yum is a participant in the Amazon Services LLC Associates Program, an affiliate advertising program designed to provide a means for sites to earn advertising fees by advertising and linking to Amazon.com.