Coq au Vin – Your tastebuds believe you are dining in a fancy, French restaurant! Chicken in wine sauce with onions and mushrooms. It just does not get more satisfying than that.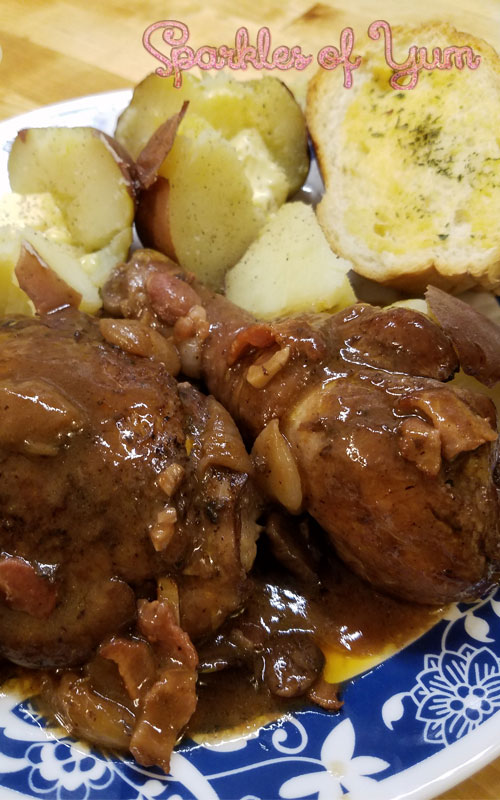 Coq au vin is a famous French dish from Julia Child. Made delicious because of it being simmered in a red wine, mushroom, and pearl onion gravy with yummy bacon.
This combination of flavors makes you feel like you're in a fancy French restaurant, but since you are at home, you can enjoy as much wine as you like with this scrumptious dish. Because that's what Julia would do!
If you've never had coq au vin, you should really give it try. It sounds more complicated then it is. It comes out so tender and juicy, better than I even expected.
I noticed an article from the "New York Times" talking about the show "Billions", where Chuck ordered it at a restaurant. I watched that episode and hadn't really given this dish any thought.
That is until I read the article talking about it. That is when I thought "THIS sounds so good, I should give it try."
So glad I did.. haven't got excited about trying a new dish in a while. This one is excellent!
But why such a fancy dish in the middle of the week? We were looking for something special to celebrate our newly finished kitchen. I'll be posting more about that in the VERY near future.
But to give you a quick idea: we tore it up and put it back together from top to bottom. A little European farmhouse style redo was long over due. The last time my kitchen had seen an update was all the way back in 1993.
So exited to finally be finished and with a small budget, a lot of planning and even more work. We have done everything DIY, including everything hanging on the walls. OK, we did not do everything ourselves.
We did have the floor installed, which was a little nerve racking. They delivered the wrong one, and couldn't come back for two more days. The fridge had to stay in the dinning room.
Some things are just out of your control, but now, all is well and put back together. And what a perfect meal to have for our celebration!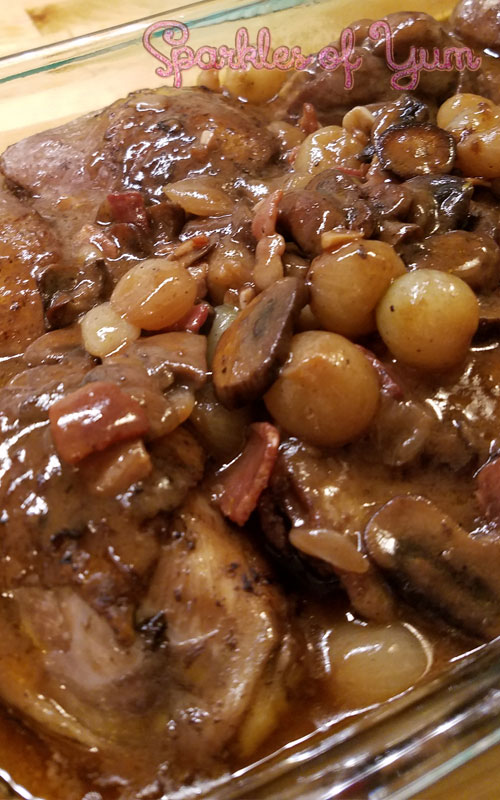 Don't forget to follow along, so you don't miss out! Did you know you can get a notification on your phone now as soon something is published? People are loving this so much, more than the emails clogging up your inbox. If you happened to not accept the notification box earlier…now is a good time to click the small bell in the corner and get signed up!
FOLLOW Sparkles of Yum ON FACEBOOK | PINTEREST | INSTAGRAM | TWITTER FOR ALL OF THE LATEST CONTENT, RECIPES AND UPDATES.
Feel free to join the Sparkles of Yum Recipe Swap Facebook group! A fun place to find and share all of your favorite recipes.
Coq Au Vin – Chicken in Red Wine with Mushrooms Onions and Bacon
Yield: 6-8 servings

Prep Time: 20 minutes

Cook Time: 1 hour

Total Time: 1 hour 20 minutes

Your tastebuds believe you are dining in a fancy, French restaurant! Chicken in wine sauce with onions and mushrooms. It just does not get more satisfying than that.
Ingredients
4 lbs chicken (legs and thighs)
Bacon (3 slices)
Red Wine (3 cups) we used a red blend
Beef Stock (1 cup) we used Swanson
Tomato Paste (2 Tablespoons) we used a tube called Cento
Garlic (3 cloves) mashed
Thyme 1/2 teaspoon
1 bay leaf
salt and pepper
1 jar Pearl Onions - we used Aunt Nellies
1 pint of fresh Baby Bella Mushrooms
Butter 6 tablespoons (3 for browning 3 for gravy)
3 tablespoons flour
Instructions
Start with your 3 slices of bacon. I cut them in half lengthwise, then make 1/4 inch slices. Brown those in your big skillet, set the bacon aside. While the bacon is browning, pat the chicken dry on both sides and give them a good seasoning of salt and pepper. Add a tablespoon of butter to your bacon grease and brown the mushrooms and pearl onions, when nice and brown (4 to 5 minutes) remove with slotted spoon and set aside.
Place chicken pieces in the skillet let brown about 10 minutes turning once, I added 2 more tablespoons of butter at this point.
Pour wine over chicken, and add beef stock to cover the chicken. Stir in tomato paste, garlic, and herbs. Bring to a boil, then turn down to simmer and cover. Let simmer slowly for about 30 minutes, or until chicken meat is tender when pierced with a fork. I used a thermometer on the largest thigh to make sure it was at 165 degrees.
Now move the chicken to a casserole dish and place in the oven to keep warm. In a little saute pan melt last 3 tablespoons of butter and add 3 tablespoons of flour, stirring until just thickened. Add that to your skillet with the wine and broth and now add those mushrooms, pearl onions and bacon back to reduce and thicken the liquid. Stirring for the first few minutes. Once your sauce has reduced some, then you can pour all this yummy wine gravy over your chicken. We toasted some French bread topped with garlic and butter, cut into crostinis. We also served this with little red potatoes on the side. With more wine of course!
Notes
This is a little easier version of Julia Child's recipe. It doesn't include the flambe, if you'd like that part it includes 1/4 cup cognac and lighting with a match to let burn for a few seconds before adding the wine to the skillet.
Nutrition Information
Yield 8 Serving Size 1
Amount Per Serving Calories 652Total Fat 42gSaturated Fat 15gTrans Fat 0gUnsaturated Fat 23gCholesterol 250mgSodium 347mgCarbohydrates 5gFiber 1gSugar 1gProtein 60g

Nutrition data was provided and calculated by Nutritionix, and should only be used as a general guideline. This information is provided as a courtesy and there is no guarantee that the information will be completely accurate.

© 2023 Sparkles of Yum. All rights reserved. All images & content are copyright protected. Please do not use my images without prior permission. If you want to share this recipe, please provide a link back to this post for the original recipe.
Sparkles of Yum is a participant in the Amazon Services LLC Associates Program, an affiliate advertising program designed to provide a means for sites to earn advertising fees by advertising and linking to Amazon.com.