So quick to make and full of creamy cheesy goodness. Plus, this Copycat Panera Broccoli Cheddar Soup is so warm and comforting for the whole family, you may be asked to make it over and over again!
Maybe you do not have a Panera nearby, and your craving a yummy bowl of soup. Good news, you can make this Copycat Panera Broccoli Cheddar Soup in the comfort of your own home!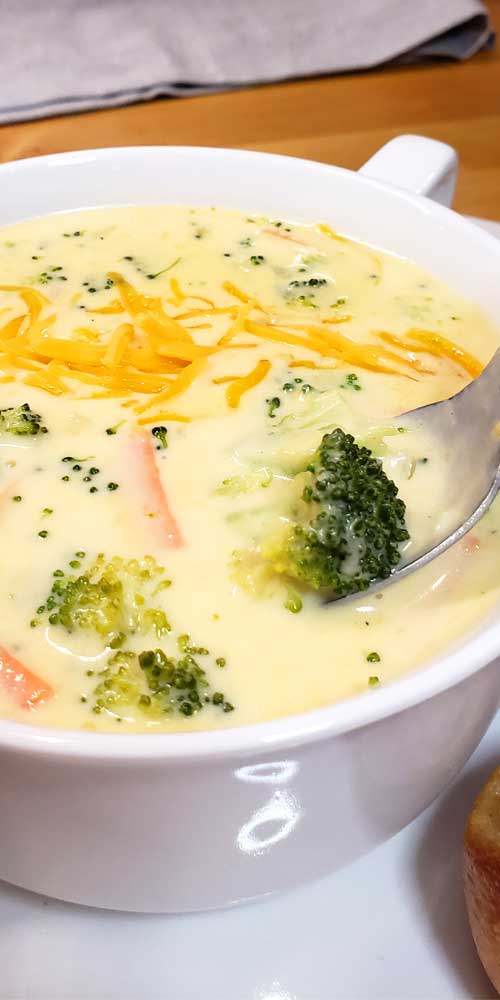 Did you know Panera Bread started in St. Louis, MO as St. Louis Bread Company? We live just outside the city, of St. Louis, so we have over 100 locations that look just like everyone else's Panera Bread, only ours says St. Louis Bread Co. When we have out of town family come here they think someone stole Panera's logo.
Just so you know if your ever driving through it's the same thing and we love it the same way everyone loves Panera. They also do great things for our community having their headquarters here for over 30 years now.
They donate tons to the local food pantries and the first restaurant to announce that it's food menu was free of artificial colors, flavors, sweeteners, and preservatives. Anyway I'm not even being paid to say all this, just proud to have them as good neighbors in our community.
Maybe not everyone has a Panera Bread Co. or St. Louis Bread Co nearby, and you'd love to visit, but just can't get there fast enough to enjoy this yummy Broccoli Cheddar Soup when your craving it. Or maybe you're snowed in. Good news, you can make it in the comfort of your own home.
This is one of our favorite comforting soups, as soon as the weather starts to get chilly. Our weather is so crazy we literally had temperatures in the 90's in October. It was 80 just the day before Halloween. And now, it's the second week of November. It has already snowed twice, dropped down to the 20's, and is struggling to hit 30 for a high.
Find the snow scraper, fill the washer fluid, turn off the hose outside. Hurry to buy salt, find the snow shovel in the garage. People we need some comfort food and this soup fits the bill.
So Mama's got the Broccoli Cheddar Soup on baby, cuz it's cold outside!
School was getting out early today because of the weather. It reminded me of when I had one child in high school, one in junior high and one in grade school, before there were cell phones! I needed to be in 3 places at the same time.
So you can imagine how that goes; picking up the youngest one first, and stressing over the traffic and slippery roads while trying to get to the others. Those are the days that this Copycat Panera Broccoli Cheddar Soup comes in handy, because it is so quick to make and full of creamy cheesy goodness, plus it's so warm and comforting for the whole family!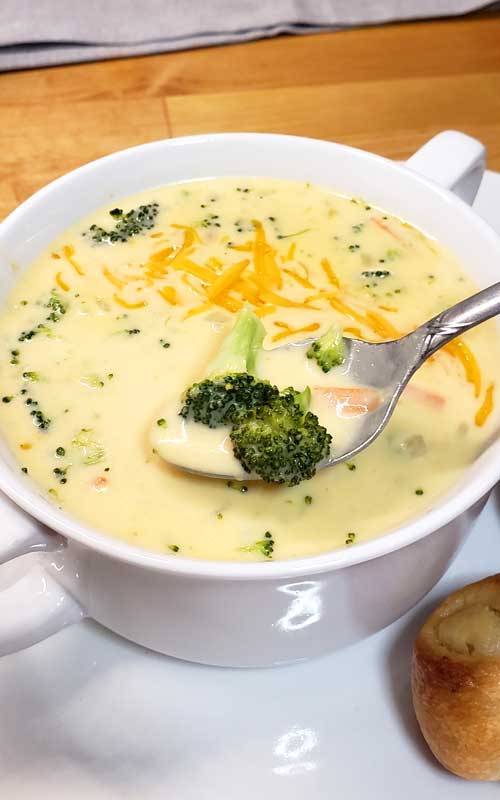 What can you serve with this Copycat Panera Broccoli Cheddar Soup?
We had these amazing garlic knots, which I found on Two Peas and their Pod.
Also would be good with a leftover Turkey sandwich
If you still need more cheese, a grilled ham and cheese sandwich sounds good too.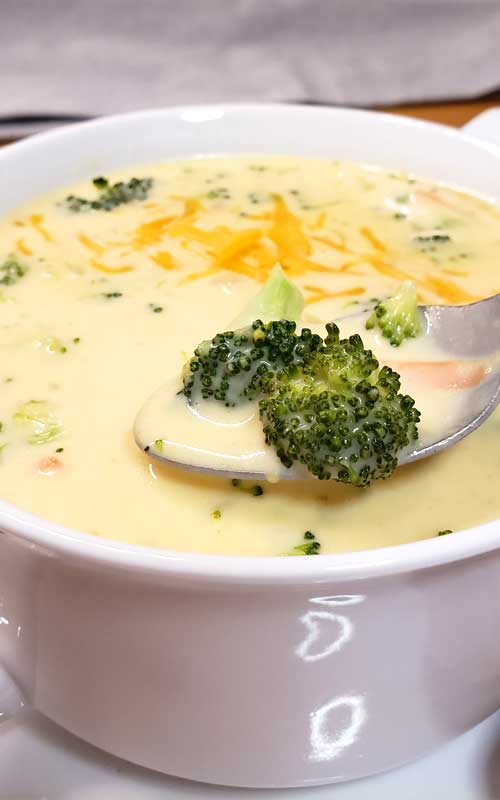 Some tips:
This soup goes perfectly in a bread bowl. You can learn how to make one yourself, just like I did with my New England Clam Chowder.
For a lighter version, you can use fat free half & half.
If you prefer it smooth simply toss it in the blender or use an immersion blender.
You could also add more toppings like sour cream, green onions, or chives. Red pepper flakes are good too, if you like it spicy.
If you LOVE this Copycat Panera Broccoli Cheddar Soup recipe, and are looking for a few other cold day favorites, try this easy Skinny Chicken Fajita Soup OR this New England Clam Chowder in a bread bowl!
Don't forget to follow along, so you don't miss out! Did you know you can get a notification on your phone now as soon something is published? People are loving this so much, more than the emails clogging up your inbox. If you happened to not accept the notification box earlier…now is a good time to click the small bell in the corner and get signed up!
FOLLOW Sparkles of Yum ON FACEBOOK | PINTEREST | INSTAGRAM | TWITTER FOR ALL OF THE LATEST CONTENT, RECIPES AND UPDATES.
Feel free to join the Sparkles of Yum Recipe Swap Facebook group! A fun place to find and share all of your favorite recipes.
Copycat Panera Broccoli Cheddar Soup
Yield: About 6 servings

Prep Time: 10 minutes

Cook Time: 35 minutes

Total Time: 45 minutes

So quick to make and full of creamy cheesy goodness. Plus, this Copycat Panera Broccoli Cheddar Soup is so warm and comforting for the whole family, you may be asked to make it over and over again!
Ingredients
5 tablespoons unsalted butter (divided)
1 small onion, (diced)
1 clove garlic (minced)
1/4 cup all-purpose flour
3 cups broccoli florets (I used fresh broccoli)
2 carrots (julienne cut - matchstick size)
2 cups low-sodium chicken broth
2 cups half-and-half (or 1 cup heavy cream 1 cup milk)
1 bay leaf (optional)
1/2 teaspoon paprika
1/2 teaspoon turmeric (optional)
1/4 teaspoon freshly grated nutmeg
pinch of cayenne pepper (optional)
Kosher salt and freshly ground pepper to taste
2 1/2 cups yellow cheddar cheese (about 8 ounces) (reserve some garnish)
Instructions
Melt 1 tablespoon butter in a Dutch oven or pot over medium heat. Add the onion and cook until tender, about 5 minutes, adding garlic at the end, so it doesn't burn. Add the remaining 4 tablespoons butter when melted, whisk in the flour and cook continuously stirring until thickened, 3 to 4 minutes.
Slowly whisk in chicken broth, add broccoli and carrots and let simmer about 20 minutes till tender. Discard the bay leaf. Add half-and-half while stirring when that's warm, add in about 2 cups of cheddar cheese stirring occasionally let simmer a few minutes for cheese to melt. Garnish with reserved cheese.
Nutrition Information
Yield 6 Serving Size 1
Amount Per Serving Calories 462Total Fat 36gSaturated Fat 22gTrans Fat 1gUnsaturated Fat 12gCholesterol 104mgSodium 499mgCarbohydrates 19gFiber 4gSugar 6gProtein 19g

Nutrition data was provided and calculated by Nutritionix, and should only be used as a general guideline. This information is provided as a courtesy and there is no guarantee that the information will be completely accurate.

© 2023 Sparkles of Yum. All rights reserved. All images & content are copyright protected. Please do not use my images without prior permission. If you want to share this recipe, please provide a link back to this post for the original recipe.
Sparkles of Yum is a participant in the Amazon Services LLC Associates Program, an affiliate advertising program designed to provide a means for sites to earn advertising fees by advertising and linking to Amazon.com.